In the realm of imagination and creativity, Disney and LEGO have each carved out their unique and special spaces.
When these two titans of childhood magic converge, the result is a delightful and colorful collection of LEGO sets that bring our favorite Disney tales to life, block by block.
From the towering elegance of Cinderella's castle to the intricate details of the The Haunted Mansion, these LEGO sets offer fans of all ages a chance to recreate and interact with the stories and characters they hold dear.
Below we've picked out the best Disney LEGO sets, each capturing the whimsy, adventure, and enchantment that are the hallmarks of Disney's storytelling genius.
15. Mickey Mouse and Minnie Mouse (43179)
| | |
| --- | --- |
| Release year: | 2020 |
| No. of pieces: | 1739 |
| No. of Minifigures: | 0 |
This Mickey Mouse and Minnie Mouse LEGO set is two separate builds in one, the first being Mickey Mouse holding a small cigar box guitar and the other being Minnie Mouse with a bunch of flowers. There is also a camera on a tripod to build, too.
Each of the characters stands on its own unique base, with each base featuring the character's autograph. It's this base that really elevates them from being buildable characters to display pieces.
Both Mickey and Minnie do have some flexibility to them, so you can pose them however you like. While it's quite a static set, this feature adds a little playability.
The main selling point of this set, though, is how good the characters look. What they lack in playability and function, they make up for is display-ability.
We can see why this was not the most popular LEGO Disney set ever, but it still certainly has its charm. It is unique and works incredibly well as a display piece of the two iconic characters.
The only thing we would have changed is maybe to add Mickey and Minnie Mouse Minifigures to draw in those who collect because of that.
Still, as a unique and fun experimental set, these Mickey Mouse and Minnie Mouse statues are a winner that we personally think look great together.
14. Minnie Mouse's Ice Cream Shop (10773)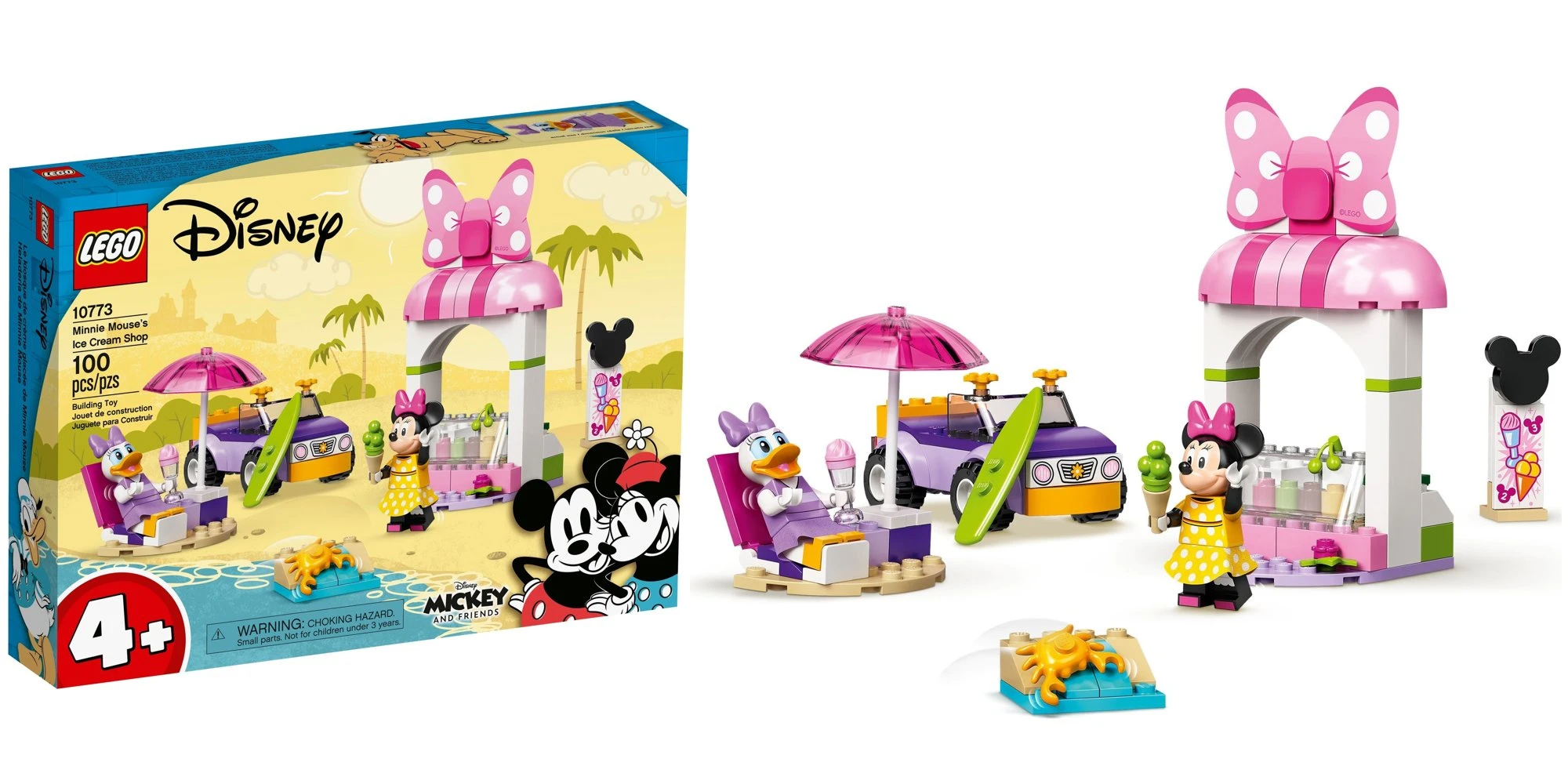 | | |
| --- | --- |
| Release year: | 2021 |
| No. of pieces: | 100 |
| No. of Minifigures: | 2 (Minnie Mouse, Daisy Duck) |
Next up, we have the Minnie Mouse's Ice Cream Shop LEGO set, and this one just goes to show that size doesn't matter when it comes to whether a LEGO set is good or not!
This small and simple build only consists of 100 pieces, but it has everything that you'd need to create a small, fun scene.
First off, there is Minnie's ice scream shop itself, featuring a nice bright arch with a trademark colorful bow on top. There is also a vibrant selection of different ice cream, represented by small 1 x 1 pieces.
As this is a beach based scene, Daisy Duck comes with a reclining chair and parasol. There is also a crab and surf board to really build out that beach scene.
There are plenty of accessories that the Minifigures can interact with, including ice cream cones, ice cream sundaes, money, and the cherry on top is quite literally the cherry for on top.
On top of it all is a purple convertible car that is big enough to fit either of the Minifigures inside it.
We love that LEGO decided to create a small Disney set containing only female characters and aimed primarily at girls.
While LEGO is 'traditionally' a boy's toy, the Minnie Mouse's Ice Cream Shop set helps incorporate that whole different female demographic into LEGO and the possibilities. And that's a fantastic thing!
13. Mini Disney Castle (40478)
| | |
| --- | --- |
| Release year: | 2021 |
| No. of pieces: | 567 |
| No. of Minifigures: | 1 (Mickey Mouse) |
As one of the single most iconic structure when it comes to Disney theme parks, it makes a lot of sense why LEGO created a Disney Castle.
However, unlike the huge 1040 Disney Castle (which we will come back to a little later in this post), this is a mini version. It is also a much more budget friendly version, too!
This palm sized castle is actually pretty complex looking and detailed. It doesn't let its small size hold it back when it comes to creating something magical.
There are some fun techniques and clever uses of some unusual pieces to help sell size and scale.
The gold and blue pieces really compliment each other well, and add a pop of color against the white of the rest of the castle. It all stands atop a small black base, which again makes the bright castle really pop.
The interior of the Mini Disney Castle is actually quite detailed. As well as there being several columns and balconies, there are also tiny little statues and easter eggs inside.
You can almost see them if you peer hard enough through the tiny door, but they seem to have been included more for your enjoyment as you actually build the set.
It even comes with a Mickey Mouse Minifigure, wearing his red vest and white shirt. It looks really smart, especially when you stand him alongside the Mini Disney Castle set.
Yes, the Mini Disney Castle LEGO set is as small as it's name foretells, but the little details and fun of the build really are incredible.
12. Mini Disney The Haunted Mansion (40521)
| | |
| --- | --- |
| Release year: | 2022 |
| No. of pieces: | 680 |
| No. of Minifigures: | 1 (Haunted Mansion Butler) |
Continuing on with the line of mini LEGO Disney builds, and we have the Mini Haunted Mansion. This time it is based off of the Disneyland version of the ride.
The detailing of this set is quite frankly staggering. It looks like someone has taken a very large set and shrunken it down until we get what we see here.
Despite its small size, there are many intricate bits and pieces that make this one stand out. The little windows and archways work well, and the rotunda on the building's roof looks incredible.
Much like the Mini Disney Castle, there are even some hidden details inside the build that can only truly be appreciated when actually constructing it.
The whole thing is topped off with 4 towering white pillars at the front of the building. It really gives this tiny set a sense of grandeur and scale that you wouldn't think was possible in such a small LEGO set.
The Haunted Mansion Butler minifigure looks appropriately horrified, and we love the printing on his torso piece. The uniform really makes him stand out.
Overall, the Mini Haunted Mansion just beat the Mini Disney Castle into this place because of its sheer amount of detail and how well big scale translated into a mini form.
11. Moana's Ocean Voyage (41150)
| | |
| --- | --- |
| Release year: | 2017 |
| No. of pieces: | 307 |
| No. of Minifigures: | 2 (Moana, Maui) |
Moana's Ocean Voyage is a beautiful and colorful set with two primary sections. First is a luscious green tropical island, then Moana's catamaran.
The island part utilizes greens, blues, and sandy yellows to give it that kind of idyllic paradise look. It works well, and some really nice flowing water sections are towered over by spiked palm trees.
Moana's catamaran has that wooden, tree-like coloring, and is well constructed with the second smaller section on its starboard side. However, it's the tall and cool looking sail that steals the show.
We like that they went with a fabric piece for the sail. It would have worked with a solid plastic bit, but it just feels that little bit more authentic when it's made out of fabric.
There is also an additional little raft, though that's pretty small and inconsequential in the grand scheme of this LEGO build!
The Moana Mini-doll looks lovely and we really like her hair piece. She may have been better as a shorter Mini-doll, as she is the same size as a full size adult, but it still works compared to the Maui figure.
The Maui figure aligns more with Maxifigures than Mini-dolls, though it still works perfectly well here. He's a larger character, so having a thin and slinky Mini-doll version of him wouldn't seem appropriate.
It seems a shame that we've not got a version of the Moana's Ocean Voyage LEGO set with proper Minifigures, but instead of that, this is still a wonderful addition.
10. Rapunzel's Creativity Tower (41054)
| | |
| --- | --- |
| Release year: | 2014 |
| No. of pieces: | 299 |
| No. of Minifigures: | 2 (Rapunzel, Flynn Rider) |
The Rapunzel's Creativity Tower LEGO set is another one aimed more directly at the female demographic. But guess what – it's still a ridiculously good set!
The front of the build has some great colors, and LEGO made sure that they gave it an almost overgrown look about it, with bright green vines starting to climb the walls.
The top of the tower is a nice sandy color, and a good contrast to the gray color of the rest of the build. The lilac roof is just the cherry on the cake and tops it off perfectly.
The back of the set has a spiraled purple staircase that leads up to a room with a fireplace and fire made out of translucent orange pieces. Going up to the next level, and we have Rapunzel's bedroom.
The bedroom is neat. There is a chair and a wardrobe, and while there's not too much room for much else, it still definitively feels like an actual bedroom. This, of course, also has a large window that can open up.
There are plenty of accessories for Rapunzel that allow you to do whatever you want in a bedroom, from an art pallet, to makeup and hairbrushes, to cooking utensils.
The Mini-dolls are cool, and we obviously get Rapunzel and her love interest Flynn Rider, but we love the addition of Pascal, the chameleon.
The only thing that would have made it better is if they had included Maximus, the white horse, in this LEGO set!
For a set that is essentially just a slim tower, it offers a lot of play value. While Rapunzel's Creativity Tower LEGO set won't be for everyone, it's still an incredible build with a lot of possibilities.
9. Mickey Mouse and Minnie Mouse's Space Rocket (10774)
| | |
| --- | --- |
| Release year: | 2021 |
| No. of pieces: | 88 |
| No. of Minifigures: | 2 (Mickey Mouse, Minnie Mouse) |
The Mickey Mouse and Minnie Mouse's Space Rocket is a surprisingly fantastic set, which really is shocking considering how small it is!
Containing only 88 pieces, this LEGO Disney set manages to accomplish a lot! Not only do you get a space rocket, but you also get a detailed command center, and all kinds of other little bits and pieces that help fill out the scene.
The rocket of course opens up, and seats both Minifigures inside it. This is actually a pretty cool feature considering how small a set this is. Translucent orange bricks are also on the bottom to replicate the 'blast off' effect.
The command center has some intricate little details and a large screen displaying several aliens. It is built on top of a dark gray base section, and has several translucent blue highlights to add color.
We get Mickey and Minnie Mouse, but they are in space suits this time. It's always cool when we get common characters with different looks. We also love that Minnie still has her bow on top of her space suit!
The little alien coming from its translucent green 'shell' is a brilliant little addition to this set and helps build that otherworldly feel to it.
It might be tiny, but the Mickey Mouse and Minnie Mouse's Space Rocket LEGO set is big on ideas, and manages to pull it all off perfectly.
8. Disney Celebration Train (43212)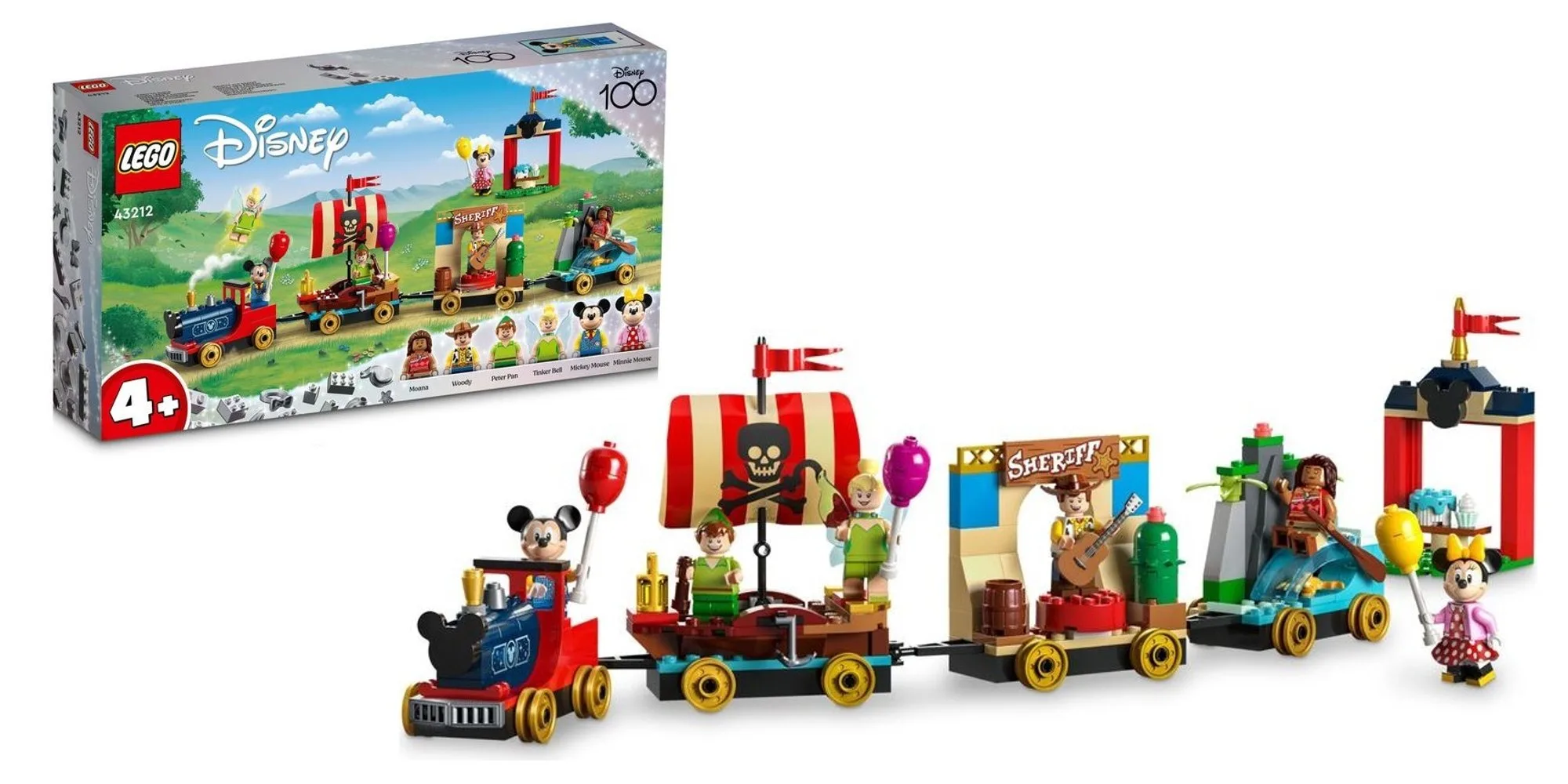 | | |
| --- | --- |
| Release year: | 2023 |
| No. of pieces: | 200 |
| No. of Minifigures: | 6 (Mickey Mouse, Minnie Mouse, Peter Pan, Tinker Bell, Woody, Moana) |
The Disney Celebration Train is a very recent release that has immediately projected itself pretty high up into this list. There's a few good reasons for that that we're going to explore now.
This set is reminiscent of a float you would see on parade at one of the Disney theme parks. It has sections for each character that are appropriately decorated and themed.
The Peter Pan and Tinker Bell section has a pirate boat sail on, and it looks as if it is a ship. Woody's flora looks like a hoedown saloon that he's performing in. And finally, Moana's section looks like a tropical watery island.
A single seated train engine is pulling along the whole thing. The train and the floats all work well together, despite the different ways they are decorated.
The big draw of this set, though, is the sheer mix of Disney characters. Mickey and Minnie Mouse are always a given, but Tinker Bell and Woody are great and ones that we've rarely seen.
Peter Pan and Moana are great, though, and this set gives people the opportunity to get their hands on some rare characters for an affordable price. It's the perfect set if you want to flesh out your Disney Minifigure collection.
While the Disney Celebration Train is nice and simple, and a fun little vehicle to drive around, it's the Minifigures that really make this set feel fresh and exciting.
7. Steamboat Willie (21317)
| | |
| --- | --- |
| Release year: | 2019 |
| No. of pieces: | 751 |
| No. of Minifigures: | 2 (Mickey Mouse, Minnie Mouse) |
One of the most stylized sets in this review is the Steamboat Willie LEGO set. Designed after the 1928 cartoon of the same name, the set is made totally out of black, white, and gray LEGO pieces.
While this LEGO set has plenty of moving and fun play features, it is undoubtedly more of a display piece. The boat doesn't open up; apart from the cabin, it has no rooms to place your Minifigures in.
With that being said, though, it's still a set that has proven to be surprisingly popular with everyone. Some enjoy the build, other's want the Minifigures, some just appreciate the retro look.
One great feature is that the two tall black chimney stacks move up and down as you twist the paddles on the side of the boat. This makes it look just like it did in the original cartoon. It's a well thought out and neat looking feature.
We really like the S.S. Willie and 1928 stickers, too. While they would have been better as actual printed bricks, they still work really well and really help heighten the looks of the set as a whole.
Instead of standard Mickey and Minnie Mouse Minifigures, we get black and white versions of the characters dressed up as if they were from the 1920s. It's a fantastic and appreciated twist.
Overall, this set works well for various reasons, and we can see why so many people like it and rushed out to buy it when it was first released.
6. The Madrigal House (43202)
| | |
| --- | --- |
| Release year: | 2021 |
| No. of pieces: | 587 |
| No. of Minifigures: | 3 (Mirabel Madrigal, Antonia, Abuela Alma Madrigal) |
Next we have The Madrigal House from Disney's Encanto. And this LEGO set is one of the most colorful sets on this list, with all kinds of hues and shades popping from each corner of the set.
The whole thing is fairly compact, but it really does fit a lot in to its small space. The walls of the facade are all bright and different colors, and it gives off a summer-like positive vibe.
Spin the house around and open it up, and there are several rooms on three different levels where you can play with your Mini-dolls.
The detailing of this set is great, and LEGO have used some really cool flower pieces and vine pieces to give the illusion of the flowers growing up the wall and hugging the building.
The Mini-dolls are cool but expected and are ultimately nothing to write home about. Mirabel Madrigal, Antonia, and Abuela Alma Madrigal all look really good, and they even come with an adorable little cat, which admittedly is fun.
But those Mini-dolls and their accessories aren't really the main draw here. The Madrigal House itself excels in color, excitement, and fun. It looks great on display and makes for an extremely fun compact LEGO Disney set.
5. Mickey, Minnie and Goofy's Fairground Fun (10778)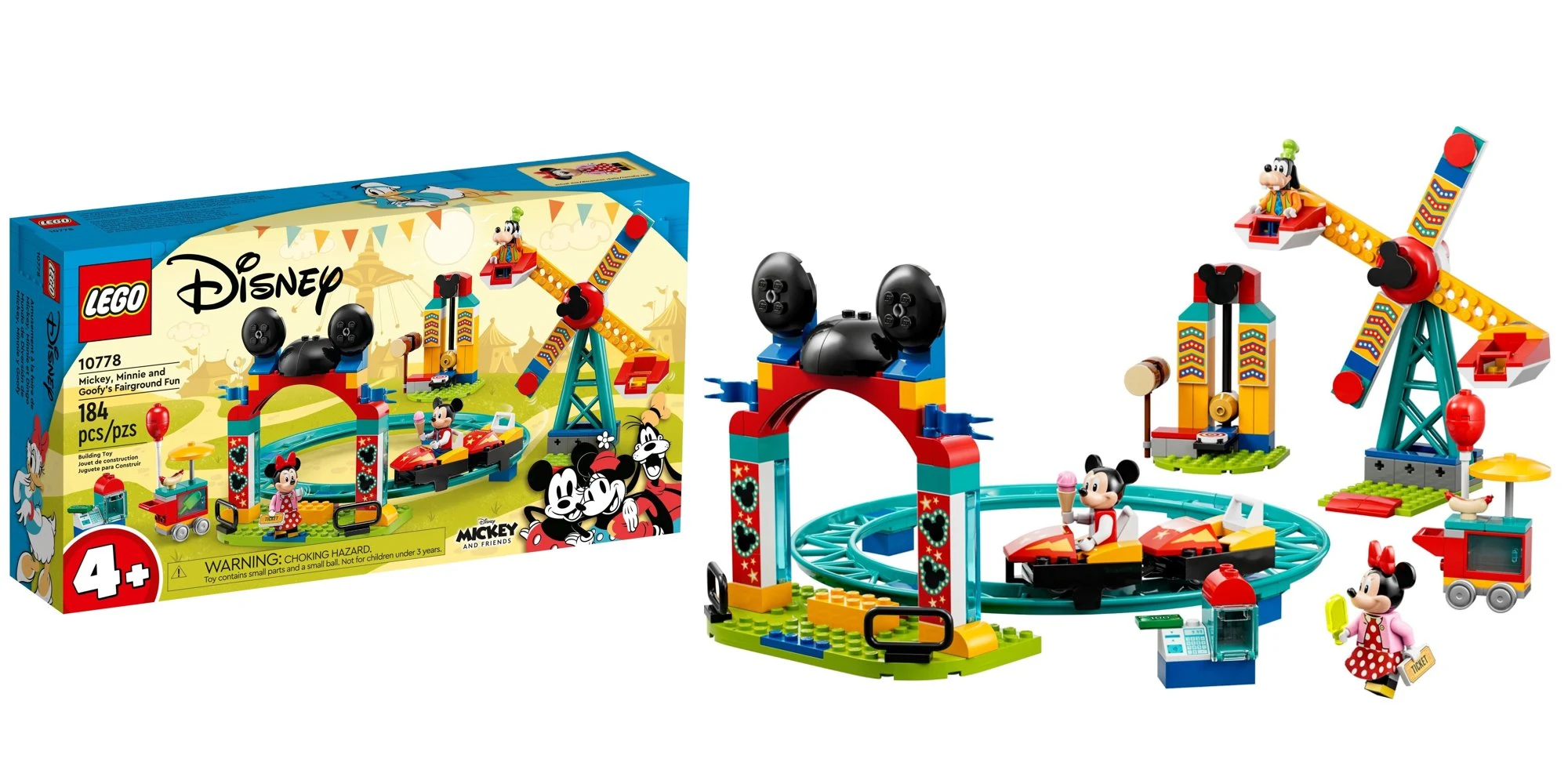 | | |
| --- | --- |
| Release year: | 2022 |
| No. of pieces: | 184 |
| No. of Minifigures: | 3 (Mickey Mouse, Minnie Mouse, Goofy) |
Mickey, Minnie and Goofy's Fairground Fun is another small set, but the fun factor really cannot be denied.
The set consists of a large, bright, colorful archway. It is like something you would see at a circus! On top of the arch way are two large ears, reminiscent of mickey's iconic ears.
There are also many fairground attractions included. Not only do you get a large spinning ride, but a mini track ride is included, as well as a test your strength game – complete with a large hammer!
The Mickey, Minnie and Goofy's Fairground Fun set has play-features galore, and it stands both as a great accessory set to something larger, or as a set in its own right.
It is bright, colorful, dynamic, and interesting enough to keep kids and adults alike entertained. And it does all of that in only 184 bricks. And when you think about that, that's actually pretty incredible.
Of course we get Mickey and Minnie Mouse Minifigures, but the star has to be Goofy. There's a surprising lack of Goofy Minifigures out there, so it's always a win whenever he makes an appearance.
The Mickey, Minnie and Goofy's Fairground Fun LEGO set is simply fun, colorful, exciting, and while it might be small, it's still certainly a fun, and amazing set, worthy of it's position on this list!
4. Elsa's Magical Ice Palace (41148)
| | |
| --- | --- |
| Release year: | 2017 |
| No. of pieces: | 701 |
| No. of Minifigures: | 7 (Elsa, Anna, Olaf, Snowgie x4) |
The last of the Mini-dolls sets in this post, the Elsa's Magical Ice Palace LEGO set is a stunning looking build that really does live up to the frozen title of its film.
Built primarily out of white and cool blue bricks, this is actually a large and complex palace, reaching up and culminating in a towering balcony and a giant icy snowflake on top.
We really do love the use of transparent cold blue pieces to replicate ice and the surfaces being frozen. It's a really simple technique that works incredibly well.
There are also several little side builds, including a toboggan, a trailer that attaches to the toboggan, and a small play area including a see-saw. These little things really do add to the larger set as a whole.
The Mini-dolls are all super appropriate, and Elsa and Anna look great, but the Olaf really does take the crown as the most fun character included in the set. The 4 Snowgie's are also adorably fun, too.
We love the ice giant build that's included too. It gives you a larger buildable character that still looks at home with the Mini-dolls while providing some extra playability.
Considering how we'd initially written off many of the Mini-doll sets, we were quite surprised at how high up this list we put the Elsa's Magical Ice Palace LEGO set. But it's a genuinely good set, and that's what mattered most.
3. The 'UP' House (43217)
| | |
| --- | --- |
| Release year: | 2023 |
| No. of pieces: | 598 |
| No. of Minifigures: | 3 (Carl, Russel, Dug) |
As one of the most emotional and beautiful Disney/Pixar movies of all time, it was only a matter of time before LEGO released the amazing 'UP' House set.
Originally an idea featured on the official LEGO Ideas page, the 'UP' House set came from the mind of a user named Viacko. LEGO then took the set, refined it, and then made it into its final version.
The result is nothing short of a breathtaking LEGO build. It might be small and compact, but they managed to get all the essential parts in there.
No, there aren't enough balloons, and yes, there could be more rooms in the house, BUT for the price point, LEGO have worked miracles. There diligence to detail has really paid off!
Who'd have thought a LEGO house would have so many play features?!
Not only does it have several rooms in the back, but the doors and windows all work, the balloons can be detached, and there's even a mailbox and garden mini build to go alongside it.
The few Minifigures are also fantastic. Carl and Russel look great and incredibly accurate, but we think Dug the dog is the star here. He even comes with a squirrel for him to chase!
The 'UP' House LEGO set is bright, colorful, fun, easy to build, eye-catching, and comes with great Minifigures. And you get all of that for an incredibly affordable price. What's not to love?
2. Disney Train and Station (71044)
| | |
| --- | --- |
| Release year: | 2019 |
| No. of pieces: | 2925 |
| No. of Minifigures: | 5 (Mickey Mouse, Minnie Mouse, Goofy, Chip, Dale) |
In second place is the stunning looking Disney Train and Station. This particular LEGO Disney set is based off of the station that can be found near the entrance of most Disney theme parks.
Starting off with the train, and it looks incredible. Because of how they hid away most of the studs, it looks like a genuine toy – and a good one, at that!
We really like that the carriages aren't all the same, too. There's a variety that can be mixed up and changed. Modular elements always go down well and add that little bit of customizable fun.
First there is a coal cart, then an open-sided passenger car, and then an enclosed carriage. Each has its own play features and allows for you to position your Minifigures anywhere withing them.
The Disney Train sits upon an track. The wheels allow it to roll and move as a proper train would, and there are enough pieces of track to allow you to build a very small loop.
We would be remiss not to mention the station. That in itself is a great little build, and stands on its own as a gorgeous structure. There are plenty of rooms and play features around the back, meaning that it's not just the train you can have fun with.
Overall, though, the train and the station really compliment each other and look well together. They are greater than the sum of their parts.
Would the Disney Train and Station LEGO set have benefitted from some extra lengths of track, so you could really build out a railroad? Yes, of course, but what we get can't be knocked at all.
When it comes to Minifigures, there's the usual Mickey and Minnie Mouse, but the highlights are definitely the Goofy, Chip, and Dale Minifigures. Each of them are appropriately dressed and look great.
The Disney Train and Station LEGO set is ultimately a fantastic display piece as well as a toy that you or your kids can enjoy playing with. This dual feature really makes it an appealing and fantastic set.
1. Disney Castle (71040)
| | |
| --- | --- |
| Release year: | 2016 |
| No. of pieces: | 4080 |
| No. of Minifigures: | 7 |
The Disney Castle is, without a doubt, the crown jewel of anyone's LEGO Disney collection. The sheer size and scale of the build is mind blowing, and we can see why it is so beloved by Disney fans.
In fact, it's not just Disney fans that love this set – LEGO fans, in general, find it to be one of the most extraordinary LEGO sets of all time. And there are plenty of good reasons for that!
Standing at 29 inches (75 cm) high, the Disney Castle is both a beauty and a beast. Pun most definitely intended. It is tall and proud and stands out against the other biggest LEGO builds.
Sure, the build is slow and complicated, but it is never boring or too repetitive. It's one that you can sit and enjoy building.
But it's not just a facade that's great to look at; the Disney Castle actually has plenty of play features too. Turn it around, and you'll find that there are many rooms for you to play with your Minifigures in.
There are rooms for each of the Minifigures to go in, ranging from bedrooms and dining rooms to a lookout in the tall spire. There are even some cool little easter eggs in there for the most avid of Disney fanatics.
When it comes to Minifigures there's a great little range. As we're sure you've noticed, Mickey Mouse and Minnie Mouse are staples of LEGO Disney sets, but we also get Donald Duck, Daisy Duck, and even Tinker Bell.
Goofy and Pluto Minifigures would have been nice additions, too, just to round out the 'sensational six' characters; however, that's a mere nitpick.
Overall, though, the Disney Castle LEGO set is one that should be in everyone's LEGO collection. It's a substantial and iconic set that is instantly recognizable, while being one of the most fun and worthwhile LEGO Disney builds ever.