Starting your first farm in Stardew Valley can be exciting, but it can also be overwhelming.
Your very first choice in the game – which farm you'll play on – can determine a lot about your play style. So which are the best farm types for beginners in Stardew Valley?
Overall, the best beginner farm is the Standard farm, as it is designed to be a blank slate for players to experiment with as they learn the game.
After that, the Four Corners farm is great for players who want to do a bit of everything.
Here are our tips for picking your first Stardew Valley farm layout.
The best Stardew Valley farms for beginners
The best farm type for beginners in Stardew Valley is going to depend largely on the playstyle you want to pursue.
Stardew Valley supports many styles of play, including full-time farming, animal husbandry, fishing and foraging, socializing, and adventuring.
The farm type you choose should reflect the kind of game you want to play and where your priorities will lie.
If you're brand new to Stardew Valley, try the Standard farm
If you have never played Stardew Valley before, then your best choice for a first farm is the Standard farm layout.
It's the most customizable and least specified of the base farm types and was specifically designed by ConcernedApe for beginner farmers.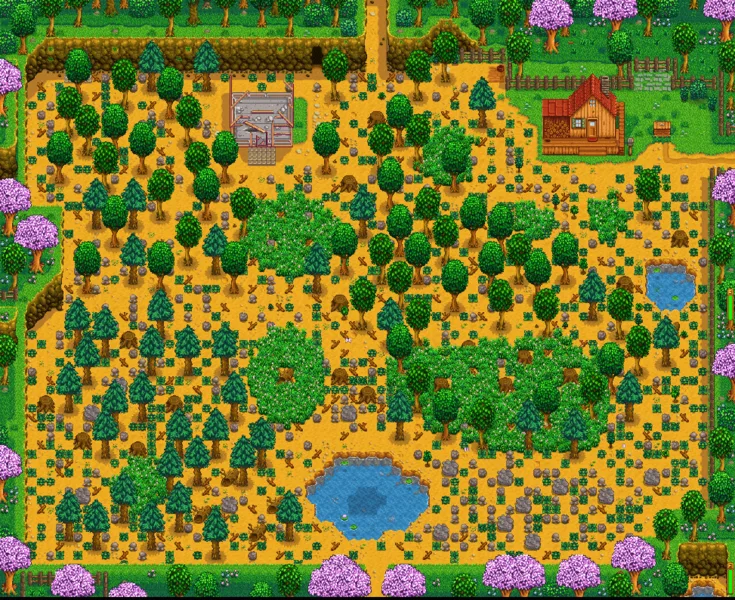 This layout is a largely blank slate that the player can adapt as they learn more about the game.
It includes a small pond at the bottom center, and the top right, which can be used as watering can refill stations. The greenhouse is in the top left, near Grandpa's Shrine.
The rest of the map is open, full of tillable tiles that can be used for farming, animal raising, building, or resource refining.
If you want to try a bit of everything, try the Four Corners farm
We talk about this in more detail in our Four Corners farm deep dive, but as a recap, the Four Corners farm in Stardew Valley is probably the best farm overall when it comes to the availability of a wide variety of resources in the game.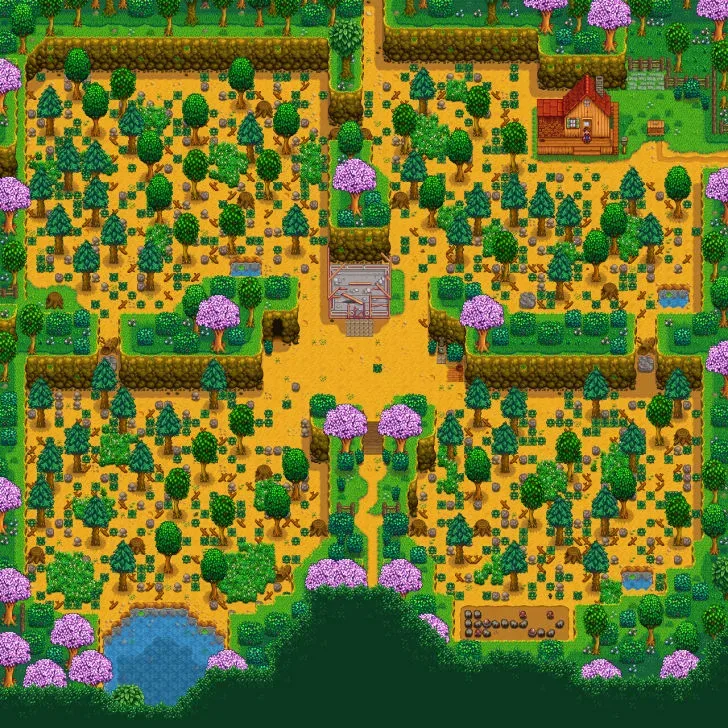 The Four Corners farm features;
Plenty of open space for crops and animals
A forest section with hardwood stumps and forageable spawning
A hilltop section with ore, geode, and stone spawning
A section with a lake that offers excellent fishing and crab pot opportunities
The greenhouse in the dead center of the map
If you're somewhat familiar with Stardew and want to create a new farm with efficiency in mind, then this layout is perfect for you.
Other Stardew Valley farm layouts ranked for beginners
The other farm layouts can be useful for a beginning farmer if you have a particular gameplay interest.
Since they're more specified, they can be tailored to very specific kinds of play, which can help keep new farmers from becoming overwhelmed.
Here's a quick summary of the other base farm types in Stardew Valley, with the farms ranked from best to worst for beginners.
Forest Farm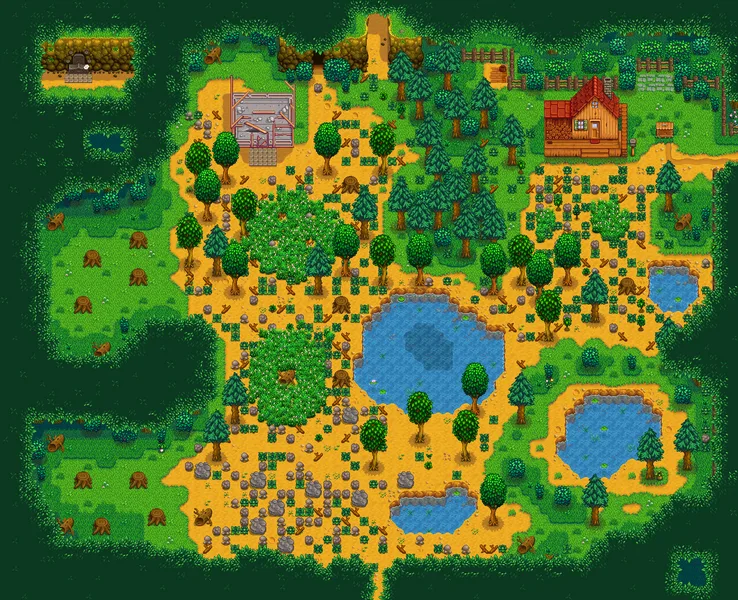 Features:
Multiple hardwood-producing stumps
More foraging items spawn on the farm.
Beginner Friendly?
Yes, if you like the forestry and foraging aspect of the game.
Riverlands Farm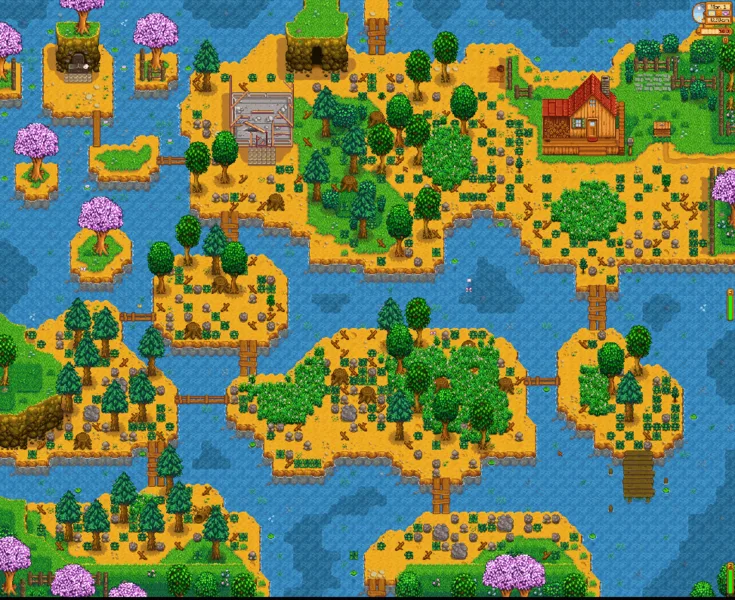 Features:
– More fishing areas with rivers and lakes.
– Higher chance of catching useable fish on the farm.
Beginner Friendly?
Yes, if you like fishing or do not plan to have large crop plots.
Hilltop Farm
Features:
– Geodes and ores spawn more readily in certain sections.
– River provides good fishing opportunities.
Beginner Friendly?
Yes, if you want easy access to ores, geodes, and rocks.
Wilderness Farm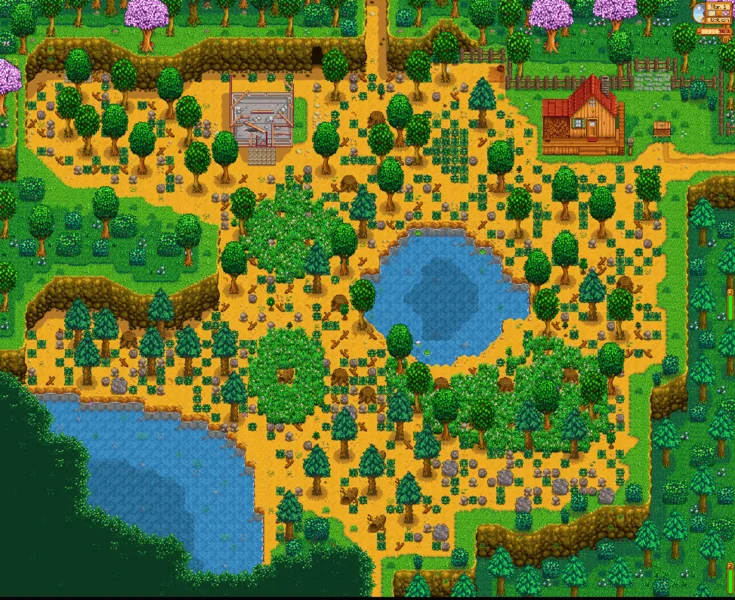 Features:
– Monsters spawn on the farm after dark.
Beginner Friendly?
No – monsters spawning can be overwhelming for new players.
Beach Farm
Features:
– Access to beach resources immediately.
– Small area for farming and ranching.
Beginner Friendly?
No – the lack of tillable land can be restrictive and difficult to navigate in the early game for new players.
For a more in-depth review of the farms, check out this guide.
Tips for beginner farmers in Stardew Valley
Here are a few more helpful tips if you are a beginning farmer in Stardew Valley.
Make upgrading your backpack a priority – having more storage space on your person can help you profit from your items rather than having to throw them away.

Crows will not eat crops that grow from wild seeds, so you don't need scarecrows for them.
Winter is a good time to focus on exploring the mines and fishing, as you won't have to focus on tending your crops.
Do tasks for townsfolk from the notice board outside of Pierre's and your mail – this will help increase your friendship levels with them.
Take advantage of universally liked gifts (things like cooked foods, vegetables, flowers, and artisan goods) if you want to raise your relationship stat with a particular character reliably.
Read more: Best and Most Profitable Ways to Make Money in Stardew Valley