Horses are mounts available in The Elder Scrolls V: Skyrim, allowing players to travel faster and temporarily enabling over-encumbered players to sprint and fast travel while riding them.
But what is the best horse available in Skyrim?
The new Dwarven Horse in Skyrim's Anniversary Upgrade is unkillable and has unlimited stamina, making it the best mount in the game currently.
Shadowmere is the best horse available in vanilla Skyrim, unlockable through the Dark Brotherhood questline.
Players can use Shadowmere to increase other skills like one-handed combat by exploiting its high health and rapid health generation.
Read more: How to Call Your Horse in Skyrim
Are there any special horses in Skyrim?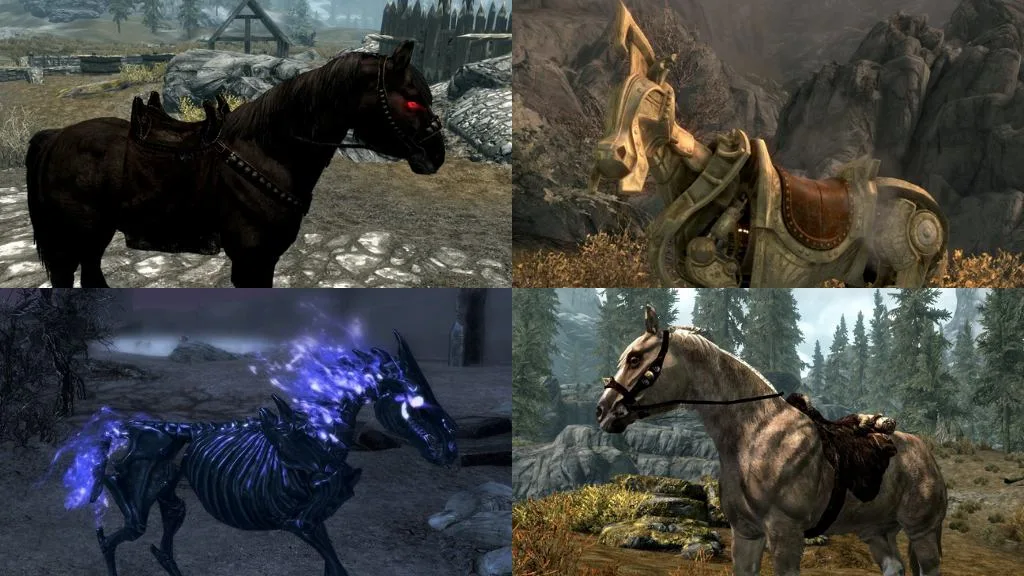 There are four horses in Skyrim with unique names with the Anniversary Edition.
Dwarven Horse
Although not a living creature, this mount is available through the Forgotten Seasons Creation or the Anniversary Edition. You can unlock the Dwarven Horse through a quest associated with the Runoff Caverns, located west of Lost Valley Redoubt and accessible by going southwest past Cradle Stone Tower.
Shadowmere
In vanilla Skyrim, Shadowmere belongs to Astrid from the Dark Brotherhood. Before the Anniversary Version, it was considered one of the best mounts in the game due to its increased stamina and high health regeneration.
Arvak
In the Dawnguard DLC, you can go to the Soul Cairn and start the quest "Find Arvak's Skull" by talking to a man calling out for Arvak. You'll need to find his skull, located by the east side of the Boneyard's front gate.
You will find it on top of a pedestal surrounded by standing stones. Once you grab the skull, his former owner will teach you the Summon Arvak spell. You don't need to have the skull in your inventory to summon the horse.
Frost
Frost appears outside Black-Briar Lodge. You need to go to Riften to start the quest Promises to Keep by talking to Louis Letrush inside The Bee and Barb inn.
Once you recover the horse and arrive with it to the forest northeast of Riften, you can either persuade or intimidate Louis to keep the horse yourself. If you double-cross Louis, this action won't make Frost count as an owned horse.
Since you can summon Arvak as a spell, the horse will despawn after 30 seconds since that is the spell's duration. However, this timer stops whenever you're riding Arvak, and you can always resummon it if killed.
Read more:
How do you get the best horse in Skyrim?
To unlock the Dwarven Horse, you must complete its associated quest. To activate the quest, you need to travel to the entrance of Runoff Caverns and grab a metallic Dwarven horse outside its entrance labeled as "Broken Dwarven Horse."
You must recover the head and its four legs to rebuild it, and these pieces can be found while completing the dungeon associated with the Forgotten Seasons quest.
Best horse in Skyrim besides Dwarven Horse
After the Dwarven horse, the best horse is Shadowmere. To obtain Shadowmere you must start the Dark Brotherhood quest and progress until you start The Cure for Madness.
After Cicero tries to kill several members of the Dark Brotherhood and flees, Astrid asks you to chase Cicero to the abandoned sanctuary outside Dawnstar and summons Shadowmere outside the current sanctuary.
The horse will spawn from a dark pool with special sound effects, but using it to move to Dawnstar is optional.
Best horse in Skyrim besides Shadowmere
After Shadowmere, the best horse available in vanilla Skyrim is Arvak, obtainable through a quest in the Dawnguard DLC. You can summon Arvak in any outdoor place, making it technically unkillable. You can use Arvak to level up combat-related skills, like One-Handed or Archery.
Are different horses faster in Skyrim?
Regardless of how you obtain your horse, all of the available mounts in Skyrim have the same speed. They can differ in health, stamina, and health regeneration. However, horses don't offer different movement speeds while sprinting or walking.
Before the Anniversary Upgrade, the full list of horses available in Skyrim are:
| | | | | | |
| --- | --- | --- | --- | --- | --- |
| Horses | Found in | Obtained by | Health | Stamina | Added by |
| Black Horse | Whiterun Stables | Purchase (1000 gold) | 289 | 106 | Base game |
| Bay Horse | Windhelm Stables | Purchase (1000 gold) | 289 | 106 | Base game |
| Piebald Horse | Markarth Stables | Purchase (1000 gold) | 289 | 106 | Base game |
| Dapple Grey Horse | Riften Stables | Purchase (1000 gold) | 289 | 106 | Base game |
| Palomino Horse | Katia's Farm | Selling vegetables to Katia | 289 | 106 | Base game |
| Frost | Black-Briar Lodge | Complete quest "Promises to Keep" in Riften | 562 | 148 | Base game |
| Shadowmere | Falkreath Sanctuary | Dark Brotherhood questline | 1637 | 198 | Base game |
| Arvak | Soul Cairn | Quest "Arvak's Skull" in Soul Cairn | 289 | 106 | Dawnguard DLC |
| Dwarven Horse | Runoff Caves | Complete quest "The Dwarven Horse" in Runoff Caves | 1637 | 198 | Anniversary Upgrade |
Can you put armor on your Skyrim horse?
If you have the Anniversary Upgrade or purchase the Wild Horse Creation, you can buy a Steel and Elven Horse Armor for your mount, each costing 500 gold. You can buy the armor with any stablemaster. You can also purchase 5 saddles, costing 100 gold each, or remove the current saddle for free.
Standard saddle
Imperial saddle
Stormcloak saddle
Dark Brotherhood saddle
White saddle
Saddles in Skyrim are only cosmetic items and won't affect your horse's stats.
What is the best wild horse in Skyrim?
The best wild horse in the game is the Unicorn, having the same health and higher stamina than other wild horses spread throughout Skyrim.
To tame any wild horse, you must remain mounted enough time to convert it into an owned mount. The wild horse will start bucking and can ragdoll you off it, so you need to chase them down once you're able to move again.
The Wild Horse Creation includes the following horses scattered across Skyrim:
| | | | |
| --- | --- | --- | --- |
| Wild Horse | Location | Health | Stamina |
| Black Horse | South of Evergreen Grove | 497 | 238 |
| Chestnut Horse | East of Helgen | 497 | 238 |
| Dappled Brown Horse | South of Solitude Sawmill | 497 | 238 |
| Grey Spotted Horse | North of Salvius Farm | 497 | 238 |
| Pale Mare | East of Yngol Barrow | 497 | 238 |
| Red Horse | Northwest of Whiterun Stables | 497 | 238 |
| White Spotted Horse | West of Stony Creek Cave | 497 | 238 |
| Unicorn | West of Lost Prospect Mine | 1637 | 698 |
Where is the Unicorn in Skyrim?
The Unicorn is part of the Wild Horses Creation in the Anniversary Upgrade.
You first need to complete the quest Horse Whisperer to unlock the quest Creature of Legend. At the College of Winterhold, you will find Soran's Journal located on Urag gro-Shub's desk. By reading the book, you will be directed to the Unicorn situated in the pond west of Lost Prospect Mine.
The Unicorn will return to the College of Winterhold's courtyard if you set another horse as your main mount.
Read more: