With the festive season fast approaching, we thought we'd take a look at the 12 best LEGO Christmas sets that are out there!
We think it's great that LEGO puts out sets that are appropriate to the Yuletide season, and in all honesty, they have something special and interesting about them all.
With an abundance of LEGO sets being released every year, it's nice that we get something that tips its hat to Christmas. The builds are equally intricate and exciting, just with a festive and often snowy twist.
We're going to be looking at some fantastic LEGO Christmas sets, with a few cool surprises sprinkled in. Keep an eye out for the festive Star Wars and Marvel sets in there!
So with that being said, let's dive on into the 12 best LEGO Christmas sets, rating them in various areas, including their looks, playability, and Minifigures to find out which is the very best!
12. Winter Skating Scene
Set number: 40107
Release year: 2014
Number of pieces: 129
RRP: N/A
Number of Minifigures: 2 (Boy and Girl)
We're going to start off small and simple with the 40107 Winter Skating Scene LEGO Christmas set. It's a quick and easy little build that is surprisingly fun!
It features a frozen-over lake made of transparent blue bricks. There is also a snowy white slope. This set allows you to play a game of ice hockey!
The Minifigures come with hockey sticks, and there are also ice skates, hockey pucks, and even a goal, all of which allow you to play your game on the ice. There is of course a toboggan and snowballs included, too!
To top it all off and add to the festive feel of the set, there is a streetlamp that has some festive greenery on it.
We love how 'slippery' this LEGO set is. They did a great job of creating a set that the Minifigures can 'glide' on. They did this by using lots of flat-topped bricks, which created an even surface with no studs in the way.
This allows the figures to skate on the transparent blue ice. It also allows the toboggan to easily slide down the clear-tiled slope.
This LEGO set was a LEGO exclusive one, that came free with qualifying purchases in November 2014. But don't worry, they're not too rare and don't sell for all that much on the second-hand market!
Overall the 40107 Winter Skating Scene LEGO Christmas set uses simple yet very effective methods to create a very fun set with plenty of play features.
11. Winter Fun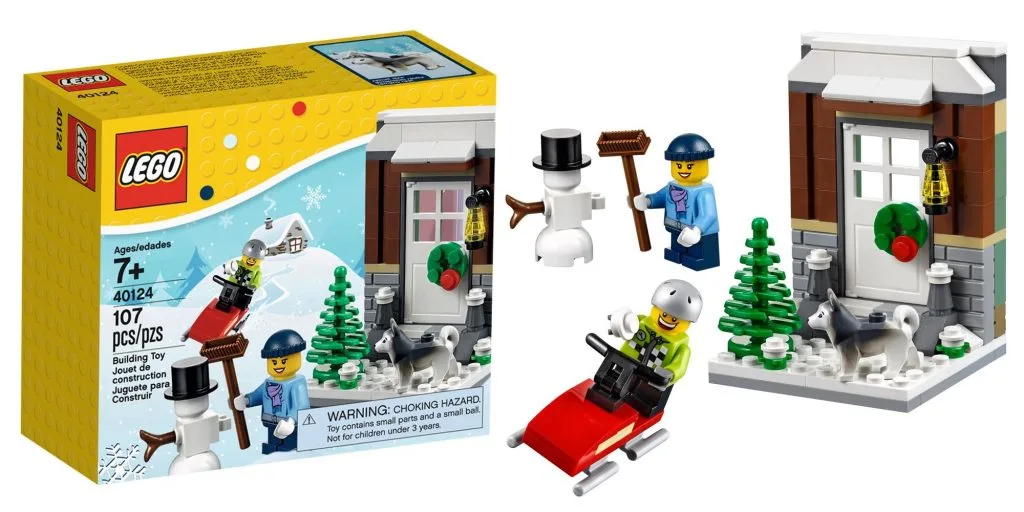 Set number: 40124
Release year: 2015
Number of pieces: 107
RRP: $9.99 / £8.99
Number of Minifigures: 2 (Boy and Girl)
We're going with another tiny little set now, this time it's the 40124 Winter Fun LEGO Christmas set.
The main section of the build is a snowy doorway to a house. There is no house – just the doorway. Still, it looks great!
The door has a little LEGO wreath on it, as well as a small Christmas tree and a lantern adorning the wall just to the right of the door. It is an appropriately wintery-looking entrance.
The door of course opens and closes and swings open to the left (as you face the building).
Included in the set is a red snow ski that seats one of the Minifigures. Because it has thin flat 'rails' that come into contact with the ground, it slides along without too much resistance.
There is also a snowman, complete with wooden stick arms and a black top hat.
Minifigure-wise, there is a boy and a girl. The boy is wearing a lime green coat with some neat printing across the torso piece. His single-sided head has a massive grin across it, too.
The girl is wearing a more muted blue outfit, again with details printed onto it. She has a scarf printed on there too. That's a bit of a strange choice, as they could have just given her a scarf to sandwich between her torso and head pieces.
Overall this set might be small, but it's a great little world-builder. You could add the main section to any other house LEGO set and incorporate the Minifigures into nearly all other LEGO Christmas builds.
10. Gingerbread House
Set number: 40139
Release year: 2015
Number of pieces: 277
RRP: N/A
Number of Minifigures: 0
The 40139 Gingerbread House LEGO Christmas set is not so much a play set but more of a fun and colorful-looking display set. Still, it's a worthy addition to this list!
The house is made up of light brown bricks and has windows on three sides and a door on the fourth. Nothing too exciting. But it's the rest of the decorations that make it stand out and look truly unique.
There are colorful rounded tiles sitting all across the pointed snowy roof. This pop of color alone makes the set look ultimately more eye-catching.
Each side of the house features colorful sweets, candy, and cupcakes that make it look like an intricately decorated gingerbread house. Most of the decoration is on the front side, where the door is.
A colorful path is lined by equally colorful cupcake-like pieces. There are large lollipops and candy canes standing proudly on either side, really adding to the detail. LEGO went all out making this set pop!
The house doesn't come with any Minifigures, though it is scaled for them, meaning that you can grab any of your Minifigures and play with them.
Overall this is a sweet and pretty little build that not only looks festive and colorful but also allows you to incorporate it into your LEGO Christmas scenes.
9. Wintertime Polar Bears
Set number: 40571
Release year: 2022
Number of pieces: 312
RRP: $12.99 / £11.99
Number of Minifigures: 0
Up next is the adorable and cute 40571 Wintertime Polar Bears LEGO Christmas set. This set consists of two polar bears in front of a Christmas tree.
One polar bear is sitting, while the other is standing atop a red sled. The large, cartoon-like eyes give the bears some character and add to the cute factor.
LEGO was a little limited here with how they could make this set pop. That's probably why they added the bright red sled and the lovely green Christmas tree, complete with baubles and a star.
The small gifts and section of translucent blue ice also help break up the monotony of the white. It works really well.
Neither of the polar bears has any articulation. They are constructed in one single block and have no moveable sections. With that being said, though, the sled IS moveable, so if you want to push the polar bear around, then you still have that option.
There are no Minifigures, but with a little set like this, you find yourself asking 'do I really need any Minifigures?' It's cute, and the bears are fun enough to stand on their own merits.
Overall the Wintertime Polar Bears LEGO Christmas set is a cute little display piece that, while having very little playability, still checks all the boxes for what makes a fun and interesting LEGO build.
8. Snow Globe
Set number: 40223
Release year: 2016
Number of pieces: 215
RRP: $9.99 / £8.49
Number of Minifigures: 1 (Santa Claus)
Everyone loves a good snow globe, and the 40223 Snow Globe LEGO Christmas set tries to capture the beauty and excitement of these ornaments…but in LEGO form!
The snow globe consists of a large domed section made out of clear pieces. This allows you to see through into the main display inside.
Within there is a large Christmas tree that fills the globe up. In front of it proudly stands a Santa Claus Minifigure. It makes for quite a striking piece!
There are several small white pieces inside that sit loose. The snow globe is sturdy enough to be picked up and shaken, making the white pieces fly around and fall like snow. It's not quite the same as a real snow globe, but still!
All of this sits on top of a literal box. The LEGO box is designed to look like a house, with there being plenty of brick-like pieces with red, white, gold, and green corner sections that help hold the top part up like columns.
The front door section has two flaming torches on either side. The flames are translucent orange, and they provide quite a startling contrast to the otherwise festive colors. It's like a flash of light.
But the surprises don't end there. Pull the small handle below the door, and you'll find that the section pulls forward, revealing a drawer. You can place your extra pieces and accessories in there for safekeeping.
The drawer provides a surprisingly rare level of functionality that you don't often get in LEGO sets.
Overall the Snow Globe LEGO Christmas set is just a pretty, decorative, yet functional build that adults will probably appreciate slightly more than children.
7. Marvel Guardians of the Galaxy Advent Calendar
Set number: 76231
Release year: 2022
Number of pieces: 268
RRP: $44.99 / £29.99
Number of Minifigures: 6 (Star Lord / Peter Quill, Drax, Groot, Rocket Raccoon, Mantis, and Nebula)
Advent calendars are an integral part of the run up to Christmas, and that's one of the reasons that we love the 76231 Marvel Guardians of the Galaxy Advent Calendar LEGO Christmas set so much!
Yes, we're taking a little sidestep into the Marvel Cinematic Universe to check out the Guardians of the Galaxy-themed LEGO calendar. With 24 different Minifigures and micro builds behind the 24 doors, it sure is a lot of fun.
Okay, we'll admit that some of the micro builds are better than others. In fact, some of the micro builds are downright bad, but while there are lowlights, the highlights more than make up for them!
The Minifigures are evenly spaced out in the Advent calendar, meaning that you get one every 3 or 4 days. It keeps things interesting and keeps you guessing as to what's coming next.
LEGO made some great selections as to what they included, and while the quality of the micro builds isn't always there, we have to congratulate them on their ingenuity in creating tiny versions of some classic Guardians of the Galaxy items, objects, and spaceships.
We can't overstate how fun the Minifigures are. Star Lord / Peter Quill, Rocket Raccoon, and Mantis are all pretty straightforward, but the others definitely have a more festive twist!
Drax and Nebula both have on festive Christmas sweaters, and Groot can be transformed into a Christmas tree. We love that they did that, as it takes plain (but still cool) Minifigures to the next level!
Overall the 76231 Marvel Guardians of the Galaxy Advent Calendar LEGO Christmas set is one of the best Advent calendars that we've ever got! You can read our full and in-depth review here!
6. Elf Club House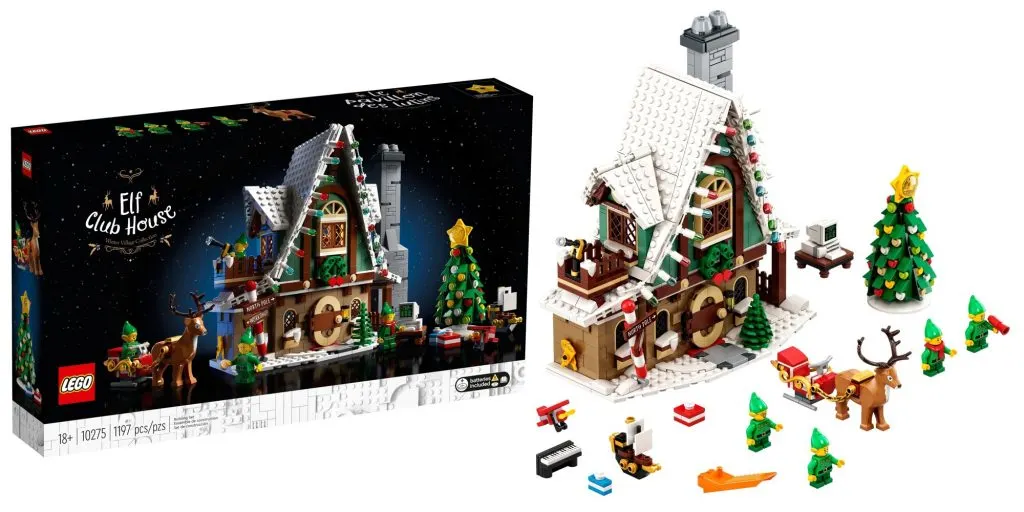 Set number: 10275
Release year: 2020
Number of pieces: 1197
RRP: $99.99 / £79.99
Number of Minifigures: 4 (Elf x4)
Standing out from the crowd, the 10275 Elf Club House LEGO Christmas set is a tall and magnificent kind of building. With its tall peaked roof and majestic Christmas tree, it's surely a winner!
The green and brown building has a roof that juts up at a sharp angle. It gives it a cartoonish, almost other-worldly look. The design is nice, though, and it can be opened up to reveal the interior of the elf home.
We love the look of the exterior. The doors and windows all have a rounded kind of shape, while the second-floor sections are slightly more angled. It just makes a little difference.
There is a computer for the elves to use, as well as a very large and ornate Christmas tree. We find it odd that LEGO didn't just include a standard Christmas tree, but we're not complaining – it looks great!
The side of the house also has some kind of snowball cannon. While it doesn't actually fire anything, it's still a cool-looking addition to the build that gives it even more functionality.
This is one of those sets that would make a brilliant companion to so many of the other sets on this list!
The Minifigures are all made up of elves in this set. That might seem obvious, but we're surprised LEGO didn't try to slip a Santa Claus Minifigure in there, too. Still, the elves are all different enough to be interesting.
There is a large reindeer and sleigh, though. Both look incredible, it's just a bit disappointing that the reindeer was molded in a single piece and as such has no articulation.
Overall Elf Club House LEGO Christmas set is as beautiful as it is interesting. There are plenty of fun features and accessories, but what strikes us the most is how beautiful it really is.
5. Christmas X-wing
Set number: 4002019
Release year: 2019
Number of pieces: 1038
RRP: N/A
Number of Minifigures: 3 (Yuletide Squadron Pilot, Jedi Master Yoda, and R2-D2)
We're going to take another sidestep into another one of LEGO's most popular IPs, this time it's Star Wars! And we're looking at the 4002019 Christmas X-wing LEGO Christmas set.
This Christmas X-wing seems to be based on the design for the 75273 Poe Dameron's X-wing Fighter that came out only a few months later. Aside from the obvious color differences, there are only a few slight differences in the build.
There is also a couple of other fun builds that make this set a little more interesting. Firstly, there is a small sled laden with packages and parcels. Then there is a small festive hut where Yoda lives.
This hut serves as a kind of stand for the X-wing, meaning it makes a great display piece.
Luckily, we get a fun little range of Minifigures. We get R2-D2, which is available in many other LEGO Star Wars sets. We also get a festive-looking Jedi Master Yoda, complete with a Santa Claus torso piece.
The highlight of the Minifigures is the Yuletide Squadron Pilot. With a red jumpsuit and with a red visor, he looks very Christmassy. The printing on the torso piece extends down the legs, and it looks cohesive and interesting.
And that's before we even mention his mighty beard piece that can be sandwiched between his head and torso pieces.
All that is great, but now for the downside: this set wasn't available for retail and was given to LEGO Store employees. They do pop up for sale every so often, but they are pretty expensive!
Overall the 4002019 Christmas X-wing LEGO Christmas set might be a little bit of fun, but it works fantastically well, and it's nice to see Star Wars – a franchise that doesn't really do Christmas sets – get in the festive mood!
4. Winter Village Market
Set number: 10235
Release year: 2013
Number of pieces: 1261
RRP: $99.99 / £79.99
Number of Minifigures: 9 (Man x2, Woman x3, Boy x2, and Girl x2)
Up next is the fantastically fun-looking 10235 Winter Village Market LEGO Christmas set – one of the most marvelously modular sets on this list!
We'll start by talking about the big main section: the carousel. It has two horses and two sleds on it, all of which can seat Minifigures. It spins around easily and looks amazing.
We especially love the use of the blue fabric parts on the top to make it look like it has a more tent-like roof.
Alongside it is a game stall that has room to position a Minifigure behind it, as well as several in front of it playing the game. And speaking of the game stalls, there are plenty more to talk about!
There are also several snack and drink stalls that follow the same design as the games stall. They are all attached to their own baseplate, meaning they can be moved and placed wherever you want.
Finally, there is a small wooden bench. Again, it is on its own baseplate and as such can be put anywhere. And to fill out the scene some more, there are various Christmas trees and lampposts.
LEGO did a fantastic job of putting together a set that gives you a lot of options. You're not stuck to one specific design or layout. That's something we think many LEGO collectors will appreciate.
Looking at the Minifigures, they're all fairly standard for what you would expect in a set like this. The men, women, boys, and girls all fill out the scene nicely and populate this colorful and exciting village market.
Overall the Winter Village Market LEGO Christmas set is busy, dynamic, and exciting, offering you the ability to position the various elements wherever you want.
3. Winter Holiday Train
Set number: 10254
Release year: 2016
Number of pieces: 734
RRP: $99.99 / £74.99
Number of Minifigures: 5 (Train Driver, Engineer, Conductor, Boy, and Girl)
Large and green, the 10254 Winter Holiday Train LEGO Christmas set is certainly one that LEGO enthusiasts will adore. It has so much that makes it beautiful and festive!
Let's start off by saying the large main train section is green with black, gold, and red highlights. The culmination of the colors really gives the vehicle a Christmassy look.
The second coal section of the train also follows that paint scheme. LEGO made some great choices here.
Moving onto the third section, it's an open carry that you can sit Minifigures on. Alternatively, you can stack it up with gifts or anything else that you want, really.
The fourth and final section is a more traditional carriage. This goes back to the same green/gold/red/black scene as the front part of the train. The doors open up, and you can sit Minifigures in there.
The wheels of each piece rotate, meaning it can be easily pushed along whether it's on the train tracks or not. It rolls smoothly and with little resistance, which is ideal for this kind of thing.
There are also 16 pieces of train tracks included. These can be joined together and put into whatever order you want. It of course makes a circular track, though you can design one in whatever shape you want.
The Minifigures are all very appropriate for the set. The boys and girls are all fun, and they are especially exciting when combined with their toy accessories, but the train staff are what really stand out.
The conductor is a particular Minifigure highlight, having printing all over his head, torso, and leg pieces. He also comes with a satchel that can fit a small ticket that can also be easily clipped into a hand.
Overall the Winter Holiday Train LEGO Christmas set has SO much playability that it's a wonder it didn't make it into first place!
2. Santa's Workshop
Set number: 10245
Release year: 2014
Number of pieces: 883
RRP: $69.99 / £59.99
Number of Minifigures: 6 (Santa Claus, Mrs. Claus, and Elf x4)
If we're going to talk about super festive LEGO builds that kids will love and identify with, then the 10245 Santa's Workshop LEGO Christmas set is going to be a real festive favorite.
The workshop building itself looks wonderful and features arches, signs, and even a clock on the tower. It is all topped off with a snowy roof. This is simply done just by building the roof from white bricks. It's simple, but it's effective!
There is an elf production line in the set too. This allows you to position your elf Minifigures alongside it, and they can produce all kinds of toys and goodies. It's a sweet and clever little addition. The toys and builds all slide smoothly along the conveyor.
On top of all that, there is also a Christmas tree, large red and white candy cane poles, and even the North Pole itself, complete with a round festive wreath.
We especially love the reindeer and sleigh builds. There are five reindeer included, and each of them needs to be built. This is better than LEGO just including a molded animal with no articulation.
Of course, there is a Santa Claus Minifigure included, but we do love that Mrs. Claus also gets her own Minifigure. Then while at first glance the elves look the same, they are all unique and stand out from each other.
Overall the Santa's Workshop LEGO Christmas set is an ultimate build that not only has a lot of playability but hits all the right notes when it comes to Christmas and what is festive.
1. Charles Dickens Tribute
Set number: 40410
Release year: 2020
Number of pieces: 333
RRP: $22.99 / £20.99
Number of Minifigures: 3 (Ebeneezer Scrooge, Bob Cratchit, and 'Tiny' Tim Cratchit)
We're going to finish with a set that epitomizes Christmas! The 40410 Charles Dickens Tribute LEGO set depicts a scene from the classic Festive novel that was released in 1843.
The LEGO set is designed to be built upon a book. But it is not just any book – it's a LEGO version of Christmas Carol itself, complete with a burgundy cover and green and gold highlights.
It might only be a small set, but that doesn't make it any less incredible. In fact, it just goes to show that amazing things can come in small packages!
The interior of the house is small but nicely decorated. It is only a section of the house, with a small Christmas tree, as well as a fireplace and candles with translucent orange LEGO flames.
The outside doorstep section of the house is a contrast to the interior. The snowy ground is represented with white bricks, and there is a streetlamp to add a little extra detail to the exterior section.
The Minifigures are all fantastic and are dressed appropriately Victorian-y. The printing on Scrooge's torso piece gives him a nicely tailored suit, and his look is topped off with a towering top hat and umbrella.
We want to point out Scrooge's fantastic face printing. He has a stern look, and long shaggy sideburns as well as glasses on the end of his nose. There is a lot of detail printed on there, but it all works together.
Bob Cratchit has a knitted design printed onto his torso piece, and 'Tiny' Tim Cratchit is a shorter Minifigure that sports a bright red scarf and a walking stick.
Overall, the 40410 Charles Dickens Tribute LEGO Christmas set is an absolute treat. It looks amazing, depicts a classic scene from a classic story, the Minifigures are unique and look fantastic, and it is ultimately very affordable.
The 12 Best LEGO Christmas Sets in 2022…in numbers!
So we've unwrapped and tucked into the 12 best LEGO Christmas sets, but we thought we'd make things a little easier and simpler for you!
Take a look at this table to see how the sets stack up against each other!
| Set | Released | RRP |
| --- | --- | --- |
| 40107 Winter Skating Scene | 2014 | N/A |
| 40124 Winter Fun | 2015 | $9.99 / £8.99 |
| 40139 Gingerbread House | 2015 | N/A |
| 40517 Wintertime Polar Bears | 2022 | $12.99 / £11.99 |
| 40223 Snow Globe | 2016 | $9.99 / £8.49 |
| 76231 Marvel Guardians of the Galaxy Advent Calendar | 2022 | $44.99 / £29.99 |
| 10275 Elf Club House | 2020 | $99.99 / £79.99 |
| 4002019 Christmas X-wing | 2019 | N/A |
| 10235 Winter Village Market | 2013 | $99.99 / £79.99 |
| 10254 Winter Holiday Train | 2016 | $99.99 / £74.99 |
| 10245 Santa's Workshop | 2014 | $69.99 / £59.99 |
| 40410 Charles Dickens Tribute | 2020 | $22.99 / £20.99 |
Final thoughts
There are definitely some incredible LEGO Christmas sets out there! It's clear that when it comes to festive builds, there's a lot to choose from and enjoy!
Whether you want a small, affordable, and compact set, or you're happy to splash out and get hold of a rarer and more expensive set, there's something for everyone.
What we do like is that not every set does the obvious thing of including a Santa Claus Minifigure. Sure, it's great when we DO get him, but having one in every single set would have been overkill!
LEGO had some fantastic ideas when it came to Christmas sets. There are very few repeats, and it's almost like they are modular LEGO sets that you can join together and expand your winter wonderland.
Even the LEGO Star Wars and LEGO Marvel sets fit nicely into the theme and make wonderful additions to any Christmas scene. Sure, they're something strange and different, but they still work!
The little sets complement the large sets, and the large sets help build up the worlds of the little sets. They all work hand in hand.
Overall though, what we found to be most surprising is how the single best LEGO Christmas set (in our opinion at least) wasn't a huge, fancy, elaborate set. It was a small, intimate, and affordable one.
It depicts something timeless and classic and represents the Christmas theme like no other set does. It's a difficult thing to explain! But no matter what you like, LEGO knocked it out of the park with every single set!