If you want to create amazing LEGO city scenes, then you're going to want to get your hands on some LEGO Modular Building Collection sets. They allow you to join them together and create the city of your dreams!
Not only do LEGO Modular Building Collection sets provide you with a lot of fun and entertainment, but the way they are constructed means they can be linked and joined together in various combinations.
That means that if you want to put the café next to the firehouse, then you can do it. Or perhaps you want to put the sweet surprises shop next to the corner garage. Then that's okay too!
You'll find that once your city starts to build up and you begin to combine two or more of these sets, you're going to be blown away by the looks, functionality, and playability of them.
So what we're going to do is go through each and every LEGO Modular Building Collection set, rating them in various areas, including their looks, playability, and Minifigures to find out which is the very best!
10. Modular Sweet Surprises
Set number: 31077
Release year: 2018
Number of pieces: 396
RRP: $39.99 / £34.99
Number of Minifigures: 3 (Girl, boy, and confectioner)
We're starting things off with the Modular Sweet Surprises LEGO set. It has a colorful white and blue facade with red and white awnings jutting out over the windows.
The main bulk of the build is on the first floor. It is here where the shop and produce are. Spin the set around and the open back allows you to play with your Minifigures within the shop itself.
We love the sign, which features two croissants and a large cupcake. It really stands out and tells you exactly what kind of shop this is at only a glance.
There is also a second floor to this build, with a balcony and a window garden. It allows your Minifigures to look out over the shop and over the street.
Coming to the Minifigures themselves, we have a boy, a girl, and a confectioner. The confectioner has great printing on his torso, and he looks ready to get to work in the shop. He also has a cool hat!
The boy and the girl are shorter Minifigures with unarticulated legs. Still, they are appropriately scaled against the adults.
Taking a look at the back of the box, there are also two other builds that you can make using the same LEGO pieces used to make the Modular Sweet Surprises build.
Firstly, there is a food corner café. This single-level build features two open-fronted sections where your Minifigures can serve customers. It's very reminiscent of the main build and reuses several whole sections.
Next up, you can make a pool house and swimming pool. It makes use of most of the blue bricks included in the set and looks really great.
Not only does it have a second-floor balcony that overlooks the pool, but it has steps going down into the water too. There's also a diving board-like section that hangs over the edge of the pool.
Overall, the Modular Sweet Surprises LEGO set might only be small, but it's certainly sweet. It's an affordable entry into the world of modular LEGO builds.
9. Townhouse Toy Store
Set number: 31105
Release year: 2020
Number of pieces: 554
RRP: $39.99 / £39.99
Number of Minifigures: 2 (Boy, and Toy Store Worker)
If you want a fun set with a lot of options, then the Townhouse Toy Store LEGO set is going to be one that keeps you pleased and satisfied.
The build is fairly easy and doesn't take too long, and the results are fantastic. In fact, while it's only a small build, it is bright and colorful. Certainly one of the more eye-catching LEGO sets on this list.
We love the juxtaposition of the more muted tan and brown bricks on the lower level and the bright turquoise upper section. It feels like two separate buildings all in one.
You of course have access to the interiors of both floors by spinning the set around.
Another great feature is the rocket ride that can be placed outside of the Townhouse Toy Store. It can seat a Minifigure and moves backwards and forwards, just like the real thing. It's a nice little touch!
The Minifigures are pretty standard but still nice. The store worker is wearing a printed uniform and has a nice flicked out hair piece. The boy is smaller in size, but his printed jacket is detailed and looks interesting.
While there is one less Minifigure than the 31077 Modular Sweet Surprises LEGO set, the rest of the main build more than makes up for it.
If you look at the back of the box, it reveals that there are two additional builds.
As well as the Townhouse Toy Store, you can also make a busy cake shop. This much more squat building utilizes most of the top section of the Toy Store while adding an extra outside seating section.
You can also make a flower stall. This build has a colorful array of plants while allowing access to the roof. You can also create some tiny birds – this time in yellow!
Overall while it would have been nice to get three Minifigures in the Townhouse Toy Store LEGO set, the quality of the compact little build is high enough for us not to complain!
8. Downtown Noodle Shop
Set number: 31131
Release year: 2022
Number of pieces: 569
RRP: $44.99 / £39.99
Number of Minifigures: 2 (Woman, and Chef)
No city scene is complete without an eatery, and the Downtown Noodle Shop fulfills that role perfectly.
It might be a pretty minuscule build, but it surprisingly has quite a lot to offer. The detailing is wonderful, and the playability cannot be denied.
We especially love the noodle sign that is positioned above the entrance. LEGO managed to make an effective sign that tells you exactly what it is without any printed words or stickers.
The small ice cream back is also a bizarre yet exciting little addition that adds a fun and dynamic element to the set. It seats a Minifigure and can roll freely around.
There are also steps around the side of the build that lead up to a small upstairs apartment. Inside there is a chair and a TV. It fits one or two Minifigures, but the space is tight.
Underneath, within the noodle shop itself, is an over and hob as well as a preparation bar and serving hatch. LEGO even included come cutlery and kitchen accessories to help bulk out the scene.
We love the inclusion of the small dog build. Would it have been easier to include a dog Minifigure? Probably, but it's far more fun to actually make one yourself out of small bricks!
And speaking of Minifigures, what we get might but minimal, but they're fun. The woman is pretty standard, but it is the Chef who stands out. The printing on his torso is fantastically detailed.
His little goatee and messy hair really add to his look too. As we said, the Minifigures are sparse, but they work well!
Turn the box around, and you'll find that there are two additional builds that you can create using the same set of LEGO bricks.
Firstly, there is a townhouse, which is like an extended and expanded version of the townhouse that sits above the noodle shop. It has a lot of room inside, and even has a large gaming console control that sits on the roof.
You can also create a bike shop too, complete with a small living area above it.
Overall the Townhouse Toy Store LEGO set is another small but effective set that can be used in a variety of ways – all of them fun!
7. Downtown Diner
Set number: 10260
Release year: 2018
Number of pieces: 2480
RRP: $169.99 / £129.99
Number of Minifigures: 6 (Bodybuilder, Boxer, Chef, Manager, Rock Star, and Waitress)
Next, we have the most retro and 50s-y-looking build on this list, the Downtown Diner LEGO set.
With its large, rounded Art Deco-style facade, it stands out against other LEGO Modular Building Collection sets. This set is encapsulating an era and a style that we have long since moved on from.
Inside, on the first floor, is a retro 50s diner, complete with a large griddle (and some food), seating booths, and a jukebox.
The second floor has an old-style gym in it. There is a large boxing ring as well as a punching bag that swings backward and forwards.
The top floor is a rock and roll studio, with a gold disc on the wall and recording equipment. The roof tops it all off, where you can position the rock star Minifigure for a rooftop performance – just like The Beatles!
One of the things that we love most about this car is the pink Grease Lightning-looking convertible car. Able to seat several Minifigures, the car has open-able doors and rolling wheels.
The Minifigures all have a retro look, with a couple of them even having those retro hairstyles. They're certainly unique-looking figures that make a fine addition to your Minifigure collection.
The bodybuilder is a favorite, and he has a mighty mustache printed on his head piece, and a sculpted body on his torso piece. It looks fantastic!
Looks-wise this is certainly a set that will stand out against the others. That 50s retro look and style is charming, and LEGO did a great job encapsulating an era.
Overall the Downtown Diner LEGO set will central anyone who builds it and give those that are mature enough to remember the era a great nostalgic kick.
6. Corner Garage
Set number: 10264
Release year: 2019
Number of pieces: 2569
RRP: $199.99 / £159.99
Number of Minifigures: 6 (Girl, Man, Woman, Mechanic (female), Mechanic (male), and Veterinarian Dr. Jones)
Coming up next is the Corner Garage LEGO set.
Similar to the 10182 Café Corner, the Corner Garage LEGO set is designed to go on the end of your street before it turns in a different direction. These kinds of builds are invaluable as they add some depth to your LEGO city scenes.
Visually this build might not be the most striking, and with its plain brown coloring it's not the most inspiring to look at, but what it lacks in looks it makes up for in playability.
The first floor has enough room to fit a large vehicle. There's enough space to store all your Minifigures and tools even when the vehicle is in there, and there is also a drive-through gas station at the front.
The second floor houses a living area that is joined to the lower section via a set of stairs, as well as a veterinary office. That office houses an operating table as well as some kind of incubator.
The third floor is made up of a large living area, again linked to the lower section via a set of stairs. LEGO included large windows across most of the walls to allow for light and for the users to see through to their Minifigures.
On top of it all is a simple flat roof containing a sundeck that is accessed via a small black hatch. There is a foldable deckchair as well as a parasol to keep things cool.
This set of course includes a blue tow truck as well as a small Vespa-like scooter. Both of these vehicles are perfectly sized for the 6 Minifigures included in this set.
Could this set be improved? Possibly. It's not a bad set per se, it's just an uninspiring set. It doesn't announce how awesome it is, when it has every right to!
Overall the Corner Garage LEGO set is a hidden gem amongst the LEGO Modular Building Collection sets. With its spacious interior and hidden rooms and features, LEGO truly did good with this build!
5. Bookshop
Set number: 10270
Release year: 2020
Number of pieces: 2504
RRP: $199.99 / £169.99
Number of Minifigures: 5 (Man x2, Woman x2, and Boy)
If you want a two-for-one kind of LEGO Modular Building Collection set, then the Bookshop is a great option.
On the left-hand side of the build is a tan stone color build called 'Birch Books'. This has nice great highlights and a large window at the top. In fact, it looks surprisingly similar to one of LEGO Marvel's Sanctum Sanctorum sets!
Moving over to the right-hand side of the build, and there is a turquoise house with large bay windows and a vaulted roof.
Both buildings look very appealing, and LEGO made a good choice to combine the two of them! They CAN be separated and used as separate buildings, but in all honesty, they work well when they're together.
The first floor of the bookshop contains an entrance hall and a curved staircase. In the house there is a basement section, which is pretty wide and open with a workbench and washing mangle included.
Moving up to the second floor of the bookshop contains a room with a grandfather clock and a large spiraling staircase. The second floor of the house has a table and a bay window seat, as well as a set of stairs.
Carrying on up to the third floor of the bookshop, there is a large bed and a terrarium containing a pet lizard. The third floor of the house also has a bed as well as a bedside cabinet.
LEGO very much made sure to make these two separate buildings different yet similar. They complement each other perfectly!
The Minifigures included in the set are varied and exciting, as they are normal people who are no doubt going about their normal lives. The printing on their torso pieces is detailed, and we get some great accessories for many of the Minifigures.
This is certainly an interesting set. It depicts two completely different buildings that are somehow linked both physically and kind of design-wise and spiritually. LEGO did a fine job!
Overall the Bookshop LEGO set is a great choice whether you already have an established city scene or you're just starting out.
4. Assembly Square
Set number: 10255
Release year: 2017
Number of pieces: 4002
RRP: $299.99 / £259.99
Number of Minifigures: 9 (Baby, Florist, Baker/Chef, Barista, Photographer, Dentist, Ballerina, Music Store Assistant, and LEGO Fan)
Up next is one of the most action-packed LEGO Modular Building Collection sets so far, the Assembly Square.
This build consists of three separate buildings, and it is an amalgamation of lots of different shops and rooms. It all works together in harmony to create a bustling square for your Minifigure to live and play in.
On the first floor of the three buildings we get the bakery, a café, and a flower shop. Each has appropriate decor and accessories that set them apart from each other.
The second-floor houses a music store, a dentist s office, and a photography studio. There is a drum kit, an articulated chair, and a lightbox-style camera in the respective rooms.
Moving up to the third floor, and we have a ballet studio complete with a grand piano, a small apartment space, and a rooftop terrace complete with tables and chairs.
This set really does house a lot of different sections. It manages to cover a lot of ground in a relatively small build. LEGO did a fantastic job or cramming so much in. It makes for a really fun and dynamic set.
The three buildings can be very easily separated and arranged in whatever order you want, which means that you can mix it up whenever you want. It does make it extra exciting!
The Minifigures are all appropriate, and there is a Minifigure that goes with each and every room. That's not to say you can't have them visit the various other rooms. There's plenty of space for that!
It's the perfect option if you don't want to stick to just one 'theme', i.e. café, garage, office etc. Why choose one when you can have them all?!
Overall, the Assembly Square LEGO set manages to squeeze so much into such a relatively small space that it's pretty unbelievable. The Minifigures and different rooms will all help fill out your modular city.
3. Fire Brigade
Set number: 10255
Release year: 2009
Number of pieces: 2231
RRP: $149.99 / £99.99
Number of Minifigures: 4 (Fireman x3, and Woman)
The Fire Brigade LEGO set is up next, and with its grand red-bricked facade with gray highlights and open-sided clock tower, it's certainly an interesting-looking building.
The first floor features a large open-able door where the firetruck can be kept (we'll talk more about that a little later) and has space to store all of your firemen Minifigures. There's even a fireman's pole!
The second floor – the section with the red brick facade, has a large LEGO 1932 built into it. It houses a recreational space for the firemen, including a sink, food preparation area, table tennis table, and a flight of stairs leading up to the roof.
The roof has a LEGO hatch that opens up to allow access. It houses the bell tower as well as a water silo. It's a simple and flat roof, but there's plenty of room for play up there.
One of the most fun parts of the set is the firetruck. Based on an older 1930s-style vehicle, it can seat two Minifigures and has extendable ladders on the side.
The rungs of the ladder are the perfect size to go into the Minifigure's hands, so you can make it look like they're actually climbing the ladders.
And speaking of the Minifigures themselves, there's a nice enough little selection. The three firemen look fantastic and have their uniform printed onto their torso and leg pieces and a hat to top it all off.
The additional female doesn't add much, but it's still cool to get a Minifigure to help populate your scenes. There is also a brown dog included too. It is unarticulated but still fun.
There are plenty of bricks and accessories included in this set, meaning that you can furnish it however you want OR incorporate them into your other LEGO builds. You're only limited by your imagination!
Overall the Fire Brigade LEGO set is a well-themed build that has a surprising amount of features that you can play with. And the firetruck is of course one of the most fun and useful parts of the entire build.
2. Café Corner
Set number: 10182
Release year: 2007
Number of pieces: 2056
RRP: $139.99 / £88.09
Number of Minifigures: 3 (Man, and Woman x2)
The penultimate LEGO Modular Building Collection set in this list is the Café Corner build – one of the most visually striking and beautiful builds around!
With an almost French-like look to the facade of the build, you can feel it tipping its hat to those world-famous Parisian cafés that the city of love is so famous for.
The bottom section has walls in various shades of gray, the middle section consists of brown and tan bricks, and the roof is made of warmer oak-y red bricks. They contrast nicely and work well together.
The levels can all be separated if you want to play inside the building itself. The first floor is empty, with a green floor. While this is a little disappointing, it allows you to build your own interior.
Similarly, the second floor also has very little inside of it. Still, with a little imagination and a few extra LEGO pieces, you can create a whole interior for the Café.
The top roof section is inaccessible and works more as a decorative piece to cap the rest of the build.
Because of the shape of the footprint of the set, it allows you to potentially join 4 Café Corner LEGO sets together, creating a complete, rounded building. Alternatively, you can join any of the other LEGO Modular Building Collection sets to it.
The Minifigures are simple but fit in nicely with the set, and while there's nothing that particularly stands out about them, it's great to get Minifigures to position throughout the Café Corner.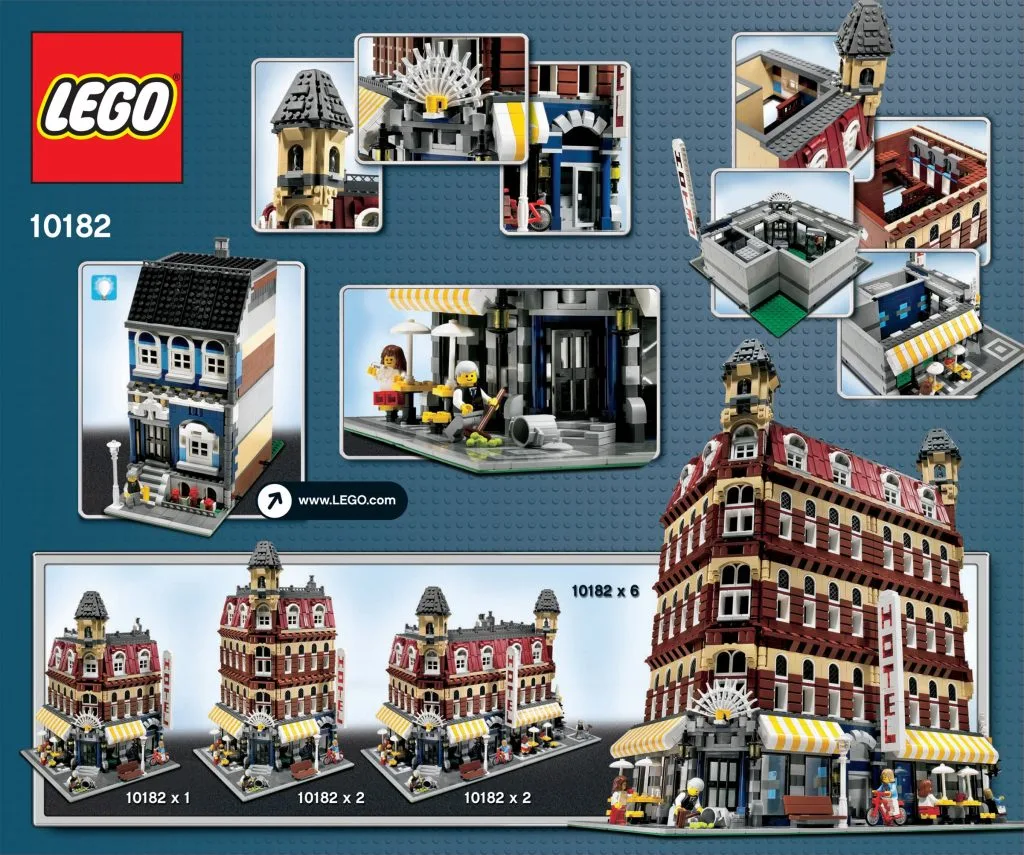 If you look at the back of the box, it is apparent that you can also create a slim but tall townhouse using the same LEGO bricks used to build the Café Corner set. We love the alternate builds!
Overall, the Café Corner is a beautiful LEGO Modular Building Collection set that invokes those Parisian streets. It will certainly be a centerpiece for any LEGO city that you are constructing.
1. Grand Emporium
Set number: 10211
Release year: 2010
Number of pieces: 2182
RRP: $149.99 / £132.99
Number of Minifigures: 7 (Woman x2, Man x2, Boy, Mannequin (male), and Mannequin (female))
We're going to end on a strong note with the huge and impressive Grand Emporium LEGO set. Its gorgeous facade hides a fun and interesting set of rooms, all of which are charming and fun to play with.
Standing at a 15″ (38cm) and with a width of 10″ (25cm), it's certainly going to be the crown jewel of your modular city. In fact, it is a LEGO Modular Building Collection set that is unrivaled by any other!
This spectacularly detailed 3-story department store is designed in a realistic scale and features lots of special building techniques and pieces that are hard to find anywhere else.
The build is broken up into four different levels. The first floor has a large, wide-open reception entrance area that can accommodate many Minifigures. It also has escalators that lead them up to the second floor.
The second floor has a clothes shop, complete with changing rooms. We really love the ingenious way that they created the curtained-off changing area by threading a looped section through two fabric capes.
There are several other shops such as an eatery with a large and decorative chandelier on the further floors.
The final section is the roof, which features an entrance hatch and a large billboard. We love how LEGO created the image on the billboard – it's both effective and ingenious!
The Minifigures included are all super appropriate to the set, with a couple of men and women featuring different designs. The Minifigure highlight has to be the two mannequins, though.
They are essentially Minifigures, but without anything printed on their head piece. It's effective, works well, and really sets them apart from the other Minifigures in the set.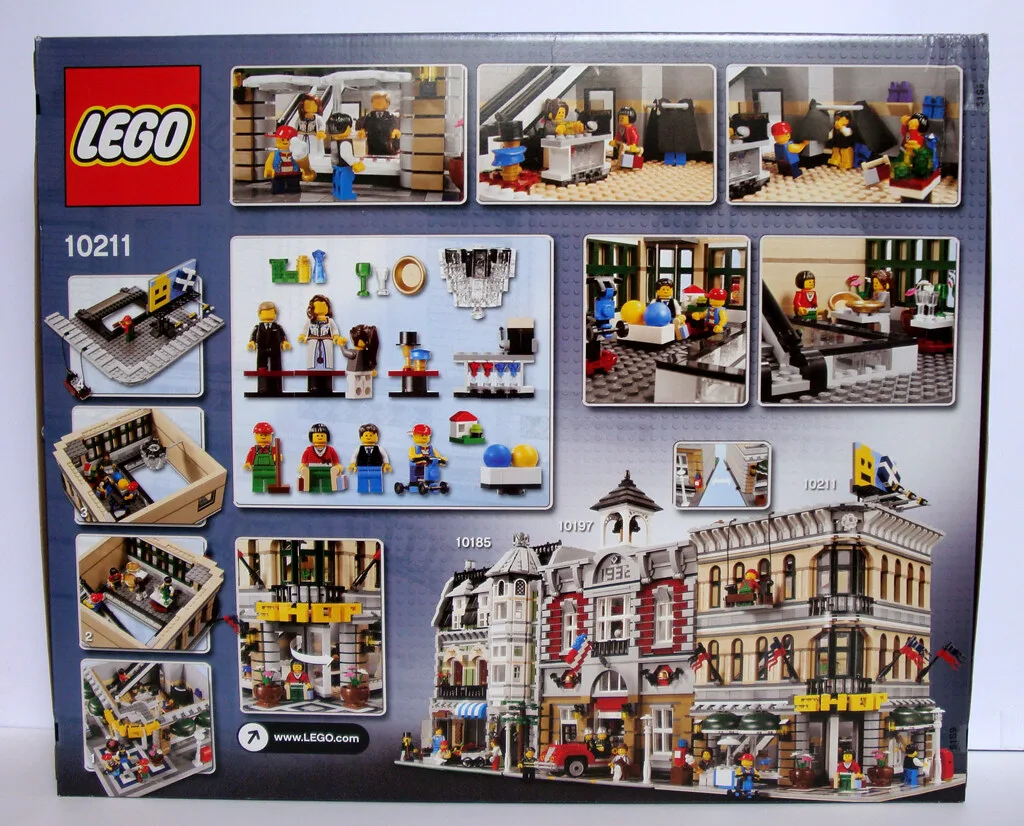 Turning the box around reveals the true scale of the Grand Emporium LEGO Modular Building Collection set. It shows off the many different floors, as well as how it can fit in alongside several of the other sets.
Overall this is the single grandest and most impressive LEGO Modular Building Collection sets out there. It is second to none in both looks and playability and opens up a world of fun for whoever builds it!
| Set | Released | RRP |
| --- | --- | --- |
| 31077 Modular Sweet Surprises | 2018 | $39.99 / £34.99 |
| 31105 Townhouse Toy Store | 2020 | $39.99 / £39.99 |
| 31131 Downtown Noodle Shop | 2022 | $44.99 / £39.99 |
| 10260 Downtown Diner | 2018 | $169.99 / £129.99 |
| 10264 Corner Garage | 2019 | $199.99 / £159.99 |
| 10270 Bookshop | 2020 | $199.99 / £169.99 |
| 10255 Assembly Square | 2017 | $299.99 / £259.99 |
| 10197 Fire Brigade | 2009 | $149.99 / £99.99 |
| 10182 Cafe Corner | 2007 | $139.99 / £88.09 |
| 10211 Grand Emporium | 2010 | $149.99 / £132.99 |
Final Thoughts
There are plenty of LEGO Modular Building Collection sets out there that give you the opportunity to build and expand your LEGO worlds and scenes.
One thing that we noticed about all of these sets is that while they are designed to fit together in the same 'street', they are all distinct and different from each other.
LEGO walked a fine line between creating cohesive buildings that are in the same vain as each other and creating buildings that stand out and are unique in their own way.
These LEGO Modular Building Collection sets are generally quite big, fiddly, and time-consuming to build, and therefore we probably wouldn't recommend them for children.
With that being said, though, there's plenty there that a child would enjoy, no matter which set you own!
The huge and impressive sets such as the 10182 Café Corner or the 10255 Assembly Square allow you to create large sections that can be positioned wherever you want. They are bulky and substantial.
The small sets such as the 31077 Modular Sweet Surprises or the 31105 Townhouse Toy Store allow you to fill in the gaps and have some more compact sets that are still in line with the rest of the theme.
When it comes to Minifigures, each set contains a great selection. There are rarely any doubles across this line, so you always going to get a unique and appropriate Minifigure that fits in with the build.
It would have been nice for the larger sets to contain a few more Minifigures, though. Still, that's just a minor nitpick and something that not many LEGO fans will lose any sleep over!
Price-wise, there's something for everyone. The smaller sets are obviously more affordable, but if you have more money to burn, then you won't be disappointed with the larger builds.
Overall the LEGO Modular Building Collection is one that is visually grand and entices you to not only world-build but also dream, experiment, and adapts them to create something amazing.