As a game, Minecraft has evolved to include much more than it did at its release.
With the addition of mods and plugins, the world of Minecraft has almost endless possibilities. One of those possibilities is Factions.
Factions allow players to form clans or guilds, band together to claim land, gather resources, and interact with other Factions on the same server in several ways.
Factions can form alliances or declare war on other Factions, adding an extra layer of depth to the member recruiting and resource-gathering gameplay.
See our list below of some of the best Minecraft Faction servers and their server addresses for players who want to get into Minecraft Factions and have the best possible experience.
Best Minecraft Factions Servers
14. Lifesteal
Server Address: LifeStealMC.net
For fans of hardcore survival gameplay, the Lifesteal Minecraft Factions server is perfect!
Once you join, you will be dropped into a Minecraft world with a high level of modification. This is also inhabited by several hundred other players just like you.
After you load in, you will have to manage your own survival as well as enter combat with every boss in the game, gather up resources, and do all of that while the threat of being attacked by other Factions looms over you.
This server also has KitPvP, hardcore, and anarchy modes available.
13. Lemon Cloud
Server Address: play.lemoncloud.org
Lemon Cloud is a Minecraft Factions server that models itself on other large, successful online multiplayer games.
A seasons system cycles out old content and brings in new features to keep players excited. This server also has regularly scheduled events and exclusive cosmetics and kits.
Some of the primary features Lemon Cloud brings to the table are auctioning, leaderboards, bots, and hidden chests for the treasure hunters in your Faction.
This is possible because Lemon Cloud has reserved most of its resources for Factions.
12. Herobrine
Server Address: herobrine.org
A myth as old as Minecraft itself is the tale of the mythical Herobrine. This mob has Steve's appearance – Minecraft's main character and mascot.
While the existence of Herobrine is debatable, what does exist is the Factions server named after it.
The Herobrine Factions server is welcoming to new players due to its simplicity. All it features is a standard survival system and Faction mechanics.
11. Complex Vanilla
Server Address: hub.mc-complex.com
Complex Vanilla has a ton of ways for players to find, join, and interact with Factions.
This server hosts its own online meet-ups, crafting competitions, and other special events to keep its users engaged on top of the standard survival mode.
Outside of Factions, Complex Vanilla has many other awesome game modes, including creative, prison, Pixelmon, and skyblocks.
The server's diversity and engagement opportunities have led it to become a massive server with a huge number of active members.
10. MassiveCraft Factions
Server Address: Massivecraft.com
Are you looking to play on the same server where Minecraft Factions was popularized? Look no further.
MassiveCraft is popular in the community as the birthplace of the Factions experience. Therefore, it is one of the best places you can go to start playing.
With over 40 plugins and features that include achievements, taxation, and dynamic maps, there are a ton of ways to customize your experience.
Take that even further with customizable biomes that can provide just about any environment you can imagine.
9. Cosmic PvP Faction
Server Address: cosmicpvp.com
Take a break from the standard Minecraft environments with the Cosmic PvP Faction server. Rather than using vanilla Minecraft as the basis for its experience, Cosmic uses a space theme.
Explore different planets, asteroids, and fight off alien creatures in exciting biomes!
Speaking of planets, Cosmic has two that are dedicated to Faction activities.
One of them is called Lava and is modeled after Minecraft's Nether. This planet has an actual volcano, which is how it got its name.
The other planet – home to treasure chests, enemy mobs, and secrets galore – is called Dungeon.
8. Purple Prison
Server Address: purpleprison.org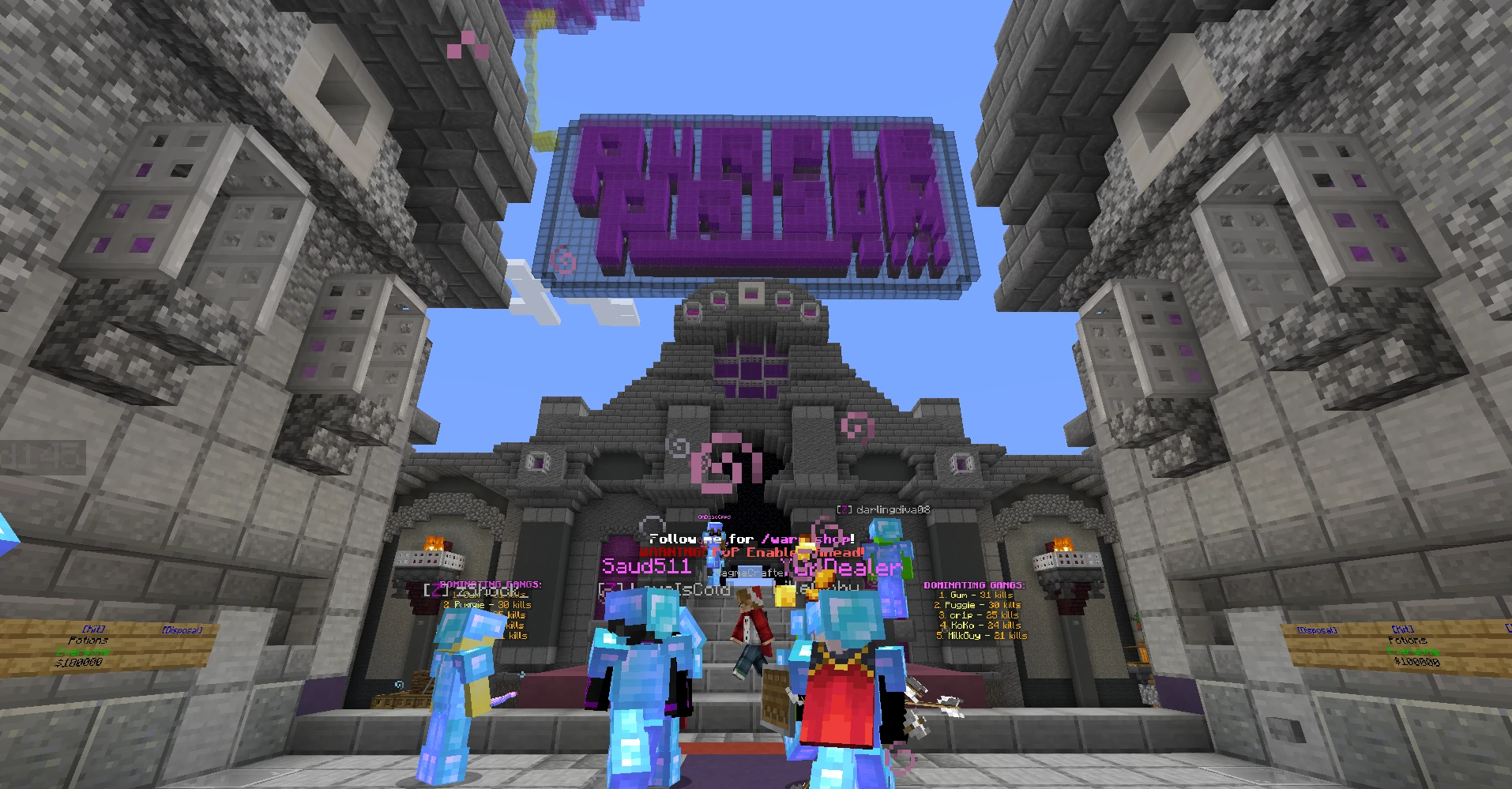 One of the most popular game modes in the Minecraft community is prison. With that very game mode in mind comes Purple Prison.
Join your friends in a Faction and make use of Purple Prison's player-focused economy to build up your cash reserves through auctions and trade.
Due to its huge size and motivated player base, Purple Prison is one of the most popular Factions servers and the easiest place to earn money.
With your Faction, you can participate in automated PvP events, compete in mini-games, or battle it out in open fight arenas.
If you want a more relaxed experience, you can use Purple Prison as a space to meet up with your Faction without fear of being attacked.
7. OPBlocks
Server Address: Java: play.opblocks.com/Bedrock: top.opblocks.com
The OPBlocks Factions server has something for players of all levels of skill and engagement.
One of its features is its custom crafting recipes that players can use to make everything from bombs to wands.
Another thing that will delight hardcore players is this server's hitman system and associated kill tracker. This adds a level of risk and fear to being in the world of adrenaline junkies.
Players who want a more friendly experience can avoid the crafting system by purchasing those items on the black market or earning them from in-game events.
There are also custom game modes and mini-games you can play with your chosen Faction.
6. Mana Cube
Server Address: play.manacube.com
One of the more overtly competitive Factions servers is Mana Cube, which is a clan-PvP-based server.
This one is all about building up a powerful Faction to decimate others.
Based on your Factions power to build a base, you'll be given a plot of land. You'll have to defend this from other Factions as well.
You can also customize your base with different visuals! In order to grow your Faction's strength, you'll complete quests and compete in duels, races, and mini-games.
5. Snapcraft
Server Address: snapcraft.net
The Snapcraft server is unique among Factions and servers for its added features.
For instance, in Snapcraft, you can build farms with your Factions and set a relationship status with other players.
Building these relationships with your Faction mates is the core of the gameplay on the Snapcraft server.
The power level of every Faction determines its strength. In contrast, the strength of each player and cooperation within the Faction affect the power level.
Individually, players can conquer events and claim land to add to their Faction's power. But, if you don't want to play as part of a Faction, Snapcraft makes that possible as well.
Snapcraft is more welcoming to single players than other Factions servers and gives them an opportunity to thrive and survive.
4. Mineland Network
Server Address: epic.join-ml.com
If you combine Minecraft and Roblox, you will get the Mineland Network server.
This server boasts over 1000 games for all to play, and you can even make your own, and the server will host them.
Mineland uses a simple coding system to make that possible, and it also pays its game creators with real-world money.
As for its Factions implementation, it possesses server plots, a unique economic system, and several special team-based features.
Taking your Faction into one of Mineland Network's games and dominating the other players is an experience other Factions servers don't provide.
3. The Archon
Server Address: pvp.TheArchon.net
For those looking for a hardcore-yet-fair Minecraft Factions server, The Archon should be at the top of your list.
The Archon server goes through seasons like other large online multiplayer games, but unlike other games, the entire server is reset at the end of every season.
That means at the beginning of every season, all players are starting from scratch, whether they're hardcore veterans or soft newbies.
This keeps the playing field fair and gives newbies a chance to survive. Furthermore, it includes quests, roleplay, and events you can participate in.
2. Mox MC
Server Address: moxmc.net
Players looking for a server that gives new members a little boost should look at the Mox MC.
Upon joining, you will receive a free PvP kit that contains powerful gear, potions, and assorted items. This gives you a head start on the server!
If you want to make money, you can use Mox MC's custom auction house system. Here, you can auction off your items to the highest bidder.
All players can participate in auctions on the server. You can even bid on others' items while yours are in the auction!
1. Viper MC
Server Address: vipermc.com
The Viper MC Factions server is one of the most hardcore, unforgiving Factions servers.
The server's map can contain almost 10,000 players at a time. The stakes for dying here are very high.
Dying in a raid or Faction war here places you under a death ban.
This will lock you out of the server for some time. Dying too much in Viper MC will make it easy for other players to raid you and take everything you have.
No wonder this server is only for true hardcore players!
Read more: How To Get Diamonds in Minecraft 1.19