Minecraft is known for its absolutely diverse and stunning terrains and geography. Worlds are made up of several divine Biomes that are further compiled of numerous creative structures.
Ever since the 1.20 Trails and Tales update, the Biome diversity of Minecraft worlds has reached a new level, especially the Caves.
The Caves have expanded in size and have new distinct features and one of the best new structures is the Lush Caves.
Today we'll be covering 12 of the Best Lush Cave Seeds for Minecraft.
Top 12 Minecraft Lush Caves Seeds
We've mentioned the game edition required for each seed in front of it.
Some seeds may work with both Java and Bedrock Editions of the game; however, the location of key areas and structures can vary.
12. Jungle Mansion With Lush Cave
| | |
| --- | --- |
| Seed: | 61745200092846642 |
| Spawn Biome: | Birch Forest & Jungle |
| Jungle Temple: | 69, 69, 206 |
| Woodland Mansion: | -935, 140, 590 |
With this seed, you'll start off in a lush green Jungle biome – filled with all types of trees!
With just a little exploration, you'll quickly notice a Jungle Temple situated very near the spawn area.
Nearby, there's a small clearing in the jungle hosting a riverbank. This area contains a massive Jungle Mansion right next to it!
Additionally, right beneath this riverbank is the wondrous Lush Cave you've been wanting to expedite in.
This Lush Cave can be accessed through an opening in the riverbank. It is pretty large in size and contains tons of valuable resources that you can stack up on in your early game.
This cave also provides several options for adventure since it contains structures such as an abandoned Mineshaft within!
Continue following and exploring this Mineshaft, and you'll find yourself at the entrance of an Ancient City where, if you're daring enough, you can fight the Warden!
11. Double Exposed Mineshaft With Lush Caves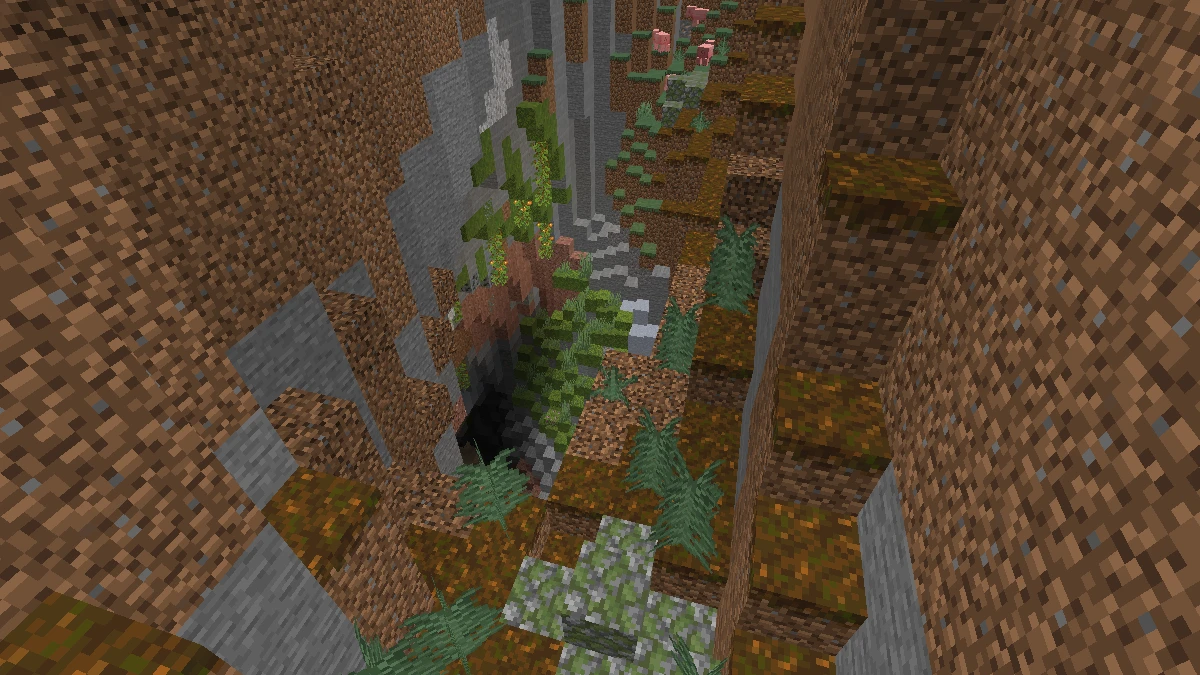 This Lush Cave seed is ideal for all the Cave Explorers out there!
You'll find an incredible Lush Cave in this seed just a few blocks away from your spawn location!
This Lush Cave is beautiful, but that's not all – as it contains some invaluable resources for you to check out.
Inside the cave, you'll come across two exposed Mineshafts hanging in the middle, which prove to be extremely useful for exploration.
You can use these to bridge the gap from one area of the Ancient City to another without even having to go into the city in the first place!
One wrong step from the Mineshafts and you shall fall deeper into the Cave. Surviving the fall won't do much good as you'll find yourself in an Ancient City with the Warden!
| | |
| --- | --- |
| Seed | -156227665 |
| Spawn Biome | Savannah Flatlands |
| Lush Double Mineshaft and Ancient City Cave | -637, -26, -623 |
10. Massive Underground Cave
This seed starts off strong on a bamboo island with nothing but trees.
You'll quickly realize how unique this one is as you spot a Shipwreck right at the coast where you spawn! This island is excellent regarding survivability and living – but there's more.
Take a short walk to the coordinates below, and you'll find a small entrance to an underground cave. This area leads to a massive, city-sized Lush Cave biome which is absolutely stunning!
Hundreds of blocks worth of Lush Cave are spread out all over the underground cave system. There are also a couple of lavafalls that you can spot here.
We recommend blocking these with some stones as they can spread to the branches of the Berry Vines here – quickly destroying the peaceful Lush Cave experience!
| | |
| --- | --- |
| Seed | 3451641282212177142 |
| Spawn Location | Bamboo Forest |
| Shipwreck | At Spawn |
| Lush Cave | -100, -13, -137 |
9. Lush Cave Village at Spawn
Prepare to explore a humongous Lush Cave and a Desert Village right at your spawn location with this Minecraft 1.20 Trails and Tales seed.
With this one, you'll find yourself on the top of a massive mountain, with an exposed Lush Cave on a mountain right across from you. However, this mountain at the front doesn't only host the Lush Cave.
You'll find a large-sized Desert Village here as well! This Village has some weird spawning mechanisms. It partially spawns on top of the mountain, with its other half all the way at the bottom!
You can also spot some fascinating mountains scattered across the overall region, making this seed perfect for sightseeing fun. Try it out!
| | |
| --- | --- |
| Seed | 3201901650831491932 |
| Spawn Location | Mixed Mountains |
| Desert Temple | At Spawn |
| Lush Cave | At Spawn |
8. Monster Exposed Cave
Looking for a mega Lush Cave but don't want to travel a lot to find one? Well, this seed is perfect for you.
This seed spawns you right next to one of the biggest caves we've ever seen!
On spawn, players can find a small entrance to this cave, which, if one were to fall in, would cause instant death.
We suggest collecting resources first to build a safe entrance to this cave!
This Cave has patches and small sections of Lush Caves with waterfalls and stone platforms as well which further add to its beauty.
At the bottom of the cave is a large lava pool that lights up the entire cave and acts as a perfect light source – just try not to burn yourself up!
| | |
| --- | --- |
| Seed | -8785765546402160881 |
| Spawn Biome | Birch Forest |
| Lava Pool inside Mega Cave | 0, -19, 0 |
7. Lush Cave Spawn on Rocky Coast
For this seed, players don't have to search around for a Lush Cave, they'll find one right underneath them on spawn!
Upon clicking the Create World option using this seed, players spawn on a Rocky Taiga Shore neighbored by an Ocean on one side and Ice Caps and Glaciers on the other.
We suggest you look below first before taking a step as right next to the spawn is an exposed Lush Cave where one wrong step could be fatal!
This Lush Cave is colossal, even if it may not look like it; there's another layer of the Lush Cave to be found below the first one, which you can access through the holes in the floor.
The second layer is much greener and deeper than the first one and forms a good amount of caverns as well, with lava pits right at the bottom of this Lush Cave.
Have fun exploring this stunning cave, let's see what you find!
| | |
| --- | --- |
| Seed | 711665382642744035 |
| Spawn Biome | Rocky Taiga Coast |
| Lush Cave | On Spawn |
6. Woodland Mansion within Exposed Lush Cave
This seed includes a really peculiar yet astounding structure fusion.
Travel a short distance from spawn, and you will come across a really unique exposed Lush Cave.
The reason this Lush Cave is so unique is because of the Woodland Mansion that has been generated right inside of it!
The Lush Cave itself is really beautiful with small waterfalls flowing down and plants growing all around.
The Woodland Mansion makes it even more special, all set out for players to go through and explore.
Once you get rid of all the Illagers and save the Alloys, we suggest you set up a base in this beautiful combination of a Lush Cave and Woodland Mansion!
| | |
| --- | --- |
| Seed | -2238350781986886782 |
| Spawn Biome | Taiga Forest Coast |
| Woodland Mansion in Lush Cave | 243, 63, -749 |
5. Lush Cave With Snowy Mountains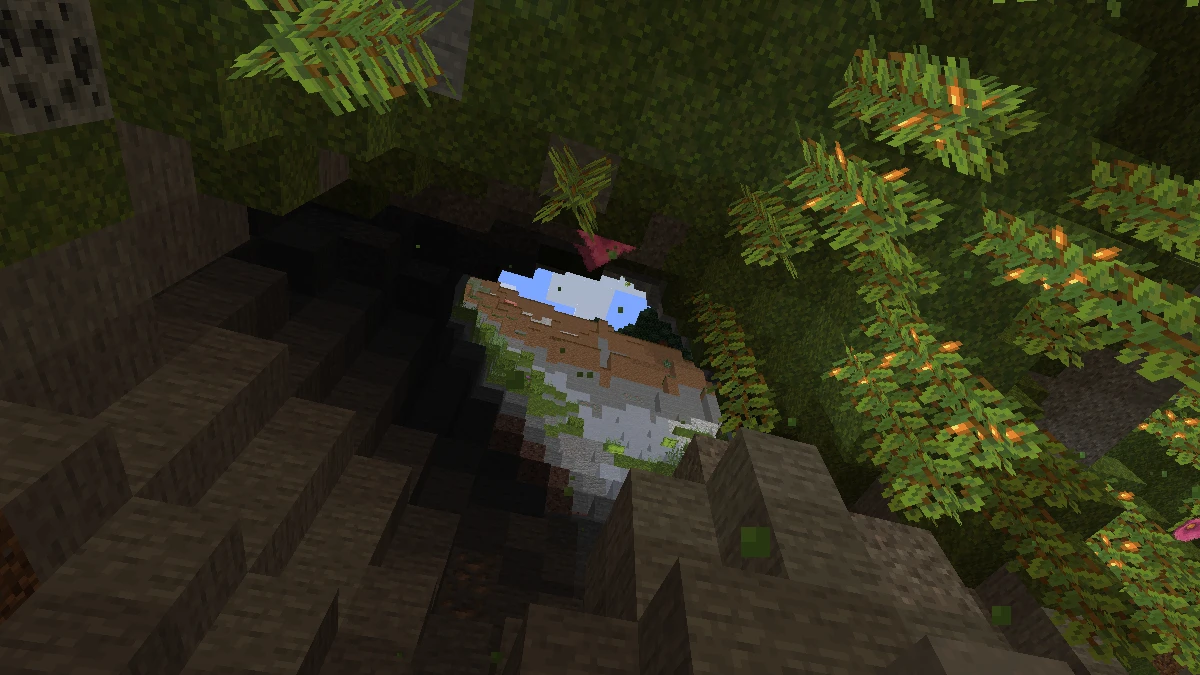 This Minecraft 1.20 seed spawns you on a Snowy Mountainside with lush green patches.
But this isn't just one Mountain, it's a whole Mountain Range with the end attached to the beginning forming a very perfect circle.
Inside this circle of Snowy Peaks there lies a very dense Dark Oak Forest which can provide many useful materials for your crafting needs.
You can use these materials for the mining expedition that's about to be in your plans as below this forest is a deep Lush Cave!
Venture inside this cave, and you will eventually come across an Abandoned Mineshaft going even deeper. This will allow you to access an Ancient City as well, with the Warden ready to greet any guests!
| | |
| --- | --- |
| Seed | 7094210426978711182 |
| Spawn Biome | Snowy Mountainside |
| Abandoned Mineshaft | -632, -21, -769 |
| Ancient City | -636, -35, -687 |
4. Immense Lush and Dripstone Cave at Spawn
We have yet another stunning Lush Cave Spawn seed here.
This seed will allow you to spawn right next to an awe-striking Lush Cave of enormous size and beautiful geography.
This Cave is full of layers and spiked stony columns that divide the Cave into many sections for players to explore!
Among these ledges, you can also find entrances to a Dripstone section of the Cave as well! This Dripstone Cave is also peculiar in its formation and contents, so be sure to check out!
A Cave of this size definitely has treasures to be discovered within, why not go and search for them?
| | |
| --- | --- |
| Seed | 2208626533096451426 |
| Spawn Biome | Birch and Oak Forest |
| Exposed Vast Lush Cave | On Spawn |
3. Woodland Mansion Islands With Exposed Lush Cave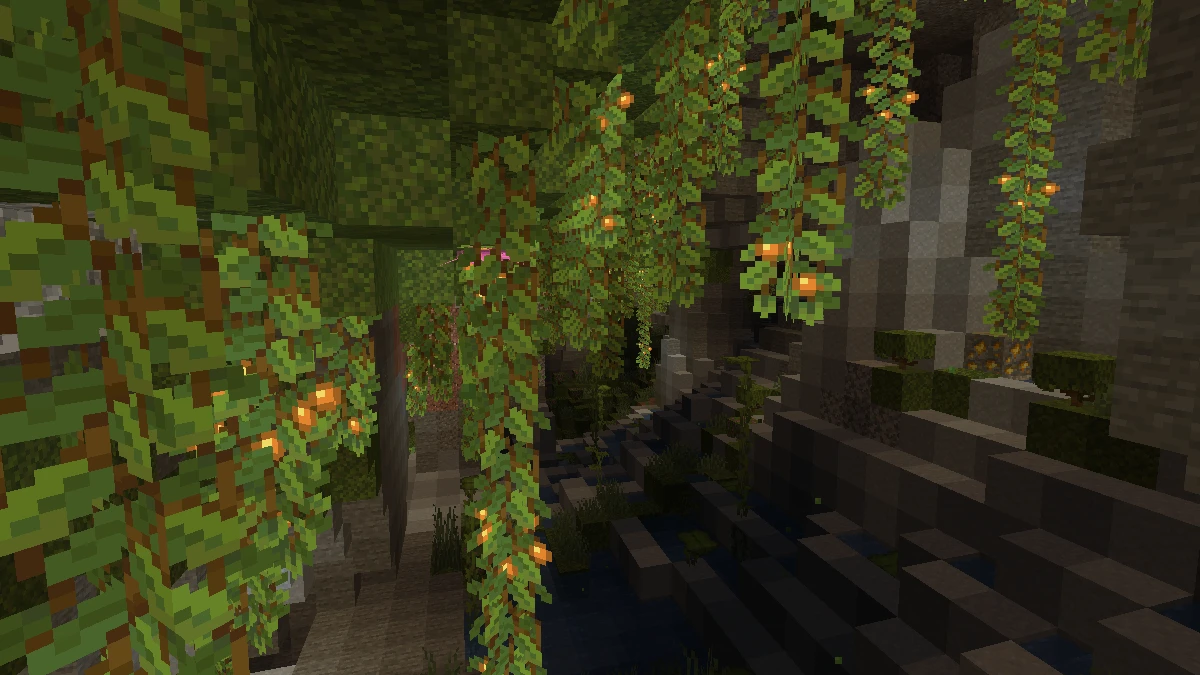 This seed includes a few Islands near spawn that hold a good structure combination within them.
You can find yourself in a Village right near the spawn point if you move in the right coordinates. This is a perfect place to set up your initial safe haven since it has plenty of useful early-game resources.
One of these Islands includes a Woodland Mansion on its coast which sits right next to a deep exposed Lush Cave which players can explore or build to their heart's content.
There are also 2 Shipwrecks on this island's beaches and one more on another island nearby.
Done exploring on the land? No problem, there's even an Ocean Monument a couple of hundred blocks away from the Woodland Mansion for the Deep Sea Explorers.
This seed is perfect for Island Survival enthusiasts due to the many structures and features that the islands hold within and nearby.
| | |
| --- | --- |
| Seed | -2525314151627275835 |
| Spawn Biome | Coastal Flatlands |
| Village | 150, 80, 80 |
| Woodland Mansion | -606, 97, 312 |
| Exposed Lush Cave | -631, 12, 365 |
| Shipwreck 1 | -688, 64, 148 |
| Shipwreck 2 | -697, 64, 602 |
| Shipwreck 3 | -1065, 63, -52 |
| Ocean Monument | -265, 56, 681 |
2. Double Woodland Mansion With Lush Caves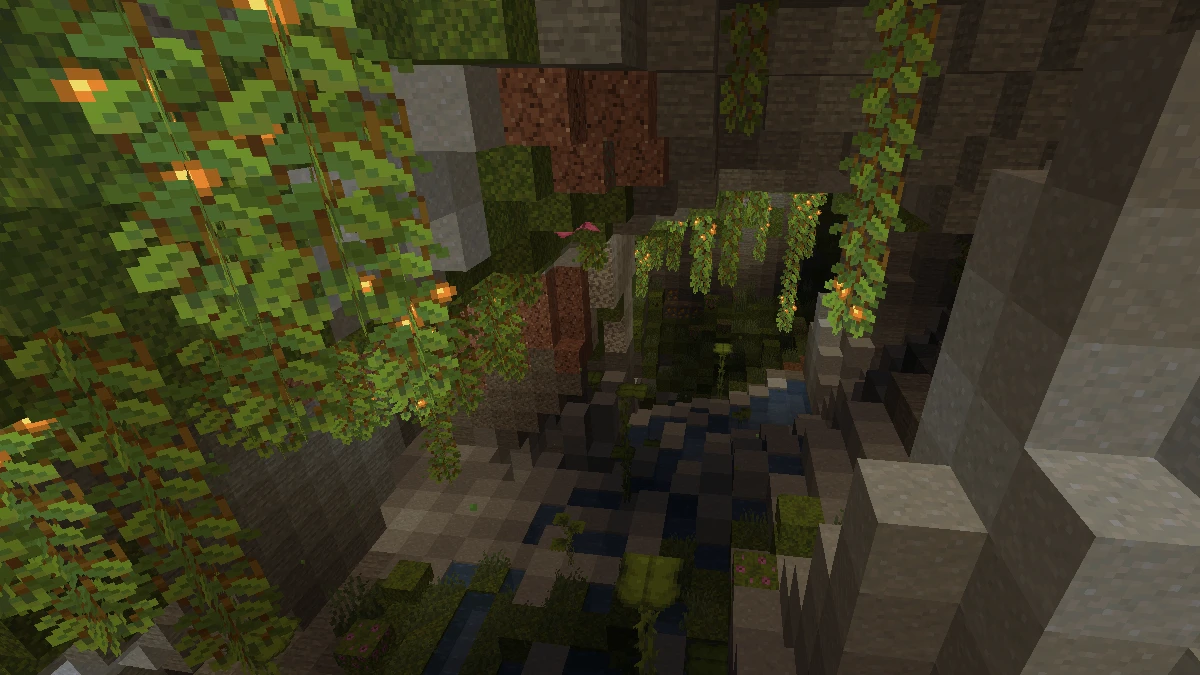 This Minecraft 1.20 seed has amazing diversity.
A short distance away from spawn you can find two Woodland Mansions just a couple of hundred blocks away from each other.
These Woodland Mansions are surrounded by awesome terrain, including thick Jungle, Dark Oak Forests, and Snowy Biome.
There's even a Snowy Mountain Crater which is forested by Dark Oak and includes a Pillager Outpost towering the Mountainside.
The first Woodland Mansion is located near this Mountain Crater. The crater also provides a beautiful building location if you're creative enough.
The second Woodland Mansion is a couple of hundred blocks away from the first and is surrounded by numerous Lush Caves for you to explore and build inside.
There's also a Jungle Mountain with exposed Caves and a Savannah Village next to some stony peaks here.
| | |
| --- | --- |
| Seed | 1581763288 |
| Spawn Biome | Birch Forest |
| Savannah Village | 776, 94, 293 |
| Jungle Mountain + Exposed Caves | 199, 140, -181 |
| Dark Oak Snowy Mountain Crater + Pillager Outpost | 109, 173, 246 |
| Woodland Mansion 1 | 147, 126, 416 |
| Woodland Mansion 2 + Lush Caves | -380, 139, 352 |
1. Coastal Cliffside Exposed Lush Cave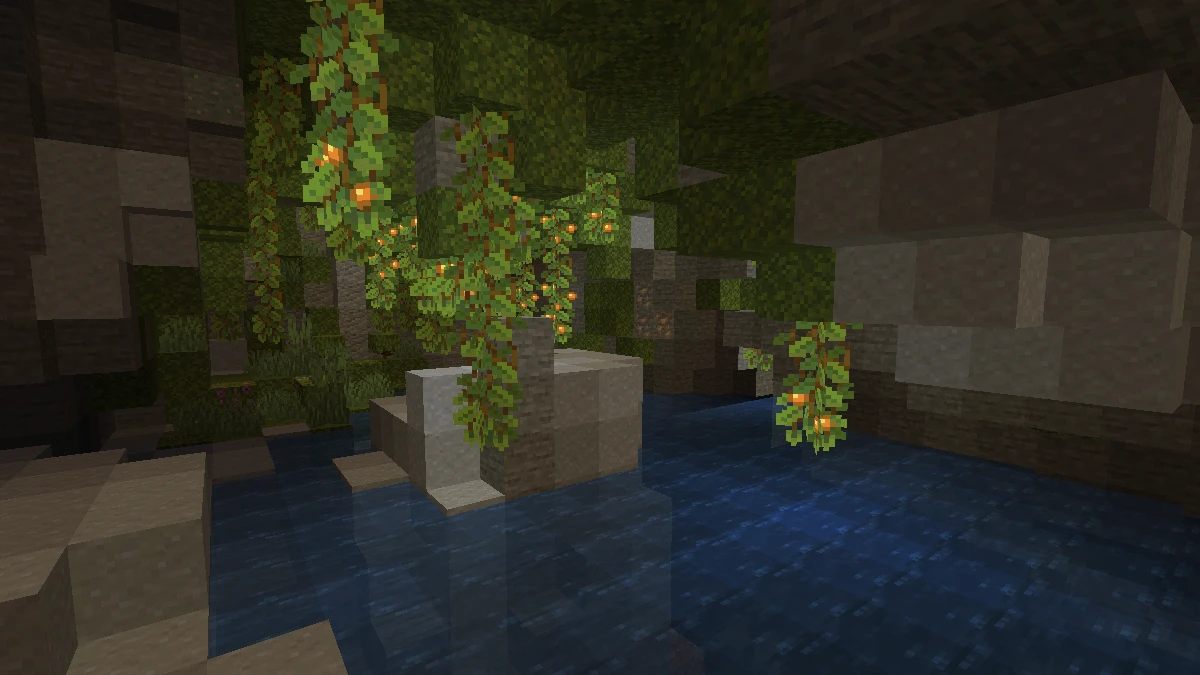 The Cliffs and Mountains you can find on this seed are absolutely mind-blowing!
This seed includes a Coastal Cliffside that's sparsely covered with Jungle – complete with a Jungle Temple right on the cliff!
On the Coastal side of the Cliff, there's a huge exposed Lush Cave with green vines, plants and waterfalls, and even Jungle Trees within it!
Other than that, there's a notable Meadow Village in this seed with one of its houses generated deep in a Cave!
Lastly, this seed features double Skeleton Spawners nearby which are very handy if you're trying to set up a mob farm for some early game experience.
| | |
| --- | --- |
| Seed | 2272688805416184555 |
| Spawn Biome | Flatlands |
| Cliffside Exposed Lush Cave | -487, 119, 1125 |
| Jungle Temple | -265, 169, 1293 |
| Meadow Village | -966, 74, 697 |
| Double Skeleton Spawner Dungeon | 341, -46, 1359 |
Read more: 35 Best Overall Java and Bedrocks Seeds for Minecraft