Minecraft Worlds are full of diversity. Composed of many spectacular biomes and stunning structures, these worlds truly bring creativity to the next level.
There are many different biomes laid out for you to explore in each world. Your typical Minecraft journey, however, isn't complete if you can't find the uncanny yet engrossing Mushroom Islands biome.
Mushroom Islands are generally known to be very safe as Hostile Mobs do not spawn in the Biome; the only thing welcoming you are Mooshrooms (Mushroom Cows) and some Bats. Seems like a perfect place to set camp!
Today, we'll be covering some of the best Mushroom Island Seeds!
Top 12 Minecraft Mushroom Island Seeds
All of the seeds in this list should work with both versions of the game; however, the location of key areas and structures can vary. If you don't know how to use seeds, check out this post!
12. Forested Island
An island containing nothing but forests filled with Mushroom Trees – prepare for an exciting adventure.
As you spawn in this one, you'll first see a bright red Mushroom Tree, with many more to come! The welcoming thing here is that there isn't just one island to discover. You'll find many of these small forested islands separated from one another by a series of lakes.
While exploring, you can also find several meadows in the region that look exceptional. Lastly, many exposed caves containing valuable resources are scattered across the island for you to unearth!
| | |
| --- | --- |
| Seed | 1289241832832901779 |
| Spawn Location | Mushroom Forest |
11. Shipwreck & Mushroom Mountains
You'll have to travel a bit before seeing some of those wondrous Mushroom Trees in this seed – but it's worth it!
Starting off on a beach, you must sail to the destination below to reach Mushroom Island. This won't be a problem, though, as your spawn location has abundant trees. Feel free to chop these down and craft a boat for your journey.
Your expedition across the ocean won't be too dull, though, as there's a Shipwreck quite close to you, hiding under the water! It's a good idea to take a short detour and loot this structure before going on your way; we've mentioned its coordinates below.
Once you've reached the Mushroom Island, you can find many Mushroom Trees scattered around. This region is massive and contains several mountains featuring nothing but Mushroom Trees.
Safe to say, you won't be running out of Mushroom Soup anytime soon!
| | |
| --- | --- |
| Seed | -156227665 |
| Spawn Location | Beach |
| Underwater Shipwreck | -71, 60, -62 |
| Mushroom Island | -610, 130, -590 |
10. Mushroom Valley
This Minecraft 1.20 Trails and Tales seed is every adventurer's wish come true.
Starting off on humongous snowy hills, you'll quickly notice the beautiful lush-green valley stretching across this Minecraft world. You can find tons of Mushroom Trees spread out across the horizon here.
Most of the content you want in this world is contained within this lush valley between two snowy mountains. You'll find tons of resources, mobs, and Mushroom Trees here!
There's also a large Dripstone Cave containing valuable minerals near the spawn area, which is a perfect place for exploration. You'll have ample opportunities to venture through the wilderness in this seed, so get ready for an adventure!
| | |
| --- | --- |
| Seed | 7094210426978711182 |
| Spawn Location | Snowy Mountains |
| Dripstone Cave | 160, 85, 38 |
9. Mushroom City
One of our personal favorites – this seed combines both beauty and opportunities.
You'll spawn inside a thick forest located on a large island. This forest is inhabited by every type of tree you can think of – including Mushroom ones! The forest is massive enough to harvest Mushrooms to your heart's desire.
There are a ton of other exploration possibilities here. If you're tired of wandering in the wilderness, head over to the massive exposed cave at your spawn location. This cave contains the largest Lush Cave we've ever seen – and much more!
In fact, this cave is enormous enough to fit an entire city inside. These attributes make it a perfect candidate for building a secret underground bunker for you and your friends!
| | |
| --- | --- |
| Seed | 2208626533096451426 |
| Spawn Location | Forest |
| Massive Exposed Cave | In front of spawn |
8. A Handful of Islands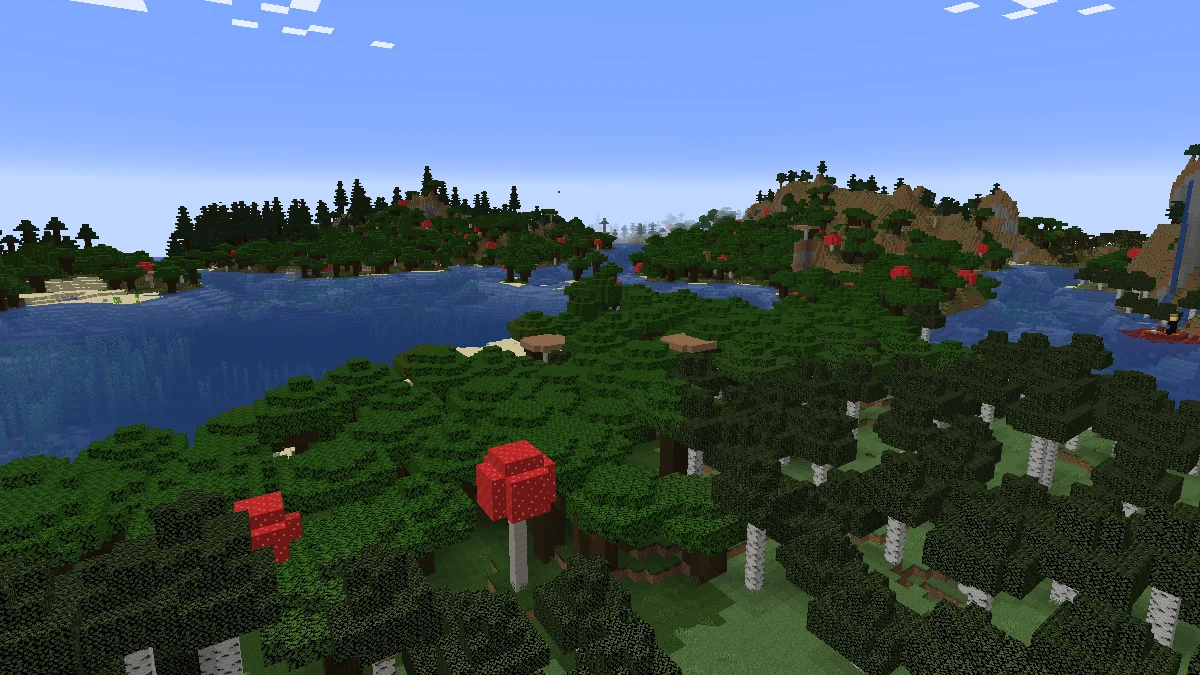 In this one, you'll see several mini-islands featuring Mushroom Trees right from your spawn location.
You start off in a forested area with multiple islands around you. There's an abundance of trees, mobs, and different biomes here. There isn't any singular Mushroom Island worth exploring here since they all have that feature!
Instead, we recommend moving from island to island, looting whatever you see fit. Since there are so many different biomes near your spawn location, you also have incredible flexibility in choosing where to set up a base.
Overall, this is a solid seed if you plan to be on the move and prioritize adventure over living a peaceful Minecraft life!
| | |
| --- | --- |
| Seed | 62857841 |
| Spawn Biome | Birch Forest |
| Mega Mushroom Island | 2158, 76, -847 |
7. Packed Island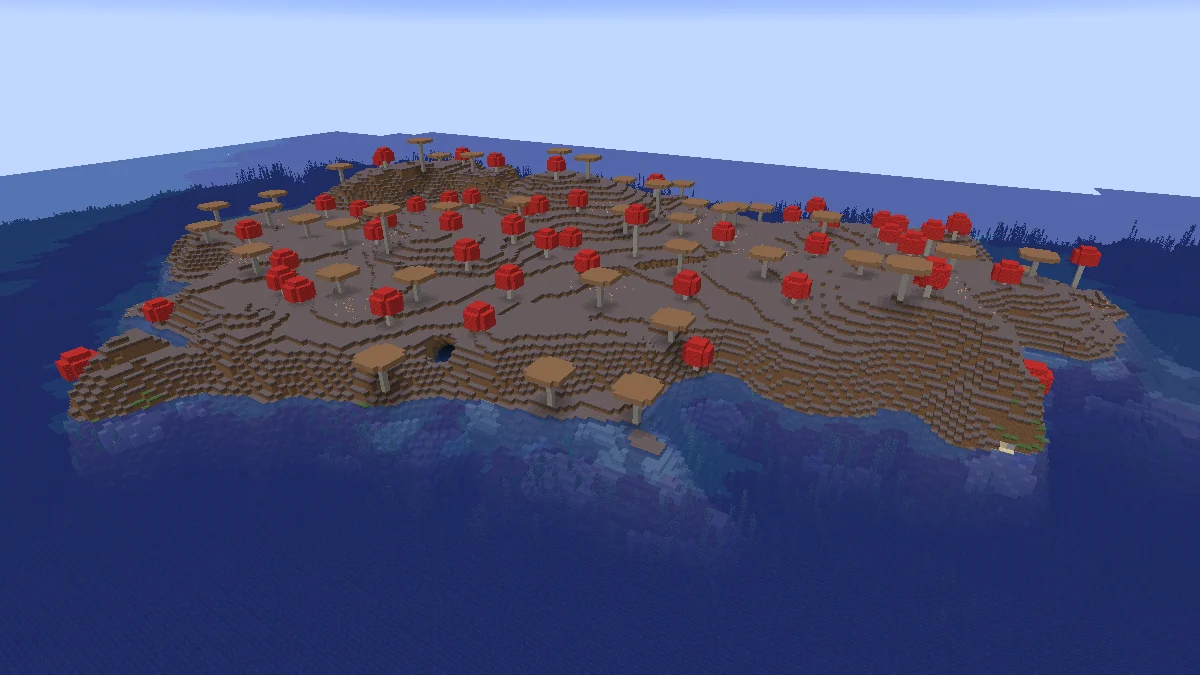 This will be the most jam-packed island seed on this list – for good reason!
You spawn in the center of a Plains Village on a large-sized island. You can set up camp, trade with the Villagers, and explore here. There's also a Blacksmith Villager, possibly the best variant.
Right next to the Village, there's a Ruined Portal. This contains a treasure chest filled with some valuable loot!
Take a short walk to the coordinates below to find an exposed underground cave system. This area is absolutely humongous and contains multiple mob spawners, biomes, and features to explore. Once you're done, take a short swim away from the cave, and you can find an Ocean Monument.
Finally, take another short swim away from the main island, and you'll find an abandoned Mushroom Island! This is another mid-sized island featuring tons of Mushroom Trees all over. You won't find many structures on this one, but it's still a beautiful place to stay.
Safe to say, you won't be running out of exploration possibilities anytime soon with this one!
| | |
| --- | --- |
| Seed | -1718967595511686453 |
| Spawn Location | Plains Village |
| Ruined Portal | 20, 70, 351 |
| Underground Cave System | -21, 62, 368 |
| Ocean Monument | -28, 40, 643 |
| Mushroom Island | -266, 116, 741 |
6. Abandoned Mushroom Island
If you want to live alone peacefully on an island – try this one out.
The spawn location features a tiny island with a few trees around. Feel free to chop these down to collect enough resources for a boat. Once you have that, you must sail to the coordinates below to find the Mushroom Island.
Your journey, however, will be packed with content since you can find 2 structures on the go! Located awfully close to one another, there's a Shipwreck and an Ocean Monument that you can check out as you make your way toward the island.
The island is wholly abandoned, with nothing but withered grass and Mushroom Trees scattered everywhere. It's a medium-sized island that works well for both exploration and building.
Rest assured, you can live out your days here peacefully with nothing but the ocean waves to bother you!
| | |
| --- | --- |
| Seed | 7749012223532925400 |
| Spawn Location | Island |
| Shipwreck | 695, 66, 106 |
| Ocean Monument | 659, 56, 126 |
| Mushroom Island | 491, 96, 215 |
5. All Tree Forests, Lush Cave, and Ice Caps Mushroom Islands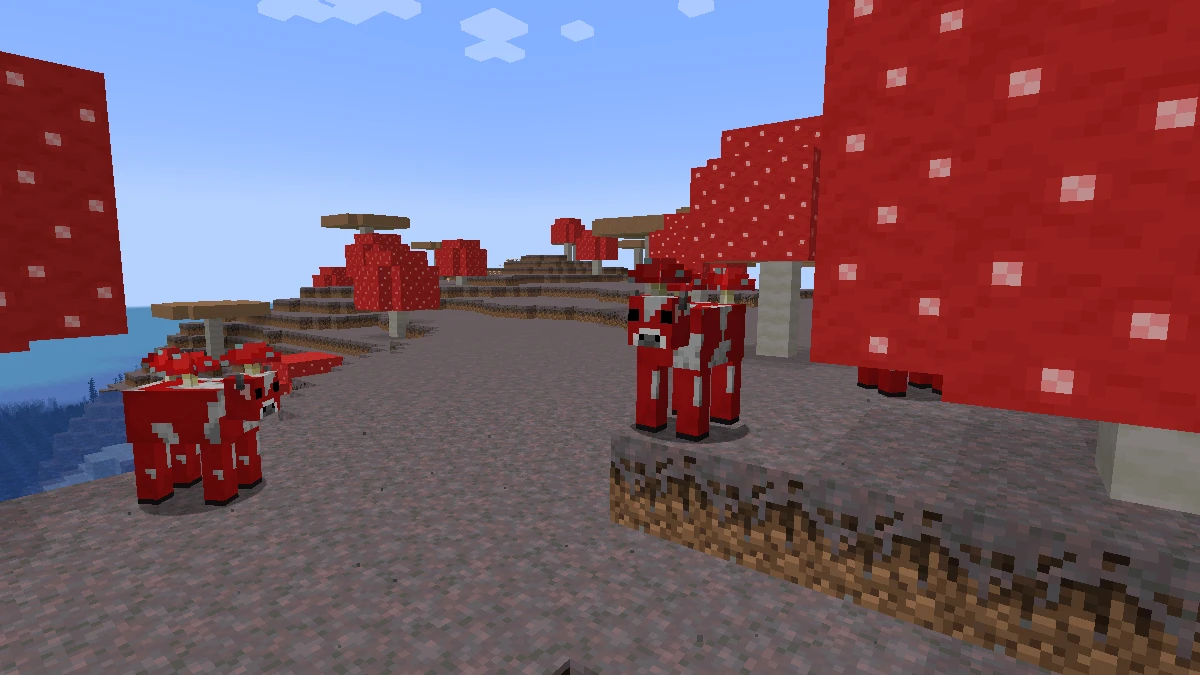 Now this seed will try to drown you at spawn, which is interesting to say the least.
Yes, you read it right. Bypass the loading screen and you will find themselves drowning on the upper edge of a waterfall that leads down a hole on this Island.
Follow the waterfall down and you'll eventually enter a Lush Cave where you can mine some ores for yourself, collect some Spore Blossoms or cut down Azalea Trees.
On the surface of the seed, however, you're surrounded by all types of forests with their good diversity of wood, all around 500 blocks of your spawn point.
Traveling offshore will lead you to find a huge Mushroom Island that is connected to another big Mushroom Island through a frozen ocean inclusive of Ice Caps!
| | |
| --- | --- |
| Seed | -7366982485650 |
| Spawn Biome | Oak and Birch Forest on Multi-Forested Island |
| Mushroom Island 1 | 598, 70, -538 |
| Mushroom Island 2 | 1597, 71, 179 |
4. Crater of Secrets
This might seem like a very ordinary seed at spawn with nothing but trees in the area. That's sort of true, but if you head to the coordinates below, you'll quickly realize why this is an extraordinary Minecraft world!
As you make your way over to this location, you'll come across a medium-sized island. You can find a massive crater in the ground with Mushroom Trees surrounding it on all fours!
Apart from the scenic beauty, this crater hosts a gigantic waterfall – leading directly to multiple Lush Caves. Naturally, this region has valuable resources you'll require for your new Minecraft journey.
Once you're done exploring this crater, which will take up a ton of time, feel free to scour the rest of the island to uncover all its additional secrets!
| | |
| --- | --- |
| Seed | -2525314151627275835 |
| Spawn Location | Mixed |
| Island Crater | -620, 70, 358 |
3. Mushroom Hill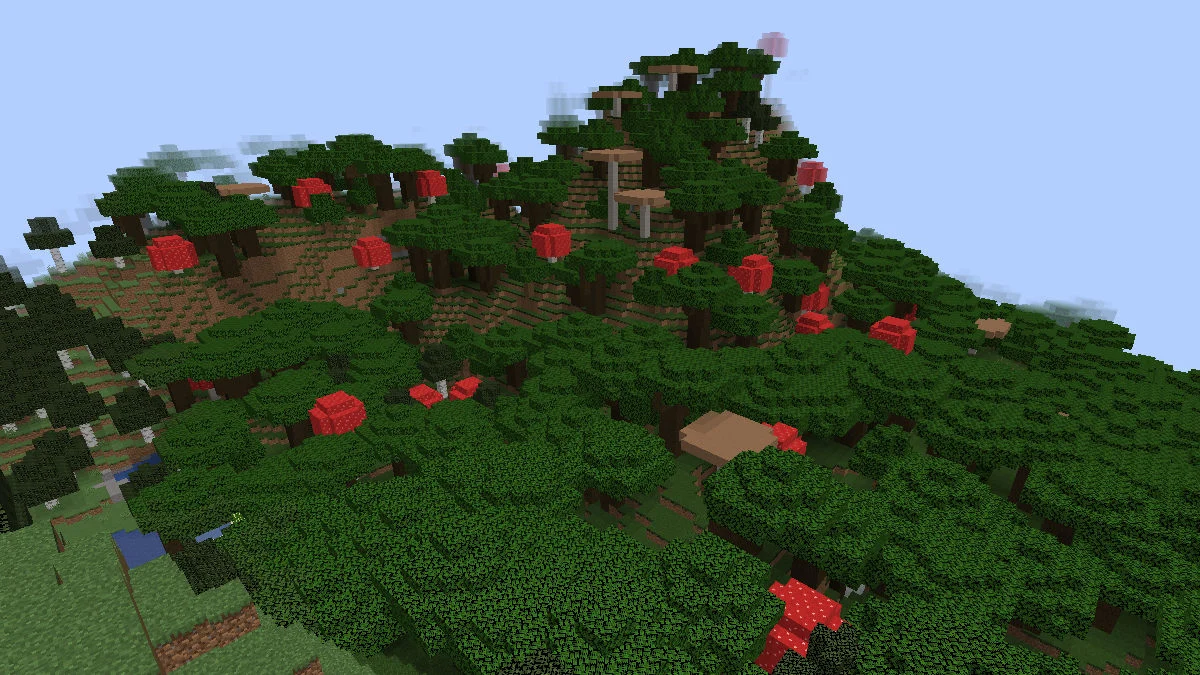 This Minecraft 1.20 Trails and Tales seed will start you stranded on the beach with a massive ocean at your front and tall trees at your back.
You might feel like this seed doesn't have much to offer at first glance, but stay with us! Travel a short distance to the coordinates mentioned below, and you'll find a Mushroom Island with a massive forest.
That isn't all, though; this Mushroom Forest contains a small hill area containing several Mushroom Trees and an exposed underground cave system. This cave is monstrous and includes an enormous Lush Cave biome!
And there's more! A few minutes from this area is a crater featuring several beautiful waterfalls. These waterfalls contain a secret, as they hide behind them the entrance to another exposed cave system. The exposed cave here is larger than the other one and has another Lush Cave biome – big enough to fit an entire city.
This might be the largest Lush Cave biome we have ever seen. Give it a try!
| | |
| --- | --- |
| Seed | -2238350781986886782 |
| Spawn Location | Beach |
| Mushroom Hill & Exposed Cave | -220, 94, -750 |
| Crater & Exposed Cave | -308, 51, -466 |
2. Mushroom Crater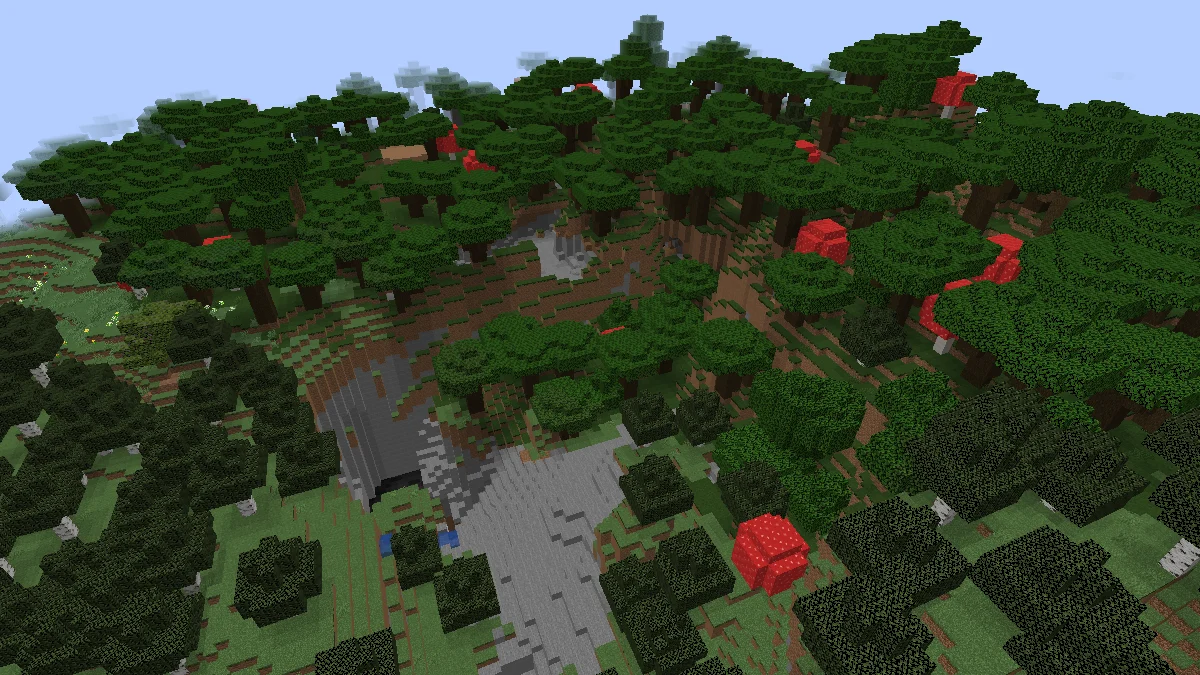 Next, we have a mix of valuable terrain and some Mushroom goodness! You'll start in snowy mountains with a lush green valley running at the bottom of the area.
Take a short walk to the coordinates mentioned below, and you'll quickly notice the changing environment with the addition of some colorful Mushroom Trees! Separated by a small lake, this area contains 2 Islands.
The first one features snow and ice-capped mountains, which are great for sightseeing. The other one contains our much sought-after Mushroom Trees! This one, however, also features a decently sized crater that leads to a massive exposed cave.
This cave features several beautiful waterfalls, valuable resources, and (if you venture deep enough) a Lush Cave.
Be careful, though; the cave is infested with dangerous and aggressive mobs!
| | |
| --- | --- |
| Seed | -8940014907067412564 |
| Spawn Location | Snowy Mountains |
| Mushroom Forest | 0, 102, 325 |
| Crater & Exposed Cave | -26, 90, 357 |
| Lush Cave | 55, 52, 408 |
1. Windswept Mushroom Terrain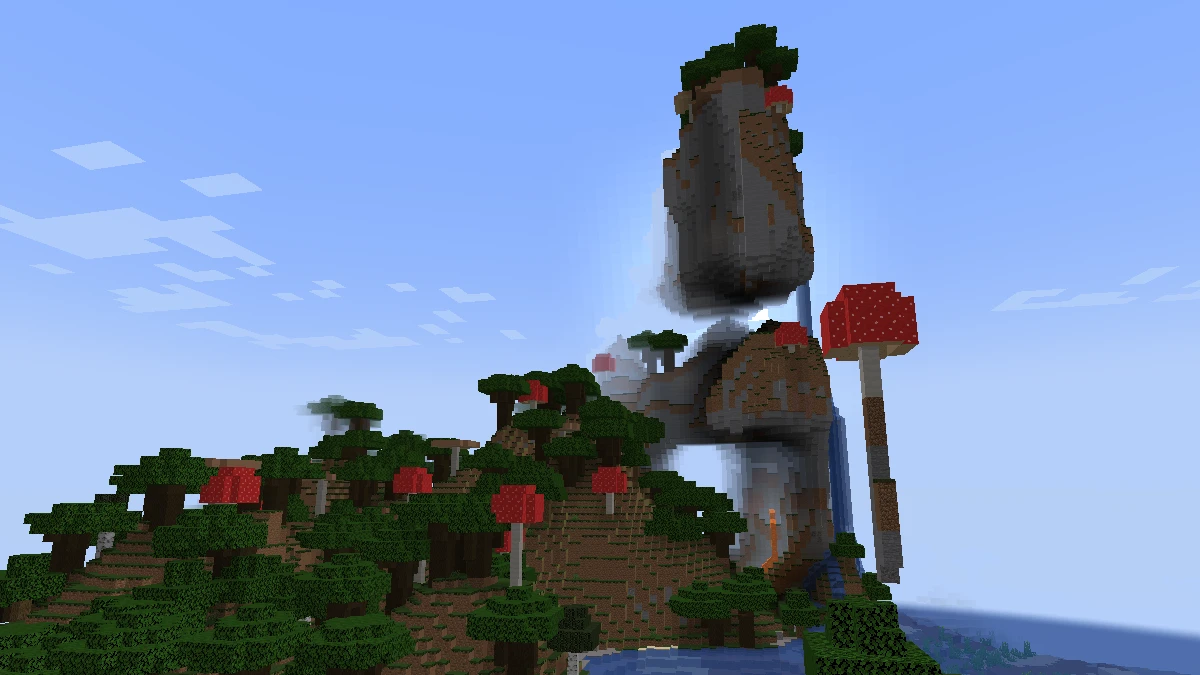 Our best Minecraft 1.20 Trails and Tales Mushroom Island seed has some of the most exceptional spawning mechanisms we've seen.
As the title suggests, the terrain in this Minecraft World is Windswept. This means that the blocks in the region spawn haphazardly, with some overlapping one another while others randomly float about!
For example, you can find a massive, singular Mushroom Tree floating in the air at your spawn location!
Additionally, the Windswept terrain separates chunks of blocks from one another, so it feels like you're exploring multiple Mushroom Islands instead of a single one. Have fun exploring the odd environment in this seed!
| | |
| --- | --- |
| Seed | 5909665956595310493 |
| Spawn Location | Windswept Island |
Read more: The Overall 35 Best Minecraft Seeds for Bedrock and Java