Let's face facts; collecting LEGO can be an expensive hobby, which is a pity, considering how popular it is! Luckily, though, there are ways in which you can get LEGO for cheap! Today we're going to be looking at a few of the best options!
LEGO has never been the cheapest of products, but when you combine it with big intellectual properties such as Star Wars, Marvel, or Harry Potter, you can expect the prices to be bumped up higher and higher.
It's true that the price per piece has generally remained the same over the years, but with sets coming out with an increasing number of pieces, they are becoming more expensive.
So what other options do you have? Well, LEGO lovers, sit back and take some notes because we're going to tell you the 10 best ways to get cheap LEGO sets in 2023!
1. Buy in parts – not as a whole set!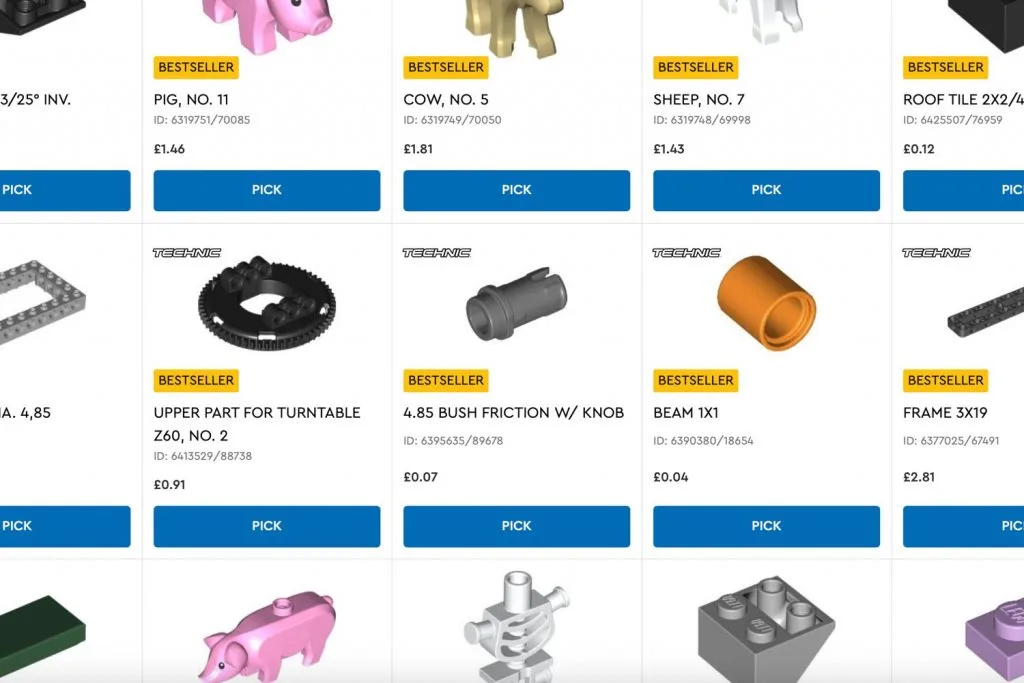 Buying a complete LEGO set can be expensive, so why not try buying the pieces individually?
Let's take a theoretical small LEGO set that has 100 pieces in it. This set may cost you £8.99, which works at 0.089p per piece. You may be able to get individual pieces for a lot less!
So you may be able to get each and every piece in that 100-piece LEGO set for, say, 0.062p on average. That means altogether, you have only paid £6.20 for the same set, saving you £2.79.
Apply this same principle to bigger LEGO sets, and those savings will only get bigger and bigger! So how do you go about doing such a thing?
Sites such as BrickLink allow you to search for individual LEGO parts and buy them separately. They also allow you to sell individual parts too, should you want to piece out any of your sets.
Now, what you need to remember is that this doesn't work for every set. Some sets may be more expensive if you buy all the parts individually.
This is mainly down to the scarcity of some of the rarer pieces. Of course, bricks, studs, and connectors can be found in most LEGO sets, but for more bespoke pieces, you can expect to pay a higher price.
There is also the time element. Searching for each and every piece can take a long time, and it may not seem worthwhile to some. You have to weigh up these pros and cons.
Overall though, while buying each and every LEGO piece in a set individually can be a little tiresome, it can potentially save you quite a bit of cash if you're willing to put in the time!
2. Watch out for store discounts, use codes and cashback websites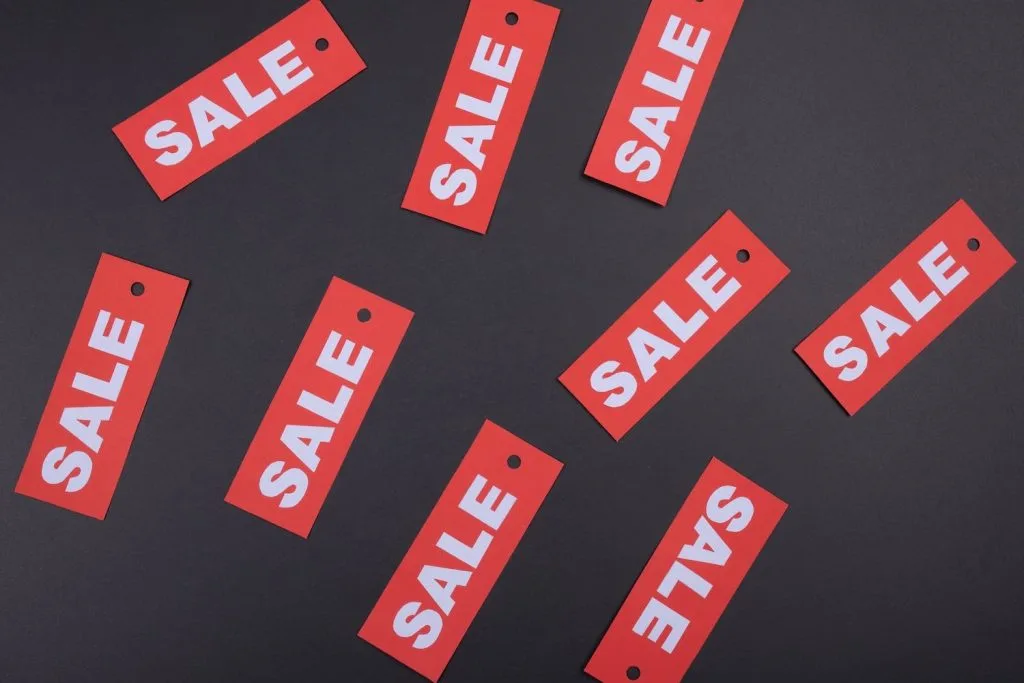 Top tip: Check deals sites! For example, in the UK, a website such as hotukdeals.com is a great way to find cheap LEGO sets. You can filter to the newest items posted, or if you want to be really quick on the best deals, you can set up alerts and push notifications with keywords such as 'LEGO'.
Websites such as Brickset also share the latest deals from Amazon which you can sort by % discount! If you're outside the US, you can add a different filter. This is great way to find the very latest deals at the best discounts.
LEGO.com also have a sales and deals section which is worth checking regularly.
Stores often go through phases of discounting things. Sometimes it's food, sometimes it's clothes, and sometimes it's toys and games. And yes – that includes LEGO!
But why do stores do this? Sometimes it's because stuff is going out of season, perhaps they are overstocked, or maybe stuff just isn't selling as they thought it might do at full retail price.
It's not often that LEGO goes on discount, as it tends to be a very well-selling item. Collectors will consistently buy LEGO whenever they want it. And if something sells well, the chances of a store putting it on discount are relatively low.
The only problem is you're not guaranteed to find discounted LEGO every time you visit the store. Still, if you're dedicated enough, be sure to visit those discount aisles in search of cut-price items!
Note: Keep a lookout for store discount codes online! There are even some browser extensions that can automatically search for online discount codes for you.
Use cashback websites when buying online!
Oftentimes, an online store that sells LEGO will be listed on cashback websites which offer a small % back on each purchase.
You will have to read the terms listed on the retailer's page on the cashback website to see what purchase qualifies as eligible for the discount. Cashback percentages range from a few %, all the way up to 10%, and sometimes even 20%.
3. Use loyalty cards and discount cards
They say that points make prizes, and that's exactly what we're going to be looking at next! Loyalty cards are a fantastic way of getting cheap LEGO by collecting points!
Not only do these cards help out companies by encouraging customers to spend with them, but they really help out LEGO collectors, too, by making LEGO cheaper and more affordable to collectors.
Yes, you can get loyalty cards for the LEGO store itself, meaning that you can rack points up as you buy your LEGO sets with them. But things get far better than that.
Many stores offer their own loyalty cards too. The more you spend at that store, the more points you get on that loyalty card. And the best thing is, it doesn't even have to be LEGO that you spend your money on.
You might do the grocery shopping there once a week or pop in every lunchtime for a sandwich and a drink. It doesn't matter, as long as you scan your loyalty card, those points will start adding up.
So when the time comes that you want to buy some LEGO, you can redeem those points and get cheap, discounted sets. Loyalty cards really are a great way of getting cheap LEGO in a reliable, reusable way.
4. Head to auction sites such as eBay
Auction sites can be a nightmare to navigate. Oftentimes people will try to auction off LEGO at a highly inflated price just because they know it's so beloved and collectable.
If you look in the right places and at the right time, you may stumble upon a bargain of a set to add to your collection.
Now, auction sites are not perfect, and if you want a mint set in a factory-sealed box, then you might want to look elsewhere. But for pre-loved sets, then this is the place to be!
If you do happen upon a LEGO set that is in good condition, make sure that you ask the seller to ship it in a well-padded and secured box. That way, it helps avoid the chance of it being damaged in transit.
Yes, you might end up getting into a bidding war with someone who wants that cheap LEGO set too, but if you play the patience game and don't bid til the very last second, then you'll increase your chances of winning the auction.
One downside is that you will find people on there trying to sell fake LEGO as if it were the real thing. Similarly, if a set seems far too cheap to be true, then it's probably a scam.
So while auction sites are undoubtedly a fantastic option for cheap LEGO, always do your due diligence, make your checks before you buy, and ensure that you really are getting a brilliant bargain!
5. Take a look at Facebook Marketplace
Facebook Marketplace is somewhere that people go to sell their unneeded and unloved stuff. You can pick up all sorts on there, including LEGO! That's right, there are bargains to be had on Facebook Marketplace.
Working in a similar way to auction sites, you have to be diligent when searching for cheap LEGO. There's not always going to be full sets on there, and there are always going to be people charging over the odds.
But you can drop on and find some fantastically affordable LEGO sets just waiting to be purchased. But while on auction sites you have to bid to win, with Facebook Marketplace you simply just buy.
There are no hidden costs or anything, people pretty much always list the full price – including postage and packaging – right there on the Marketplace. So the price you see is the price you pay.
You are, of course, up against everyone on Facebook, so if you see a cheap LEGO set and want to get hold of it, you're going to have to move fast. But still, overall, it's a fantastic place to check out.
By the way, this isn't the only time Facebook can be a handy tool for those in search of cheap LEGO. Keep reading to find out more!
6. Check out flea markets and garage sales
If you're a LEGO collector, then you may find that this is a bit of a strange concept, but people often grow out of LEGO. They move on and fall out of love with these awesome little construction sets.
Many times people will try to get rid of these sets at flea markets or garage sales. They will stick them in a food bag, slap a price on them, and put them up for sale for whoever might come along.
Now, you're not going to happen upon bags of LEGO pieces at every flea market and garage sale you attend. It's a real roll of the dice, and the chances of finding something good are 50/50.
With these kinds of LEGO purchases, you run the risk of finding a set that is not 100% complete. It may be missing a few pieces or maybe the instructions. This can be frustrating, but it's all part of the fun.
On the other hand, it might just be a bag of unspecific LEGO, where you take your chances and buy it. You might get a bag full of regular, easy-to-find pieces, or you might strike gold and find some rare sets or Minifigures.
You do of course have the option of haggling. If the price seems a little steep, you can make a slightly lower offer. Many times, at flea markets or garage sales, they're happy to make some money and get rid of their stuff.
This is a risky one, but the potential of finding something amazing is what keeps people checking flea markets for cheap LEGO and garage sales time after time! It's like a modern-day treasure hunt!
7. Check with friends
Another good place to check for cheap LEGO is with your friends! Many of your acquaintances may have children who collect the stuff, and as they grow up, they may be looking to get rid of that LEGO!
That's where you could swing in! Just because your friends may have children who now own unloved and unappreciated sets doesn't mean that LEGO has to stay unloved forever!
Your friends may be willing to part with their child's old collection for a nominal price, or maybe even for free if you're extra good friends with them!
Not only are you taking a pile of 'childish' LEGO off of their hands, but you're also doing them a favor and making them a little bit of money in the process. Everyone wins!
It's good to have friends. In fact, you could say that they'll be there for youuuu! (Cause you're there for them toooo!)
8. Keep an eye on charity and thrift stores
Charity and thrift stores are awesome places to visit if you want to find yourself some cheap LEGO! Amongst all of the other stuff that people donate to them, there may be some diamonds in the rough hiding!
In charity and thrift stores you may find full LEGO sets, bags of random LEGO pieces, or maybe even Minifigures or Mini-dolls. But nothing is guaranteed. You may hit the jackpot and find some old LEGO, or you may find none.
What is for certain is that it will be cheap. They won't overprice items because they want people to buy them in order to raise as much money as possible. If they raise money, and you get LEGO, then that's a win.
Now, you will find that in thrift and charity shops, not all the LEGO will be complete. In fact, we wouldn't trust it even if it said it was. There is always a chance that someone lost or misplaced a piece before donating.
With that being said, though, most sets should be nearly complete, if not 100% complete. This is where you can go back to buying individual pieces to fill in the gaps, as we mentioned earlier in the post.
And on top of all that, the money you pay will more than likely be going to a good cause, so not only are you getting some cheap LEGO, but you're also doing your good deed for the day, too!
9. Join a Facebook group for LEGO collectors
Did you know that there are Facebook groups out there for LEGO collectors, run by LEGO collectors and populated by – you guessed it – LEGO collectors!
It is here that you might find yourself some of your biggest and best bargains around.
The people in these groups are all LEGO collectors themselves and are all looking to buy cheap LEGO too. Or at least stuff at the recommended retail price.
What the people in these groups are NOT there to do is scalp each other, and sell their LEGO sets for an overinflated price to make a quick buck.
If they do try to do this, they are often blacklisted or shunned by the other people in the group, and people will refuse to buy from them or sell to them going forward.
There have been instances where old and long-retired LEGO sets have been put up for sale at absolute bargain prices. Collectors helping collectors is one of the most wholesome and useful things ever!
The only issue with these kinds of groups is that you'll often have to be quick to get in and claim a set once someone puts it up for sale.
The more people there are in a LEGO collector's group, the more chances there are of cool sets being put up for sale. But on the flip side of that coin, there will also be more people wanting the same sets.
10. Be patient and bide your time!
Some LEGO sets go up in price. Prices for Ultimate Collector's Series sets and sets that are about to be or have just been retired are notorious for skyrocketing.
But with that being said, not all sets go up in price. Some will naturally drop over time. This may be because of how many were produced or simply how popular they were when they were first released.
It's all about playing that long game, holding your nerve, and hoping that prices across the board will become low enough to a point that you're happy actually to buy the LEGO set.
It's not often that the official LEGO website will drop prices below the recommended retail price, but on occasions they actually do.
For example, the Star Wars Millennium Falcon Microfighter with Han Solo Minifigure has recently dropped from an RRP of £8.99 to only £6.29. That's 30% lower than it was initially sold for.
Did that price drop happen instantly? No! LEGO wants people to buy it at full price, but if a set is not selling too well or the market is saturated with them, they will naturally lower the price.
And that's why you have to bide your time. If you want a LEGO set but you're feeling patient, keep an eye on it and watch out for the prices falling. It might not happen like that, but if it does, be ready to swoop in and click buy!
It takes some time, and it's no good if you get a bad case of FOMO (fear of missing out!), but if you can hold your nerve and stay the course, you might just get yourself some cheap LEGO at a fraction of the price.