When starting a new character in Stardew Valley, you always start with the Character Creator Menu. One of the fields to be filled in the menu is for the character's "favorite thing".
This seems like it could be an extremely important piece of gameplay, albeit a somewhat mysterious one. What does it do? How does it impact the game?
Don't fret, there are no wrong answers regarding your character's favorite thing! Here is everything you need to know about Stardew Valley's favorite thing mechanic, plus some extra tips and tricks to get all of the fun you can from it!
NEW: Stardew Valley 1.6 Update Predictions
What Does the Favorite Thing Do in Stardew Valley?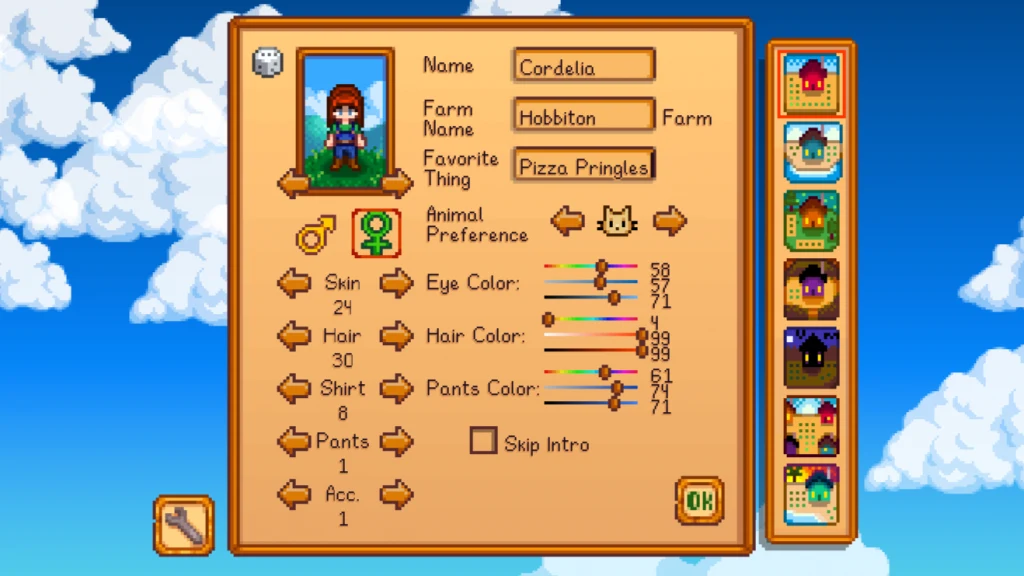 The favorite thing mechanic in Stardew Valley is a required field on the character creator menu.
When you find one of the rare, energy-increasing food items called Stardrops during gameplay, the answer you provided for your favorite thing will add a personalized touch to the text given after eating.
The favorite thing does not affect Stardew Valley gameplay, except for mentioning it in the personalized text given when the character eats a Stardrop.
At no other point in the game is the favorite thing mechanic incorporated or used. The game will remain the same no matter what answer you provide. Therefore, you can pick whatever you would like without worrying about negatively affecting your game down the road.
The two messages are:
You found a Stardrop! It's strange, but the taste reminds you of [favorite thing].
You found a Stardrop! Your mind is filled with thoughts of [favorite thing].
Favorite Thing Ideas and Limits
The sky's the limit when it comes to picking your favorite thing! Well, the limit is actually the pixel width of the text box, around 15 or so characters.
You may want to choose something that is one of your IRL favorite things. Many use their favorite food, flower, or person. Others prefer to use this as a chance to make their character have a personality of their own!
For example, if you are playing a character that always picks the nicest dialogue options, you may want to make their favorite things something sweet or pretty. Things like sunflowers, peanut butter, or baked bread!
If the character is going to be blunt or otherwise unpleasant, then maybe the favorite thing could be something that reflects this. Items like anchovies, pineapple pizza, or spiders come to mind.
Finally, you can't go wrong by choosing something humorous as a favorite item! Imagine eating a Stardrop just to be reminded of Mayor Lewis' purple shorts!
Favorite Thing Easter Eggs, Secrets and Cheats
There are a few hidden Easter Eggs in the game that you can find by choosing a couple of specific things as your favorite thing. Each of these secrets is case-sensitive, so type them with the proper spelling and capitalization if you want to check them out!
Favorite Thing Secret #1: Stardew Everything and Anything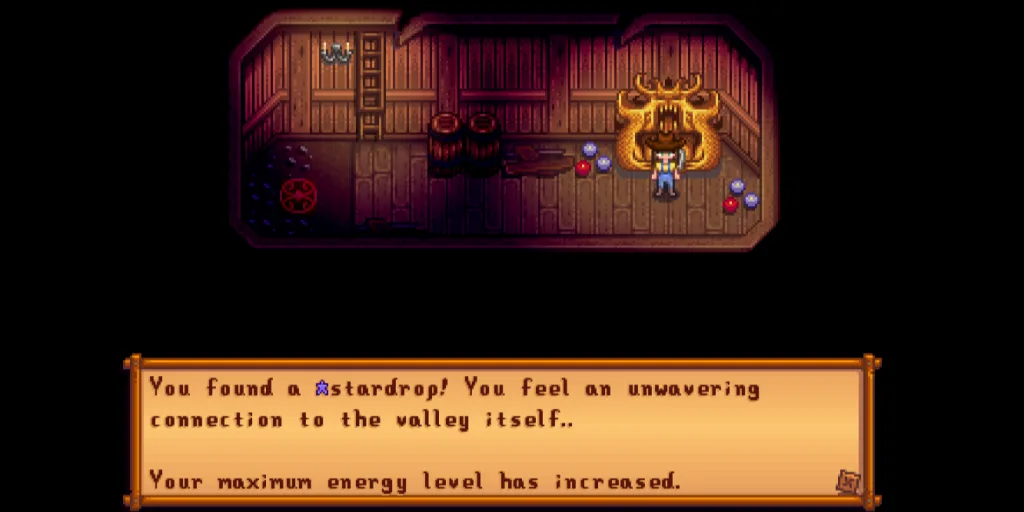 If you are overcome with love with all things Stardew Valley, you might decide to make your favorite thing something Stardew-related. By choosing anything with 'Stardew' in the text as a favorite thing, you will see a unique text after eating a Stardrop!
Stardew Message:
You found a Stardrop! You feel an unwavering connection to the valley itself.
Note that you must capitalize 'Stardew'; otherwise, this will not work.
Favorite Thing Secret #2: The Father of Stardew
The creator of Stardew Valley, ConcernedApe, is another Easter Egg that can be found with the favorite thing mechanic. If you choose to enter 'ConcernedApe' as your favorite thing, this will give another unique message after eating a Stardrop.
ConcernedApe Message:
You found a Stardrop! Your mind is filled with thoughts of… ConcernedApe? (Well, thanks!).
Can You Change Your Favorite Thing in Stardew Valley?
You can change your favorite thing in Stardew Valley. If you have a friendship of four hearts with the Wizard, just enter his basement and offer 500g to the Shrine of Illusions. This will let you edit your entire character, including your favorite thing. Otherwise, you can also do this by tweaking your character's save file.
If you are not yet close enough friends with the Wizard to be allowed in his basement, it is much safer to increase your friendship rather than going into the save file. To increase the friendship level quickly, give the Wizard two weekly gifts of his most loved items: purple mushrooms, solar essence, void essence, super cucumber, and the universally-loved items.
You can edit your save file if you absolutely must change your favorite thing immediately and don't have access to the Shrine of Illusions. Here are the steps for changing the save file:
Make a backup of the save file, just in case.
Open the file titled SaveGameInfo. It should open up in a Notepad application.
Press CTRL+F to open the Find tool
Type in favorite
Replace the old favorite thing with your new favorite thing.
Save and exit.
Changing text in a save file can corrupt the entire save, so be extra careful and always make a backup save file before proceeding.
Read more: Sprinker Types Explained in Stardew Valley
Stardrop Locations in Stardew Valley?
There are exactly seven Stardrops to be found in the entire game. There are various points of the game where you can earn, find, or purchase one of the seven Stardrops. These special fruits increase your total energy bar by 34 points.
Here are all of the Stardrops in the game and how to get them:
| Location/Source | How to Get |
| --- | --- |
| Stardew Valley Fair's Shop | Earn 2000 Star Tokens |
| The Mines | Work your way down to the 100th floor of The Mines and open the treasure chest |
| Spouse/Roommate | Earn a friendship level of 12.5 hearts |
| The Sewers | Buy for 20,000g from Krobus |
| Willy | Earn the Master Angler Achievement and receive in a letter the following day |
| Secret Woods | Solve Old Master Cannoli's riddle and present him with the correct item |
| Museum | Donate all 95 artifacts, minerals, and gems |
Read more: Prismatic Slime Locations
Stardew Characters' Favorite Things
Not only does your character have a favorite thing, but so do all the NPCs! Each of the NPCs has a whole set of things that they love, like, dislike, and hate. To gain their friendship, you want to give gifts that they love and like while avoiding gifting items they dislike or hate.
There is a small set of items that are known as Universal Loves. These items are a safe bet for any of the NPCs since all of them love them. Here are the Universal Loves:
Golden Pumpkin
Magic Rock Candy
Pearl
Prismatic Shard (except Haley)
Rabbit's Foot (except Penny)
In addition to the Universal Loves, each has their own unique favorite items. Below, you can find a complete list of the NPC's most loved items!
Character
Favorite Things
Abigail
All Universal Loves
Amethyst
Blackberry Cobbler
Chocolate Cake
Pufferfish
Pumpkin
Spicy Eel
Alex
All Universal Loves
Complete Breakfast
Salmon Dinner
Caroline
All Universal Loves
Fish Taco
Green Tea
Tropical Curry
Summer Spangle
Clint
All Universal Loves
Gemstones
Gold Bar
Artichoke Dip
Fiddlehead Risotto
Omni Geode
Demetrius
All Universal Loves
Strawberry
Bean Hotpot
Ice Cream
Rice Pudding
Dwarf
All Universal Loves
Gemstones
Omni Geode
Elliot
All Universal Loves
Crab Cakes
Duck Feather
Lobster
Pomegranate
Tom Kha Soup
Emily
All Universal Loves
Amethyst
Aquamarine
Cloth
Emerald
Jade
Ruby
Survival Burger
Topaz
Wool
Evelyn
All Universal Loves
Beet
Chocolate Cake
Diamond
Fairy Rose
Stuffing
Tulip
George
All Universal Loves
Fried Mushroom
Leek
Gus
All Universal Loves
Diamond
Escargot
Fish Taco
Orange
Tropical Curry
Haley
All Universal Loves (except Prismatic Shard)
Coconut
Fruit Salad
Pink Cake
Sunflower
Harvey
All Universal Loves
Coffee
Pickles
Super Meal
Truffle Oil
Wine
Jas
All Universal Loves
Fairy Rose
Pink Cake
Plum Pudding
Jodie
All Universal Loves
Chocolate Cake
Crispy Bass
Diamond
Eggplant Parmesan
Fried Eel
Pancakes
Rhubarb Pie
Vegetable Medley
Kent
All Universal Loves
Fiddlehead Risotto
Roasted Hazelnuts
Krobus
All Universal Loves
Diamond
Iridium Bar
Pumpkin
Void Egg
Void Mayonnaise
Wild Horseradish
Leah
All Universal Loves
Goat Cheese
Poppyseed Muffin
Salad
Stir Fry
Truffle
Vegetable Medley
Wine
Lewis
All Universal Loves
Autumn's Bounty
Glazed Yams
Green Tea
Hot Pepper
Vegetable Medley
Linus
All Universal Loves
Blueberry Tart
Cactus Fruit
Coconut
Dish O' the Sea
Yam
Marnie
All Universal Loves
Diamond
Farmer's Lunch
Pink Cake
Pumpkin Pie
Maru
All Universal Loves
Battery Pack
Cauliflower
Cheese
Cauliflower
Diamond
Gold Bar
Iridium Bar
Miner's Treat
Pepper Poppers
Rhubarb Pie
Strawberry
Pam
All Universal Loves
Beer
Cactus Fruit
Glazed Yams
Mead
Pale Ale
Parsnip
Parsnip Soup
Pina Colada
Penny
All Universal Loves (except Rabbit's Foot)
Diamond
Emerald
Melon
Poppy
Poppyseed Muffin
Red Plate
Roots Platter
Sandfish
Tom Kha Soup
Pierre
All Universal Loves
Fried Calamari
Robin
All Universal Loves
Goat Cheese
Peach
Spaghetti
Sam
All Universal Loves
Cactus Fruit
Maple Bar
Pizza
Tigerseye
Sebastion
All Universal Loves
Frozen Tear
Obsidian
Pumpkin Soup
Sashimi
Void Egg
Shane
All Universal Loves
Beer
Hot Pepper
Pepper Poppers
Pizza
Vincent
All Universal Loves
Cranberry Candy
Ginger Ale
Grape
Pink Cake
Snail
Willy
All Universal Loves
Purple Mushroom
Solar Essence
Super Cucumber
Void Essence
Wizard
All Universal Loves
Purple Mushroom
Solar Essence
Super Cucumber
Void Essence
Read more: What Does the Earthquake Do?