Some LEGO sets are quick and easy to build! But others take time, patience, and skill. So today, we're going to be looking at the 10 hardest LEGO sets to build in 2022!
If you were to ask your average person in the street what they thought of LEGO, they would probably say that it was a kid's toy and that it was simple to use and play with. And for many sets, that is true!
But there are PLENTY of sets out there that are aimed at an older audience – people that have more precision and skill, people that aren't as easily put off by a difficult-to-build LEGO set.
So what are these complex LEGO sets? What makes them so difficult to construct? And what problems do people face? Let's dive on into the list to discover the 10 hardest LEGO sets to build in 2022!
10. The Upside Down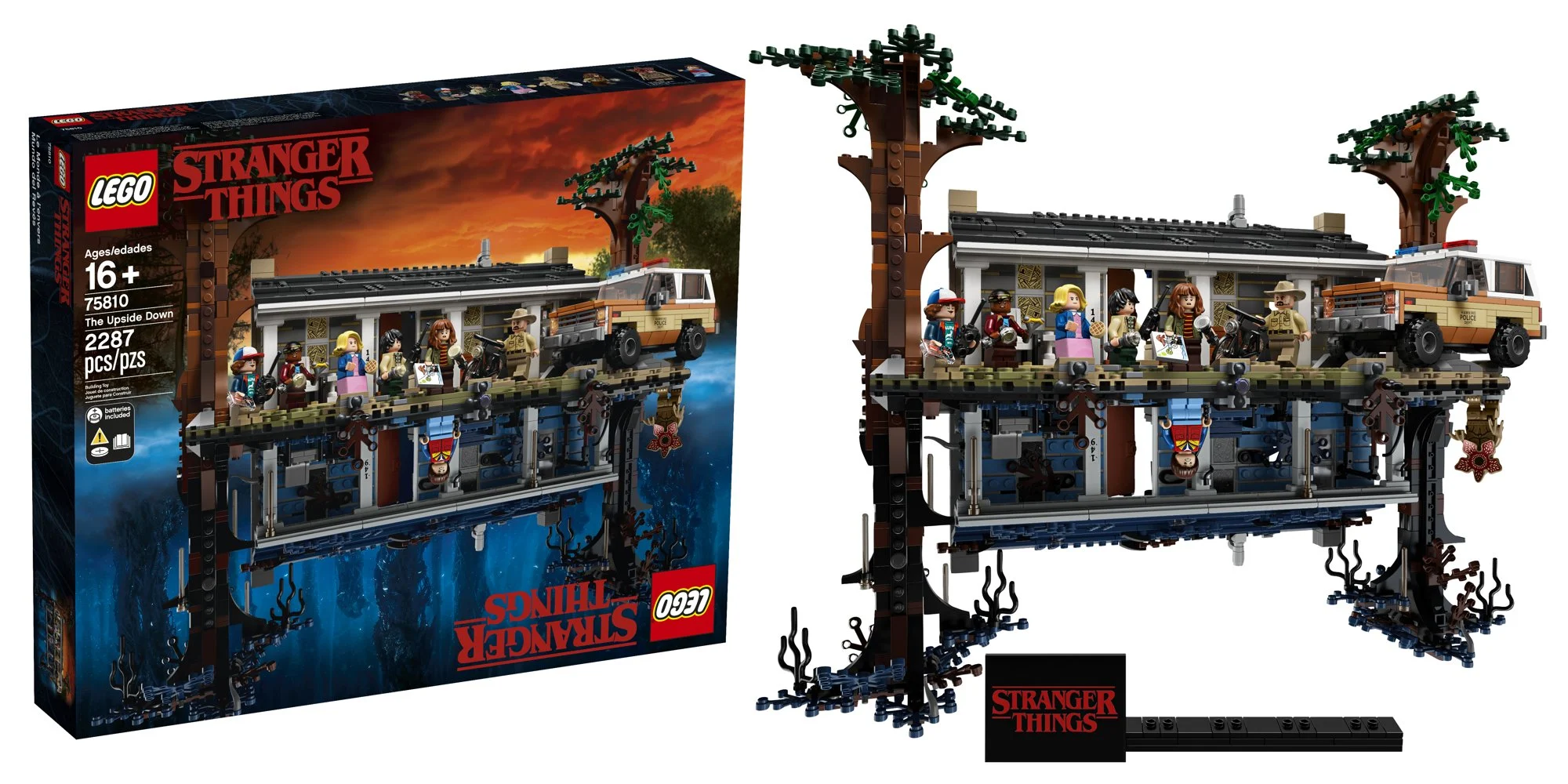 Set number: 75810
Theme: Stranger Things
Release year: 2019
Number of pieces: 2287
RRP: $199.99 / £179.99
Number of Minifigures: 8
We're going to start this list with the intriguing looking 75810 The Upside Down set from Stranger things. And right from the get-go, it's pretty clear why this one is such a tricky set to put together.
The frustrating part of building this set is how gravity really can work against you. As it is reversible and a lot of the set is suspended in the air, gravity pulls down on it and can easily pull it apart.
Ensuring that all the bricks and pieces are firmly and securely pressed together is important if you want them to stay together. One or two loose bricks could spell disaster and end up pulling your build apart.
We can only imagine how annoyed someone would be when they spent time building The Upside Down set only to find it falling apart before their very eyes and in need of reassembly.
The LEGO set itself is actually pretty clever and exciting, and we certainly love the way that it looks when it's all put together.
It's an ingenious design choice to make it a reversible set, being able to be displayed with The Upside Down on the bottom or on the top.
There are a lot of mirrored details, but with a much darker and more ominous color pallet. It really sells the idea that The Upside Down is a creepy version of the normal right-side-up world.
The detailing in the set is fantastic, and there are lots of bits and pieces in the houses that add to the scene. Unfortunately, this adds to the overall weight, which could result in it breaking apart if you're unlucky!
The Minifigures are all appropriate and based on their designs from the earlier seasons of Stranger Things. The highlight is definitely the Demogorgon, and the flower-like face/mouth is actually pretty creepy – even in Minifigure form!
Overall while the construction of the 75810 The Upside Down LEGO set might be frustrating, the results are actually pretty neat. It's certainly worth the time and effort you have to put into it!
9. Hogwarts Castle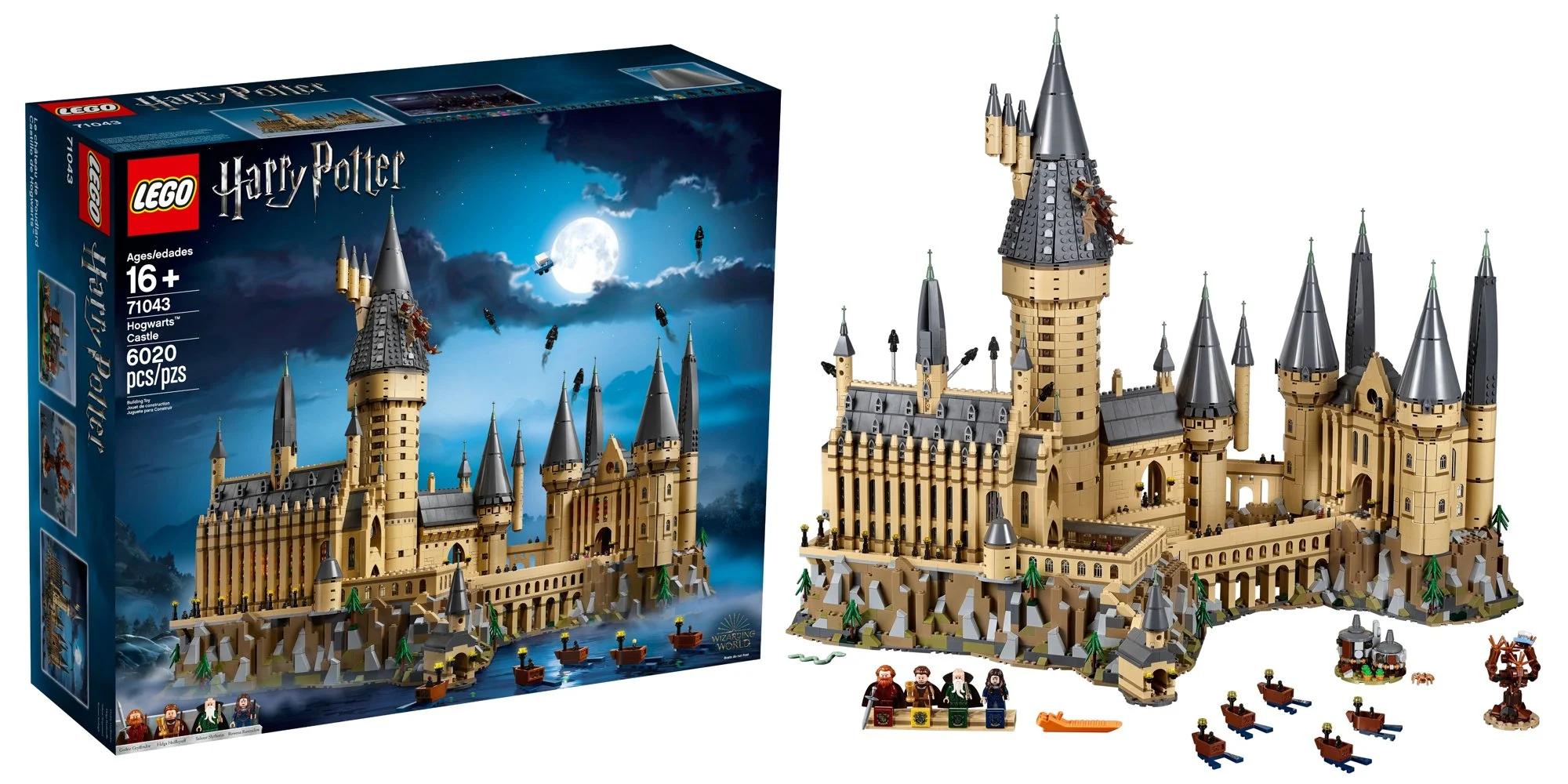 Set number: 71043
Theme: Harry Potter
Release year: 2018
Number of pieces: 6020
RRP: $469.99 / £409.99
Number of Minifigures: 28
The 71043 Hogwarts Castle is undoubtedly one of the more impressive-looking sets on this list. With its many turrets, bridges, and interesting details, it's one that any Harry Potter fan will love.
Here's the thing, though, because of the very high brick count, you can be sure that it's going to take a lot of time to build. There are a lot of tiny sections that require patience and a steady hand to construct.
And not only that but there is also something else that makes this a difficult build: stickers. There are over 70 stickers that need to be applied to this set. Some big, some small, all of them very fiddly.
Anyone that has tried to apply stickers to LEGO knows how difficult it can be, and if you position them incorrectly, it can be a nightmare to fix. One or two stickers aren't too bad, but when you have over 70, it can get very frustrating.
LEGO could have created printed pieces, but the inclusion of printed pieces often drives the cost up. When you have as many pieces that require printing as this set does, stickers are the logical (and much more affordable) way to go.
The Hogwarts Castle set itself is impressive and expansive, and for those that love the Wizarding World of Harry Potter, it's a real centerpiece. You just need to have the time for it!
Overall the Hogwarts Castle LEGO set is a magical build, but its size and the high volume of stickers makes it a hard build!
8. Firehouse Headquarters
Set number: 75827
Theme: Ghostbusters
Release year: 2016
Number of pieces: 4634
RRP: $349.99 / £284.99
Number of Minifigures: 10
The 75827 Firehouse Headquarters is the perfect LEGO set for if there's something strange in your neighborhood!
What makes this set such a nightmare is the sheer number of details that LEGO has put into it. Don't get us wrong; we love that they strived for accuracy and immersive-ness, but it also makes it a tricky build!
With so many small and intimate details that you need to get right, it can become a somewhat frustrating build. Some might see this as a fun thing, others not so much. But it is certainly time-consuming!
You find yourself spending a lot of time putting together small and fiddly bits to place carefully into the set. It's easy to position them wrong and annoying when you later discover your error.
The result though is a LEGO set packed with all kinds of details that fans of the ghostbusters franchise will love. It makes the difficulty of the build worth it.
So yes, while the exterior may look relatively bland and uninteresting, the interior is where it really shines.
On the whole, the Firehouse Headquarters set really delivers as an overall package. It has a bit of something for everyone, and it helps expand the Ghostbuster's world.
The Minifigures are all fantastic, but we just want to highlight the incredible job they did on Slimer. He is made from translucent green plastic and has excellent face printing and even articulated arms.
Overall the Firehouse Headquarters LEGO set is definitely one that's worth picking up, whether you're a ghostbusters fan or a fan of the modular LEGO building line. It fits right in there!
7. Ultimate Collectors Series Millennium Falcon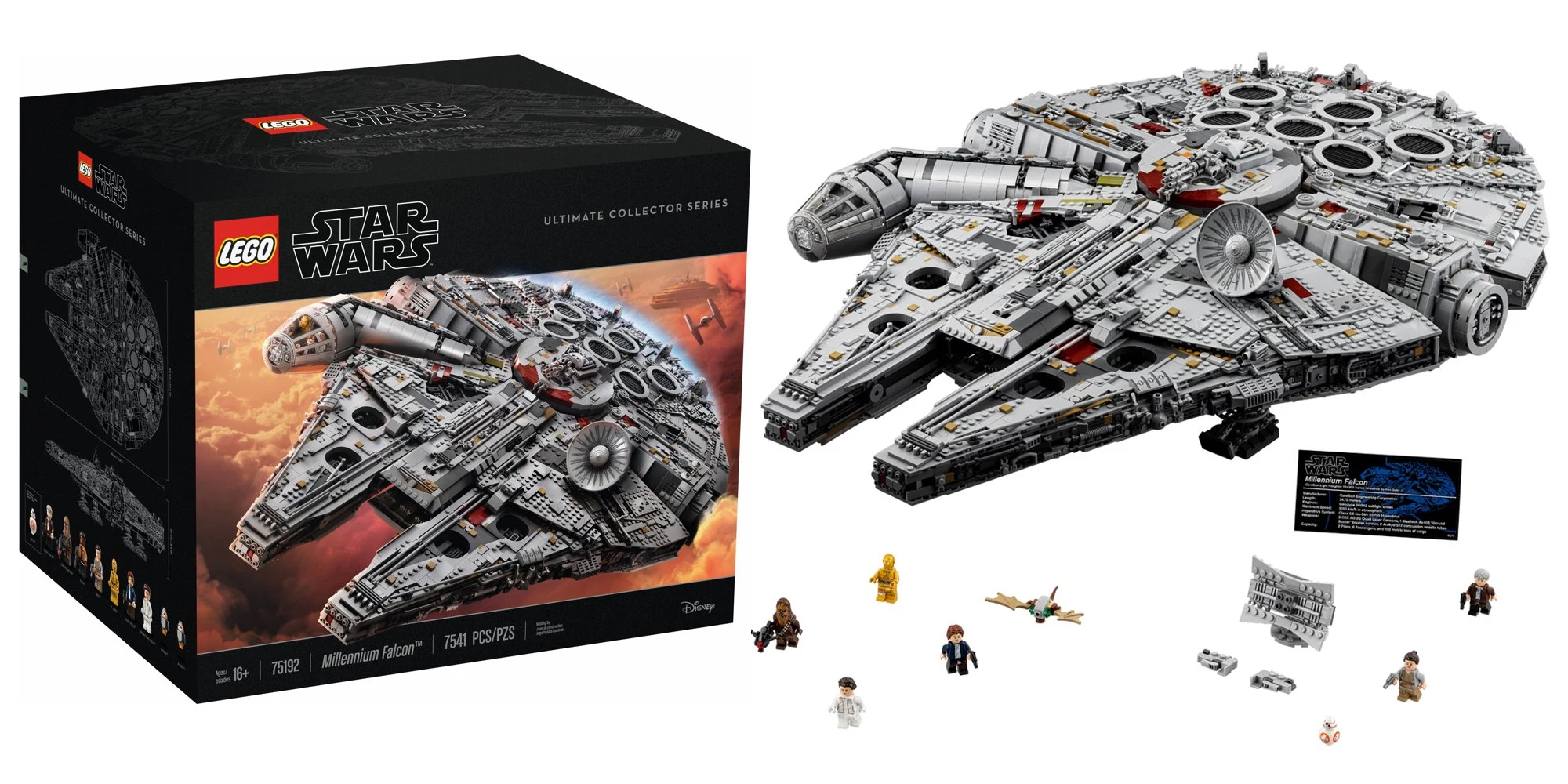 Set number: 75192
Theme: Star Wars
Release year: 2017
Number of pieces: 7541
RRP: $849.99 / £734.99
Number of Minifigures: 8
For the first of our hard-to-build Star Wars LEGO sets, we're turning to the 75192 Ultimate Collectors Series Millennium Falcon.
There's so much going on behind the scenes here, and it's a headache getting everything positioned correctly and precisely as it needs to be. Many of the tiny pieces aren't even on display!
And even the bits that are on show can be annoyingly tricky to deal with! There are a lot of tiny details that definitely look amazing but are difficult to piece together and position correctly in the build.
For example, there are a lot of details built into the main hold of the Millennium Falcon that really makes it look incredible but takes a fair bit of time to put together.
However, with that being said, there's not too much repetitiveness in this LEGO build. That's a whole different level of difficulty that the Ultimate Collectors Series Millennium Falcon thankfully manages to avoid.
Looking at the set as a whole, LEGO did a great job of creating one of the most iconic spaceships in all of cinema history. And while it's a vehicle, it also doubles up as a fantastic play set, too.
The Minifigures are concise and appropriate, with characters from both the Original Trilogy and the Sequel Trilogy. This means you can play in whichever era you want! Similarly, the radar dish can be swapped out to make it more era-specific.
Overall the Ultimate Collectors Series Millennium Falcon LEGO set is one that has a lot of play value, and while it might be a frustrating build, it's an incredible final product!
6. Ultimate Collectors Series Imperial Star Destroyer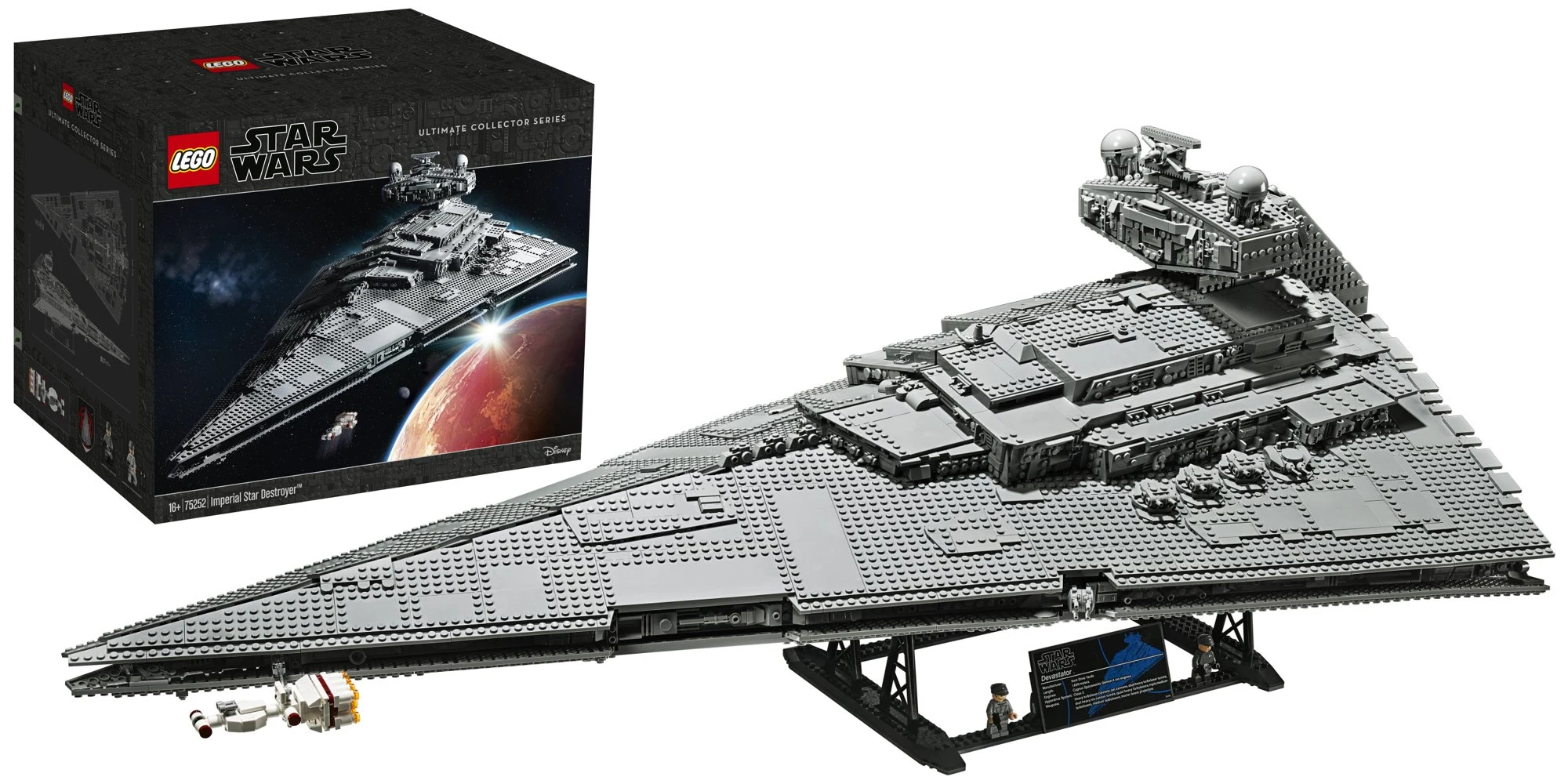 Set number: 75252
Theme: Star Wars
Release year: 2019
Number of pieces: 4784
RRP: $699.99 / £614.99
Number of Minifigures: 2
Continuing on with another LEGO Star Wars build, we have the 75252 Ultimate Collectors Series Imperial Star Destroyer – one of the grandest and most bulky builds on this list.
What makes this build so difficult is the number of LEGO plates you have to deal with. You are putting plates on plates on plates in order to build up the bulk of the Star Destroyer's exterior.
While this might not sound too taxing, you may end up going 'plate blind' and incorrectly positioning a plate against another or using the wrong plate altogether.
And the thing is, you might not even discover your error until you start to put all your different pieces together, at which point you have to figure out where you went wrong and start over again.
And then there is the interior of the Star Destroyer. There's so much going on beneath the plates that could also go wrong that it gets particularly annoying!
As a set, the Ultimate Collectors Series Star Destroyer is a beauty and one that has some real presence. The scale of it is incredible, and looks-wise it is absolutely a worthy build.
At over 3 feet long, it will take up a considerable amount of shelf space. Thankfully thanks to the sturdiness of the build, it could also be hung. You just have to be sure you have a wire or cable capable of holding it up!
As far as Minifigures go, you only get two token Imperial officers, but it's better than nothing.
Overall the Ultimate Collectors Series Star Destroyer LEGO set might have plenty of difficult and frustrating bumps in the road to constructing it, but the finished thing is truly magnificent.
5. Bugatti Chiron
Set number: 42083
Theme: Technic
Release year: 2018
Number of pieces: 3599
RRP: $349.99 / £319.99
Number of Minifigures: 0
Up next is the gorgeous looking 42083 Bugatti Chiron LEGO set. This is a very dynamic and exciting-looking LEGO build that is a pleasure to own.
But when it comes to how hard it is to build, it's definitely up there as one of the worst! There are so many small and fiddly parts that need positioning just right in order to get everything else sitting properly.
Technic sets can often test your patience, and the Bugatti Chiron is no different. Any errors are especially highlighted if it impedes the car from rolling properly.
It might only be a relatively small build, but there are many ways for it to go wrong. Sometimes obviously, other times not so much. Suffice it to say it's essential you pay attention when building it. This can be a headache all of its own!
Looking at the build as a whole, you'll find it's a rewarding one – especially for those that love cars and appreciate the beauty of these kinds of vehicles.
It might not be for everyone – LEGO purists tend not to be huge fans of Technic builds, but still, for those that don't mind them, the Bugatti Chiron is a set that many people will understandably enjoy owning.
Overall the Bugatti Chiron LEGO build is a cool and sleek-looking build. As with many LEGO Technic builds, it looks more 'exposed' while still having plenty of detailing all across the body.
4. Taj Mahal
Set number: 10256
Theme: Creator Expert
Release year: 2017
Number of pieces: 5923
RRP: $369.99 / £299.99
Number of Minifigures: 0
We're heading to the world of Creator Expert LEGO builds now with the beautiful and grand 10256 Taj Mahal LEGO set.
It might look like a stunning build, and the overall thing is, without a doubt, one of the most exotic and fun-looking LEGO structures out there, but the build can be hard and, at points, very tedious.
With only 5923 pieces, it's not the biggest set ever. But many of those pieces are tiny. While this might sound like a good thing, it's actually not. These small pieces are fiddly, and there are just so many of them!
Aside from them being easier to lose than your average larger LEGO pieces, the process of putting them together and positioning them is extremely repetitive. It seems like you spend forever getting nowhere!
And if along the way, you inadvertently place a piece in the wrong place, it may become painfully obvious once the build is complete, resulting in you having to take it apart and fix the mistake.
When you look at the finished thing, the Taj Mahal is a thing of beauty. It's a fairly large and complex build, and you are rewarded for your efforts.
One thing that we do find impressive is how LEGO has found a clever way to recreate the rounded domes on top of the main Taj Mahal structure. Sure, it's not perfect, but it works surprisingly well, even close up!
There are, of course, no Minifigures with this build, but the set as a whole speaks for itself and doesn't require any additional Minifigures.
Overall the 10256 Taj Mahal LEGO set ticks a lot of boxes. If you can put up with the monotony of the build, then you end up with a LEGO set as iconic as the actual building it depicts!
3. Land Rover Defender
Set number: 42110
Theme: Technic
Release year: 2019
Number of pieces: 2573
RRP: $199.99 / £174.99
Number of Minifigures: 0
Heading back to LEGO technics, we have the 42110 Land Rover Defender LEGO set, depicting one of the hardiest and most rugged vehicles around.
As with the 42083 Bugatti Chiron LEGO set, the Land Rover Defender is made up of many small parts.
When asked about why they found this build to be particularly difficult, many pointed out how tricky the final assembly is. And it's true – joining the chassis to the main body can be finicky.
If there is one piece out of place on either of the parts, then you first have to discover where you went wrong (which really isn't as easy as it sounds) before going in and fixing things.
This can take up quite a lot of time and cause people to become extremely frustrated and worn down.
The final Land Rover Defender is actually a pretty solid and brutish-looking build, though. And we mean that in a good way!
Unlike the Bugatti Chiron, the Land Rover Defender seems more 'covered up' and less exposed. This is thanks to both the plates that hide things away and the way that many of the technic pieces lay.
It is, of course, a working vehicle and can roll nicely along on its four rubber wheels.
Overall the Land Rover Defender LEGO set may not be the quickest or easiest of sets to put together, and you may lose your patience once or twice, but it's certainly one that lovers of the iconic vehicle will find to be highly pleasing.
2. Colosseum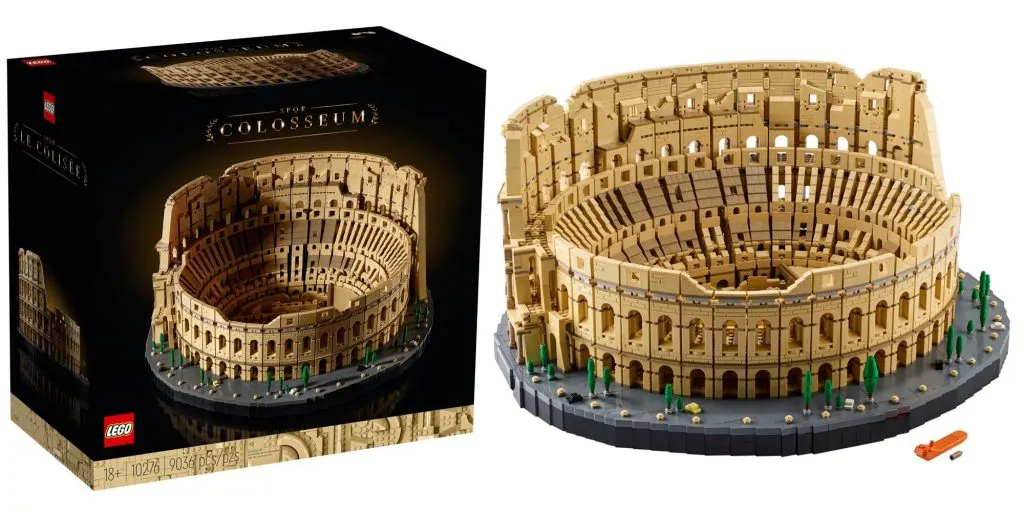 Set number: 10276
Theme: Creator Expert
Release year: 2020
Number of pieces: 9036
RRP: $549.99 / £474.99
Number of Minifigures: 0
When it comes to the big hitters of LEGO sets, there are few more beautiful and renowned than the 10276 Colosseum. This beauty of the build depicts the massive stadium-like Italian venue.
But with such a high piece count comes many, many headaches. As you can probably imagine, such a uniquely shaped set requires many small and precisely placed LEGO pieces.
That is exactly what makes this build so difficult!
While the skill level is relatively low, and there are no overly tricky or complicated techniques needed to put it together, it is the sheer repetitiveness and accuracy that makes it so hard to build.
You find yourself seemingly doing the same thing over and over and over again. Then you have to place tiny little individual bricks in exact, specific spots in order for another piece to attach to it later on.
All this amounts to more than a little headache. In fact, it can be downright annoying!
Sure, the finished product is a thing of beauty and one that any lover of architecture or history will love. And if you have the patience or a penchant for repetitive tasks, you'll love the process of building.
But for many people, putting this whole thing together can be a massive nightmare and one that doesn't even have much playability when it's all done and dusted. This is definitely more of a LEGO set for adults than kids!
As a LEGO build, it undeniably looks incredible, though. With its beautiful arches and countless tiny details and layers, LEGO managed to make this look absolutely spot on.
In fact, the squareness of the bricks only adds to the overall feel of the building! It's clear why it's one of the best-selling large builds on the official LEGO website!
Overall the 10276 Colosseum is a set that – if you stick with it and push past your frustration – will reward you in spades. It's a truly gorgeous (and more than a little bit difficult to build) LEGO set!
1. Ultimate Collectors Series AT-AT
Set number: 75313
Theme: Star Wars
Release year: 2021
Number of pieces: 6785
RRP: $849.99 / £734.99
Number of Minifigures: 9
We finish off this list with one of the greatest LEGO Star Wars sets out there: the 75313 Ultimate Collectors Series AT-AT. But while it may be great, it's definitely a hard build!
Is this the biggest LEGO set ever? No. In fact, it's not even the biggest Star Wars set ever! But what it lacks in pieces, it more than makes up for in complexity and trickiness. It can truly be a downright nightmare to build!
The big issues are internal, with the main structure. There are SO many different bits and pieces that it makes it a nightmare to put together. And on top of that, it is built in several different sections.
Firstly you build the body, then the head, then finally the legs. These have their own individual annoyances, but the hardest part comes when it's time to put them all together.
Attaching the legs is a particular nightmare, and it's here that you may discover that you missed a step or a piece is out of place. Now, unlike many of the other sets, disassembling this one is not so easy.
Taking it all apart and reverse engineering things to figure out you stuck one single pin in the wrong way or something like that is enough to test even the most patient of people!
And all that is before we even mention the electronic, mechanical element that makes the LEGO AT-AT walk. That's a whole Pandora's box of hard-to-deal-with problems on its own!
Still, when the whole thing is put together, it's an incredible set and one that you won't regret fighting with. Sure, it is undoubtedly a challenging build, even for LEGO building experts, but it's worth it in the end!
Looks-wise it is grand and large, and it comes perfectly scaled for the 9 Minifigures. And speaking of Minifigures, we get a nicely appropriate selection, including Luke Skywalker himself!
Overall, the 75313 Ultimate Collectors Series AT-AT LEGO set will push you and challenge you in all kinds of ways, but for lovers of Star Wars or LEGO in general, it is a must-buy set!