If you're a fan of LEGO Minifigures, then there's nothing more exciting than the announcement of a new LEGO Minifigure series!
Today we will look at the soon-to-be-released Series 23, set number 71034.
These collectible Minifigures (also referred to as CMF) have been a firm fan favorite since their very first set was released in March 2010.
Since then, there have been 39 different sets released; 22 regular waves (Series 1-22), and 17 based around various different IPs.
Examples are the Team GB Olympic Series, the Harry Potter and Fantastic Beasts Series, and the LEGO Looney Tunes Series.
The LEGO Minifigures Series 23 will join Series 22, and the LEGO Muppets Show Series as the third and final series released this year.
It is based around Halloween and Christmas, and as such, there are a lot of costumed and wintry Minifigures included.
LEGO Minifigure Series 23 (71034) Release Date and Other Info
The Series 23 release date will be September 1st, 2022. Each pack will retail for $4.99, £3.49, or €3.99. This is in line with the previous pricing.
It's an interesting move for LEGO not to put the price up, especially when other toy manufacturers are making increases across the board.
The price freeze hasn't gone unnoticed, and collectors worldwide greatly appreciate it.
LEGO Minifigure Series 23 Blind Bags
As with all previous LEGO Minifigures blind bags, the plastic packaging contains a collage of all the characters available.
It also has the logo and series prominently displayed at the top. It's simple, eye-catching, and does a good job of showing off the available LEGO Minifigures.
And for those of you that buy LEGO Minifigures by the box (and we're sure there are some of you out there), there are 36 bind bags included in each.
Just a quick note on the packaging: LEGO strives to be a little more eco-friendly. They are hoping to phase the plastic packaging out by September 2023.
Minifigures will instead come in small cardboard boxes.
So without further ado, let's delve into the LEGO Minifigures themselves!
LEGO Collectible Minifigure Series 23 Characters
As mentioned, there are 12 different LEGO Minifigures to collect, with some being rarer than others.
They are Halloween and Christmas-themed, so you can expect to see plenty of costumes and wintry outfits!
Captain Costume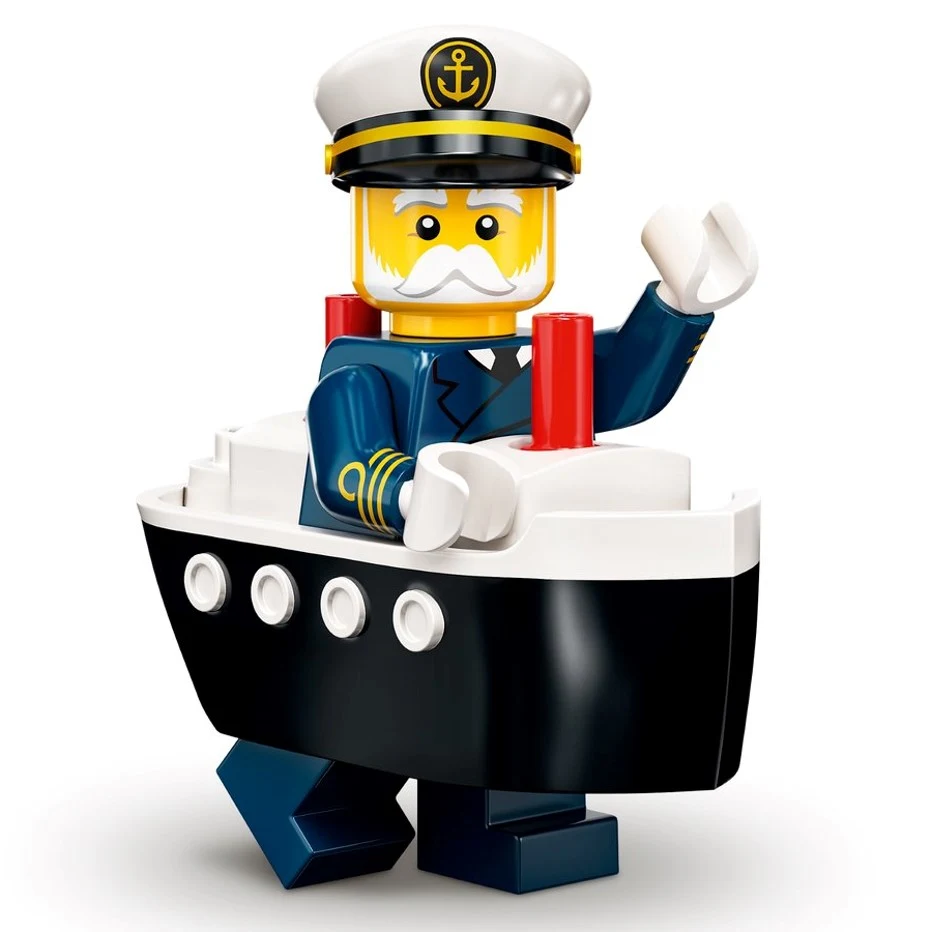 This is a really interesting-looking Minifigure to kick our Series 23 journey off with.
The Captain is a bearded fellow with a formal navy-colored suit. He also wears a hat that designates his job.
Both the cuffs of the wrists and the front of the hat feature some nice gold detailing, and the torso piece is a great representation of a Navy captain's suit.
The leg pieces are just plain blue, but that doesn't matter much.
As we're sure you've noticed, the Captain comes with a giant ship costume that makes it look like he's riding the boat.
This piece can be sandwiched between the legs and torso pieces to secure it. Alternatively, the Captain looks just as good and stiff official without adding the giant ship piece.
Total pieces to this LEGO Minifigure: 5
Predicted Rarity: 3/32
Dragon Costume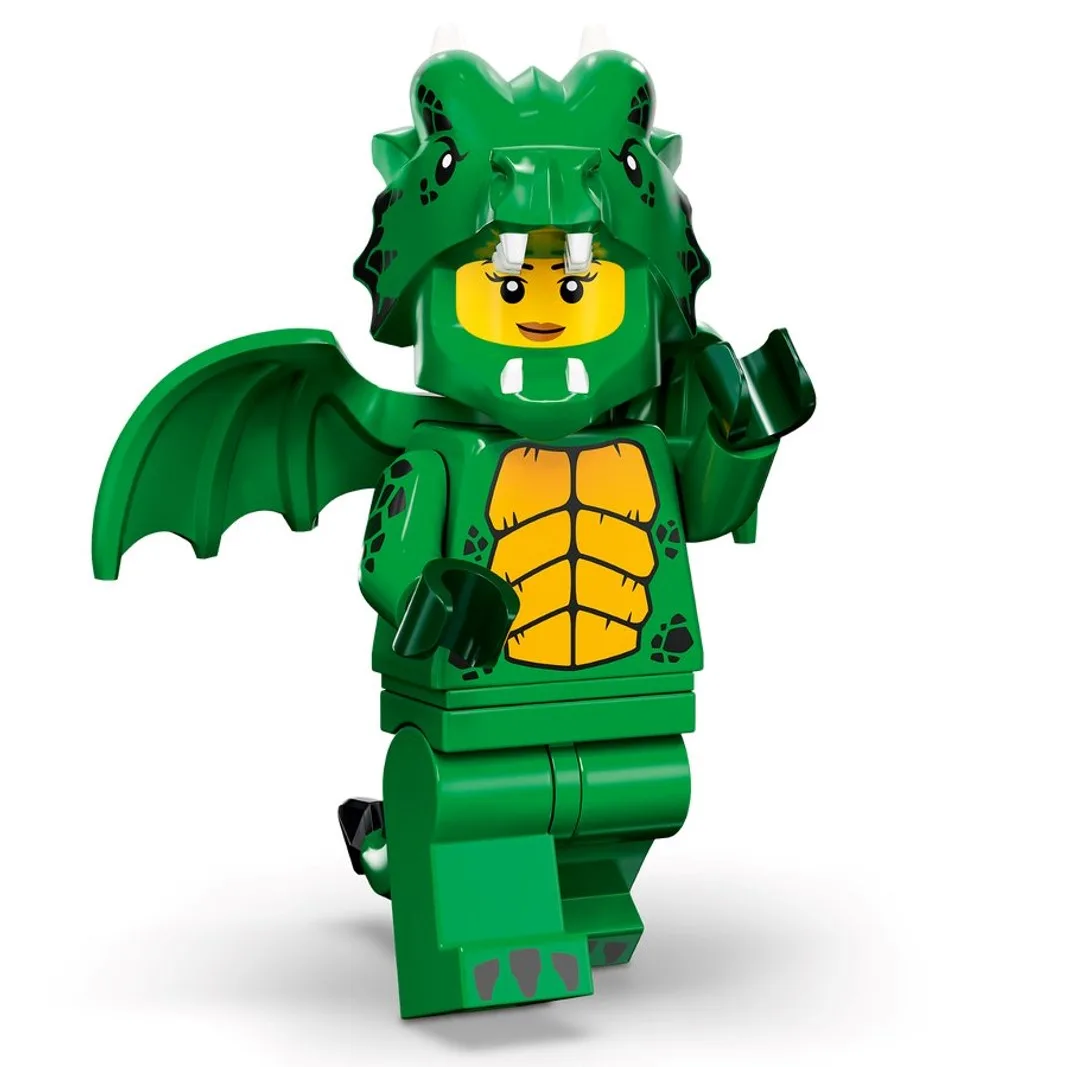 The Dragon Costume LEGO Minifigure is a nicely detailed entry to this series. The green costume stands out nicely against the yellow of the actual Minifigure.
When it comes to detailing, there are plenty of print applications for the legs, torso, and especially the head.
The costume looks rough and scaly and is a neat depiction of a fierce green dragon.
To attach the mask, all you need to do is slip it over the head and secure it via the stud on top of the head.
The wings and tail are separate pieces. Simply attach the tail by sandwiching it between the legs and the torso pieces. Similarly, the wings sit on the neck between the torso and head piece.
As cool as this Minifigure is, it's essentially just a reprint of the Series 18 Dragon Suit Guy.
Total pieces to this LEGO Minifigure: 6
Predicted Rarity: 3/32
Elf Costume
This shorter LEGO Minifigure features a simple yet cute Elf Costume.
The torso piece comprises a dark green body with light green arms. A simple brown belt ties it all together.
The black shoes have some nice bright white highlights and a thin white strip around the legs which gives them a little more definition than just plain green.
Her bright orange hair comes in pigtails, and they are pre-attached to the hat piece. Also attached to the hat/hair piece are the small, pointy ears.
The Elf comes with a cool little accessory: a little model snow-covered house in a glass case.
The house features some nice printing, and despite it only being a simple 5-piece accessory, it's very effective and looks great.
Total pieces to this LEGO Minifigure: 9
Predicted Rarity: 2/32
Knight Costume
As one of the most intricate builds in series 23, the Knight Costume looks fantastic from top to bottom.
The armor is shiny silver, while the torso underneath is a complimentary cool blue.
The helmet comprises three pieces: the actual piece that goes over the head, a yellow/gold painted visor that can be pulled up and down, and a pink feather on top.
When it comes to the torso, there is a separate piece of armor that slides over the usual body piece.
Yes, it gives it a slightly bulkier look than a regular LEGO Minifigure, but it just adds to the specialness of the Knight.
The accessories are brilliant too. The shield is a single piece and has some very well-detailed print applications on it.
A hobbyhorse is also included, made up of a small (yet detailed) horse headpiece that attaches to a red pole.
Total pieces to this LEGO Minifigure: 10
Predicted Rarity: 4/32
Nutcracker
With an eye-catching red and white uniform, the Nutcracker has some amazing print applications.
The details on the torso piece and the boots give the impression of a well-tailored uniform.
Also, the face is great, with a long mustache, small beard patch, and rosy cheeks.
The long tall black hat and white spiky hair are all one piece and – as with the rest of this Minifigure – very detailed and well printed.
Also, if we're talking about separate pieces, the Nutcracker's golden shoulder pads need to be slid over the neck piece and sandwiched between the torso and the head.
Accessory-wise, the Nutcracker comes with a nut (obviously) and a golden sword.
The nut is a printed single stud circle that can clip to the Nutcracker's hand to make him look like he's holding it.
Total pieces to this LEGO Minifigure: 7
Predicted Rarity: 1/32
Popcorn Costume
The Popcorn Costume is a simpler and less interesting LEGO Minifigure than the others in the CMF 23 series.
That's not to say it's not good, but it highlights the quality of the series as a whole.
It consists of a maroon leg piece, a white torso piece, a head, and the popcorn costume itself.
You simply assemble your Minifigure and slide the costume over the top. The stud on top of the head will keep things secure.
The popcorn costume has an opening for the face and stretches as far down as the waist.
It is designed to not get in the way of leg articulation, though it might obstruct the arms if you want to position them pointing upwards.
Total pieces to this LEGO Minifigure: 4
Predicted Rarity: 4/32
Reindeer Costume
The Reindeer Costume Minifigure is another with slightly less detailed print applications.
The brown legs have a couple of hooves painted onto the feet, and the torso piece has a solid white belly patch and a simple collar around the neck.
The head of the costume has a couple of beady black eyes, a shiny black (not red??) nose, and some pre-attached antlers. It slides over the head to be secured.
Color-wise, it might look a little too flat, but the accessory makes up for what the paint scheme might be lacking a little.
Also included with this Minifigure is a small present. It consists of a blue, hollow 2×2 piece and a thin blue lid featuring sparkles and bow details.
The two fit nicely together to create a sealed box. Within this gift is a love heart-shaped gingerbread cookie that can be clipped to a hand piece.
Total pieces to this LEGO Minifigure: 7
Predicted Rarity: 1/32
Cardboard Robot Costume
If you want an insanely detailed LEGO Minifigure, look no further than the Cardboard Robot Costume Minifigure.
Primarily colored blue, it has a lot of printed details that bring it to life and give it some character.
The nuts and bolts give it an industrial look, like the gauge and techno-looking face on the head/torso piece.
There are some really nice details here. For example, the arm printing really ties things together, and the studs on either side of the head and top give it that 'classic sci-fi robot' look.
Like the Popcorn Costume Minifigure, the Robot Costume slides over the Minifigure once the head, torso, and legs are assembled.
Again, you get the same arm articulation issues, but considering the incredible detail and print applications, you can let that little hiccup slide.
The Robot Costume Minifigure comes with a pair of open scissors (for cutting the cardboard) and some kind of data/control pad.
While we haven't had a LEGO Minifigure in this kind of costume before, it looks like she's dressing up as one of the robots from Lego Minifigures Series 6 or Series 11.
Total pieces to this LEGO Minifigure: 6
Predicted Rarity: 4/32
Snowman
The Snowman is one of those classic LEGO Minifigures that everyone has.
There have been countless snowmen across various sets, but this is the first time we've had one in the LEGO Minifigures series.
With a white torso, white legs, and a white head, he's quite predictably pretty bland.
Luckily the bright red scarf adds a much-needed pop of color. Similarly, the orange carrot nose just breaks up the monochrome color scheme.
He comes complete with a top hat and a broom, pretty traditional things for a character like the Snowman.
One big positive is that he has articulated legs instead of a single fixed piece. Yes – that might look a little more realistic, but articulated legs add a lot of play value.
While there have been quite a few Minifigure snowmen in the past, none have had this design. It's nice to get a new version of what could easily have just been a repack of an older version!
Total pieces to this LEGO Minifigure: 6
Predicted Rarity: 4/32
Sugar Fairy
Another shorter LEGO Minifigure, the Sugar Fairy, has many interesting elements that make her stand out.
Her outfit looks wonderful, including a tutu piece that can be sandwiched between the legs and the torso.
The tutu and the torso piece are a baby pink color and decorated with nicely dotted patterns.
While she has plain white legs, there are some colorful little sprinkles on her feet, just to add some interest to an otherwise pretty bland leg piece.
On the opposite end of her body, her hair piece comes with a large white crown attached.
The wings are a completely separate piece that can be attached between the torso and head.
It is made of transparent pink plastic, which really adds a unique element to this Minifigure. Again, they are decorated with a nice dotted pattern.
And to top things off, the Sugar Fairy comes with an accessory: a curved red and white candy cane.
Total pieces to this LEGO Minifigure: 6
Predicted Rarity: 3/32
Turkey Costume
The Turkey Costume Minifigure is brilliant!
While we have seen many different costume types in this LEGO Minifigures wave, the Turkey Costume has to take the crown as one of the best.
Color wise it might be pretty bland. There's only so much you can do with brown.
But the details, paint applications, and extra little bits and pieces make this one of the better offerings.
The turkey mask head is where you get a lot of the color.
You get an eye-catching yellow beak, a sapphire blue around the eyes, and a predominant red that runs down onto the torso.
The giant fanned-out tail piece really gives this Minifigure some presence. It can be attached at the waist between the legs and the torso.
While it does get in the way of the arm articulation if you want to position them going backward, it really doesn't matter because it looks fantastic!
Accessory-wise, he comes with a two-piece pumpkin, adding to that Halloween/Thanksgiving vibe.
This really is one of those figures that just knocks it out of the park!
Total pieces to this LEGO Minifigure: 7
Predicted Rarity: 1/32
Wolf Costume
We're rounding out the series 23 lineup with the Wolf Costume Minifigure, and this one is another one in the same vein as the dragon, reindeer, and turkey costumes.
Primarily colored gray, a lot of work went into sculpting the wolf mask head.
The attentive ears and unkempt fur going down the side of his face really give him a wild look.
Two small fangs hang in front of the hole that you can see the Minifigures face through, too.
He is wearing blue dungarees that are tattered and torn. They run from the torso piece to the leg piece, making it look like one single item of clothing.
There are some great little details, such as the stitching on the front pocket and down the side of the legs.
A bushy gray tail piece can easily be attached at the waist between the torso and the legs.
He also comes with some kind of swag sack that can be clipped into his hand. The sack features some detailing, such as sewn-up cuts and a patch, meaning it's not just one plain solid color.
Total pieces to this LEGO Minifigure: 6
Predicted Rarity: 2/32
See more: Series 24 Wish List and Rumors
Predicted Rarities
We can't predict how rare these individual Minifigures will be, but what we can do is make our predictions as to how difficult or easy they will be to get hold of.
The process isn't a scientific one – we're basing our predictions on the rarity of that type of Minifigure, the want and demand for a certain character, and our general observations of the world of LEGO.
What you have to bear in mind that is that Minifigures are distributed randomly in their boxes. One box might contain only a handful of each, while another might contain 25 of only one type!
We've taken a stab at it, so hopefully we're not too far off of the mark!
The LEGO Minifigures Series 23 Rarity Table
| LEGO Minifigure | Rarity | Notes |
| --- | --- | --- |
| Captain Costume | 3/32 | You can find plenty of sailors and boat captains, but none quite like this guy. Might be quite common. |
| Dragon Costume | 3/32 | As mentioned in the main review, we got a dragon costume in series 18. It's hardly going to be a rare one to find. |
| Elf Costume | 2/32 | Elves are popular in Christmas sets, though we've never seen them in the Minifigure Series line. Might be one to watch out for. |
| Knight Costume | 4/32 | Knights are always popular, and always popping up in various sets. This one shouldn't be too hard to get hold of. |
| Nutcracker | 1/32 | Considering Christmas LEGO sets a very popular, it's surprising a Nutcracker Minifigure has never been made before. Could be rare! |
| Popcorn Costume | 4/32 | The relative unpopularity of this kind of Minifigure suit leads us to believe this might be the Series 23 common 'filler' Minifigure. |
| Reindeer Costume | 1/32 | We've never got something like this before, so the chances of this being a bit of a rarity could possibly be higher than the other Minifigures. |
| Cardboard Robot Costume | 4/32 | Robots are always going to be popular and therefore there are always going to be robot Minifigures. We can see them including a lot of these. |
| Snowman | 4/32 | A relatively common Minifigure found in seasonal sets. We feel like it will be quite easy to find. |
| Sugar Fairy | 3/32 | Fairy Minifigures are kind of rare, though we did get one as recently as 2021. Whether it's rare in this series is up in the air. |
| Turkey Costume | 1/32 | We've never had a turkey costume before, so it might turn out to be a pretty elusive Minifigure. |
| Wolf Costume | 2/32 | We've had a few wolf Minifigures before, most recently in LEGO Minifigures Series 14. It could go either way. |
Final Thoughts
So what are our overall impressions of the Minifigures included in the LEGO Minifigures Series 23 71034? We think they're brilliant!
There are some interesting (in a good way) choices, with some absolute standouts.
For example, the Nutcracker, the Cardboard Robot, and the Turkey Costume are all sensational Minifigures with excellent sculpting and detailing.
There are a few Minifigures to get less excited about, such as the Popcorn Costume or the Reindeer, but it's all part of the collecting game!
And we're not saying they are bad figures at all. We're just saying that these are the slightly weaker links in a series where there are some absolute gems.
Still, we're excited to own the full set, and we can't wait to get our hands on them when they hit shelves in a few months time!
Now it's over to you – what do you think of the LEGO Minifigure Series 23?
What are your favorite or least favorite Minifigures? Be sure to let us know in the comments section down below!
Read more: Star Wars 2023 Sets Lineup Rumors