With Disney's 100th anniversary happening in 2023, it's no wonder that LEGO is jumping on the bandwagon and helping them celebrate in style by releasing a new series of collectible Minifigures!
The Walt Disney Company was first founded in 1923 by Walt Disney himself, and since then, it has gone from strength to strength, becoming an absolutely unstoppable media behemoth.
But it wasn't until 2014 that the Walt Disney Company partnered with LEGO. This seemed like a match that was destined to happen, and one that has produced some amazing toys, including LEGO sets and Collectible Minifigure Series!
Today we're going to be looking at the third series of Disney Minifigures that LEGO will be releasing!
The Big Teaser!
LEGO decided to kick 2023 off in style by dropping an intriguing teaser poster for both LEGO and Disney fans to pour over. It announced its intentions to collaborate with Disney once again in celebration of the 100th anniversary.
But what does the teaser poster tell us? Well…not too much, to be honest! It's pretty sparse, and there's not too much going on. But what is prominently featured is Tinker Bell's arm and trademark magic wand.
There's not very much to go on, and the clues are few and far between. But what we can do is take a few educated guesses about the direction that this LEGO Disney Minifigure series will take.
As for when the Minifigure series will be released, well, the poster gives us no idea. What we DO know is that they have missed the January release window, so they are going to land around either May or September.
But before we start speculating and delving into the new, let's refresh ourselves on the old and see what that reveals to us about what we can expect in the upcoming LEGO Disney Minifigure series!
UPDATE: See the latest Disney Minifigure Series 3 Rumored Lineup, Accessories, Release Date and more!
Previous Disney Minifigure Series
The first wave of Collectible Disney Minifigures (numbered 71012) came in 2016. LEGO was spoiled for choice when it came to which characters they were going to turn into Minifigures.
They ultimately went with some classic characters combined with some popular ones, too.
Aladdin (Aladdin)
Alice (Alice in Wonderland)
Alien (Toy Story)
Ariel (The Little Mermaid)
Buzz Lightyear (Toy Story)
Captain Hook (Peter Pan)
Cheshire Cat (Alice in Wonderland)
Daisy Duck
Donald Duck
Genie (Aladdin)
Maleficent (Sleeping Beauty)
Mickey Mouse
Minnie Mouse
Mr. Incredible (The Incredibles)
Peter Pan (Peter Pan)
Stitch (Lilo & Stitch)
Syndrome (The Incredibles)
Ursula (The Little Mermaid)
The second series of Collectible Disney Minifigures (numbered 71024) came three years later in 2019. This time, LEGO dug a little deeper when it came to their character selections.
Anna (Forzen)
Chip (Chip & Dale)
Dale (Chip & Dale)
Dewey
Edna Mode (The Incredibles)
Elsa (Frozen)
Frozone (The Incredibles)
Hades (Hercules)
Hercules (Hercules)
Huey
Jack Skellington (The Nightmare Before Christmas)
Jafar (Aladdin)
Jasmine (Aladdin)
Louis
Sally (The Nightmare Before Christmas)
Scrooge McDuck
Vintage Mickey Mouse
Vintage Minnie Mouse
So what about series 3?
As we mentioned, we know very little about what series 3 of the LEGO Disney Minifigures will include. We can make some predictions and educated guesses, though.
There will more than likely be 18 Minifigures included. This seems to be the standard number when it comes to this Minifigure series.
We'll start with the obvious character! We're more than likely going to get Tinker Bell. With her arm and wand prominently featured in the teaser poster, we can see her making an appearance here.
This particular Minifigure can only be found in the 71040 Disney Castle – a large and expensive set that a lot of people may not be able to afford. Her inclusion in this series gives people the opportunity to get their hands on her Minifigure.
We also think it's pretty safe to assume that we'll get some form of Mickey Mouse, too. He is, of course, the figurehead of Disney!
The LEGO Disney Minifigures series 1 version of Mickey Mouse is pretty plain and straightforward and what most people think of when they hear his name. The series 2 Mickey is the vintage 'Steamboat Willie' version.
We expect that we'll get a more 'fancy' Mickey Mouse in this series of Minifigures. He is, after all, celebrating the 100th anniversary. He could be wearing his suit and bow tie, dressing more for the occasion.
Minnie Mouse is another Minifigure that we expect to see. As Mickey's partner, she's a staple of many LEGO Disney sets. In the original series of Minifigures she is dressed plainly in her pink and white spotty dress and bow.
Similar to the Mickey Mouse Minifigure, the series 2 version looked a lot more retro, akin to the very early Disney cartoons of the 1930s and 1940s.
We hope that we see her in something more flashy and exciting in the series 3 collection of Minifigures. She needs to dress to impress on such a milestone occasion, and we're sure LEGO has taken that into account!
Who else might we get?
We would maybe hope to see Donald and Daisy Duck included in the series 3 collection of LEGO Disney Minifigures, as they are two members of the Sensational 6 (a core cast of Disney characters including these two, Mickey and Minnie Mouse, Goofy, and Pluto).
Similarly, we hope that there is a Goofy Minifigure included. There is a criminally small number of Goofy Minifigures out there, with only 3 having ever been released!
If you want Goofy, you're going to have to get your hands on the 71044 Disney Train and Station set, the 10778 Mickey, Minnie, and Goofy's Fairground Fun set, or the 10776 Mickey & Friends Fire truck & Station set.
Goofy has never been released in a LEGO Disney Minifigure series before, so hopefully, this is his time to shine!
The final member of the sensational 6 is Pluto, and we have got exactly ZERO Minifigures of this particular character. It's a crying shame, as he is one of the core cast members!
With a little luck, Pluto, alongside Goofy, will finally be released in the third collection of LEGO Disney Minifigures, rounding out the Sensational 6.
The inclusion of these 6 makes a lot of sense, considering the magnitude of such a special occasion.
Our Predictions!
As we all know, Disney owns a LOT of media content, so the characters they could include are limitless. Assuming they include the Sensational 6 and Tinker Bell, there are still 11 places left. So who could fill those places?
We're going to turn away from the classic cartoons and characters for a moment, and look to Disney's live action content. First off, 2023 is a big year for Star Wars, with The Mandalorian season 3 releasing.
The Mandalorian is undoubtedly a popular character, and neither Disney nor LEGO have shied away from him. It's not totally out of the question that LEGO would include this particular character in the Minifigure series.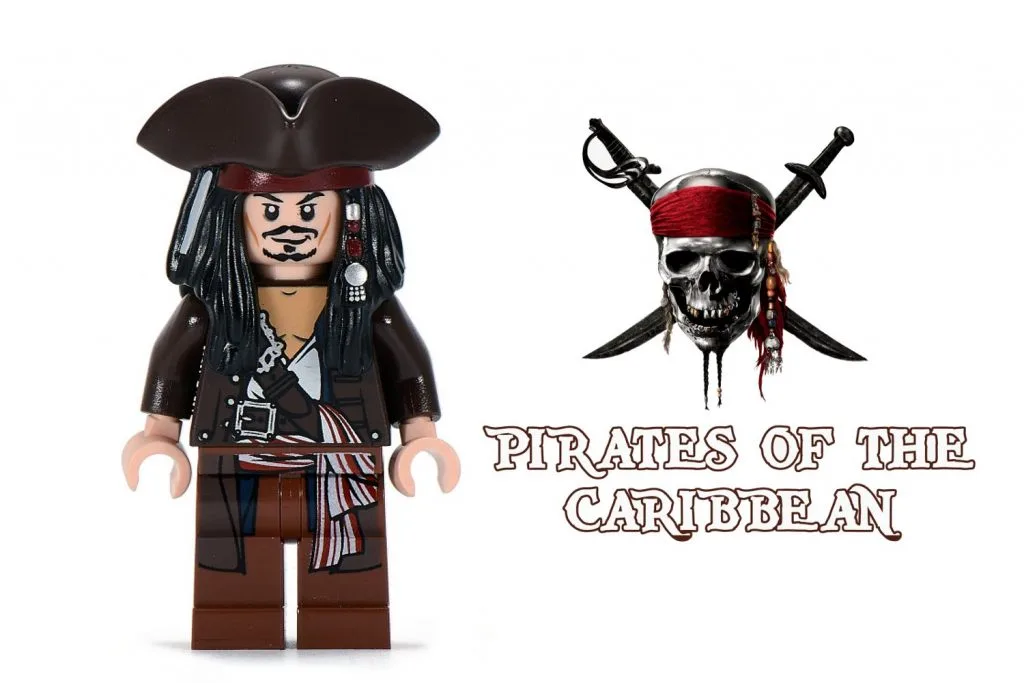 With 2023 marking the 20th anniversary of the release of the first Pirates of the Caribbean film, LEGO might want to reintroduce the ever-popular Captain Jack Sparrow to their Minifigure ranks.
It would certainly be nice to get an up-to-date, modern version of this lovable pirate.
Another big show for Disney in 2023 is Star Wars: Ahsoka. She is a fan-favorite character, and LEGO has put out some fantastic versions of her.
Perhaps with her getting her own dedicated show in the Star Wars Franchise this year, LEGO will see fit to include her in this particular Minifigure series.
Flipping back over to animated Disney movies, Snow White was the very first Disney film to ever be released. It would make complete sense if they were to include a minifigure of this particular princess in the Minifigure series.
Strangely enough, we have NEVER gotten a Snow White Minifigure before – only Mini-doll versions. It would be a great opportunity for LEGO to fill that obvious gap.
There are also other notable anniversaries – for example, it has been 10 years since Monsters University was released and 30 years since Hocus Pocus was released.
It's plausible that characters from either of these films could be included.
However, we think LEGO is more likely to play it safe and stick to the classics that everyone knows and loves. Still, it's nice to speculate on what LEGO could do if they are willing to take a few risks.
Final Thoughts
Speculation as to what may or may not be included in the series 3 packs of LEGO Disney Minifigures is fun. Sure, we might be a little optimistic with some guesses, but we might have hit the nail on the head with others.
What is clear, though, is that LEGO has a blank slate that they could use however they want. With it being Disney's 100th Anniversary, the possibilities are endless.
But what we are certain of is that whatever LEGO chooses to do, and whoever they choose to include in this particular series of Minifigures, they will doubtlessly sell well.
Be sure to check back in the future for more updates and news as and when we receive it!