Morfydd Clark is a Welsh actress who plays Galadriel in the Rings of Power. She is a rising star with an impressive career in film, television, and theatre.
| | |
| --- | --- |
| Born | 17 March 1989 |
| Birthplace | Sweden |
| Nationality | Welsh |
| Height | 5ft 3¾ (162 cm) |
Before playing Galadriel, Morfydd was most well known for her role in the horror film Saint Maud (2019). She also played two supporting roles in The Personal History of David Copperfield (2019).
Morfydd was born in Sweden in 1989 and moved to Wales as a toddler. She trained at the National Youth Theatre of Wales and the Drama Centre London.
Here are some interesting facts and FAQs answered about Morfydd Clark.
1. She Dropped Out of School at 16
Morfydd originally wanted to become a midwife, but her ADHD left her struggling in the traditional classroom environment. At 16, she dropped out of her Welsh language school.
The decision was suggested to Morfydd by her mother – a pediatrician – who could see her daughter's mental health was suffering.
For the next year, Morfydd did volunteer work on her Uncle's farm (later describing lambing as the real job that "changed her life" regarding making her ready for anything).
Her mother encouraged her to audition for the British and Welsh national youth theatres, which was the beginning of Morfydd's career as an actress.
She later re-enrolled at a different school in Wales, with small class sizes and many atypical students with ADHD or autism. She graduated with A-levels in maths and English.
2. Morfydd Clark Has ADHD
Diagnosed at seven with attention deficit hyperactivity disorder (ADHD), Morfydd struggled to concentrate at school. She later suffered anxiety and depression as a teenager.
Acting became an outlet for Morfydd, with theatre a place where she didn't have to suppress her ADHD tendencies.
As a successful actor in her early thirties, Morfydd still struggles from imposter syndrome (especially in taking over from Cate Blanchet as Galadriel).
She believes it partly stems from her ADHD "because you're always fluking doing well and then crashing and burning".
Morfydd described it as "a feeling that you're tricking everyone like you occasionally tricked your teachers".
Morfydd has joked that her choice of superpower would be to stop time and "get everything done, sort my life out…but then I realize that's just living normally, so a bit sad…so I'll [choose] flying".
3. She Has an Incredibly Versatile Acting Range
From period dramas to horror – and now Middle Earth – Morfydd has acted in an impressively diverse range of films, plays, and television shows.
She has appeared in period films such as Love & Friendship (2016), The Man Who Invented Christmas (2017), and The Personal History of David Copperfield (2019).
Morfydd has also acted in horror films, most notably her break-out role in Saint Maud (2019), and also Crawl (2019), and the television series of Dracula (2020).
She appeared in Pride and Prejudice and Zombies (2016), combining both the horror and period costume genres!
In The Personal History of David Copperfield, Morfydd played both the protagonist's fragile mother and his dotty fiancé Clara.
She was so convincing many audience members didn't realize the two characters were played by the same actress.
4. She's a Terrible Dancer
Due to her habit of "dancing the lyrics", Morfydd is a self-confessed "woeful dancer". She told Harpers Bazarr about a Chanel casting where she was surrounded by tall, glamorous model.
The director at the audition asked her to demonstrate "how she moved to the music". To this day, Morfydd is still haunted by how "that footage is out there somewhere".
Thankfully her party trick – reciting the Welsh alphabet – is a hit (as long as she's outside of Wales).
5. She has already played her dream role
Morfydd has had an impressive stage career, including playing Cordelia in King Lear and Juliet in Romeo & Juliet. Her dream role, however, was one spoken entirely in Welsh.
In her third year at Drama school, Morfydd was cast as Blodeuwedd with the Welsh-language national theatre of Wales.
The titular character is a woman created by flowers, based on a famous Welsh legend. Morfydd has said she would love to play the character again.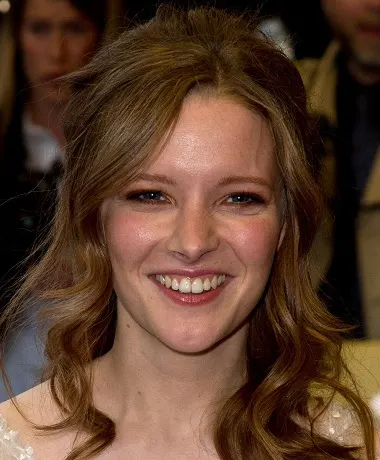 6. She Was Born in Sweden and Moved to the UK
Morfydd is Welsh, but was born in Sweden to a Welsh mother and Scottish father. The family returned to Wales when Morfydd was two, and she considers herself Welsh. She has a sister whom she has described as being "a much better dancer".
Despite being bilingual in both Welsh and English, the only Swedish Morfydd knows is 'there is no toilet paper'. She did, however, grow up reading Swedish children's books such as Pippi Longstocking.
Morfydd has described her family as supportive but "quick to take the piss" out of her growing fame. She missed them at the premiere of Saint Maud in New Zealand but said her sister made sure to forward her all the negative tweets about the movie.
7. Being bilingual helped Morfydd learn elvish
Morfydd was excited to learn Sindarin for Rings of Power. This was particularly as Tolkien based the language on Welsh, one of her native tongues.
However, Galadriel is a Ñoldor elf. The dialect coach decided to teach the "high elf" language, Qenya. Morfydd was disappointed as Qenya was based on Finnish.
Nonetheless, she enjoyed learning to speak Elvish and found her bilingual background helpful.
Morfydd also got to speak Welsh on set with fellow actors Owain Arthur (Durin IV) and Trystan Gravelle (Ar-Pharazôn).
What Movies Has Morfydd Clark Been In?
Morfydd began her film career with small roles in films including Madame Bovary (2014) and The Falling (2014).
In addition to the films and TV shows listed previously, Morfydd played Cecile in a live recording of Les Liaisons Dangereuses (2016), and Charles Dickens' wife in The Man Who Invented Christmas (2017).
Morfydd also portrayed Sister Clara in the television series of His Dark Materials (2019).
For her role in Saint Maud (2019) Morfydd won the Dublin Film Critics' Circle Breakthrough Award and the London Critics' Circle award for British/Irish actress of the year.
She was also nominated for best actress in the British Independent Film Awards).
Is Morfydd a Lord of the Rings Fan?
Morfydd has described herself as always loving fantasy. Her Father read The Hobbit to her as a child.
She is also a self-described "really nerdy fan of the films" which are "so iconic for me".
Morfydd first saw the Peter Jackson films at 11, an age when she had just grown out of "magic and whimsy". The movies made her realize that "grown-ups can think like this".
As a student, Morfydd would catch up with old friends by having Lord of the Rings film marathons. She has a "huge amount of respect for the films".
How did Morfydd Clark get the role of Galadriel?
Morfydd was asked to audition for an unknown project seeking Shakespearean-trained actors. She discovered, in the waiting room, it was for The Lord of the Rings.
Morfydd had to rush to the bathroom to mentally prepare herself, as it was an opportunity she'd been preparing for all her life.
On discovering she had won the part, Morfydd was so overwhelmed she fainted.
Was Morfydd inspired by Cate Blanchett's Galadriel?
Morfydd was inspired by Cate Blanchett's Galadriel in Peter Jackson's films and said "the shoes [to fill] were enormous".
Morfydd focussed on the conflict between elves and men in her portrayal of Galadriel. Unlike the Third Age of The Lord of Rings, the two races do not live in harmony.
She was also fascinated by her character's immortality. Galadriel is already very old in The Rings of Power but still younger than she is in Peter Jackson's movies.
How did Morfydd find filming in New Zealand?
Morfydd described filming in New Zealand as "sublime" and "mind-blowing", with the enormous scale of the production "quite a life-shift". She said it also sometimes felt like "a school trip".
Morfydd did miss her family, particularly when production was halted for several months due to COVID-19.
Many of the international cast and crew felt the same, with Morfydd describing them as a "cast who are very homesick in paradise".