Not all LEGO Minifigures are created equal! Some are rarer and more expensive than others, so today, we're going to be looking at 15 of the very rarest!
We're not talking your average Minifigures that can be found in sets, we're talking exclusives and one-offs that most LEGO fans will never get the opportunity to see, never mind own!
But still, each and every Minifigure in this list is (in theory at least) own-able!
So without further ado, let's jump in and find out which Minifigures made the cut!
Note: Prices sourced from minifigpriceguide.com
15. 2012 New York Toy Fair Captain America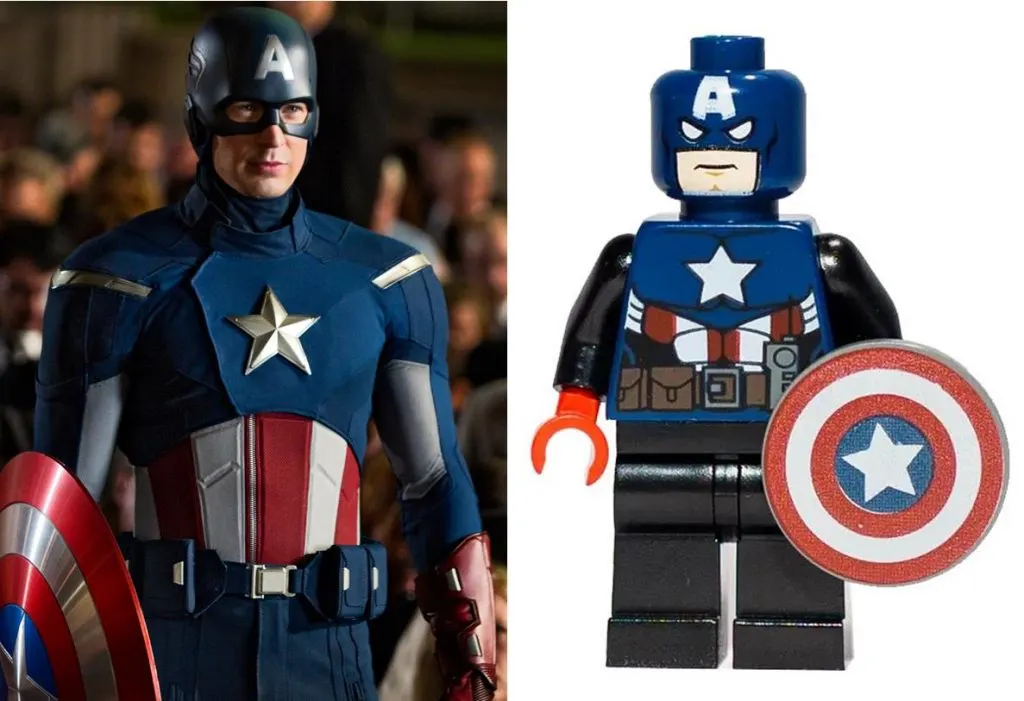 Year released: 2012
Franchise: Marvel
No. of Minifigures made: 125
Price: $1900
Minifigure number: SH028
First up on this list in 15th place is the 2012 New York Toy Fair Captain America, which sells for $1900.
It comes with the helmet printed onto the head piece – we've always preferred the separate helmet as it gives you more options with hair pieces and things like that – but still, it's a pretty cool Minifigure for your LEGO collection. If you can get your hands on it, that is.
Actually getting your hands on it is going to be a pretty difficult task, though, as only 125 were ever made!
Even for those attending the New York Toy Fair, it was pretty tricky to get hold of, so you can bet your bottom dollar they'll be keeping hold of them!
Having said that, it's not the most impossible Minifigure to find, and it does very occasionally find its way onto the market where it's snapped up in no time and for big money.
This exclusive Captain America Minifigure came in 4 separate pieces, and that piece count includes the flat version of his iconic shield.
As for the Minifigure itself, the body features some nice printing on the front and back, but the legs are just a plain dark color.
It works, it does the job, but if we were to nitpick, it would have been cool to see some sort of printing on there.
The whole thing came pre-assembled and mounted to a numbered cardback alongside an exclusive Iron Man, which, while a rare Minifigure itself, wasn't quite as sought after as Captain America and therefore isn't valuable enough to make this list.
14. Prototype George Lucas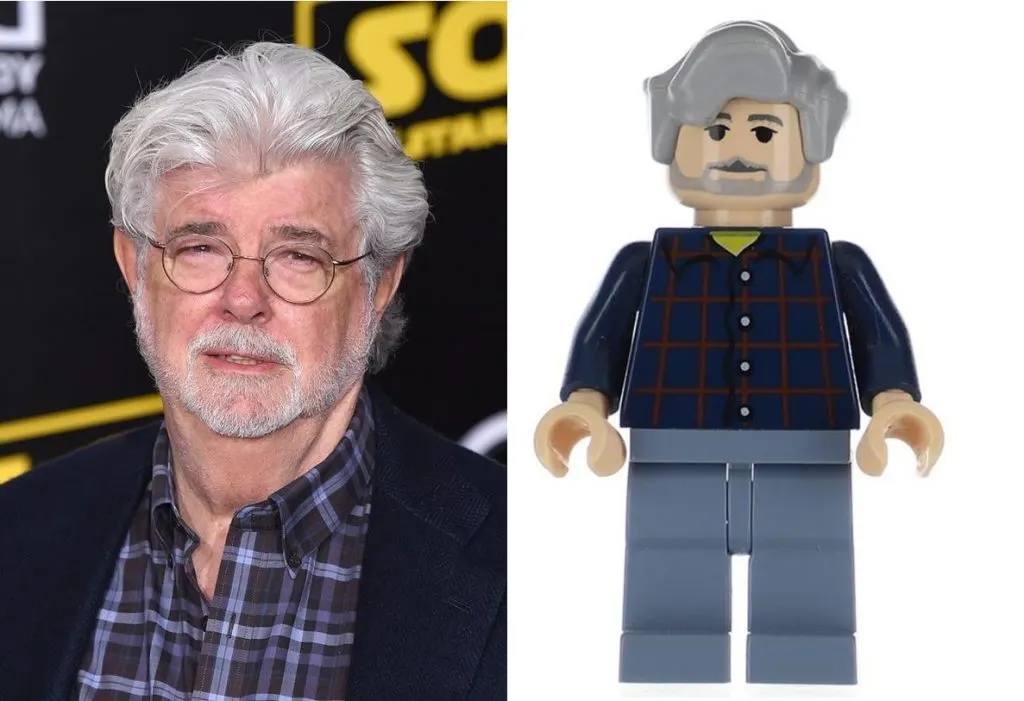 Year released: 2010
Franchise: Star Wars
No. of Minifigures made: Unknown
Price: $2600
Minifigure number: SWP001
In 14th place is the 2010 prototype George Lucas LEGO Minifigure. Selling for around $2600, it's a prototype replica of the legendary Star Wars director.
This particular Minifigure was made for display at the 2010 Star Wars Weekends held at the Disney theme parks.
Here's the thing, though, it's unknown how many of these prototypes were even made.
The number has got to be incredibly small as you never see them on the secondary market.
We think it's pretty safe to assume that this George Lucas prototype is on the very rare side of things, and what few examples of the Minifigures there are will be highly sought after by both LEGO fans AND Star Wars fans.
If push came to shove, though, it's a fairly easy Minifigure to recreate by kitbashing parts of other Minifigures; the Plaid Button Shirt torso from the Winter Village Bakery set; sand blue legs that you can find pretty much everywhere; the wavy gray hair piece that can be found on a lot of different Minifigures.
The only exclusive element is the head, although even then, you can find faces that are pretty close to that of George Lucas.
Still, for the real thing, it's totally worth the price.
13. Mr Gold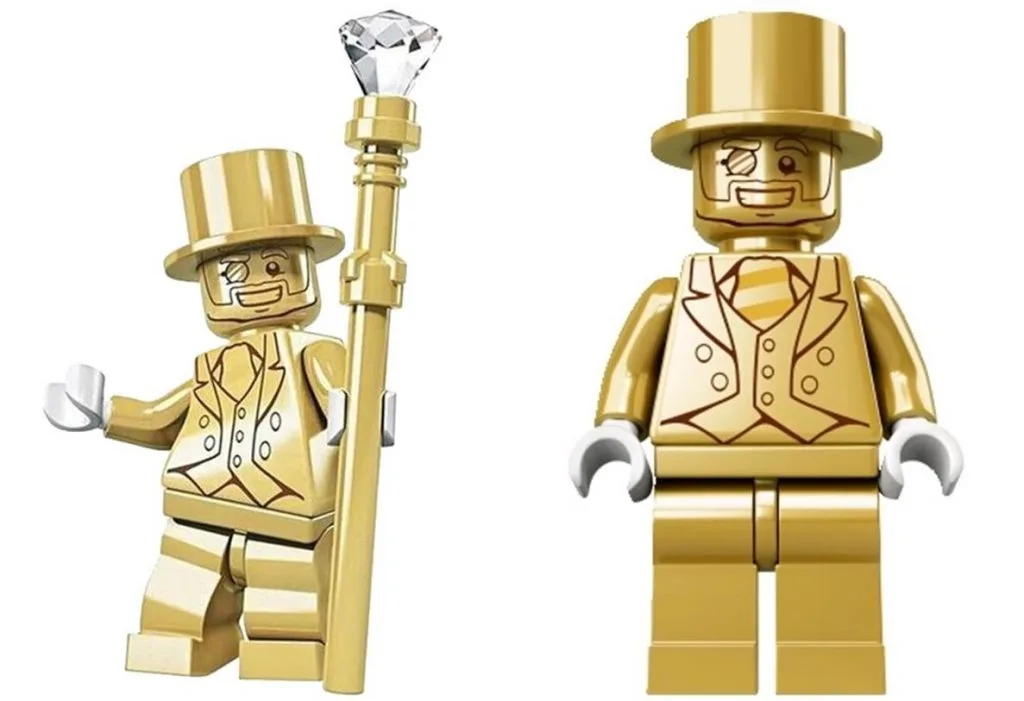 Year released: 2013
Franchise: LEGO Minifigures
No. of Minifigures made: 5000
Price: $3000
Minifigure number: COL10-17
Next up in 13th place is the appropriately named Mr Gold, which sells for $3000.
Made to celebrate the 10th series of the LEGO Minifigure theme, only 5000 of these chrome Minifigures were ever made.
That might sound like quite a high number, but you'd be surprised how very rarely they ever show up for sale, and when they do, they really sell for big bucks!
Mr Gold is covered – pretty appropriately – in a golden chrome, giving him an amazingly shiny finish.
He even comes with a three-part golden staff and a cool-looking top hat piece, so he really does look the part.
The only bits of this Minifigure that aren't chrome are the white gloves and the tip of his staff, which really pop and provide a bit of variety.
Weighing in at 12.5g, it's a full 2g heavier than the other Series 10 Minifigures.
People were actually taking super sensitive scales to stores to see if they could figure out which of the packs contained Mr Gold based on weight.
Overall though, you'll have to have been super lucky to find Mr Gold out there in the wild, but with that being said he's actually the easiest Minifigure to get hold of on this list!
12. Prototype C-3PO
Year released: 1999
Franchise: Star Wars
No. of Minifigures made: Unknown
Price: $3900
Minifigure number: SW010A
Heading on over to 12th place, we come to the orange prototype test run of C-3PO. Released in 1999, he sells for $3900.
As with the George Lucas prototype, it's unknown how many of these C-3POs were ever made, but it's safe to assume that the numbers are very low.
Looks-wise though, he's really nothing special. The plain orange body and legs don't feature any detailing or printing, and the only new piece is the slightly updated head.
The color is uniform across all three of the pieces that make up this Minifigure, save for the hands, which are that traditional LEGO yellow.
Still, while it might look kind of bland, it's a cool relic of the LEGO Minifigure designing process and a milestone in creating the LEGO C-3PO that we all know and love to this very day.
There's a definite market for the prototypes, and certain collectors absolutely adore these work-in-progress-looking Minifigures, so overall, the high price is totally justified for those that like this kind of thing.
11. Solid Silver Boba Fett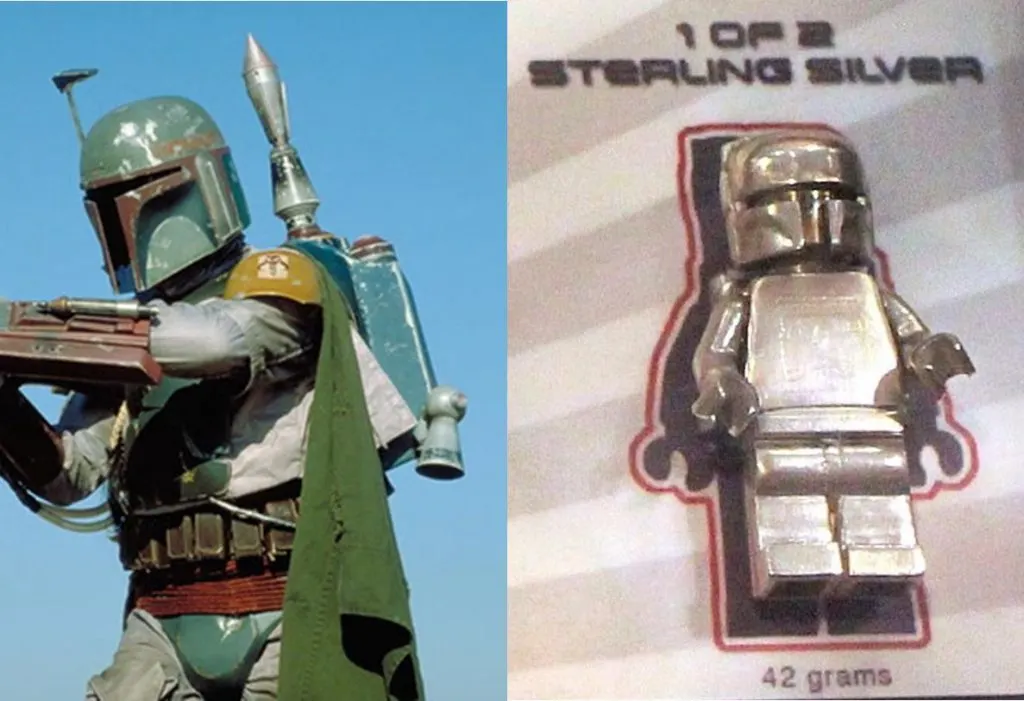 Year released: 2010
Franchise: Star Wars
No. of Minifigures made: 2
Price: $8400
Minifigure number: SW0275S
In 11th place, we have the solid silver Boba Fett Minifigure that sells for $8400.
Released in 2010, this promotional piece was limited to a run of only 2. That's right, you read that correctly, 2.
One was given away as part of a pack at the 2010 San Diego Comic-Con, and the other at 2010 Star Wars Celebration V held in Orlando, Florida.
Made of solid silver, it is a replica of the standard Boba Fett figure of the time.
The main difference is the material – but wow, what a difference that material makes. Especially to the price!
Another way that this Minifigure differs is that it was cast in one single piece, so it's not moveable or poseable.
Not that you're going to want to play with it! This definitely is one of those Minifigures that collectors dream about owning!
Being one of the most loved Star Wars characters out there, it's no wonder that people would be clamoring to add this to their LEGO Minifigure collection.
10. Solid Bronze Boba Fett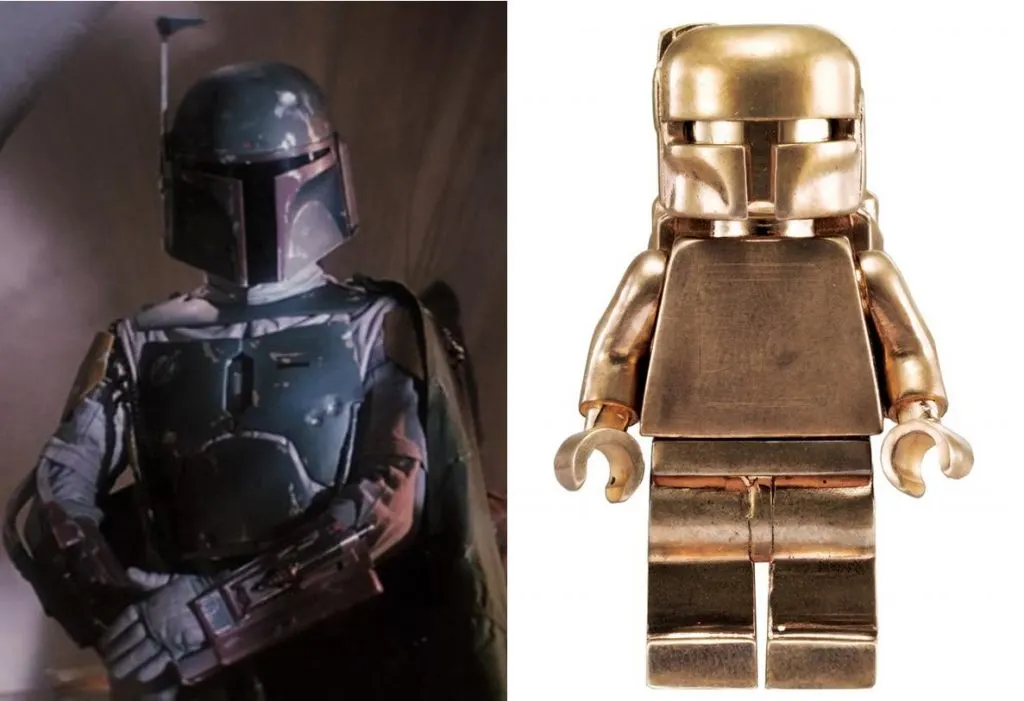 Year released: 2010
Franchise: Star Wars
No. of Minifigures made: 2
Price: $18,300
Minifigure number: SW0275B
Up next in 10th place is another Boba Fett, this time in solid bronze.
Again, limited to a run of only 2, it sells for a whopping $18,300 and was given away as part of the 2010 May the 4th promotion of the LEGO shop.
All you had to do was make an order from the online store, and there was a chance – albeit a very, very slim one – that your order would ship with one of the Boba Fett included as a free surprise gift.
And just in case anyone was going to doubt the rarity of this solid bronze Minifigure, it came with a special certification card from LEGO that authenticated it as one of the two in existence.
The only problem was that this contest was only run in the US and Canada, so international collectors were out of luck if they wanted a chance of winning one of their own.
It's a neat-looking figure. Personally, we prefer the more modern Boba Fett Minifigure, but we totally see the appeal of this older-school mold, and having one cast in bronze admittedly does look excellent.
As we said, though, with only two in existence, it's a real tall order to find an authentic one of your very own.
Also, the torso piece doesn't have any detailing on it. In our opinion, that was a bit of a swing and a miss, and LEGO probably should have added a lot of the details you'd expect from a Boba Fett Minifigure.
9. Solid Gold Boba Fett
Year released: 2010
Franchise: Star Wars
No. of Minifigures made: 2
Price: $19,900
Minifigure number: SW0275G
Sticking with that Boba Fett theme, in 9th place we have the solid 14 karat gold Boba Fett.
That's right – a Minifigure made out of 14 karat gold! And it sells for $19,900!
Given away alongside the previously mentioned solid silver Boba Fett in 2010, this really is an amazing depiction of one of the coolest bounty hunters in the Star Wars galaxy.
As with the other two Boba Fett's so far on this list, it reuses the same mold as the standard Minifigure of the time, but it turns out that this particular piece is like gold dust to find. Literally.
It's a weighty Minifigure, too, at around 57g. And to put that into context, the average run-of-the-mill ABS plastic Boba Fett weighs only 3g.
It's an awesome figure, without a doubt, but we've always questioned why they chose to make a gold version of Boba Fett and not someone like Darth Vader or Luke Skywalker.
Although Fett really does sell, so it probably all comes down to the cool factor!
8. Solid Gold C-3PO
Year released: 2007
Franchise: Star Wars
No. of Minifigures made: 5
Price: $26,100
Minifigure number: SW0158B
In 8th place is the solid 14 karat gold C-3P, and this one goes for $26,100!
With only 5 available worldwide, it was announced in the March-April 2007 edition of the LEGO magazine that they would be put at random into boxes of the latest LEGO Star Wars collection.
Featuring an engraved chest piece, if you melted this Minifigure down and weighed it in, you'd only find that the gold was worth around $2700.
However, the fact that it's 1) a beloved Star Wars character, 2) made by a globally recognized brand, and 3) super rare, makes this 14 karat gold C-3PO all the more wanted and ultimately valuable.
Also, having a golden-colored character cast in solid gold really is a special kind of special.
It's got that same shine and gleam as in the movies, so when it comes to gold…this is the way.
We know, wrong character, but we just had to say it!
8. Solid Silver R2-D2
Year released: 2017
Franchise: Star Wars
No. of Minifigures made: 10
Price: $28,700
Minifigure number: SW0028S
In 7th place is another droid and C-3P0's counterpart and best friend: a solid silver R2-D2.
Coming in at $28,700, there are only 10 available worldwide.
So while your chances of getting hold of one are slightly higher than some Minifigures on this list, the chances are still pretty slim to none!
They were originally obtained through contests throughout 2017, although LEGO must have held some back because there have been reports of people randomly winning them as late as 2019 and 2020.
It comes on a numbered authentication cardback, and is housed in a chunky Perspex case; though we're sure you could remove the figure if you really wanted to.
We don't think anyone's going to be doing that, though!
Whereas some of the older R2-D2 Minifigures had a lot of their dome detailing printed towards the top of the 'head' piece, this solid silver version went with the newer version, with the details engraved further down the dome and closer to the body, giving it a better and more accurate look.
Again, this solid silver R2-D2 isn't the most difficult to find Minifigure on this list, but it's still highly unlikely you'll ever get the opportunity to own one for yourself.
Not without a lot of luck and a lot of money!
6. Solid Bronze C-3PO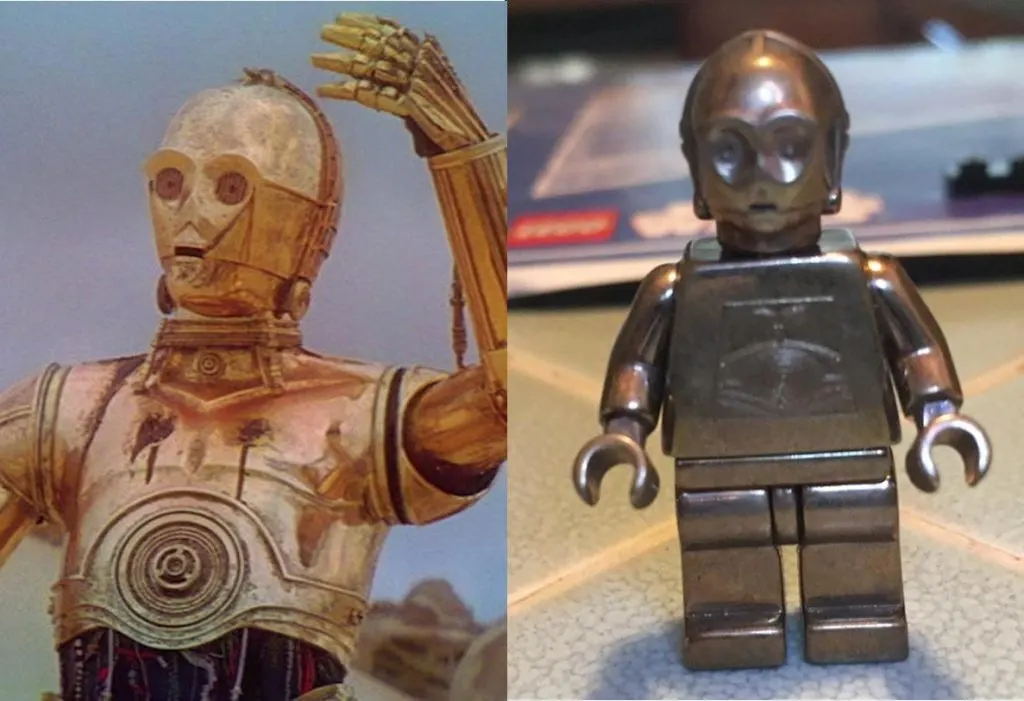 Year released: 2007
Franchise: Star Wars
No. of Minifigures made: 1
Price: $32,400
Minifigure number: SW0158B
Coming in 6th place is the solid bronze C-3PO that was a 2007 Dan Diego Comic-Con exclusive.
This bronze bad boy will set you back $32,400 if you manage to get your hands on the only one in existence!
That's right, there is one and one only when it comes to this Minifigure!
Detail-wise it looks fantastic, and the engraving even makes it look as if a sticker has been applied to the torso piece.
While bronze doesn't quite have the sparkle and shine of the gold and silver Minifigures, the magic comes in the exclusivity.
If you own this solid bronze C-3PO, you can be absolutely sure that no one else in the world does!
And as for your chances of getting hold of this Minifigure…well, we're sure even C-3PO himself wouldn't be able to tell you those odds!
5. Solid Platinum R2-D2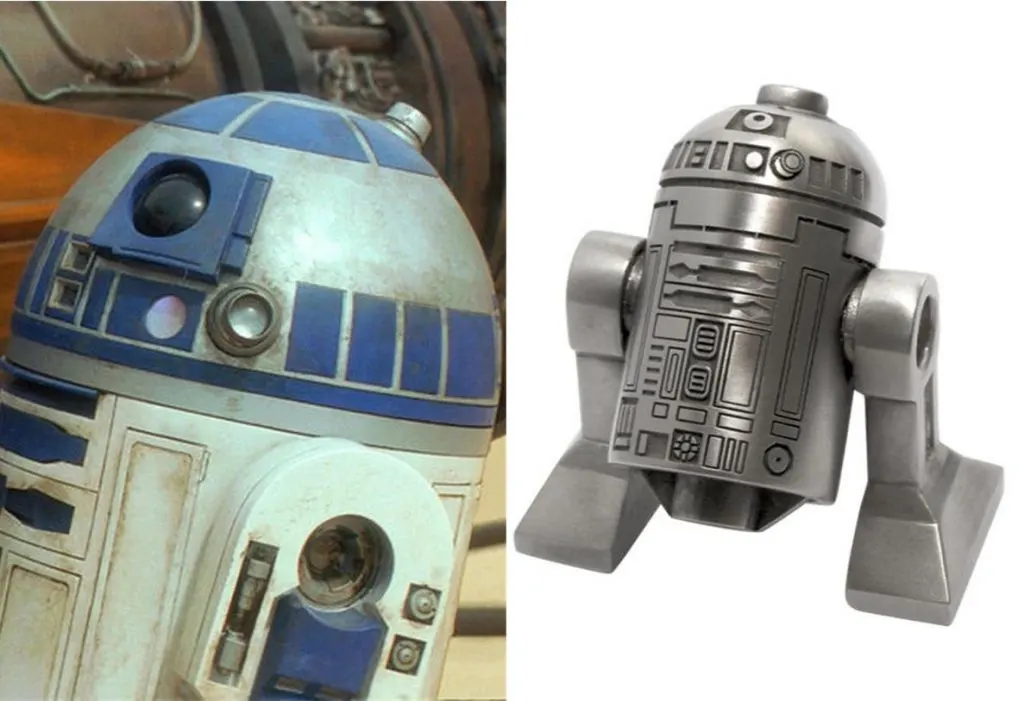 Year released: 2018
Franchise: Star Wars
No. of Minifigures made: 5
Price: $33,400
Minifigure number: SW0028P
Okay, we're into the final countdown now, and in 5th place is the solid platinum R2-D2 Minifigure, and if you want this one you're looking at a price of $33,400.
With a super limited number of 5 ever made, it was only available in 2018 through a contest run by LEGO themselves.
In fact, only 2 could have been won via the contest, with 3 other officially authenticated solid platinum R2's just appearing in the wild at some point.
While we can't find out where any of these Minifigures ended up, the fact that they could be obtained through a LEGO run contest kind of guarantees that they're with someone that will truly appreciate them for what they are.
Again, as with several other of the precious metal Minifigures on this list, it was cast in one single solid piece.
Still, it's a gorgeous-looking, super-detailed Minifigure that any self-respecting LEGO or Star Wars fan would love to have in their collection!
Also, a platinum LEGO Minifigure just seems super premium to us.
We don't know if it's because of the platinum relics from the time trials on the Crash Bandicoot games that were really hard to get, but platinum seems like the cream of the crop, especially when it comes to Minifigures.
Whatever the case, a platinum R2-D2 is just amazing and one that anyone would love to own in their LEGO Star Wars Minifigure collection!
4. Solid Silver C-3PO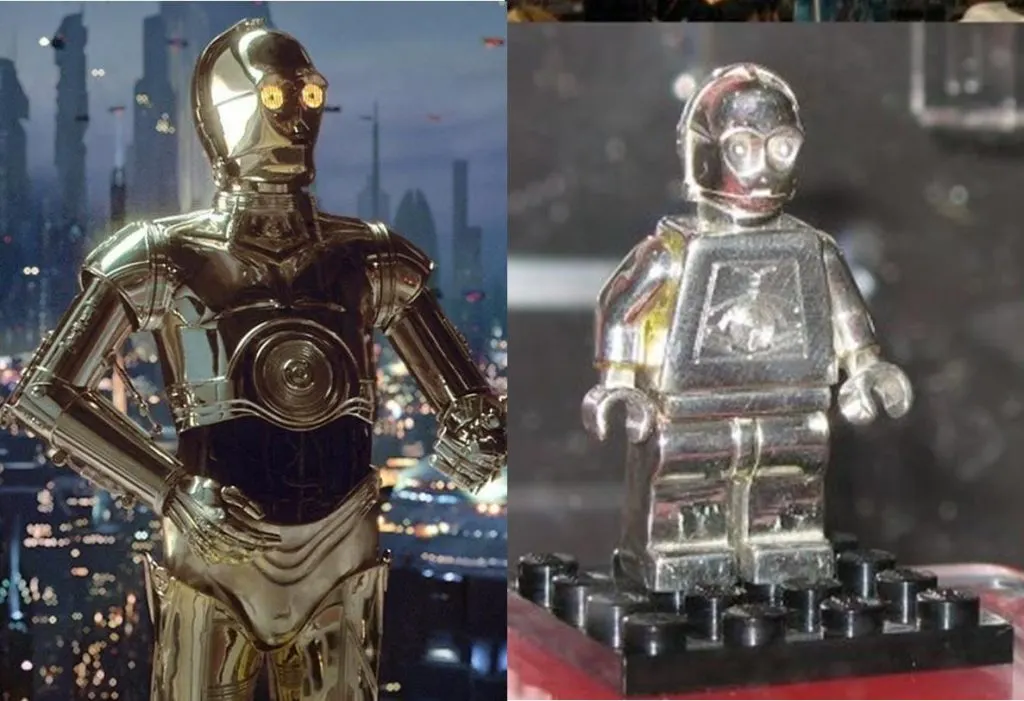 Year released: 2007
Franchise: Star Wars
No. of Minifigures made: 1
Price: $34,500
Minifigure number: SW0158S
In 4th place is the solid silver C-3PO from the 2007 Star Wars Celebration in Los Angeles, California.
Coming in at $34,500, you could only get your hands on this one-of-a-kind Minifigure by entering a contest that was to be drawn at the end of the event.
Like many of the other precious metal C-3POs on this list, the attention to detail in the engraved body is incredible and really has that premium look to it. And that's because it is!
They even brought out the detailing by using a wash across the body that settled into the grooves and really gave it some cool-looking definition.
When you're only making literally one Minifigure, you can afford to put some time and love into it, and that's exactly what LEGO did with this one!
Unfortunately, the silver C-3PO has kind of dropped off of the face of the earth, and its whereabouts is currently unknown.
Hopefully, though, it's the crown jewel of someone's collection!
3. 2010 Comic-Con Plastic, Gold, and Silver Boba Fett
Year released: 2010
Franchise: Star Wars
No. of Minifigure sets made: 2
Price: $36,600
Minifigure number: SW0275FULL
That's right, we've hit the top three now, and in 3rd place is the 2010 San Diego Comic-Con plastic, gold, and silver Boba Fett three-pack.
This combo set consists of two previously mentioned Minifigures: the solid silver and solid gold Boba Fetts.
It might be a bit of a cheat to include a three-pack, but it's our list so we're going to roll with it!
Coming mounted in a display frame, this is one of the most sought-after LEGO Star Wars Minifigure sets ever, commanding a price of $36,500.
The white plastic Boba Fett – while a relatively common figure – still goes for between $100 and $200 on its own, and that's before you combine it with the incredible-looking solid silver and solid gold versions.
Each of the Minifigures is identical, featuring the same mask, torso, and legs, but the white plastic version features a printed body, whereas the other two have their details carved in.
The sets are currently owned by two LEGO lovers, one in Scotland and the other in Australia.
2. Solid White Gold R2-D2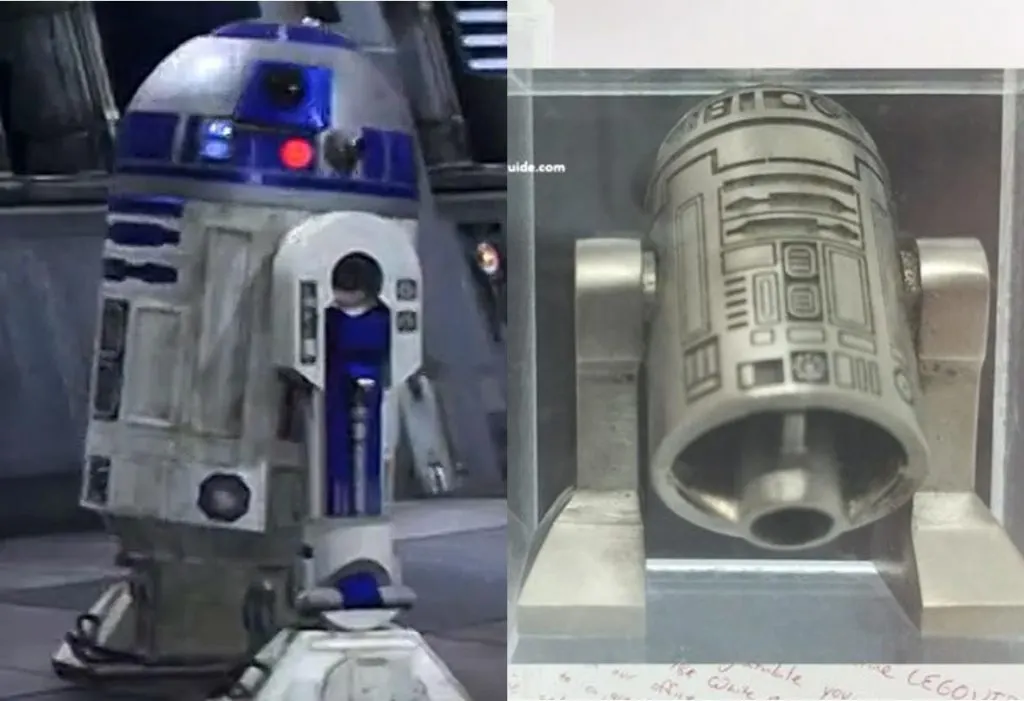 Year released: 2018
Franchise: Star Wars
No. of Minifigure sets made: 1
Price: $39,500
Minifigure number: SW0028WG
In 2nd place is the solid white gold R2-D2. This solid white gold droid is the only one of its kind in the world, costing $39,500. That's crazy!
The final LEGO Star Wars Minifigure on today's list, it could be won in a May 4th prize draw that you could enter by purchasing the 75192 Millennium Falcon.
With amazingly detailed engravings and coming in a Perspex case mounted to a certificate of authentication, this is absolutely the Holy Grail for so many LEGO Minifigure collectors out there.
We tried to find out if there was any articulation in the legs or anything like that, but we could find surprisingly little about it.
We think it's safe to assume that it's cast in one single piece, though.
We did find out that it was won by an adult fan of LEGO and lifelong Star Wars fan called Bryan who lives in America, so we're glad it ended up in the hands of someone that will truly appreciate it!
In fact, Bryan uploaded an unboxing video to his YouTube channel that is worth checking out.
Sadly though, the chances of you even ever seeing this Minifigure with your own two eyes are microscopically slim to none, but still, it's an absolutely amazing figure to have in second place.
1. Wooden Sensei Wu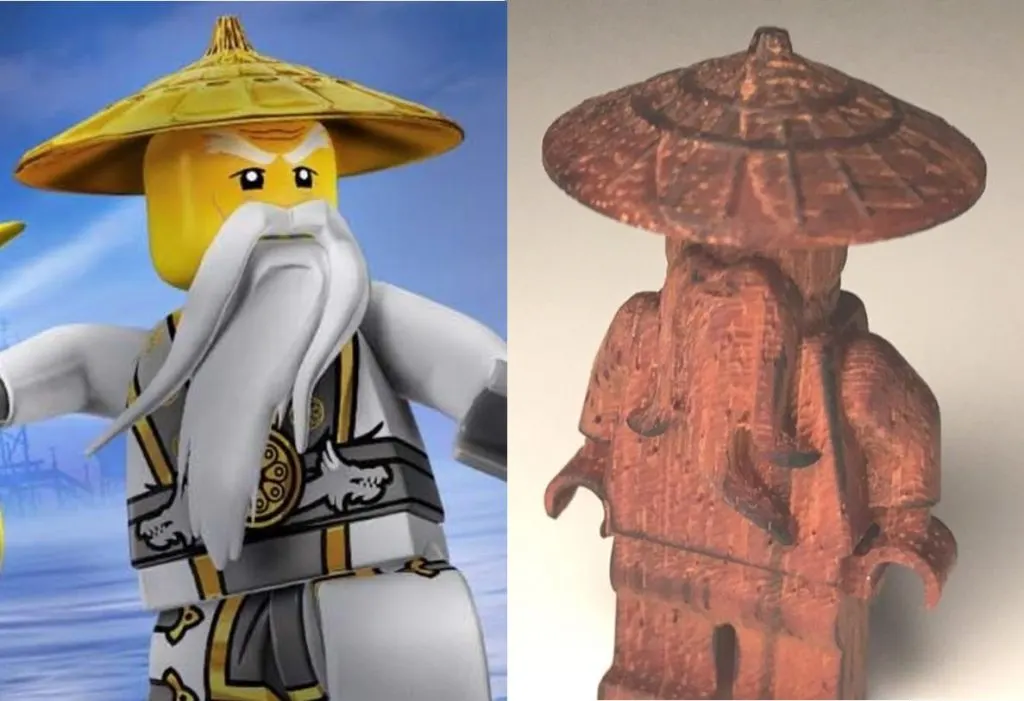 Year released: 2016/17
Franchise: Ninjago
No. of Minifigure sets made: 4
Price: $104,500
Minifigure number: PROMO021
We're finally at the end of the list of the most valuable LEGO Minifigures out there.
And in 1st place is the Official LEGO Ninjago Movie wooden Sensei Wu prop. The price? A mind-boggling $104,500! That's just…insane!
Only 4 were ever made and were intended as screen-used props for the Ninjago movie.
In fact, you can see acting legend and martial artist Jackie Chan handling one of the Minifigures on screen.
As far as the location of these Minifigures goes, one of them is owned by a Senior Creative Director at LEGO, with the other 3 being unaccounted for at the moment.
They were constructed in one whole piece out of the finest dark wood and waxed polished to a gleaming finish so that the camera would be able to pick up each and every detail.
And trust us when we say they went to great lengths to carve the exact details into it, from the lines on the hat to the curls in the beard, the attention to detail is crazy.
The lack of articulation really doesn't matter when you're talking about a Minifigure this good-looking and this rare.
It's an amazing Minifigure, and it totally deserves the number 1 spot on this list.
Also, well done to Ninjago, because when compiling this list, we fully expected it to be another Star Wars Minifigure that took the crown.
Read more: 25 Rarest and Most Expensive LEGO Sets Currently
The Rarest LEGO Minifigures EVER…in numbers!
Disclaimer: The prices listed are based on previously known, rumored, or predicted selling prices on what collectors would be willing to pay and should be used for informational purposes only.
We've talked in depth about the 15 rarest LEGO Minifigures, so now let's take an overview of the numbers! It makes things quicker and easier!
So take a look at this handy table to see how the Minifigures stack up against each other!
| | Minifigure | Price | Release year | Number made |
| --- | --- | --- | --- | --- |
| SH028 | 2012 New York Toy Fair Captain America | $1900 | 2012 | 125 |
| SWP001 | Prototype George Lucas | $2600 | 2010 | Unknown |
| COL161 | Mr Gold | $3000 | 2013 | 5000 |
| SW0010A | Prototype C-3PO | $3900 | 1999 | Unknown |
| SW0275S | Solid Silver Boba Fett | $8400 | 2010 | 2 |
| SW0275B | Solid Bronze Boba Fett | $18,300 | 2010 | 2 |
| SW0275G | Solid Gold Boba Fett | $19,900 | 2010 | 2 |
| SW0158G | Solid Gold C-3PO | $26,100 | 2007 | 5 |
| SW0028S | Solid Silver R2-D2 | $28,700 | 2017 | 10 |
| SW0158B | Solid Bronze C-3PO | $32,400 | 2007 | 1 |
| SW0028P | Solid Platinum R2-D2 | $33,400 | 2018 | 5 |
| SW0158S | Solid Silver C-3PO | $34,500 | 2007 | 1 |
| SW0275FULL | 2010 Comic-Con Plastic, Gold, and Silver Boba Fett | $36,600 | 2010 | 2 |
| SW0028WG | Solid White Gold R2-D2 | $39,500 | 2018 | 1 |
| PROMO021 | Wooden Sensei Wu | $104,500 | 2016/17 | 4 |
And for those of you who are interested, if you wanted to buy one of each of the Minifigures on this list, it would set you back a whopping $393,700!
Final thoughts
There are certainly some incredibly rare LEGO Minifigures out there, and we think each of them is amazing in its own way.
We were surprised to see so many Minifigures made out of precious metals, though you can totally see why they command such a high price and, as such, are so rare.
What we weren't surprised by was how Star Wars dominated the list.
It's a beloved IP, and people have always enjoyed collecting LEGO Star Wars sets and Minifigures.
Also, it helps that characters such as Boba Fett, C-3PO, and R2-D2 are universally loved.
Still, it was nice to see some Marvel and Ninjago make the list, and it's undeniable that the Wooden Sensei Wu is truly special!
Some of the Minifigures are rarer than others, but we're sure LEGO fans around the world would love the opportunity to be able to own at least one of them. We certainly would!
So now it's over to you! Which is your favorite Minifigure on this list? Be sure to let us know in the comments section down below!
Read more: The 10 Biggest LEGO Sets Ever Released (August 2022)