Whether you're a fan of the books or films, the Lord of the Rings universe has no shortage of memorable characters.
The Rings of Power looks set to deliver another exciting batch of characters to journey with through the lands of Middle-Earth.
We already know that The Rings of Power takes place during the later stages of the Second Age. The world we have read about and seen in The Hobbit and The Lord of the Rings is heavily shaped by events during this time.
Series Tolkien fans or students of the history of Middle-Earth will be familiar with many of the legendary names from this time. Galadriel, Elendil, Isildur, Celebrimbor, Elrond, Durin – the list goes on.
However, without a blow-by-blow account of events during this age, there is plenty of room for new, original characters to flesh out the story.
Some are canonical characters who have not been explored further in Tolkien's works. Others are entirely new inventions, such as the Silvan Elf Arondir, the village healer Bronwyn, and the Harfoot Hobbit Sadoc Burrows.
There is still plenty of mystery surrounding enigmatic characters, like The Stranger and Joseph Mawle's unnamed antagonist.
We'll need to wait to see how the cast breathes life into these new faces from Middle-Earth. However, for now, you can learn a bit more about the actors themselves and where you might have seen them before:
Morfydd Clark – Galadriel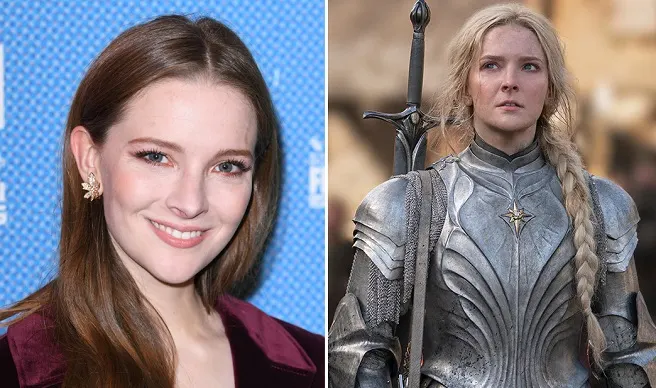 Morfydd Clark is a Welsh actress born in Sweden in 1970 but moved to Wales at two, where she grew up in the town of Penarth. Clark plays the role of Galadriel in The Lord of the Rings: The Rings of Power before she became known as the "Lady of the Woods," co-ruler of Lothlórien.
The trailers show that Morfydd Clark will play a much younger and more adventurous version of Galadriel.
Galadriel was one of the first to suspect Annatar's (Sauron's) ill intent and urged the other elves to hide their Rings of Power from his influence.
Her role as Galadriel is undoubtedly Clark's most significant breakthrough role yet. However, she starred in the critically acclaimed 2019 British psychological thriller, Saint Maud (2019), for which she won several awards.
Morfydd Clark has also featured in minor or supporting roles in several other popular movies and TV series, such as His Dark Materials (2019-2022), Eternal Beauty (2019), and Dracula (2020).
Benjamin Walker – High-King Gil-Galad
Born as Benjamin Walker Davis in 1982, Georiga, U.S.A, is an American actor and standup comedian. He plays Gil-Galad in The Rings of Power, the High King of the Ñoldor throughout the Second Age.
Benjamin walker graduated from the Juilliard Actor Training Program in 2004, after which he starred in many Broadway musicals. He also maintains a standup comedy career performing at Caroline's, Comedy Village, and The Comedy Store.
His most notable film acting credits came in The Heart of the Sea (2015), Shimmer Lake (2017), and as the titular character in Abraham Lincoln: Vampire Hunter (2012). He has also appeared in several recent TV series, including Marvel's Jessica Jones (2015-2019) and The Underground Railroad (2021).
Robert Aramayo – Elrond
Born in 1992 in Kingston upon Hill, Robert Aramayo is an English actor of Spanish descent. In the Rings of Power, he plays a much younger version of Lord Elrond, the half-elf ruler of Rivendell.
Robert Amarayo grew up in England but attended and graduated from the prestigious Julliard School in New York City.
Fantasy lovers will undoubtedly recognize him as the actor behind Young Eddard Stark in Season 6 and 7 of HBO's Game of Thrones (2016-2017). He also played one of the starring roles in Netflix's psychological thriller series, Behind Her Eyes (2021).
Besides that, Robert has had minor roles in Antebellum (2020), Nocturnal Animals (2016), The King's Man (2021), and the serial killer Elmer Wayne Henley Jr. in Mindhunter (2019).
Cynthia Addai-Robinson – Queen Regent Míriel
Cynthia Addai-Robinson is an English actress of Ghanaian and U.S. descent born in 1985 in London, England. She plays Queen Regent Míriel, daughter of King Tar-Palantir and the last rightful heir to Númenor.
Cynthia Addai-Robinson has appeared in TV series such as Arrow (2013-2020) and Nadine Memphis in Shooter (2016-2018).
Although most of her film roles are minor, she starred as Agent Marybeth Medina alongside Ben Affleck in The Accountant (2016), and appeared as an extra in Star Trek: Into Darkness (2013).
Nazanin Boniadi – Bronwyn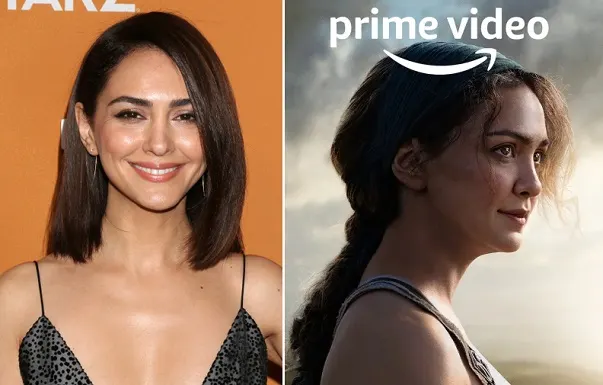 Born in Iran in 1980 but raised in London, Nazanin Boniadi is an actress and activist. She plays Bronwyn, an original, non-canonical character created for the Rings of Power, who is also the mother of Theo and love interest of the Silvan Elf Arondir.
While she might not be a household name, Nazanin is one of the most highly credited members of the Rings of Power cast. She appeared in over 100 episodes of General Hospital (2007-2009) and had recurring roles in Homeland (2013-2014), Scandal (2014), and Counterpart (2017-2018).
However, most will recognize her from some recent appearances in big-budget films. She plays Esther in Ben-Hur (2016), Zahra Kashani in Hotel Mumbai (2018), and Rudi Bakhtiar in Bombshell (2019).
Peter Mullan – King Durin III
Peter Mullan is a Scottish actor and filmmaker born in 1959 in Peterhead, Aberdeenshire. He takes on the role of the Dwarf King Durin III.
Peter Mullan has had a long and illustrious career, starring in many classics in the 80s and 90s, including Riff-Raff (1991), Braveheart (1995), and Trainspotting (1996). He also won the Best Leading Actor Award at the Cannes Film Festival in 1998 for My Name Is Joe (1998).
Younger viewers will know him as the actor that played Jacob Snell in Ozark (2017-2018), Westworld (2018, 2020), Cursed (2020), and The Underground Railroad (2021).
Ema Horvath – Eärien
Ema Horvath is a Slovak-American actress born in 1982. Eärien, which means "Daughter of the Sea," was a Númenórean lady of the Second Age, the daughter of Lord Elendil of Andúnië.
Ema is relatively new to the acting scene, with just eight film and TV series credits to her name. Still, some may recognize her as the leading actress in What Lies Below (2020), as well as supporting roles in The Mortuary Collection (2019), The Two Hundred Fith (2019), and The Gallows Act II (2019).
Her character Eärien is an original creation for The Rings of Power. However, she plays the daughter and sister of the canonical characters, Elendil and Isildur, respectively.
Ismael Cruz Córdova – Arondir
Ismael Cruz- Córdova is an actor and entrepreneur, born and raised in 1987 in Aguas Buenas, Puerto Rico, and currently based in New York. In the Rings of Power, Ismael plays the Silvan Elf, Arondir, love interest to Nazanin Boniadi's Bronwyn.
Ismael Cruz-Córdova has an decently long filmography to his name for both film and TV. Younger viewers or parents may recognize him as Mando from Sesame street (2013-2014).
He also featured in a recurring role as Hector Campos in season 4 of Ray Donovan (2016). Although he might not be recognizable, Star Wars fans would have seen him as Qin in The Mandalorian (2019).
Maxim Baldry – Isildur
Born in 1995 in London, England, Maxim Baldry makes his turn as a young Isildur in Rings of Power. Isildur is the oldest son of Elendil, High King of Dúnedain, played by Lloyd Owen.
Maxim first gained widespread recognition as a child actor in Mr. Bean's Holiday (2007). He was also a series regular on Hollyoaks (2016-2017), starring in 80 episodes.
The rest of his resume primarily consists of minor TV roles. Notably, he also features as Cesaerion in Rome (2007) and John Polidori in Doctor Who (2020).
Owain Arthur – Prince Durin IV
Durin IV, considered the 4th reincarnation of the great Dwarven king Durin, will be played by Owain Arthur. Arthur is a Welsh actor born in the town of Bangor in 1983.
Owain Arthur has a long list of mostly TV acting credits, spanning back to 2007. Before that, he had a background in theater, starring as Francis Henshall in The National Theatre's production of One Man, Two Guvnors at the Theatre Royal Haymarket.
He also played a recurring role for 24 episodes in the long-running British hospital drama, Casualty (2018). Owain's other sizeable roles came in A Confession (2009), Hard Sun (2018), and 35 Diwrnod (2017).
Charles Edwards – Celebrimbor
Born Charles Peter Keep Edwards in England in 1969, Charles Edwards is a theater, film, and TV actor. He plays Celebrimbor, the Elven Ruler of Eregion and creator of the Three Rings of Power wielded by the Elves.
Charles' most notable recent role was that of Martin Charteris in Netflix's multi-award-winning series, The Crown (2019-2020). He also played Dr. Mcdonald in the first season of the award-winning TV horror anthology, The Terror (2018).
His other credits are too numerous to mention, including featuring in The Witches (2020), Diana (2012), and Batman Begins (2005).
Lenny Henry – Sadoc Burrows
Lenworth George Henry was born to a family of Jamaican immigrants in 1958 in Dudley, West Midlands, England. He plays the Harfoot, Sadoc Burrows, a character invented for the show.
Lenny Henry has had a long and illustrious career going back to 1975 actor, comedian, singer, television presenter, and writer.
Today, he is best known as a TV presenter for shows such as Back To The 80s With Lenny Henry (2020) and Lenny Henry's Caribbean Britain (2022).
His TV and film roles are primarily minor ones with several voice-acting roles.
Joseph Mawle – Oren
Joseph Daniel Turner Mawle is an English actor born in 1974 in Oxford. Mawle will play the character "Oren". "Oren" is considered a leader of Orcs and one of the main antagonists in The Rings of Power.
Joseph Mawle will undoubtedly be familiar to those in fantasy fandom, appearing in Game of Thrones (2011; 2016–2017) as Jon Snow's uncle and First Ranger of the Night's Watch, Benjen Stark.
What many may not know is that Joseph Mawle is actually both legally deaf and suffers from dyslexia. He has made numerous contributions to the disabled acting community, including being the only legally disabled actor cast in The Rings of Power.
Markella Kavenagh – Elanor 'Nori' Brandyfoot
Born in Syndey in 2001, Markella is an Australian actress. Cast as the harfoot Elanor 'Nori" Brandyfoot, she was the first actress attached to The Rings of Power.
The biggest production she has appeared in thus far is True History of the Kelly Gang (2019). Some may also know her from Picnic at Hanging Rock (2018), The Cry (2018), and as one of the leading actresses in the film My First Summer (2020).
Daniel Weyman – The Stranger
Daniel Weyman is an English actor born in 1977 in Newcastle, Tyne and Wear, England. He plays the enigmatic Stranger, a character whose role we don't know much about and who has only appeared briefly in a trailer and a movie poster.
Daniel is credited with appearances in a number of English film and TV productions as well as a few well-known Audiobooks, including The Sandman (2020). The most notable productions he has featured in are Gentleman Jack (2019), A Very English Scandal (2018), and Foyle's War (2002).
Trystan Gravelle – Pharazôn
Born on May 4, 1981, in Llanelli, Carmarthenshire, Wales, Trystan Gravelle is a Welsh theatre, film, and TV actor. He plays Ar-Pharazôn the Golden, the 25th and final King of Númenor.
Trystan Gravelle is frequently watchable on British television, including Mr. Selfridge (2013-2016) and A Discovery of Witches (2018-2021). He also featured as Henry Collins in season 1 of the award-winning American horror anthology series, The Terror (2018).
Lloyd Owen – Elendil
Richard Marcus Lloyd Owen is a British actor born on 14 April 1966 and trained at the Royal Academy of Dramatic Art. Owen stars as Elendil, High King of Dúnedain, and father to Isildur, played by Maxim Baldry.
Lloyd Own is still an active actor in film, television, and theater. The most highly recognizable productions he recently starred in include Appollo 18 (2011), Midsomer Murders (2015), and The Originals (2014).
However, many will remember him as Indian Jones' father in The Young Indiana Jones Chronicles (1992) and Young Indiana Jones: Travels with Father (1996).
Leon Wadham – Kemen
Leon Wadham is an actor and writer from New Zealand. He is cast as Kemen, a non-canonical character and the son of Pharazôn, played by Trystan Gravelle.
Leon will be a relative unknown to most audiences but has featured in School Night (2014), Moving (2016), and Blankets (2013). He also briefly appeared in Power Rangers Beast Morphers (2019) as one of the lab assistants.
Tyroe Muhafidin – Theo
Born in 2006, Tyroe Muhafidin is an Australian actor and the youngest member of the core The Rings of Power cast. He plays Theo, an original character created for the series, as well as the son of Bronwyn.
Understandably, Theo doesn't have many acting credits to his name. However, he has acted in Dusk (2018), Two Sands (2020), and Caravan (2019).
Little is known about his character, but some believe the young boy is wielding the legendary sword Gurthang in one outtake from the trailer.