One of the most loveable characters in Stardew Valley is Sam, the town's free-spirited musician with a passion that resonates through every chord he strums. Whether you've seen him jamming out on his guitar at the saloon or skateboarding near his home, there's more to Sam than just his laid-back demeanor.
This guide aims to delve deep into the world of Sam, providing insights into his personality, relationships, and how you, the player, can cultivate a lasting bond with him. From his favorite gifts to heartwarming events, we've got you covered. So, if you're eager to know more about the man behind the melodies, read on and discover the layers that make up Sam of Pelican Town.
Table of Contents
Basic Information

Birthday: Summer 17.
Occupation: Part-time worker at Joja Mart.
Dream: To make it big with his band and pursue a professional music career.
Residence: Lives with his mother, Jodi, his father, Kent, and his younger brother, Vincent, in the southwestern part of town.
Relationship Status: Available for romance and marriage by the player, regardless of gender.
Background: Sam is Pelican Town's talented musician with a penchant for the electric guitar. His upbeat and free-spirited nature hides a deep commitment to his family and friends. As players get closer to Sam, they'll discover the depth of his passion and the dreams that fuel his melodies.
An Overview of Befriending, Dating or Marrying Sam
In Stardew Valley, players can befriend Sam up to 8 hearts. After reaching this level, there's an option to date him, deepening the connection. Upon achieving a 10-heart relationship, players can choose to marry Sam, unlocking unique dynamics and interactions.
Befriending Sam
When you befriend Sam, you'll gradually discover the rhythms and melodies that define his life. As your friendship strengthens, he might surprise you with the occasional gift in the mail. This budding camaraderie with Sam allows players to enjoy the notes of his character without delving deeply into his personal life.
Dating Sam
Choosing to date Sam takes you on a more intimate journey, unlocking more heart events and unique scenes. It provides a chance to delve deeper into the music of his life, drawing the two of you closer together in a harmonious bond.
Marrying Sam
Making the decision to marry Sam crescendos your relationship to its most intimate level. He moves into your home, and together, the two of you can have children. As with all partnerships in Stardew Valley, there are shared responsibilities and adventures on the farm. However, marriage is a solemn commitment. Should you choose to divorce, it costs 50k, and such a decision may cause resentment.
Locating Sam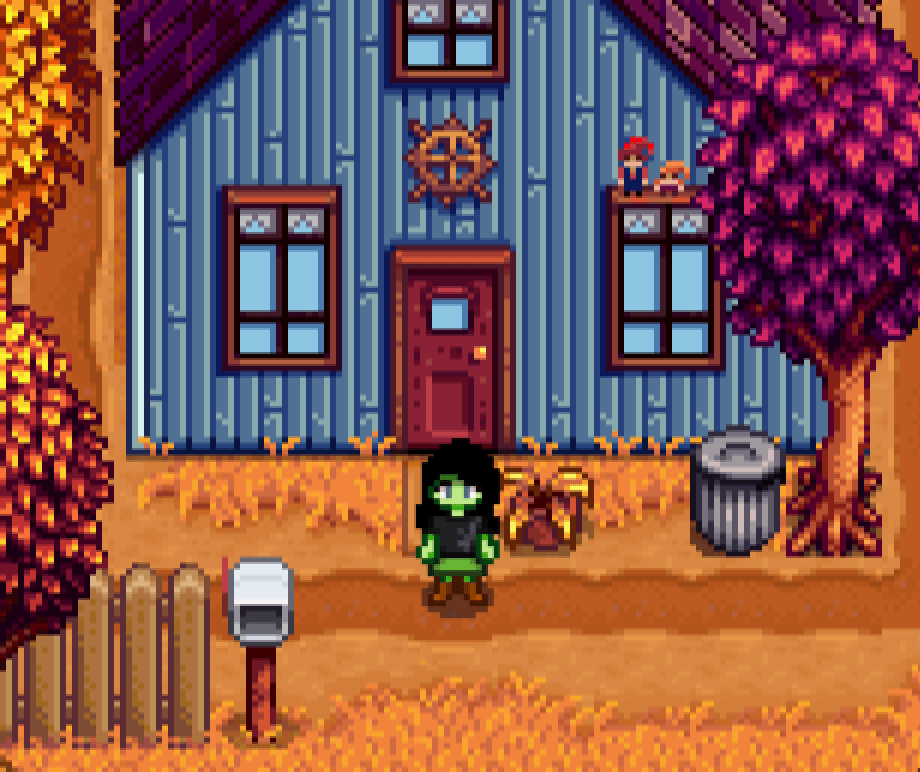 Whether you're aiming for friendship, dating, or marriage with Sam in Stardew Valley, knowing his whereabouts is crucial. Engaging in regular chats and giving him favored gifts are the primary ways to increase your heart level with him, and both necessitate finding him in Pelican Town.
How to Get to Sam's House
Sam is located at 1 Willow Lane and lives with his parents, Jodi and Kent. For those new to the game, reaching his house is simple.
Step One: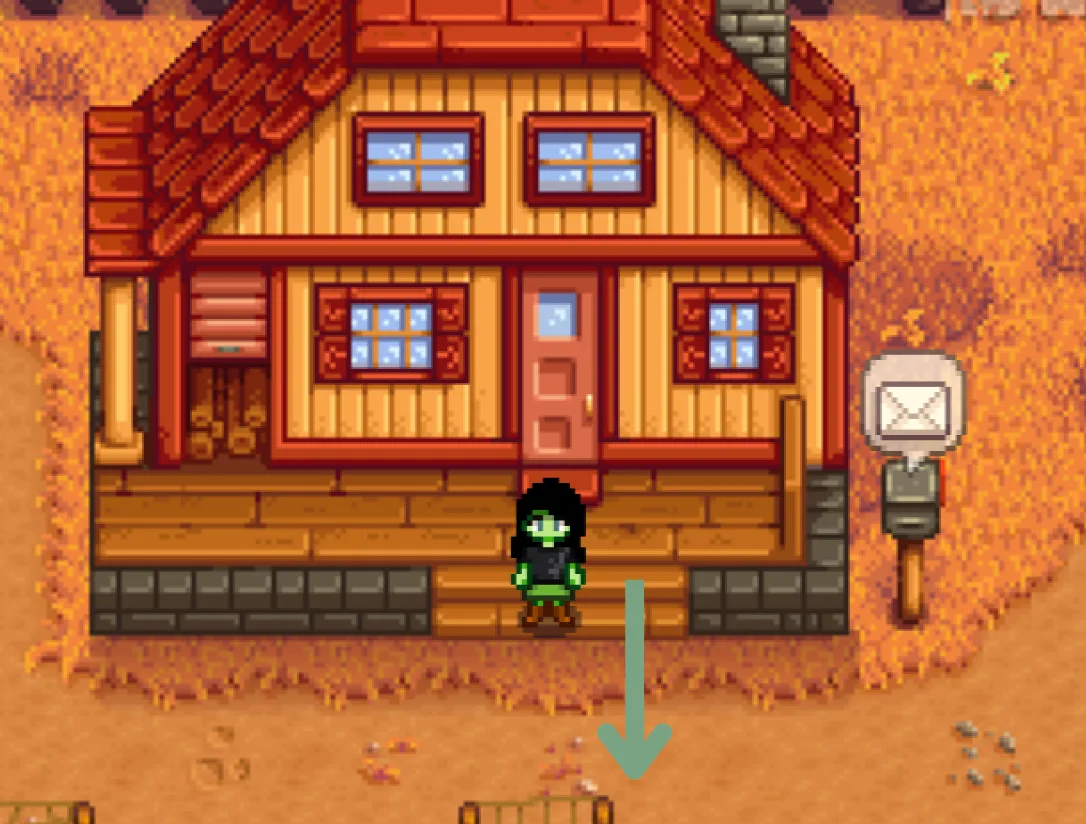 Starting from your farmhouse, walk South until you reach the edge of your farm.
Step Two: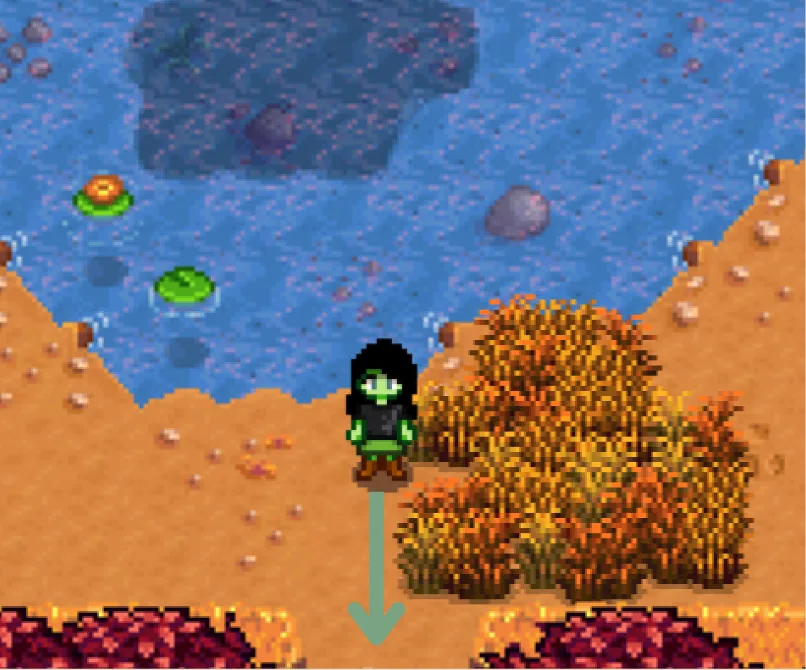 Once you reach the big pond at the bottom of your farm, continue South into Cindersap Forest.
Step Three:
Continue South until you reach Marnie's Ranch. Then, head Southeast past Leah's Cottage.
Step Four:
Continue East until you go into the village centre. Sam's house will be the first one you see.
Sam's Schedule
In Stardew Valley, Sam is frequently seen jamming on his guitar indoors or skateboarding outside when he's not working part-time at Joja Mart. However, like all Pelican Town residents, his precise schedule varies seasonally, making it essential to track his movements throughout the year for timely interactions.
Spring

| Time | Location |
| --- | --- |
| 10:00 AM | Wakes up for the day and moves around his room. |
| 10:40 AM | Plays guitar inside his bedroom. |
| 1:40 PM | Leaves his bedroom, walks into town, and stands near Lewis' house by the river. |
| 6:30 PM | Returns home from town. |
| 9:00 PM | Goes into his bedroom to go to bed. |
Sam's Spring Routine
Summer

| Time | Location |
| --- | --- |
| 10:00 AM | Wakes up for the day and moves around his room. |
| 11:00 AM | Plays guitar inside his bedroom. |
| 1:40 PM | Leaves his bedroom and walks to the beach by the firepit with his brother Vincent. |
| 7:00 PM | Returns home from the beach. |
| 9:00 PM | Goes into his bedroom to go to bed. |
Sam's Summer Routine
Fall
| Time | Location |
| --- | --- |
| 10:00 AM | Wakes up for the day and moves around his room. |
| 10:40 AM | Plays guitar inside his bedroom. |
| 1:20 PM | Leaves his bedroom walks to The Forest southwest of Leah's Cottage. |
| 7:00 PM | Returns home from the Forest. |
| 9:00 PM | Goes into his bedroom to go to bed. |
Sam's Fall Routine
Winter

| Time | Location |
| --- | --- |
| 10:00 AM | Wakes up for the day and moves around his room. |
| 10:40 AM | Plays guitar inside his bedroom. |
| 1:20 PM | Leaves his bedroom and walks to the Stardrop Saloon. |
| 7:00 PM | Returns home from the Stardrop Saloon. |
| 9:00 PM | Goes into his bedroom to go to bed. |
Sam's Winter Routine
Schedule Exceptions
Rainy Days: On wet days, Sam tends to adjust his schedule to the mood of the weather. He wakes up and stays indoors for the early part of the day. By the late morning, he's found seeking shelter by the bridge near the Museum. In the afternoon, he relocates to the tree outside Emily and Haley's house, immersing himself in his handheld video game. As dusk approaches, Sam heads back home to wind down for the night.
JojaMart Workdays (Mondays and Wednesdays): On these weekdays, Sam's usual routine sees a shift. After a brief time at home, he heads to JojaMart by mid-morning. Working part-time, he spends most of his day there, contributing to his family's income. By evening, he makes his way back home, spending time with his family or indulging in some music.
Saturdays with Sebastian: Weekends are special for Sam, and on Saturdays, he often changes things up. After starting his day at home, he heads out to spend quality time with his close friend, Sebastian. The two bond over shared interests, spending a good chunk of the day together. By nightfall, Sam is back home, recharging for the next day.
Clinic Visit (Fall, Saturday the 11th): On this specific day in fall, Sam departs from his usual routine for a visit to the clinic. After starting his morning with his typical activities at home, he makes his way to the clinic by late morning. Inside, he transitions between the waiting area and the examination room, possibly for a routine check-up or some other health concern. By late afternoon, Sam leaves the clinic and heads back home to rest and recuperate.
What to Gift Sam
Overview of All Gifts
| Reaction | Gift |
| --- | --- |
| Love | Cactus Fruit, Maple Bar, Pizza, Tigerseye and All Universal Loves. |
| Like | All Eggs (except Void Eggs), Joja Cola and Universal Likes. |
| Neutral | All Fruit (except Salmonberry and fruit tree fruit), All Milk and All Universal Neutrals |
| Dislike | Chanterelle, Common Mushroom, Daffodil, Dandelion, Ginger, Hazelnut, Holly, Leek, Magma Cap, Morel, Purple Mushroom, Quartz, Salmonberry, Seaweed, Snow Yam, Winter Root, Wild Horseradish and all Universal Dislikes. |
| Hate | Coal, Copper Bar, Duck Mayonnaise, Gold Bar, Gold Ore, Iridium Bar, Iridium Ore, Iron Bar, Mayonnaise, Pickles, Refind Quartz and All Universal Hates (except Joja Cola). |
Overview of Sam's Reaction to Gifts
Loved Gifts
In Stardew Valley, connecting with Sam becomes a delightful experience once you're familiar with his most cherished items. Loved gifts for Sam encompass the Cactus Fruit, Maple Bar, Pizza, and all Universal Loved Gifts. Handing these over will increase your friendship by 80 points. You're permitted to present gifts twice a week, and you can engage in conversations with him daily. Don't forget to gift him on his birthday for a substantial boost in friendship points.
Read more: Stardew Valley Birthday Gift Guide and Friendship Point Boosts
How to Get Cactus Fruit
Cactus Fruit is a forageable item primarily found in the Calico Desert. Here are the main methods to obtain it:
Foraging in the Calico Desert: During any season, when you visit the Calico Desert, Cactus Fruit can be found scattered around the area. You can simply pick it up while walking around. In order to do this you must first repair the bus.
Oasis Shop: The Oasis Shop, located in the Calico Desert, also sells Cactus Fruit. It's available for purchase on Tuesdays for 150g.
Cactus Seeds: Players can also grow their own Cacti inside their farmhouses. Once a mature plant is achieved, it produces Cactus Fruit every three days. The seeds are available for purchase at the Oasis.
Traveling Cart: Occasionally, the Traveling Cart might have Cactus Fruit for sale. The cart appears in the Cindersap Forest on Fridays and Sundays.
How to Get Maple Bars
The Maple Bar is a cooked dish in Stardew Valley, which means you'll need to craft it using specific ingredients. Here's how to make it and get the recipe:
Cooking the Maple Bar: Once you have the recipe, you can create a Maple Bar using the following ingredients:

1 Maple Syrup (from using a Tapper on a Maple Tree)
1 Sugar (purchased at Pierre's General Store or JojaMart)
1 Wheat Flour (purchased at Pierre's General Store or JojaMart)

Obtaining the Recipe:

Television: To acquire the Maple Bar recipe watch the "Queen of Sauce" cooking show on the TV. It airs on the 14th of Summer in your second year.
How to Get Pizza
Pizza is a popular dish in Stardew Valley, and there are several ways to acquire it:
Crafting the Pizza: If you have an upgraded farmhouse with a kitchen or a Cookout Kit, you can make a Pizza using the following ingredients:

1 Wheat Flour (purchased at Pierre's General Store or JojaMart)
1 Tomato (grown during the Summer season or in the Greenhouse)
1 Cheese (made in the Cheese Press from Milk)

Purchasing Pizza:

The Stardrop Saloon: Pizza can be bought daily at The Stardrop Saloon for 600g.
Krobus' Shop: On Saturdays, there's a chance that Pizza might be available in Krobus' underground shop.

Obtaining the Recipe:

Television: The recipe for Pizza can be learned by watching the "Queen of Sauce" cooking show on the 7th of Spring, Year 2.
Saloon: Alternatively, the recipe can also be purchased from Gus at the Stardrop Saloon for 150g.
How to Get Tigerseye
Tiger's Eye is a mineral in Stardew Valley, characterized by its unique, streaked appearance resembling the eye of a tiger. To acquire Tiger's Eye, players can follow these methods:
Mining:

The Mines: The primary way to obtain Tiger's Eye is by breaking geodes. Specifically, it can be found in Omni Geodes, which are obtainable in various levels of the Mines, particularly the lower ones. These geodes, when processed at Clint's Blacksmith Shop, have a chance to yield Tiger's Eye among other minerals.
Skull Cavern: Players can also find Omni Geodes in the Skull Cavern in the Desert, further increasing their chances of obtaining Tiger's Eye.
Universal Loves

In Stardew Valley, Universal Loves are items that are adored by almost every villager in the game, making them ideal gifts when building relationships. These are treasures that, with a few specific exceptions, will always bring joy when presented. Fortunately, Sam loves all of them.
| Item | How to Obtain |
| --- | --- |
| Golden Pumpkin (+80 friendship points) | Obtain it during the Spirit's Eve festival by completing the maze. |
| Magic Rock Candy (+80 friendship points) | Acquire it in the Desert Trader's shop in exchange for 3 Prismatic Shards. |
| Pearl (+80 friendship points) | You can find a Pearl at the Mermaid's Show during the Winter Night Markets |
| Prismatic Shard (+80 friendship points) | Mined from Omni Geodes, Iridium Nodes, or certain monsters like the Serpent in Skull Cavern. |
| Rabbit's Foot (+80 friendship points) | Harvested occasionally from rabbits raised in a coop, or sometimes found in Skull Cavern. |
Table of Universal Loves
Good Gifts for Beginners
For newer players, winning over Sam can feel like a challenge. Many of Sam's loved gifts are hard to get, Cactus Fruit requires access to the desert and Maple Bars are only available in year two. However, there's no need to fret! Opting for Sam's "liked" gifts is an efficient and effective way to strengthen your bond with him.
Joja Cola

While most residents of Pelican Town aren't fans of Joja Cola, Sam is an exception. He has a liking for this beverage, making it a useful item for players who are still exploring gift options. Given the frequency with which new players fish up Joja Cola, this makes it an accessible and easy gift choice early in the game. Instead of seeing it as trash or selling it for a meager sum, players can utilize it to start building a relationship with Sam.
How to Get Joja Cola:
Fishing: The most common way players come across Joja Cola is by fishing. Instead of catching a fish, players might reel in this beverage, especially when they're just starting out and have a lower fishing skill level.
Trash Cans: Occasionally, players can find Joja Cola by rummaging through trash cans around the town.
JojaMart: If players need Joja Cola for any reason, it can also be directly purchased from JojaMart.
Eggs

In Stardew Valley, eggs are an easily accessible and effective gift for building a relationship with Alex. He appreciates both small and large eggs, making them a reliable choice for those looking to boost friendship points. Here's a quick guide to obtaining eggs:
Regular and Large Eggs:

Begin by raising chickens in a coop. As you care for them, they'll lay eggs daily. The quality of the egg improves with the happiness and mood of the chicken, leading to the production of large eggs as they become more content.

Duck Eggs:

With an upgrade to the Big Coop, you can raise ducks, which will lay duck eggs. Alex is also fond of these!
However, a word to the wise: avoid gifting Alex void eggs. He doesn't favor these peculiar, dark eggs. Stick to the more conventional egg types, and your friendship with Alex will flourish in no time!
Learn More: How to Buy, Feed and Profit from Chickens in Stardew Valley
Universal Likes
For players seeking a straightforward method to boost their friendship with Sam, turning to universal likes is a savvy approach. While they might grant fewer friendship points (45 points) compared to loved gifts, they are generally easier to obtain and still significantly boost your relationship.
| Item | Exceptions |
| --- | --- |
| Artisan Goods (+45 friendship points) | Sam dislikes Oil and hates Pickles, Void, Duck and Normal Mayonnaise. |
| Cooking (+45 friendship points) | Sam is neutral towards Fried Egg and Bread and hates Strange Buns and Seafoam Pudding. |
| Flowers (+45 friendship points) | Sam hates Poppies and dislikes Daffodil, Dandelion and Holly. |
| Foraged Minerals (+45 friendship points) | Sam dislikes quartz and hates Coal, Copper Ore/ Bars, Gold Ore/ Bars, Iridium Ore/ Bars, Iron Bars and Refined quartz. |
| Fruit Tree Fruits | There is no note of Sam liking these. |
| Gems (+45 friendship points) | Sam likes all of these. |
| Vegetables (+45 friendship points) | Sam is neutral towards Hops, Tea Leaves and wheat and dislikes all Mushrooms, Snow yam, Winter Root, Leeks and Wild Horseradish. |
Table of Universal Likes
Gifts to Avoid

In Stardew Valley, not all gifts are received with equal enthusiasm. Presenting Sam with disliked items will result in a deduction of 20 friendship points, setting back your relationship progress. Moreover, if you offer him an item he truly detests, it will result in a heftier penalty of 40 friendship points.
| Item | Points Subtracted |
| --- | --- |
| Any type of Mushroom | -20 friendship points |
| Daffodil, Dandelion and Holly | – 20 friendship points |
| Copper, Gold, Iron and Iridium Bars | – 40 friendship points |
| Any type of Mayonnaise | – 40 friendship points |
| Pickles | – 40 friendship points |
| All Universal Hates (except Joja Cola and Seaweed) | – 40 friendship points |
Table of Sam's Disliked and Hated Items
Sam's Heart Events
Within the immersive realm of Stardew Valley, heart events act as significant milestones, revealing more about the residents of Pelican Town. For Sam, these heart events offer players a closer look at his life, aspirations, and past challenges. One can trigger them after earning a certain amount of hearts on Sam's friendship bar and going into the right location at the right time.
Sam's Two Heart Event
Upon reaching two hearts with Sam in Stardew Valley, players have the chance to witness a unique bonding moment between him and his friend Sebastian. To trigger this cutscene, simply enter Sam's house when he's present. Inside, you'll find the two friends jamming out in Sam's room. Sam confides in you about his dream to form a band, but he's torn on the musical direction it should take.
What Kind of Music Should Sam Make?
The player is then prompted to choose a sort of music they like. While none of these affect your friendship points with Sam, your choice does change the outcome of the eight-heart cutscene. The beat, lyrics and even band name all change depending on what music you like. The options include:
Cheerful pop music.
Experimental noise rock.
Hi-Energy dance music.
Honky-tonky country music
Sam will excitedly respond that it aligns with his own thoughts, regardless of which option you choose. Enthused, he gets Sebastian's approval to pursue that style.
If players opt to skip this scene, Sam's 8-heart event will play out without any accompanying music. Therefore, it's pretty important to make a choice during this heart event if you want to get the full experience of dating this musician.
Sam's Three Heart Event
At 3 hearts with Sam, players can trigger a poignant scene that offers a deeper insight into his family dynamics. To experience this, visit the beach on a sunny day between 7 am and 3 pm during any season except winter, but it must be in Year 1. Upon arrival, you'll find Sam keeping a watchful eye on his younger brother, Vincent, as he plays in the sand.
The two reminisce about the past, with Sam recalling how their father often brought them to the beach during sunny days. However, the mood turns somber when Vincent innocently questions their father's return, alluding to rumors of widespread military casualties he overheard. With a reassuring tone, Sam comforts his brother, urging him not to believe such whispers, and Vincent pacified for the moment, continues his play.
Sam's Four Heart Event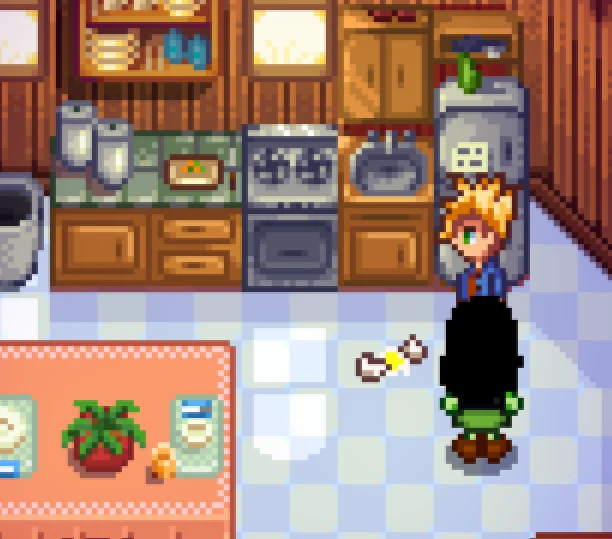 When players reach a 4-heart relationship with Sam, another intimate scene awaits, offering a glimpse into his household life. To trigger this event, simply step into Sam's house when he is around. Inside, you'll find Sam in the kitchen.
As he amiably greets you and attempts to prepare a snack, he accidentally drops an egg, causing it to shatter on the floor. The noise attracts the attention of his mother, who enters the kitchen and is immediately dismayed by the mess. In a moment of tension, Sam turns to you, seeking your account of the mishap.
Four Heart Event Dialogue Option
After the egg incident in the kitchen, players are presented with three dialogue options to explain the situation to Sam's mother, Jodi:
"Sam dropped the snack as he was handing it to me." This choice decreases your friendship with Sam by 10 points.
"Sam handed me the snack and then I dropped it." Opting for this response will boost your friendship with Sam by 50 points. Sam appreciates the gesture and agrees with your version.
"Sam dropped it on purpose. He thought it would be funny." This choice significantly damages your rapport with Sam, reducing your friendship by 50 points.
Regardless of the chosen dialogue, Jodi expresses her gratitude for your honesty, and Sam promptly commits to tidying up the spill.
Sam's Six Heart Event
Upon reaching 6 hearts with Sam, players can witness a moment that showcases his carefree spirit and the subsequent ramifications. To unlock this scene, venture into the town on any non-rainy day between noon and 4 pm. As you enter, you'll spot Sam skillfully skateboarding, using Emily and Haley's flower box as a grind rail. However, his escapade is cut short when Mayor Lewis notices. The town leader promptly reprimands Sam for his recklessness, emphasizing the importance of respecting public property.
Sam's Eight Heart Event
After reaching an 8-heart bond with Sam, a special occasion awaits. Early one morning, between 6 am and 8 am, Sam excitedly approaches your doorstep. Eager to share a significant milestone, he invites you to Zuzu City to watch his band's performance, a testament to the journey you've been a part of. He proposes meeting at the bus stop around 4 p.m.
When you arrive at the Bus Stop between 4 PM and 7 PM, you're ushered to Zuzu City, where you witness Sam and his bandmates in their element. Gratefully, he acknowledges the integral role you played in determining the band's musical direction. It's important to note that even if the bus isn't repaired, this event still unfolds.
Dating Sam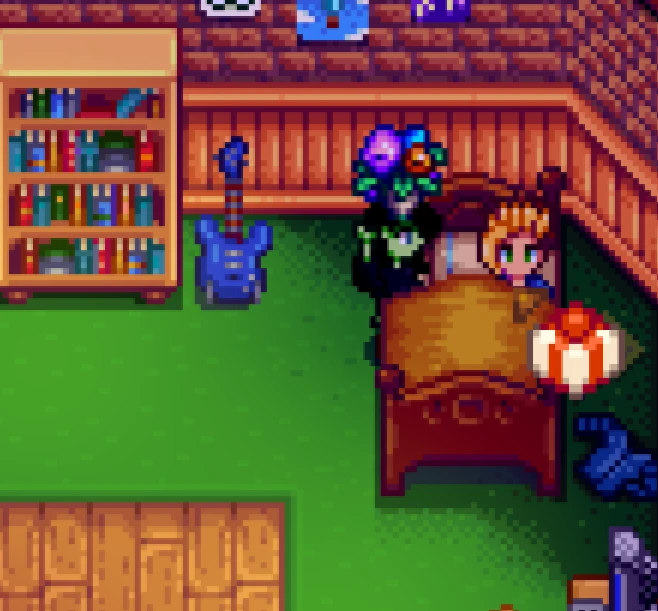 In Stardew Valley, eight hearts is the threshold for friendships with the eligible townsfolk. When you're connecting with Sam, this is the cap on your platonic bond. If you're looking to keep things friendly with Sam, consistent interactions are vital. Regularly gifting him his favorite items and engaging in conversations ensures the bond you've built doesn't fade, given that friendship points can diminish over time without consistent effort.
However, if romance is in the cards for you and Sam, taking the next step requires presenting him with a bouquet. This act symbolizes your deeper romantic intentions in Stardew Valley. Bouquets are available for purchase at Pierre's General Store for 200g.
By offering Sam the bouquet, you lay your feelings bare, and if he feels the same, he'll gladly accept. This mutual understanding marks the beginning of your romantic journey with Sam, opening the door to more intimate events and the possibility of marriage down the line. As with any romantic relationship in the game, new dynamics and responsibilities emerge, so choose your path with Sam thoughtfully!
Sam's Ten Heart Event
To trigger this heartfelt event with Sam, first, ensure you've received a letter from him. Then, venture into the town on a sunny evening, specifically between 8 pm and midnight.
Upon your arrival, Sam awaits outside his house. The cool evening air prompts him to suggest a more private setting for your conversation, leading both of you to his room. Here, Sam gathers the courage to admit he's harboring deep feelings for you.
Just as the atmosphere thickens with emotion, an unexpected knock from his mother, Jodi, disrupts the moment. In a panic, Sam signals for you to hide under the bed. As Jodi enters, she remarks on Sam's reddened face. Quick to cover, Sam tells her he's been exerting himself with push-ups. Satisfied with his response, Jodi bids him goodnight and leaves.
From here, the player has two options: they can either stay in bed or get out. If you stay in bed, Sam will come and kiss you, affirming his romantic feelings towards you. If you get out of bed, you can either move closer to Sam for a kiss or move away, rejecting him.
Proposing to Sam
If you've grown attached to Sam and want to take the next step, it's fairly simple. To marry him, you must propose with a Mermaid Pendant, and he will happily agree and organize your wedding.
How to Get a Mermaid Pendant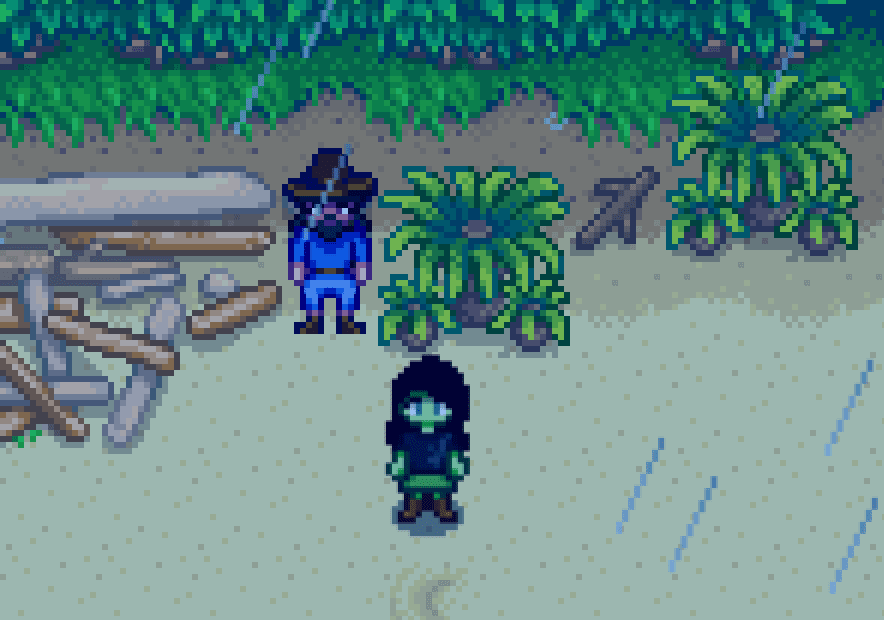 Rainy Weather: Firstly, it must be raining in-game. The Old Mariner who sells the pendant won't appear unless it's a rainy day.
Fully Upgraded House: Before you can buy the Mermaid's Pendant, you need to upgrade your farmhouse; this ensures you have the space to accommodate a spouse. You can do this by visiting Robin.
Reach 10 Hearts with a Villager: In order to propose, you must have reached 10 hearts in a romantic relationship with one of the eligible bachelors or bachelorettes.
Go to the Beach: On the day it's raining, head to the beach on the eastern side of the map. Remember, the Mariner won't show up on festival days, even if it's raining.
Find the Old Mariner: You will see a bridge on the far east side of the beach that is broken at first. You'll need to fix this bridge by using 300 pieces of wood. Once repaired, you can cross the bridge to the tidal pools area. The Old Mariner will be standing there by the northern edge.
Buy the Pendant: Approach the Old Mariner, and he will offer to sell you the Mermaid's Pendant for 5,000 gold. If you meet all the requirements, you can buy it.
Propose: Once you have the pendant, give it to the villager you've reached 10 hearts with to propose.
Married Life with Sam
After proposing, in just three days, the ceremony will commence, marking your union together. After the joyous occasion, Sam will move into the player's farmhouse, signifying the start of your shared life on the farm. He'll add his own room to the right of the bedroom and will set up a skate ramp behind the farmhouse.
Benefits of Marrying Sam
Marrying Sam not only provides practical benefits around the farm, but it also brings a series of heartwarming gestures that make life in Stardew Valley even more enriching.
Special Gifts on Rainy Days: When it rains, Sam may surprise you with a thoughtful gift he "found rolling around in the back of a drawer." Potential gifts include Cactus Fruit, Coconut, Earth Crystal, or a Geode.
Rainy Night Treats: On rainy evenings, Sam might generously offer you a Pizza, providing a tasty treat to enjoy together.
Breakfast in Bed: On days Sam remains indoors, he might present you with instant Pancakes. He'll admit he's not a culinary expert, explaining he never really learned to cook – but it's the thought that counts!
Help on the Farm: Being a supportive partner, Sam will assist with various farm chores. This includes:

Watering your crops.
Feeding your livestock.
Filling the animal water bowl.
Repairing any broken fences around the farm.
Sam's Fourteen Heart Event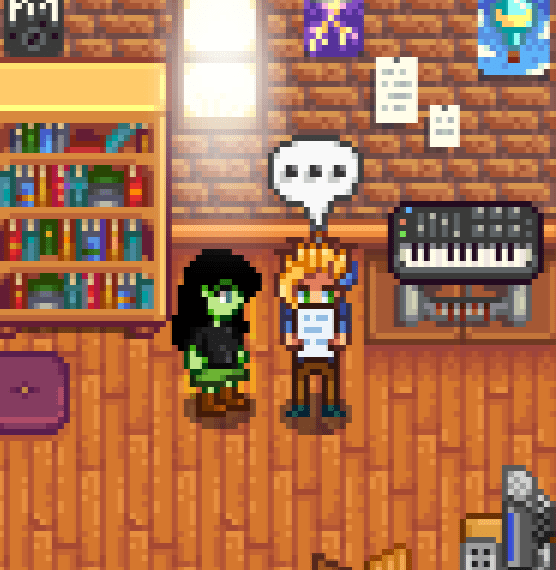 Sam's final heart event is an endearing multi-part journey that delves into his passion for music. This event is split into four distinct parts, each requiring specific conditions to trigger:
Part 1
Trigger: Enter an upgraded farmhouse (which needs at least two upgrades) between 6:10am and 5:00pm when Sam is inside.
Details: During this initial encounter, Sam confides in the player, expressing his feeling of becoming complacent since he moved into the farmhouse. Eager to maintain his sense of purpose, he conveys a desire to delve into a profession that involves music.
Part 2
Trigger: Three days after the first part, enter the farmhouse between 6:10am and 5:00pm when Sam is present.
Details: A twist of fate awaits Sam as he receives a job offer through the mail. The role entails creating music for a children's TV program titled "The Happy Junimo Show." Although the job isn't precisely what Sam envisioned for himself, he takes it in stride, remarking, "Ah well… that's okay. I'll make the best of it, like I always do." He humorously notes that to excel at this job, he might need to start "thinking like a kid."
Part 3
Trigger: Three days post the second event, step into the farmhouse between 6:10am and 5:00pm with Sam inside.
Details: The player gets a glimpse of Sam's work in progress. Strumming an acoustic guitar, he shares a snippet of the song he's crafting. As he makes headway with his project, Sam remains hopeful that the production studio will appreciate his final composition.
Part 4
Trigger: Four days after the third segment, venture into the farmhouse between 6:10am and 5:00pm while Sam is in.
Details: In a heartwarming scene, the player, Vincent, and Jas congregate around a TV in Sam's room. Together, they watch a video showcasing Sam's newly created song for the show. The glowing reactions, especially from Vincent and Jas, leave Sam pleasantly surprised. Grateful for the unwavering support he's received, Sam gifts the player "Sam's Boombox," allowing them to replay his song whenever they wish.
Having Children with Sam
Once you've sealed the deal with Sam and invested in two Farmhouse upgrades, the pitter-patter of little feet could be on the horizon. Each evening, there's a 5% chance that, as you settle down, Sam might broach the topic of having or adopting a child.
For couples of opposite genders, nature takes its course, leading to biological children, while same-gender couples embark on the heartwarming journey of adoption. The gender of your first child is left to fate, but Stardew Valley ensures that your second child will be of the opposite gender.
Remember, children in Stardew Valley retain their toddler-like innocence forever, never growing past this stage. As a bonus, once these toddlers are up and about, they'll occasionally join Sam during town events, offering delightful family moments.
Sam from Stardew Valley FAQs
How Old is Sam from Stardew Valley?
Sam from Stardew Valley is portrayed as a young adult, but his specific age is not explicitly mentioned in the game. Based on in-game dialogues, events, and his roles and responsibilities, such as looking after his younger brother and being part of a band, players generally consider him to be in his late teens or early twenties.
What is Sam's Personality in Stardew Valley?
Sam in Stardew Valley is an outgoing and energetic young man with a passion for music and skateboarding. He's protective of his younger brother, Vincent, and often displays optimism. While generally carefree, he shows depth when discussing his father's military service. Sam's love for sports and his musical aspirations highlight his active and dreamy nature.
What is Sam's relationship with Sebastian in Stardew Valley?
In Stardew Valley, Sam and Sebastian are close friends. They often hang out together, especially in Sam's room, where they jam out on their instruments as they aspire to form a band. The two share mutual interests, and their camaraderie can be seen in various events and moments throughout the game. Their bond indicates a deep friendship built on shared experiences and interests.
Should I Marry Sam in Stardew Valley?
Marrying Sam in Stardew Valley hinges on player preference. Sam is upbeat, musically inclined, and often gifts items like Pizza or Cactus Fruit. As a spouse, he assists with chores like watering and repairs. However, some find other in-game characters more complex. Explore his heart events to decide if he aligns with your desired gameplay and character interaction.
What is Sam's Eye Colour in Stardew Valley

Interestingly, most of the Stardew Valley Bachelors have green eyes, and Sam is no exception. While his eyes look brown and sometimes blue in the stills, for the majority of the game, his character has green eyes.
What is Sam's Last Name in Stardew Valley?
The game doesn't provide explicit details about the last names of most characters, including Sam. Hence, his last name remains undisclosed in the Stardew Valley narrative.
What Music Does Sam from Stardew Valley like?
There isn't much information on Sam's personal music preferences. The only time we hear Sam playing is in the eight and fourteen heart events. However, the eight-heart scene depends on the player's favorite music and the fourteen-heart scene is music for a kid's show that he isn't very passionate about. Therefore, Sam's personal preference remains a mystery.
Read More: