There have been four versions of Skyrim since its original release in 2011. Each version had several ports to other gaming platforms, including two console generations and VR.
With three separate DLCs, the original version was released on November 11, 2011.
The Legendary Edition is a bundled edition with all 3 DLCs, included as a standalone title and in The Elder Scrolls Anthology.
The Special Edition upgraded the game to 64-bits and was released for PS4, Xbox One, and Windows, and later ported to Switch. Skyrim: VR release is also a port from Special Edition.
Skyrim: Anniversary Edition was released on November 11th, 2021, marking the 10th anniversary of the original release. This version includes the Special Edition with 3 DLCs and the Anniversary Upgrade in a single bundle.
Bethesda released a gag port of the game to Amazon Alexa called Skyrim: Very Special Edition on June 11, 2018. While it's not an official game release, it's a playable version available with any device supporting Alexa.
How Many Different Times Has Skyrim Been Released?
We've compiled a table with all of Skyrim's official releases In chronological order.
Game version
Available in
Date of release
Original release
Windows
Xbox 360
PS3
November 11th, 2011
Legendary Edition
Windows
Xbox 360
PS3
June 4th, 2013
Special Edition
Windows
Xbox One
PlayStation 4
October 28th, 2016
Skyrim VR
PlayStation VR
November 17th, 2017
Special Edition
Nintendo Switch
November 17th, 2017
Skyrim VR
HTC Vive
Oculus Rift
Windows Mixed Reality
April 2nd, 2018
Anniversary Edition
Windows
Xbox One
Xbox Series X/S
PlayStation 4
PlayStation 5
November 11th, 2021
Why Was Skyrim Released So Many Times?
According to Skyrim's creative director, Todd Howard, Skyrim has been ported so many times because of its popularity.
In 2018, Todd Howard and Geoff Keighley were attending the Gamelab's conference in Barcelona. Howard was quoted by GamesIndustry.biz saying:
"Even now, the amount of people who play Skyrim seven years later; millions of people every month are playing that game. That's why we keep releasing it. If you want us to stop releasing it, stop buying it."
This claim is further backed by the fact Skyrim earned the Bronze category in Steam's list for their best-selling games in 2021.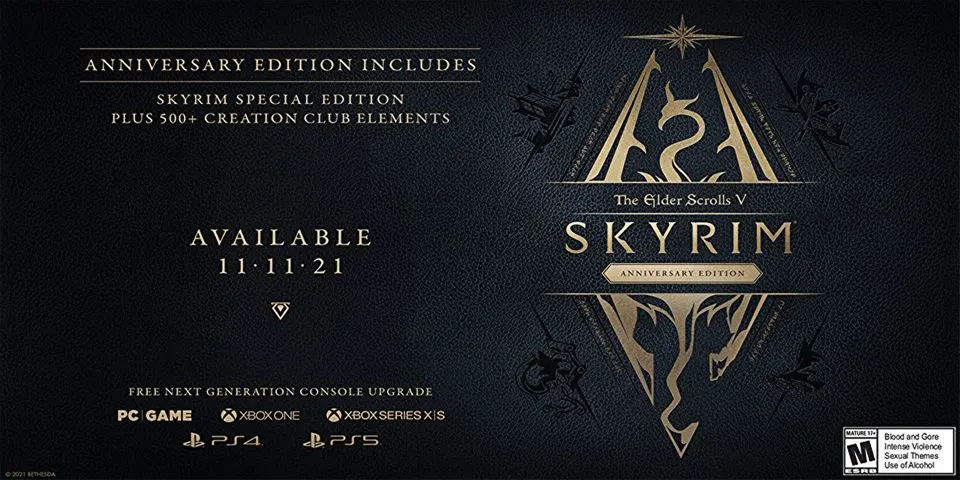 How Many Platforms Is Skyrim On?
Currently, Skyrim is available on 8 platforms. This number considers the game's original version, Legendary Edition, Special Edition (including VR), and Anniversary Edition:
Microsoft Windows
PlayStation 3
Xbox 360
PlayStation 4
Xbox One
Nintendo Switch
PlayStation 5
Xbox Series X/S.
Comparisons: Skyrim vs. Skyrim Special and Anniversary Edition
Features
Original Release / Legendary Edition
Special Edition / Anniversary Edition
32-bit vs. 64-bit
32-bit
64-bit
Access to Creation Club Content
No
Yes
Native 4k available (PS4 Pro and PC)
No
Yes
DLCs available
Dawnguard
Hearthfire
Dragonborn
Dawnguard
Hearthfire
Dragonborn
Anniversary Upgrade
Platforms available
Windows
Xbox 360
PS3
Windows
Xbox One
Xbox Series X/S
PlayStation 4
PlayStation 5
Nintendo Switch
Mod support in gaming consoles
No
Yes
Should I Play Original Skyrim, Special Edition, or Anniversary Edition?
The general census between choosing Skyrim's original release and Special Edition is to play Special Edition for improved graphics, better stability, and compatibility with Creation Club content.
The original release had an overall better variety of mods available through sites like Nexus, where today there are +67,500 mods available. However, today the number of mods available for Special Edition reaches +46,600 mods, including ports from mods available for the original version.
You should play the Special Edition if you have a PS4, Nintendo Switch, or Xbox since the original release isn't available for the eighth generation of video game consoles.
You should play Anniversary Edition if you've already experienced the previous content available and want to include Creation Club content into the game, including Survival Mode. While you can purchase Creation Club Content in Special Edition, the Anniversary Upgrade will include several quests, items, locations, and spells for a single purchase.
Which Is Better: Skyrim Legendary Edition or Special Edition?
Due to technical improvements, mod support and Creation Club compatibility, The Elder Scrolls V: Skyrim Special Edition has a significant advantage over Legendary Edition.
The main difference between Skyrim's Legendary Edition and Special Edition is the engine.
Skyrim originally ran in 32-bit. The Legendary Edition is just the original version bundled with Dawnguard, Hearthfirestone and Dragonborn DLC. It's available for PS3, Xbox 360, and PC and it's not available for the 8th console generation.
Special Edition is a remaster that runs in 64-bits, so it allows for several graphical enhancements and native 4K support for PC and PS4 Pro. The Special Edition also offers mod support for PS4 and Xbox. However, the Nintendo Switch edition doesn't allow players to add mods.
Skyrim: Special Edition also offers the Anniversary Upgrade, which you can unlock as a separate DLC or purchase the Anniversary Edition as a bundle with the other 3 DLCs.
Is the Special Edition or Anniversary Edition Worth It for Skyrim?
If you're interested in Creation Club Content and experiencing Survival Mode as intended by Bethesda, then you should buy the Anniversary Upgrade.
If you haven't purchased a copy of The Elder Scrolls V: Skyrim, the Anniversary Edition costs $50. But if you already have the Special Edition copy, the Anniversary Upgrade is just $20.
Otherwise, Special Edition currently stays at $25, and you can always upgrade if you change your mind in the future.
Skyrim: Special Edition is a 64-bit remaster of the original game released in 2011. It offers better graphics and performance compared to its predecessor, aside from having a respectable number of mods compatible with Special Edition.
The Anniversary Edition bundles Special Edition with Dawnguard, Hearthfire and Dragonborn DLC alongside the Anniversary Upgrade. The latter includes various Creation Club content, including new quests, items, locations and spells.
In the Anniversary Upgrade, you can also unlock the new Survival Mode, changing the experience so that your character experiences hunger, thirst, and other tweaks to increase the game's difficulty.