Stardew Valley's Secret Notes are a fun way to learn more about the characters and setting of the game while earning small prizes along the way.
So, what does the final note, Secret Note 25, talk about, and how can you use it?
What is Secret Note 25 in Stardew Valley?
Secret Note 25 is the last in a series of notes associated with the "A Winter Mystery" quest in Stardew Valley, which happens in the first Winter of the game when Krobus is caught taking a magnifying glass from the farm.
The player can find Secret Note 25 by harvesting materials and crops, as well as through fishing and artifact spots found around the map.
You can find more about the exact chances of finding a note in each of these places in this walkthrough for Secret Note 19.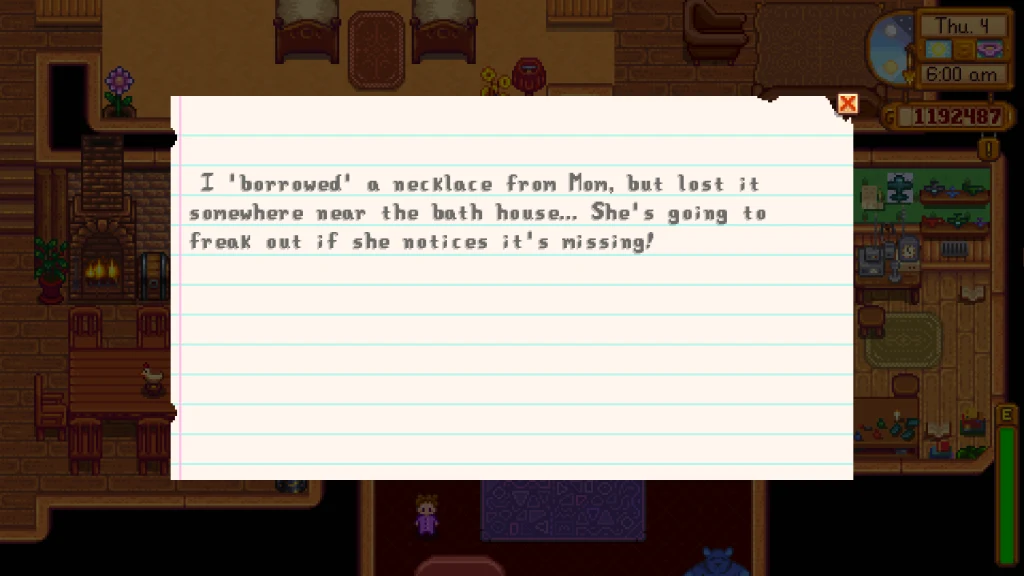 This note has a line of cryptic text that reads:
I 'borrowed' a necklace from Mom, but lost it somewhere near the bath house… She's going to freak out if she notices it's missing!

Secret Note 25, Stardew Valley
It's unclear who wrote the note, although you can return the necklace to its original owner, solving this mystery.
Secret Note 25 Walkthrough
You can find the necklace by fishing in the small fountain outside the bathhouse, north of the Mountain area.
Once you have the necklace, you can return it to either Abigail (for 100 friendship points) or her mother Caroline (for 50 friendship points).