Among the myriad of quests and mysteries in Stardew Valley, one particular mission stands out both for its humor and its ties to community relationships: the enigma of Mayor Lewis' lost shorts.
On the surface, it might seem like a trivial errand in a game brimming with larger adventures, but as any seasoned farmer will tell you, these aren't just any shorts. They're a symbol of small-town secrets, budding relationships, and the whimsical charm that makes Stardew Valley an enduring classic.
For those keen on unraveling this tale, this guide delves deep. We'll navigate you through the clues to find those elusive shorts, the steps to return them discreetly, and even sprinkle in some delightful easter eggs about other mischiefs you can get up to with them. Welcome to Stardew Valley's best-kept secret.
Table of Contents
Starting the Quest
To begin the quest for Mayor Lewis' lost shorts in Stardew Valley, players should check their mailbox on the third day of summer. Among their mail, they'll find a note from Mayor Lewis, mentioning his missing purple shorts. Accepting this quest from the letter sets players on the path to uncovering one of the game's amusing little secrets.
Location of the Purple Shorts
Map Overview
Locating Mayor Lewis' lost shorts in Stardew Valley isn't a task for the faint-hearted, as they're tucked away in a rather unexpected spot. Players must head to Marnie's Ranch, south of your farm. Once there, go inside her bedroom, and you'll spot the infamous purple shorts, a testament to the close relationship between the Mayor and Marnie.
Directions to Marnie's Ranch
Not sure how to get to Marnie's Ranch? We've got you covered.
Step One: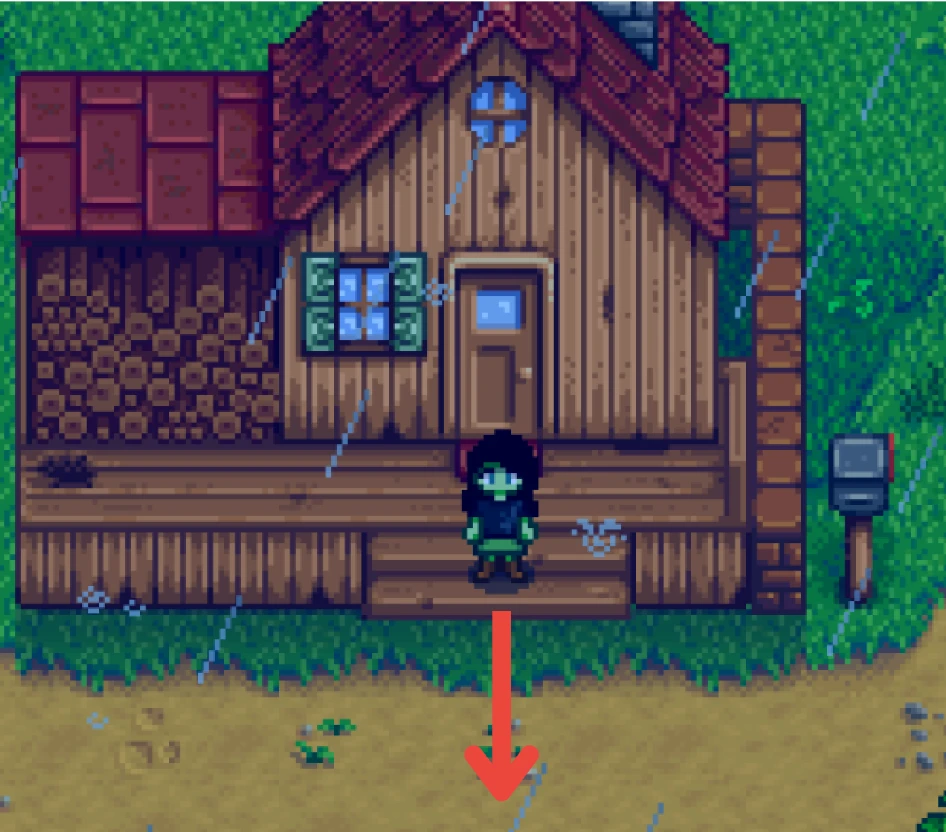 Exit your Farmhouse and walk South until you reach the very end of your farm.
Step Two: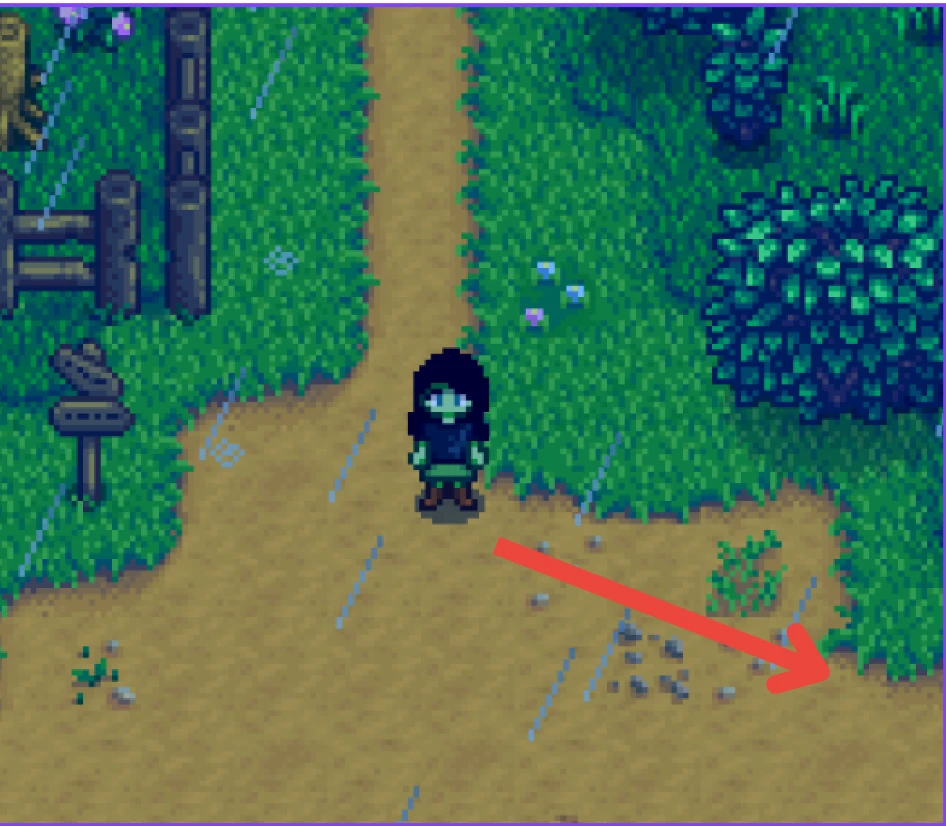 Enter Cindersnap Forest and walk a few paces. When you come to the signpost, veer East.
Step Three:
There you'll spot Marnie's Ranch. Head on in to find the purple shorts.
Accessing the Purple Shorts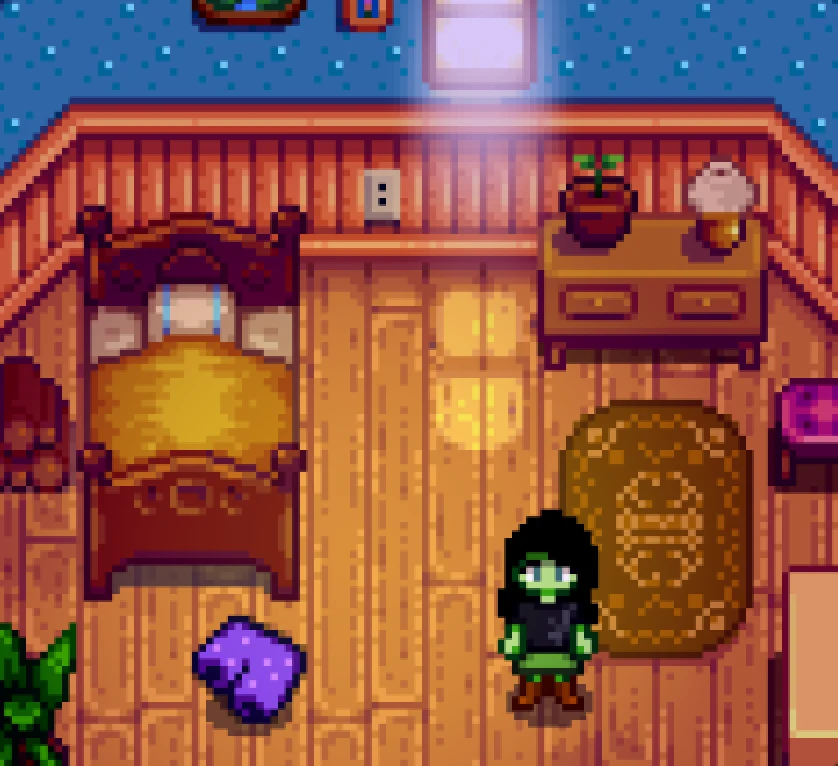 Once you enter the ranch, walk past the counter, and you'll find the shorts discreetly placed inside Marnie's bedroom. But there's a catch: Marnie's bedroom isn't just open for any curious visitor. To gain access, players must first cultivate a rapport with Marnie, achieving at least a two-heart friendship status with her.
How to Befriend Marnie

To grow closer to Marnie in Stardew Valley, players need to engage with her through gifts, conversations, and participation in village events. The most effective way to gain her affection is by offering gifts that she adores. Her most treasured items are the Diamond, Farmer's Lunch, Pink Cake, and Pumpkin Pie. Here's a breakdown of how to obtain these:
Diamond
Diamonds are coveted gems most commonly found deep within the Mines, especially from level 50 onwards. Their rarity increases the deeper you mine. Another source of Diamonds is the Omni Geodes, which occasionally yield this gem when broken open at Clint's Blacksmith shop. For those looking to multiply their Diamond stash, the Crystalarium is a useful tool; by placing a Diamond inside, it replicates the gem over five in-game days.
Farmer's Lunch

Players unlock the recipe for this filling dish once they've honed their agricultural skills to reach Farming Level 3. Once achieved, they can whip up this meal using an Omelet and a Parsnip in their upgraded kitchen. However, for those who'd prefer to skip the cooking process, there's a shortcut: occasionally, Krobus, a shadowy merchant residing in the sewers, offers the Farmer's Lunch for sale in his shop.
Pink Cake

The Pink Cake is a delightful dessert acquired by tuning into the "Queen of Sauce" cooking show on the 21st of Summer in year 2. To prepare this sweet treat, players will need a Melon, Wheat Flour, Sugar, and an Egg.
While it can be crafted in the kitchen, those looking for a quicker option can occasionally find it for sale at Krobus' shop or the Stardrop Saloon. Additionally, If the player's character is male, upon earning 120,000g he will receive a letter from mom with a Pink Cake enclosed.
Pumpkin Pie

The Pumpkin Pie recipe is unlocked by watching "The Queen of Sauce" on the 21st of Winter in year 1. For crafting this seasonal delight, players will need a Pumpkin, Wheat Flour, Milk, and Sugar. Apart from making it in the kitchen, it's noteworthy that the Pumpkin Pie can also be received as a thoughtful gift during the Feast of the Winter Star event, underlining its significance as a festive treat in the game.
How to Return the Shorts
Before you choose to return Mayor Lewis' shorts, note there are several alternative, and often humorous, uses for his shorts which are detailed at the end of the article. However, for those who want to stick to the original quest, simply find Lewis, interact with him and you'll have the option to give him the shorts.
Lewis, as the dedicated mayor of Pelican Town, has a routine. On most weekdays, he's often found in his home, situated at the bottom left of town, pouring over paperwork or contemplating town affairs. If he's not there, the town square is another frequent haunt, where he interacts with townsfolk and oversees daily activities. Wednesdays, however, are a tad different; Lewis has a penchant for visiting Marnie's Ranch.
Lewis' Schedule
Can't find Mayor Lewis? Out of all the Stardew Valley characters, he has the busiest schedule. It changes depending on the day and season. If you plan on returning the shorts on the day you receive the quest, then check out his Wednesday Summer Schedule. However, befriending Marnie can take some time for new players, so we've included Lewis' other schedules below.
Lewis' Monday Schedule
| Time | Location |
| --- | --- |
| 8:30 am | Inside home standing in kitchen. |
| 10:00 am | Exits home. |
| 11:00 am | Enters Local Shops (Willy's, Pierre's, or Robin's). |
| 4:00 pm | Exits Local Shop. |
| 5:00 pm | Enter's home and stands at the stove. |
| 9:00 pm | Moves from stove to Pelican Town Data Book. |
| 10:00 pm | Goes to bed. |
Mayor Lewis' Monday Schedule
Lewis' Tuesday Schedule
| Time | Location |
| --- | --- |
| 8:30 am | Inside home standing in kitchen. |
| 10:00 am | Tends to his garden. |
| 11:30 am | Leaves his garden and heads towards Pierre's General Store |
| 12:20 pm | Arrives at Pierre's General Store. |
| 4:00 pm | Leaves Pierre's General Store and goes to his Manor. |
| 4:40 pm | Arrives at The Mayor's Manor and stands in the kitchen. |
| 10:00 pm | Goes to bed. |
Mayor Lewis' Tuesday Schedule
Lewis' Wednesday Schedule
| Time | Location |
| --- | --- |
| 4:00 pm | Leaves Marnie's Ranch |
| 5:00 pm | Enter's The Mayor's Manor |
Mayor Lewis' Wednesday Schedule
Lewis' Thursday Schedule
| Time | Location |
| --- | --- |
| 8:30 am | Inside home standing in kitchen. |
| 10:00 am | Tends to his garden. |
| 11:40 am | Walks to Town Square |
| 12:30 pm | Stands in front of a tree beside Harvey's Clinic. |
| 2:00 pm | Stands in front of a bulletin board at Pierre's. |
| 4:00 pm | Walks home to his Manor. |
Mayor Lewis' Thursday Schedule
Lewis' Friday Schedule
| Time | Location |
| --- | --- |
| 11:00 am | Working in his flower bed. |
| 11:40 am | Leaves the Manor. |
| 12:30 pm | Stands in front of a tree beside Harvey's Clinic. |
| 4:00 pm | Standing by the water fountain. |
| 5:00 pm | Arrives at The Saloon. |
Mayor Lewis' Friday Schedule
Lewis' Saturday Schedule
| Time | Location |
| --- | --- |
| 10:00 am | Leaves Manor. |
| 10:50 am | Collects business tax from Blacksmith. |
| 1:20 pm | Arrives at Museum. |
| 4:50 pm | Returns to Manor (presumably cooking). |
| 9:00 pm | Looks at the Pelican Town book in his Manor. |
| 10:00 pm | Goes to Sleep |
Mayor Lewis' Saturday Schedule
Lewis' Sunday Schedule
| Time | Location |
| --- | --- |
| 10:00 am | Leaves Manor. |
| 10:10 am | Gardening in front of his Manor |
| 1:00 pm | Standing on the pier at the the Beach. |
| 4:50 pm | Enters his Manor. |
Mayor Lewis' Sunday Schedule
The reward for Returning the Shorts
Once players hand over the notorious purple shorts to the mayor, his reaction is a mix of relief and unmistakable embarrassment, especially given the rather compromising location where they were discovered.
Grateful yet flustered, Lewis offers players a tangible token of his appreciation: a sum of 750g. But more than the gold, the experience deepens the bond between the player and the mayor. Lewis, in his gratitude and perhaps a bid to ensure the player's discretion about the whole affair, awards them with an entire friendship heart.
Benefits of Being Friends with Lewis
Free Gold
Being friends with the Mayor has its perks. As your friendship with Mayor Lewis grows, he will occasionally send you gold in the mail as a token of his appreciation. This gesture underscores his position as one of the wealthier inhabitants of Pelican Town and his generous nature.
Three Hearts: Recipe for Spaghetti
Upon reaching three hearts with Mayor Lewis, he sends players a recipe for Spaghetti. To make Spaghetti, players will need Wheat Flour (purchased from Pierre's General Store) and a Tomato (which can be grown during the Summer season).
Consuming Spaghetti in-game restores 75 energy and 33 health, making it a decent mid-game food source for energy replenishment, especially when engaging in energy-consuming tasks like mining or fishing.
Seven Hearts: Recipe for Eggplant Parmesan
At seven hearts, Lewis generously shares his recipe for Eggplant Parmesan. To craft this dish, players will need an Eggplant (grown during the Fall season) and Tomato. Eating Eggplant Parmesan provides the player with a beneficial "Mining" buff, which increases their Mining skill by +1. It also restores 175 energy and 78 health, making it particularly valuable for those extended mining trips or intensive farm days.
More Ways to Increase Friendship with Lewis

There are various ways to build a rapport with Mayor Lewis. Engaging in daily chats when you encounter him bolsters your bond. Responding to his requests on Pierre's bulletin board not only earns gold but boosts friendship.
Participation in town festivals, where Lewis often plays a pivotal role, further cements your relationship. However, avoid actions like sifting through trash near him, as such behaviors can negatively impact trust.
The best way to befriend him is by giving him his favorite gifts:
Hot Pepper: This fiery vegetable can be grown during the Summer season from Hot Pepper Seeds. It takes 5 days to mature.
Autumn's Bounty: A dish that players can cook in their kitchen once they've learned the recipe. It's a combination of Yam and Pumpkin, emphasizing the flavors of the fall season.
Glazed Yams: Another dish that can be prepared in the player's kitchen. The key ingredient, as the name suggests, is a Yam which is grown during the Fall season. You'll also need sugar for the recipe.
Vegetable Medley: This dish combines the flavors of Tomato and Beet. It's a heartfelt meal that requires both ingredients and can be crafted in your kitchen.
Other Uses for Lewis' Shorts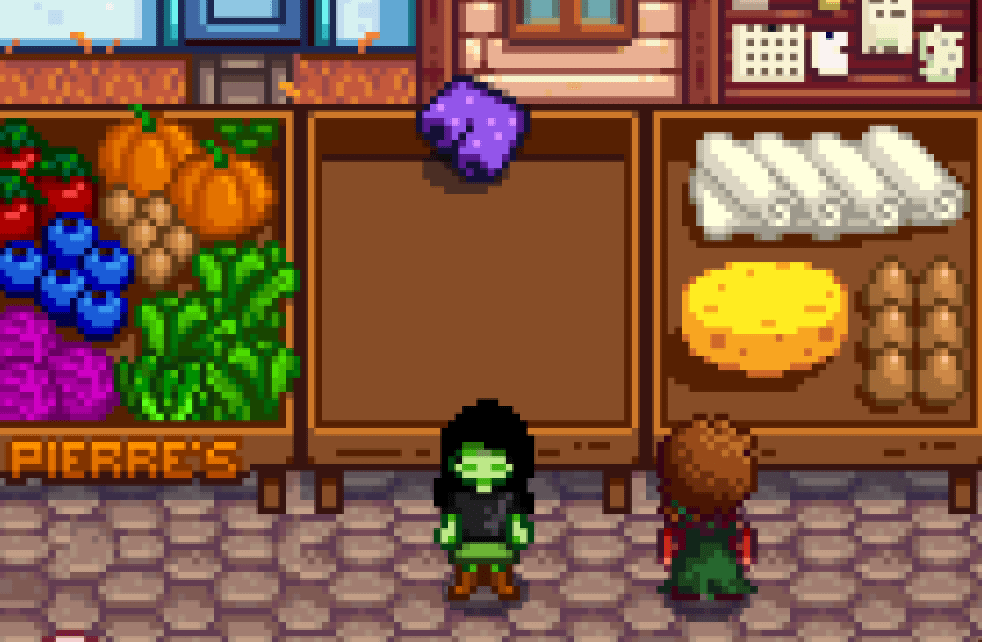 While the primary goal is to return these misplaced purple shorts to their rightful owner, inventive players have discovered a range of entertaining and occasionally mischievous alternatives.
From showcasing them in the town's annual fair (much to Lewis's chagrin) to utilizing them as a unique, albeit questionable, decorative piece in one's farmhouse, these shorts can be the source of many a chuckle and surprise.
Give the Shorts to Marine
In Stardew Valley, when players cheekily present Mayor Lewis's recognizable purple shorts to Marnie, the scenario unfolds with comedic discomfort. Marnie, caught off-guard, blushes deeply, expressing her surprise and hinting at the not-so-secret relationship between her and the mayor.
Tailor the Shorts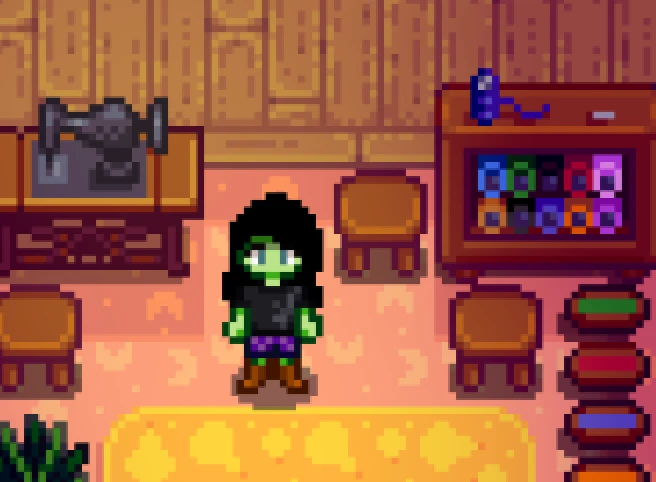 Combining these notorious shorts with a gold bar at the sewing machine produces the "Trimmed Lucky Purple Shorts." Far from just being a decorative item, these shorts can be worn by the player, serving as both a fashion statement and a nod to one of the game's most memorable quests.
Give the Shorts to Lewis on Ginger Island
If players opt to keep the shorts and later visit Ginger Island, they have the whimsical opportunity to gift them back to Mayor Lewis during his vacation there. In a delightful twist, upon receiving the shorts, Lewis doesn't just tuck them away. Instead, the following day, players can spot him donning the famous purple shorts, comfortably wearing them around the island.
Put the Shorts in the Luau Soup
The annual Luau is a summer event where the community gathers around a big pot of soup, with residents adding ingredients to enhance its flavor. While most players opt for traditional, delicious offerings, the audacious few can choose a rather unconventional route.
Tossing Mayor Lewis's infamous purple shorts into the soup creates quite the scene. Once the Governor tastes the unique concoction, the reaction is one of baffled surprise. Meanwhile, Mayor Lewis looks mortified, recognizing his missing attire in the least expected of places.
Display the Shorts at the Fair
By placing Mayor Lewis's lost purple shorts in your Grange display, you can catch the entire town, especially the mayor, off-guard. As Pelican Town's residents gather to admire the exhibits, Lewis's reaction is swift and discreet. Wanting to keep the origin of the shorts hush-hush, he covertly offers you 750 Star Tokens as a bribe, ensuring his little secret remains just that.
Read More: