If you haven't already watched Arcane on Netflix, you should put it at the top of your list because there's a 100% chance you'll drool for this series.
It is based on the characters and world of League of Legends (one of the world's most played and loved battle arena games).
More so, this animated series manages to be absolutely incredible in its own right, appealing to both players and those who are unfamiliar with Vi, Jinx, Jayce, or any other champions from the game.
Since we're talking about the champions, quite a handful of adored champions from the League of Legends have shown up in the anime series, and it is fair to say that without them, Arcane wouldn't have been a hit.
So, in that regard, we'll be giving you a rundown of all the best League of Legends champions in Arcane and when they first appeared.
A list of all the League of Legends champions and when they appeared:
| Champion | Episode – Appearance |
| --- | --- |
| Vi and Jinx | Epsiode 1: Opening Scene |
| Ekko | Episode 1: Opening Scene |
| Singed | Episode 1: Act 1 |
| Caitlyn | Episode 2: Opening Scene |
| Jayce | Episode 2: Act 1 |
| Ryze | Episode 2: Act 1 (A brief Cameo) |
| Viktor | Episode 2: Act 1 |
| Heimerdinger | Episode 2: Act 1 |
1: Vi and Powder/Jinx
Appears: Epsiode 1: Opening Scene
Young Vi, the older sister with Pink hair, appears in the opening scene of Episode 1: Welcome to the Playground, alongside Powder, the little blue-haired girl. This scene is covered in red. There is blood, violence, and regret everywhere.
Though not as radical as her younger sister, Vi is a fiery and implacable champion to keep an eye on.
She's more likely to use her fists to resolve issues than talk them out. She's incredibly protective of Powder, who later on in the series becomes Jinx.
When we first meet this young blue-haired gal while walking with her older sister Vi, she comes across as harmless. A little clumsy and slower than the rest, let's just say fist fight is not her finest suit.
She's good at making weapons that explode. Powder goes through hell to become Jinx, the loose cannon with a sly grin and an arsenal of deadly weapons as deranged as she is.
2: Ekko
Appears: Episode 1: Opening Scene
Ekko is first seen in Episode 1: Welcome to the Playground in Benzo's shop. He is seen fixing the cannon pinion of a clock. This white-haired lad is buzzing with energy.
The show briefly mentions Ekko's origin story, with him appearing as a childhood friend of Jinx. Ekko is seen as a sidekick of Jinx and her friends in the first act of Arcane.
In Leagues of Legends, he's a time manipulator who creates Z-Drive, a piece of tech that allows him to go back and redo anything.
Ekko's story will most likely continue to develop as the characters of Arcane mature.
3: Singed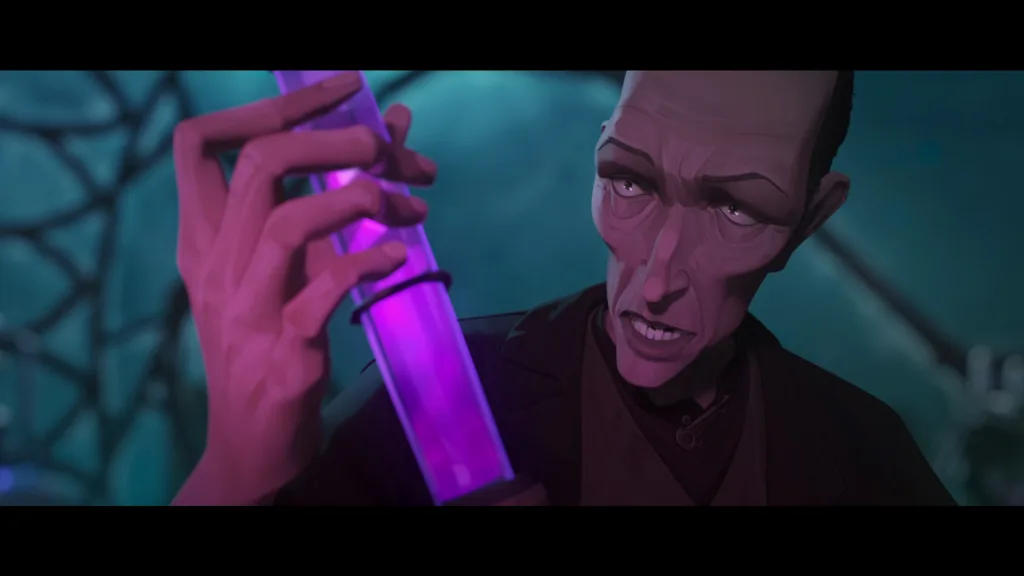 Appears: Episode 1: Act 1
Singed, the incredibly intelligent alchemist and scientist with sunken cheekbones, a large forehead, and a pointed nose, appears in act one of Episode 1: Welcome to the Playground.
This brilliant/insane scientist could be the best character expansion in Arcane. The show portrays him as a scientific genius who pushes the boundaries of discovery through unethical experimenting.
Singed spends the majority of his life in Piltover. However, he is evicted from the city due to his methodologies. His new life in Zaun makes him become a genius in the underworld.
Note: Don't confuse him with Silco. The two are different characters.
4: Caitlyn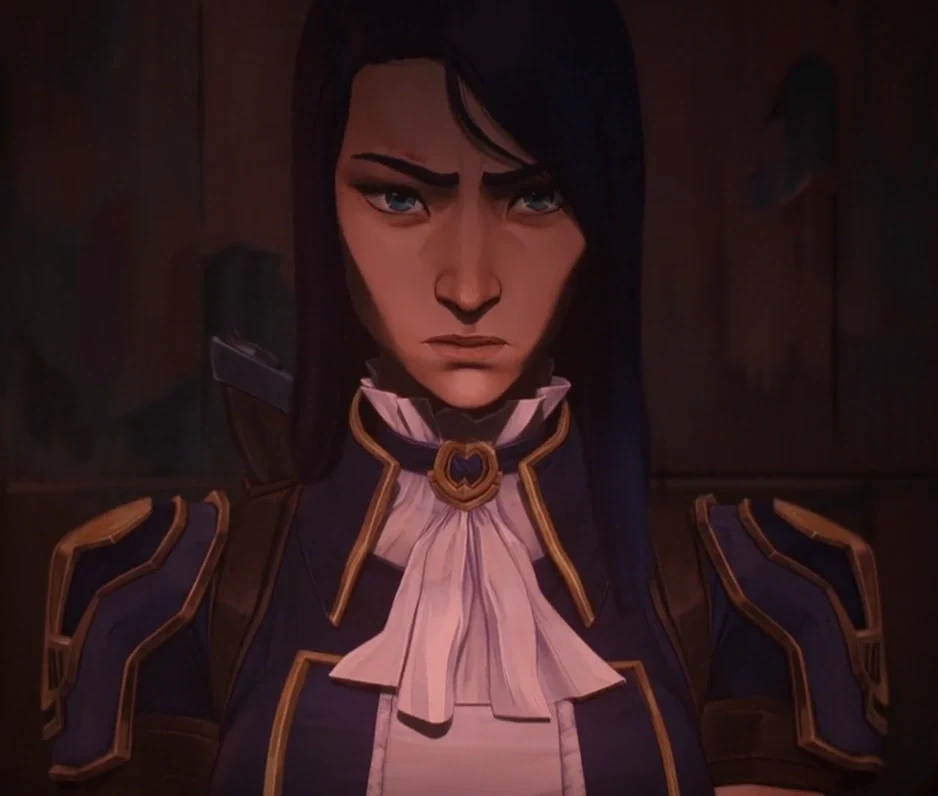 Appears: Episode 2: Opening Scene
Caitlyn, the legendary blue-haired character, first appears in the opening scene of episode two: Some Mysteries are Better Left Unsolved.
This future sheriff with a posh British accent is a part of the upper class of Piltover.
Caitlyn is a specialist marksman and a member of Piltover's law enforcement. She is also rich and powerful, descended from Piltover's upper crust.
As the series continues, her faith in Vi grows, and they ultimately become romantic partners.
5: Jayce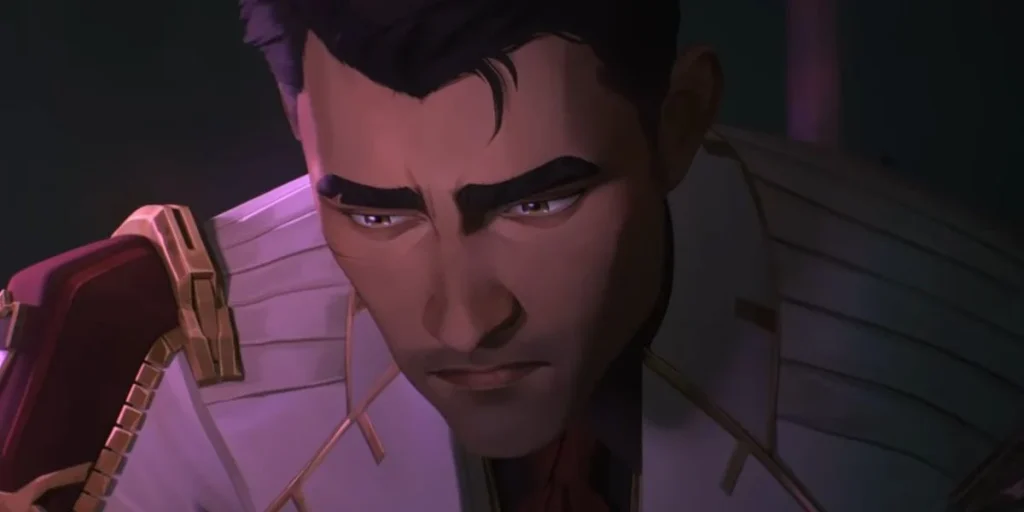 Appears: Episode 2: Act 1
Jayce's voice debuts way before we are able to catch a glimpse of his face. He is officially introduced in Episode 2: Some Mysteries are Better Left Unsolved as a completely dazed man.
This guy is a critical contributor to the show's cast, especially when it comes to showcasing Piltover's more valiant side.
Jayce is a humble inventor who wants to use magic to improve life.
He's not only a well-known name in the city, but he's also an amazing hero, and everyone knows it because of his benevolent spirit as well as leadership.
6: Ryze
Appears: Episode 2: Act 1 (A brief Cameo)
Ryze makes his first appearance in episode two: Some Mysteries are Better Left Unsolved. It is a brief cameo. He appears in a scene where Jayce and his mother are stuck in a blizzard.
Ryze's magic transports Jayce and his mother to Piltover. Jayce gets inspiration from Ryze's actions and decides to pursue a career combining magic and innovation to better the world.
7: Viktor
Appears: Episode 2: Act 1
This bright-eyed intellectual with a life-threatening disease appears in act 1 of Episode 2: Some Mysteries are Better Left Unsolved.
Viktor is perhaps the most tragic and compelling character for any original League of Legends fan.
This Piltover Academy student grew up in the ghettos of Zaun and made his way up to become Professor Heimerdinger's assistant.
He resents the fact that despite rising to the top of his ground, he is never truly able to make an impact. But this changes when he meets Jayce.
His character is far from the League version of Viktor. Until his backstory is out, he is an innocent man who is ready to risk his life to help Jayce with his Hextech breakthrough
8: Heimerdinger
Appears: Episode 2: Act 1
Heimerdinger, the Yordle scientist with lush blond hair, makes his first appearance in Act one of Episode 2: Some Mysteries are Better Left Unsolved.
He is Piltover's most esteemed inventor and an important member of the town's council.
He's one of the cutest protagonists in Arcane. This tiny champion is a bit neurotic, which is why he gives Jayce a chance to experiment and showcase his talent.
Heimerdinger is also the voice of caution for everyone in Piltover, which includes Viktor, Ekko, and, most importantly, Jayce.