It's hard to imagine anyone else but Viggo Mortensen as Aragorn. While relatively unknown when cast in The Lord of the Rings, Viggo went on to perfectly embody the ranger from the North. He captures both the gritty warrior mentality of 'Strider' and the romantic nobility of Aragorn, heir of Gondor.
The actor is as diverse in skills and experience as Aragorn himself, from publishing poetry to speaking multiple languages.
Stats about Viggo Mortensen:
| | |
| --- | --- |
| Born | October 20, 1958 |
| Birthplace | Watertown, New York, U.S. |
| Nationality | American (formerly Danish) |
| Height | 5ft 11 (180 cm) |
| Partner | Ariadna Gil |
Here are 10 facts and 5 FAQs about Viggo Mortensen.
1. He's an Artist, Poet and Musician
As well as acting, Viggo is passionate about music, poetry, photography and art. In the film A Perfect Murder (1998) he played an artist, and painted all of the character's murals himself.
Viggo has written poetry all his life. His first book was published in 1993, many years before becoming famous for The Lord of the Rings. Viggo has also collaborated with musicians to create jazz interpretations of his poetry.
In Return of the King, Viggo composed and sang Aragorn's coronation song.
2. Viggo is a Passionate Sports Fan
Viggo supposedly wore a Montreal Canadians jersey beneath his Aragorn costume. He is a huge fan of the New York Mets and, due to his childhood in South America, the San Lorenzo Argentine soccer team.
In 1980 he was a translator for Sweden's hockey team at the Winter Olympics. According to Viggo, it meant he could "go to a lot of hockey games with drunken Finns and Swedes."
3. Sir Viggo Mortensen
The King of Gondor is a real-life knight. In 2010 Viggo was among those named as a Ridder af Dannebrog (Knight of the Danish Banner) by the Queen of Denmark.
4. He Speaks Many Languages
Viggo is multilingual, speaking fluent English, Danish, Spanish and French. Other languages he can partially speak include Catalan, Swedish, Norwegian, Italian and Arabic. He is an official Omnium Cultural member, an organization dedicated to preserving the original Catalan language and culture.
Fittingly for a lover of languages (like Tolkien himself), Viggo purported requested if Aragorn could speak more Elvish in the films.
5. He Got Injured Many Times Playing Aragorn
Filming The Lord of the Rings took its toll on many of the actors, with Viggo particularly affected. His injuries included:
Chipping a tooth while filming the Battle of Helms Deep. Viggo wanted to finish the scene but Peter Jackson sent him to the dentist.
Breaking two of his toes when kicking a steel Orc helmet. His howl of anguish in the film was genuine. The long-distance running scenes of Aragorn, Legolas (Orlando Bloom) and Gimli (John Rhys-Davies) were filmed while all three were injured – Orlando had broken ribs from falling off a horse, while Rhys-Davies' stunt double had a knee injury.
Almost drowning during the scene where Aragorn floats, unconscious, in the river. He was pulled underwater by the weight of his costume.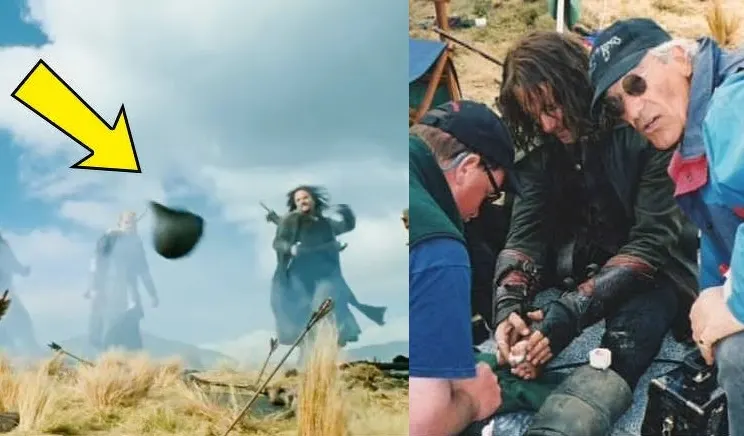 Viggo also bruised his face badly and had to be filmed from his good side only during a Mines of Moria scene. But that was due to a surfing accident on his day off.
6. His Son Tries to Kill Him in Return of the King
Viggo's son Henry had two cameos in The Lord of the Rings. He played one of the reluctant boy soldiers at Helm's Deep, and also the first Orc to attack Aragorn at the Battler of Pelennor fields.
7. He Suggested One of Aragorn's Most Moving Gestures
Boromir's death in The Fellowship of the Ring is a deeply moving moment. Aragorn promises him to protect the people of Gondor, and is later seen donning his fallen comrade's armored sleeves.
Sean Bean, who played Boromir, revealed in the DVD commentary the latter was Viggo's idea. Aragorn wears the armored sleeves for the rest of the film (even in the flash forward to his death) in memory of both Boromir and the promise he made.
8. New Zealand Police Almost Arrested Him
Concerned members of the public called the Wellington police to report a man haphazardly waving a sword as he walked down the street. This was Viggo, leaving a stunt sequence rehearsal and going over imaginary fights in his mind.
The actor later said in an interview for Wired: "It seems that my walking down the road waving the sword about, thrusting and parrying in encounters with invisible orc and Uruk-hai opponents generated some concern in the community."
9. Viggo, Like Aragorn, is a Horse Whisperer
Viggo was already an experienced horseman prior to filming The Lord of the Rings. He did most of the horseback stunts himself and even requested Aragorn have more riding time in the script.
He bonded with the horses used for filming, although he did not, as rumor states, sleep with them. When production for the films was over, he purchased two of the horses his character rode – including 'Brego', Aragorn's kingly steed.
Viggo also brought Arwen's horse for Liv Tyler's riding double. This horse is still alive, but sadly, the other two have since passed away.
10. His Lord of the Rings Co-Stars Loved Working with Him
Aragorn might be a character who, in the words of Sam Gamgee "looks foul and feels fair" but Viggo was a lot of fun on set.
Billy Boyd (Pippin) supposedly described him as "mad as a fish". Elijah Wood (Frodo) said Viggo was brilliant but "also completely insane". Miranda Otto (Éowyn) said on meeting Viggo that "it's going to be so easy to fall in love with this man".
Some of the best stories about Viggo on the set include:
Enjoying himself thoroughly during the sixteen takes of Aragorn throwing an apple at Pippen's head.
Wearing increasingly elaborative paper crowns off camera in the "My friends, you bow to no one" scene. The four hobbit actors found it hard to stop giggling.
Convincing a whole unit team to camp out overnight to film a dawn scene. He was so persuasive that actors and crew from other units joined them.
Pretending to be a wedding guest off camera at Sam and Rosie's wedding – including giving Billy Boyd a big smooch when he caught the bouquet.
What Nationality is Viggo?
Vigo has dual Danish and USA citizenship, having a Danish father and an American mother. He was born in New York and moved to South America as a child. He returned to America at age 11 and lived in Denmark for several years as a young adult.
What was Viggo's First Movie?
The first time Viggo appeared on screen was in Witness (1985), playing an Amish farmer. Prior to that, he acted in Swing Shift (1984) and The Purple Rose of Cairo (1985), but his scenes were cut.
How Did Viggo Get the Role of Aragorn?
Viggo famously joined the cast of The Lord of the Rings at the last minute. Stuart Townsend was originally cast as Aragorn, but four days into filming Peter Jackson realized they needed someone older. Mark Ordesky, the executive producer, suggested Viggo.
On being offered the part, Viggo was initially reluctant. It would mean immediately moving to New Zealand for more than a year of filming. His son Henry, then age 11, was a fan of the books and convinced him to accept the role.
Viggo was thrown in at the deep end – scheduling meant his very first scene was fighting the nine riders at Weathertop. Over the next 14 months, he threw himself so deeply into the character that Peter Jackson would call him 'Aragorn' off-camera without noticing.
Did Viggo Do His Own Stunts in The Lord of the Rings?
Viggo did most of his own stunts, including dodging a real steel knife. Despite missing the film's weapon training, Viggo became an expert in sword fighting. Bob Anderson, a famous Hollywood stunt double and swordmaster, helped train The Lord of the Rings cast. He described Viggo as "the best swordsman I've ever trained".
Viggo purportedly used real steel swords for his scenes and "killed" every stunt double in The Lord of the Rings more than 50 times.
Which of The Lord of the Rings Films is Viggo's Favorite?
In a 2014 interview, Viggo said The Fellowship of the Ring was his favorite film because it had fewer special effects.
"In the first movie, yes, there's Rivendell and Mordor, but there's sort of an organic quality to it, actors acting with each other, and real landscapes; it's grittier," The Telegraph quoted him as saying.
Viggo has also said there was no "star" in the Lord of the Rings as the Fellowship was a union, and that he considers film-making a "team sport".