Our readers support us. This post may contain affiliate links. We earn from qualifying purchases. Learn More
Marvel has always been a popular franchise but it seems to have taken over the world recently.
Since 2021, Marvel has been in 'phase four' of the Marvel Cinematic Universe, which is set to continue through 2023. Then transition into phase five later in 2023.
LEGO has kept up with Marvel's phase four cinematic releases with sets inspired by various Marvel media.
In 2021 alone, LEGO produced 41 sets under their Marvel Super Heroes sub-theme.
So far in 2022, there have been 31 sets released, with more anticipated towards the end of the year.
Several Marvel projects have already been confirmed for 2023.
There has not been any word from LEGO concerning these projects or future LEGO Marvel sets.
But there are a handful of rumors going around the LEGO community anticipating which upcoming Marvel films will inspire new LEGO sets in 2023.
Note that these sets are based on speculation and fan rumors. LEGO has made no confirmation about specific Marvel sets for 2023… yet.
LEGO Marvel 76232, 76242 And 76244
Fans do not know much about LEGO Marvel sets 76232, 76242, and 76244.
The set numbers were uploaded to LEGO's Building Instructions Portal database (now hidden) in April 2022.
No information was given besides the set's themes, which were tagged as LEGO Marvel.
Due to how early LEGO has uploaded the sets to their database, fans can likely expect them during LEGO's 2023 winter wave of releases.
In recent years, LEGO has been using January 1st as their go-to winter wave release date.
So Marvel fans may not have to wait much longer for these three new sets to be officially announced for a 2023 release.
LEGO Marvel: Ant-Man
On April 29th, 2022, the official Marvel website announced that the third Ant-Man film will be released on February 17th, 2023.
This release date has gone through a back and forth since it was initially announced on May 3rd, 2021. But the release date for Ant-Man and the Wasp: Quantumania is now final.
LEGO has released new LEGO sets to celebrate the release of the previous 2 Ant-Man movies under their Marvel Super Heroes sub-theme.
In June 2018, LEGO made the LEGO Marvel 76109 Quantum Realm Explorers set.
It was a 200-piece set that depicted a scene from the second Ant-Man film (Ant-Man and The Wasp), released in July 2018.
Likewise, in June 2015, the LEGO Marvel 76039 Ant-Man Final Battle set coincided with the first Ant-Man film released in July 2015.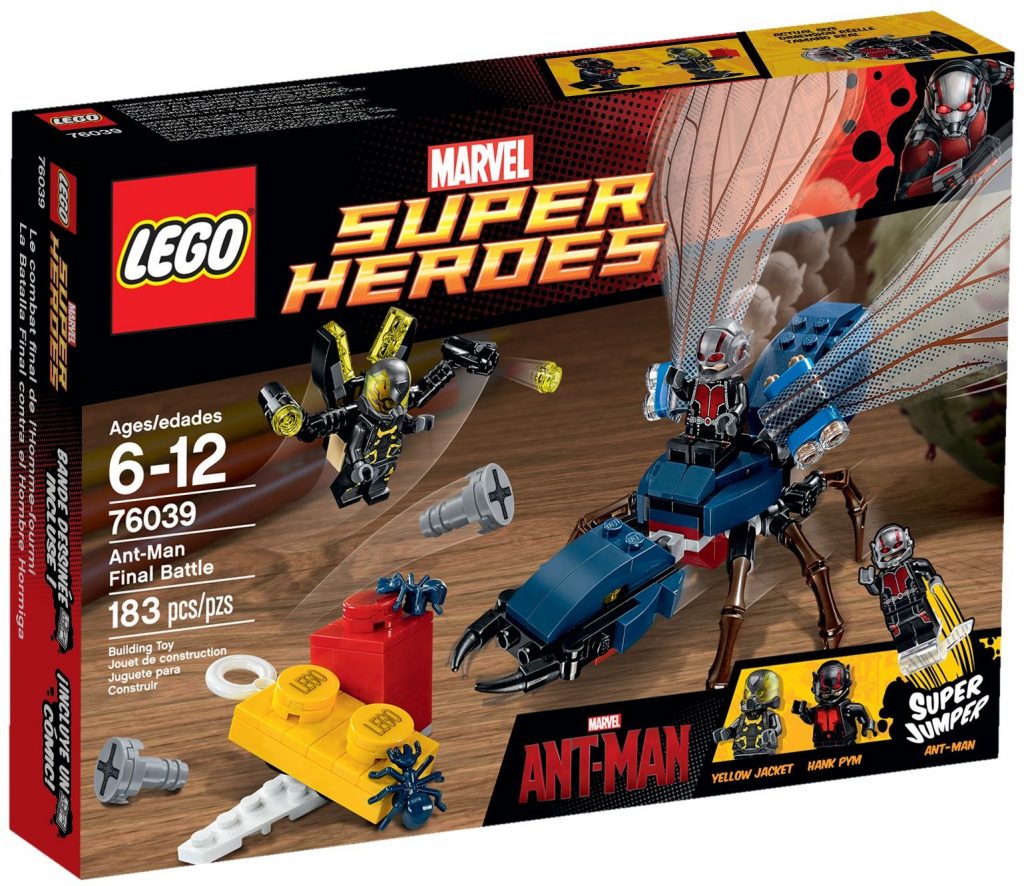 Based on this pattern, LEGO should be due to release a new Ant-Man-inspired set in January 2023, which would be a month before the new film comes out.
It is possible that 1 of the unnamed Marvel sets uploaded to LEGO's Building Instructions Portal database in April 2022 may be an Ant-Man and the Wasp: Quantumania set.
The estimated release dates of the uploaded sets match when the film will be released.
If the next Ant-Man film gets a LEGO Marvel set, it will probably be around 200 pieces big with 3 Minifigures. Some may be exclusive to the set, as was the case with the Ant-Man Final Battle set.
At least, that is what fans assume based on the few previous Ant-Man LEGO sets.
LEGO Marvel: Guardians Of The Galaxy
When Guardians of the Galaxy was released in August 2014, fans fell in love with the fun array of characters and comedic twists.
LEGO released three sets inspired by the film in 2014:
LEGO Marvel 76021 The Milano Spaceship Rescue, LEGO Marvel 76020 Knowhere Escape Mission, and LEGO Marvel 76019 Starblaster Showdown.
The sets ranged in size from 665 pieces to 196 pieces. But they all did a great job capturing the futuristic action of the Guardians of the Galaxy film.
Then in March 2017, LEGO released a slightly bigger range of 4 sets. This release accompanied Guardians of the Galaxy Vol. 2, which hit theatres in May 2017.
There has not been another Guardians of the Galaxy film since 2017. However, the characters have appeared in ensemble Marvel films and related LEGO sets.
Such as the 2021 LEGO Marvel 76193 The Guardians' Ship, which was part of a second wave of Marvel Avengers: Endgame sets.
The set included Groot, Star-Lord, and Rocket Raccoon Minifigures.
Karen Gillan told SYFY that this 3rd film would be 'the end of a chapter' for the Guardians of the Galaxy crew.
So this may be the last chance that LEGO has to release Guardians of the Galaxy-themed sets.
Guardians of the Galaxy Vol. 3 will hit theatres on May 5th, 2023.
LEGO will likely release a wave of Guardians of the Galaxy sets in March or April 2023.
These tend to be the months that LEGO starts releasing their spring wave of sets. And it would be great timing to release LEGO sets for the 3rd Guardians of the Galaxy film.
What these sets may include or what they may depict depends on the content of the new film.
Read More: LEGO Marvel Guardians of the Galaxy Advent Calendar 2022 Rumors
LEGO Marvel: Captain Marvel
Captain Marvel is one of LEGO's most recent Marvel themes, celebrating the original film's release in 2019.
LEGO only designed 1 set (LEGO Marvel 79127 Captain Marvel and The Skrull Attack) for the 2019 Captain Marvel film.
But LEGO also released a San Diego Comic-Con 2019 exclusive set inspired by Captain Marvel. The set was the LEGO Marvel 77902 Captain Marvel and The Asis.
1 more Captain Marvel set was released in January 2020 – LEGO Marvel 30453 Captain Marvel and Nick Fury. But the set was only 32 pieces and was released as a polybag set.
The Marvels (Captain Marvel's sequel) was supposed to be released on February 17th, 2023. But now, it will be released on July 28th, 2023.
It would be fair to assume that LEGO would release at least 1 set for The Marvels release.
However, LEGO usually releases more than one Marvel set anytime they have a Marvel wave of releases.
This may mean that 1 of the 3 LEGO Marvel sets uploaded to LEGO's database in April 2022 could be a The Marvels set.
Read more: Every LEGO Iron Man Minifigure: Suits and Armors Guide
San Diego Comic-Con Marvel Announcements For 2023
On July 23rd, 2022, Marvel hosted a panel at San Diego Comic-Con 2022.
Fans were expecting some big news from the panel as phase four of the Marvel Cinematic Universe is due to end in 2023. And Marvel did not disappoint.
As well as the releases mentioned above for 2023, Marvel also announced several other projects that have the potential to be adapted into LEGO sets in 2023.
These included:
Secret Invasion (Spring 2023)
ECHO (Summer 2023)
LOKI (Season 2 – Summer 2023)
Blade (November 3rd 2023)
Ironheart (Fall 2023)
Agatha Coven Of Chaos (Winter 2023)
Of these newly announced Marvel projects, only Blade is set to be a feature film. The rest will be TV series.
LEGO has not necessarily shied away from Marvel series before but hasn't done much to promote the shows either.
In September 2021, LEGO released a series of collectible Marvel LEGO Minifigures.
The series is comprised of 12 figures pulled from various Marvel TV shows.
These included three characters from the 2021 show WandaVision (The Scarlet Witch, Monica Rambeau, and The Vision).
As well as two characters from LOKI season 1 (Loki and Sylvie) and two characters from What If…? (Zombie Hunter Spidey and Gamora).
With the return of LOKI and Agatha Coven Of Chaos (acting as a spin-off series to WandaVision), LEGO may repeat their LEGO Minifigure Marvel series with new characters.
Or, better yet, ride on the popularity of the TV shows and release whole new sets in time for the new shows.
After all, though LEGO has favored Marvel feature films for their LEGO sets, there is still plenty of other TV show-inspired LEGO sets that have proven to be very popular.
For example, the 2021 LEGO Ideas 10292 The Friends Apartments based on Friends.
And the LEGO Ideas 21336 The Office, inspired by the hit TV show, The Office.
Though these sets are based on concepts created by LEGO fans, the release of the sets hints at LEGO's willingness to adapt more successful TV shows into LEGO sets.
So there is always the possibility that Marvel fans can expect 2023 LEGO Marvel sets based on all the new TV shows Marvel have announced.
Of course, there is a chance that LEGO will instead focus on Blade and the other three 2023 Marvel feature films discussed above.
But LEGO would be foolish to ignore the popularity and success of Marvel's recent TV shows when designing their 2023 wave of sets.
Read More: