If we talk about BIG movie IP's, there are very few that are bigger than LEGO Marvel.
That's why we're getting a LEGO Marvel Guardians of the Galaxy advent calendar this year!
According to the listing on the official LEGO website, we have a lot to look forward to!
Firstly we know that it is set number 76231, and it will be released on September 1st 2022.
It will also retail for $44.99 / £29.99, which is comparable to LEGO advent calendars, such as the Star Wars calendar.
We know it will be based around the Guardians of the Galaxy Holiday Special, which will be released onto Disney+ in December.
UPDATE: We've now published an in-depth review of the calendar, complete with images and analysis for days 1-24. See the review here.
LEGO Guardians of the Galaxy 2022 Calendar Minifigures
There are 6 Minifigures in this set. That's a decent number as far as Minifigures go, and it fits with what we've seen in previous LEGO Marvel advent calendars.
So let's look at what Minifigures we will find behind some of those calendar doors!
Being the lead member of the Guardians of the Galaxy, it makes sense that we'd get Star Lord (AKA Peter Quill). He'll come with one of his iconic guns, though he won't be wearing the Star Lord mask.
A key member of the Guardians of the Galaxy team, Drax carries dual fighting knives.
Instead of being shirtless like usual, Drax will be wearing a garish Christmas jumper featuring a tiny little dancing potted Groot.
A newer member of the Guardians team, it makes a lot of sense for Mantis to be in this particular LEGO Marvel set.
She looks like the bog-standard version that can be found in several other LEGO Guardians of the Galaxy sets. Still, she's a great Minifigure, and we love the antenna rising up from her forehead.
He might be tiny, but Rocket has a big attitude and a bigger gun.
He's a shorter Minifigure, though the head piece more than makes up for his lack of height.
This character seems to be wearing his usual clothing, though unlike several other iterations of Rocket, this Minifigure doesn't have any shoulder pads.
Speaking only three words (four if you count him saying "WE are Groot" in the first Guardians movie), Groot is an absolute fan favorite.
In this set it looks like Groot is the Christmas tree, with large leaves attaching to his back. They are covered in ornaments, so he looks extra festive!
The final Minifigure included is Nebula. We were previously unsure whether we'd get her, Gamora, or even Thor (who has very recently been an honorary member of the Guardians).
Still, this Nebula Minifigure is awesome, and we absolutely love the cute little Thanos Christmas jumper that she's wearing. Also, the details printed onto the head are unique and perfect!
LEGO Guardians of the Galaxy 2022 Calendar Micro Builds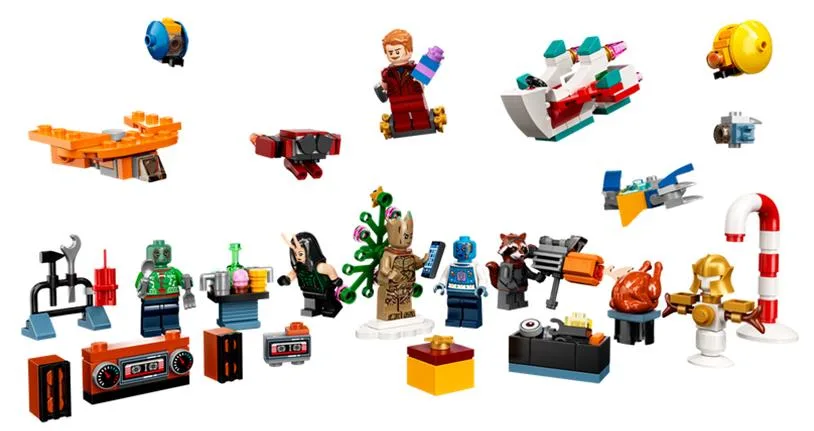 As you can see, there are plenty of micro builds to play with too!
LEGO have provided some excellent additions to this year's calendar, so let's briefly look at a few highlights.
Firstly we get a boom box and a tiny Awesome Mix cassette tape. Guardians of the Galaxy has always been a music-driven film, so these micro builds totally make sense!
We also get a lovely-looking Christmas turkey, which Rocket can cook with his giant flame-throwing gun. That's totally in Rocket's character!
The snowman made out of the armor of Thanos is also a humorous little touch that works really well, considering some of the character's connections with the Mad Titan!
We of course also get colorful presents, candy canes, and several cool-looking spaceships.
Final thoughts
Do we think the Guardians of the Galaxy 2022 LEGO calendar is worth it? Yes, totally!
As with all previous LEGO Marvel advent calendars, this one packs in a LOT.
Not only do you get a fantastic range of Minifigures, but the micro builds are both Christmassy AND appropriate to the characters.
So what do you think?
Let us know if you agree with our educated guesses regarding the Minifigures! Also, what else do you think will be included?
As always, it's always great to read your thoughts and opinions!
Read more: