While the wonderful world of Disney is full of amazing characters, there are actually only three with names starting with Q.
Can you name them?
Disney characters that start with Q are Quasimodo, better known as The Hunchback of Notre Dame, the Queen (or evil queen) in Snow White, and the Queen of Hearts from Alice in Wonderland.
Read on for short bios of each of these Disney characters beginning with Q.
A B C D E F G H I J K L M N O P Q R S T U V W X Y Z
Quasimodo (The Hunchback of Notre Dame)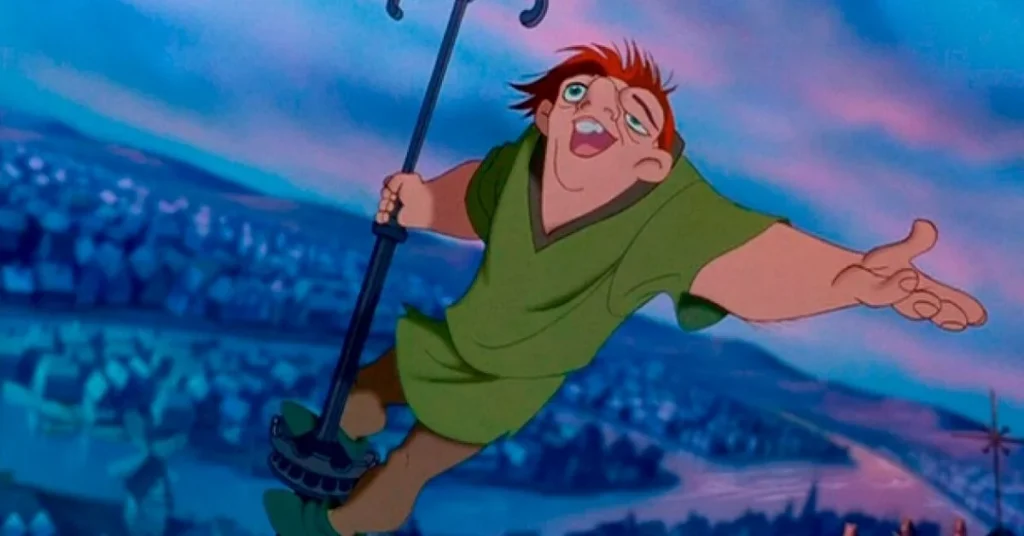 Quasimodo was born with various deformities, including a hunched back.
After the death of his mother, he came into the care of the cruel Judge Frollo, who made him the bellringer of the Cathedral.
Quasimodo had an excellent vantage point for observing life in Paris, but he was forever separated from it.
He dreamed of being part of the hustle and bustle that he saw below him.
He gets his chance when he is befriended by the gypsy Esmeralda, who helps him escape an angry crowd.
When she is pursued by Judge Frollo, who hates all gypsies, Quasimodo has a chance to help her.
The Queen (Snow White and the Seven Dwarfs)
The Queen is the stepmother of Snow White and is obsessed with being the fairest woman in her land.
But as her young stepdaughter grows up, she becomes increasingly jealous of her beauty.
A witch, she uses her influence to force a huntsman to take Snow White into the woods and kill her.
She also demands that he cut out her heart and bring it back to her.
Later, when speaking with her magic mirror, she realizes that the huntsman tricked her.
He had let the girl go and brought back a pig's heart. The Queen decides to find the hiding Snow White and deal with her personally.
Queen of Hearts (Alice in Wonderland)
The Queen of Hearts is the tyrannical ruler of Wonderland, who loves nothing more than beheading its citizens.
She has a quick temper and angers when things are not exactly as she likes them.
When she meets Alice, she first thinks that she is sweet, and even invites her to play a game of croquet with her.
But the Cheshire Cat uses this as an opportunity to embarrass the queen, who decides to behead Alice.
The King of Hearts convinces the queen that Alice deserves a trial.
The unfairness of the trial that ensues gives Alice the opportunity to realize she does not need to listen to the petty queen.